You only need one bowl to make this easy blueberry muffins recipe with blueberries, flour, sugar, vanilla, and vegetable oil. We've been making these easy muffins for years and are always happy that we did.
Watch the video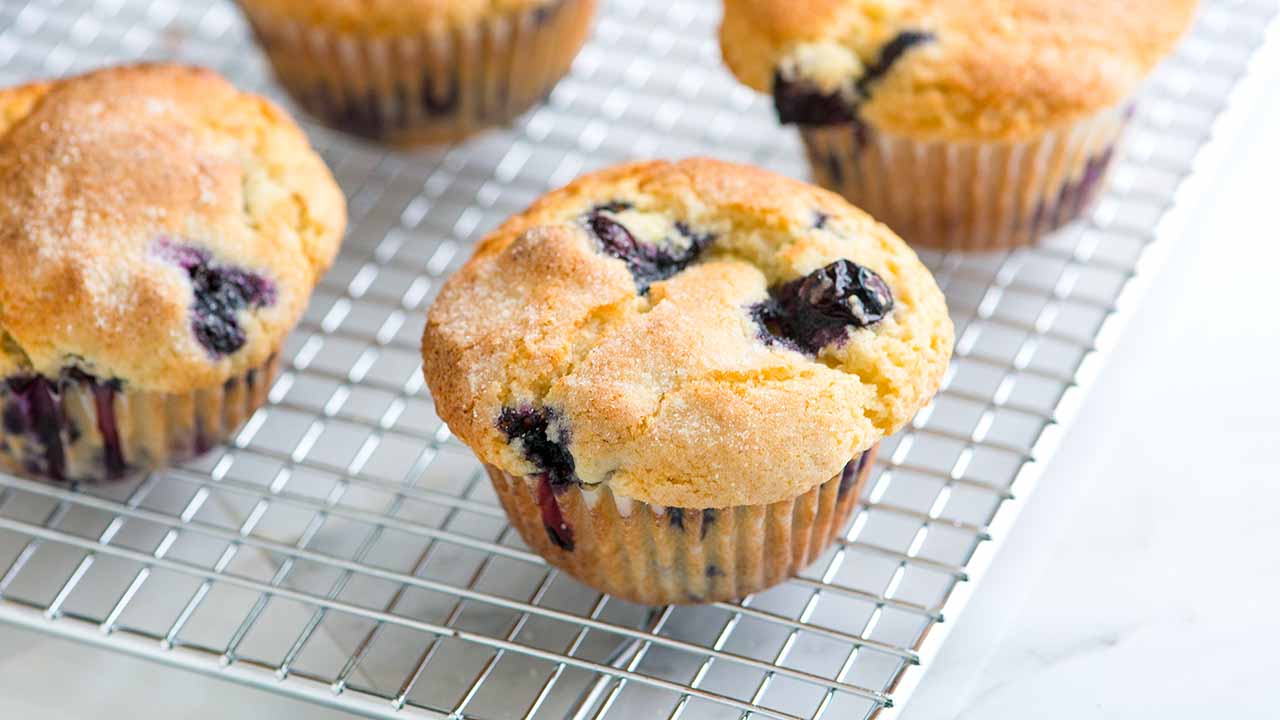 ⭐️ See 12 must-try muffin recipes our family makes over and over again!
#1 Secret for homemade blueberry muffins
Use baking powder and oil in the muffin batter for tender, light, and fluffy muffins. Baking powder makes muffins light and airy in the middle. A neutral oil like avocado, safflower, or vegetable oil keeps our muffins moist in the middle without weighing them down.
These blueberry muffins are quick and easy with a moist and tender center bursting with blueberries and perfectly golden brown top. For another spin on these muffins, try our lemon blueberry muffins.
Key ingredients for blueberry muffins
Use fresh or frozen blueberries. It's tricky to find sweet fresh blueberries all year round. Thankfully, this doesn't prevent us from getting our blueberry muffin fix! When using frozen blueberries, add them when they are still frozen.
We prefer all-purpose flour, but you can use 100% whole wheat flour or a combination of whole wheat and all-purpose flour. We use whole wheat flour when making these healthier muffins with banana and blueberries.
⭐️ For gluten-free muffins, substitute your favorite gluten-free all-purpose flour blend. Keep in mind that changing the flour from all-purpose will affect the texture of the muffins slightly.
Granulated sugar guarantees flavorful and tender muffins. You can swap for other sugars (brown sugar or coconut sugar, for example), but the texture of the muffin will change slightly. I also love adding a sprinkle of sugar to the muffin tops just before baking, which turns into a crackly top.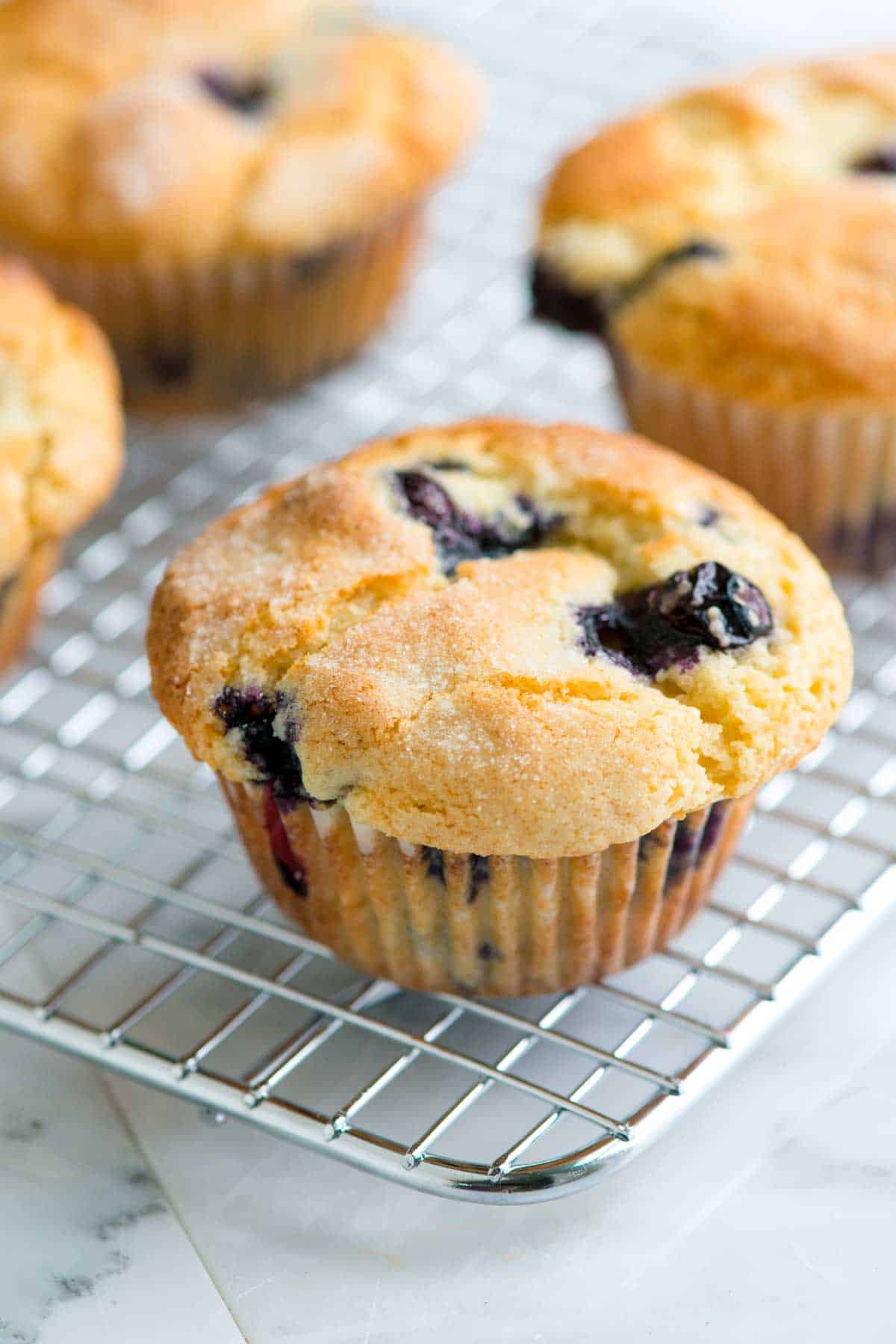 Oil is the key to moist blueberry muffins. I usually use butter when baking since I love the flavor, but after testing these muffins with both oil and butter, we found that the oil made more tender muffins.
Milk or non-dairy milk work like a charm. If you are dairy-free, try homemade oat milk, unsweetened almond milk, or coconut milk.
Egg provides structure and stability to the muffins. We use one egg. If you do not eat eggs, you can try using a flax egg instead. For egg-free and dairy-free muffins, try these vegan blueberry muffins.
Baking powder keeps our muffins light and airy. It is our go-to leavener for these muffins and our popular pancakes recipe. For the best results, use double-acting, baking powder. If you are sensitive to the flavor of baking powder, use aluminum-free.
⭐️ When was the last time you replaced your baking powder? Use fresh (new) baking powder for the best results. The USDA recommends keeping opened packages of baking powder at room temperature for 3 months.
Quick overview. How to make blueberry muffins in 3 easy steps
When you realize how easy these muffins are to make, you'll want to make them over and over again.
Whisk flour, sugar, baking powder, and a little salt in a large bowl.
Add oil, an egg, milk, and vanilla extract then stir with a fork until blended.
Mix in the blueberries, divide the batter between muffin cups and bake.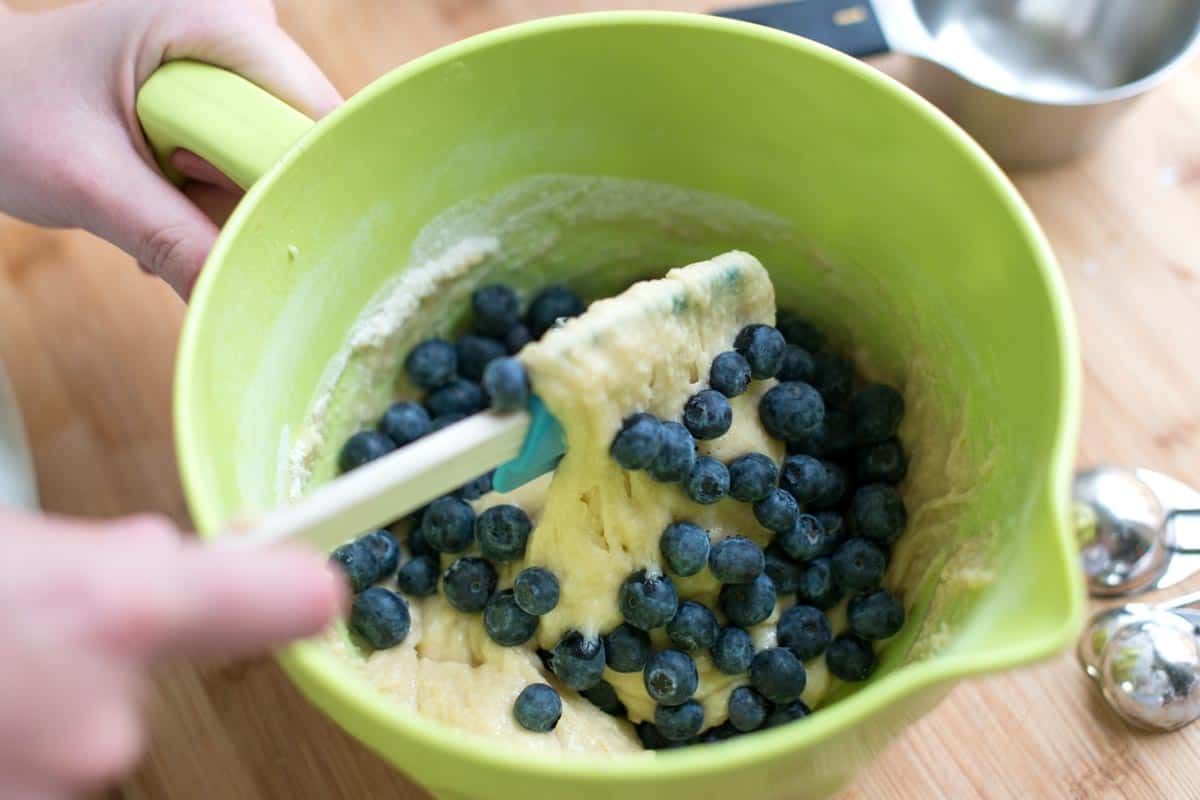 What temperature should I bake muffins?
We bake muffins at 400° F (204° C). A higher oven temperature maximizes rise and quickly activates the baking powder in our muffin batter. A hot oven promotes browning, guaranteeing pretty golden-brown muffin tops! Bake large and standard muffins for 15 to 20 minutes.
How do you know when muffins are done baking?
You can tell when muffins are ready to come out of the oven when the tops are no longer wet and a toothpick inserted into the middle of a muffin comes out with crumbs, not wet batter. The baking time for standard and big-topped muffins are similar, 15 to 20 minutes. Big-topped muffins may take an extra minute or two. Mini muffins bake for less time, 9 to 12 minutes.
How to make mini blueberry muffins
To make mini blueberry muffins, fill the muffin cups 3/4 of the way full with batter, and then bake for 9 to 12 minutes. If your muffin tin is not non-stick, we recommend using paper liners and lightly greasing or spraying the top of the pan with cooking oil for easy removal.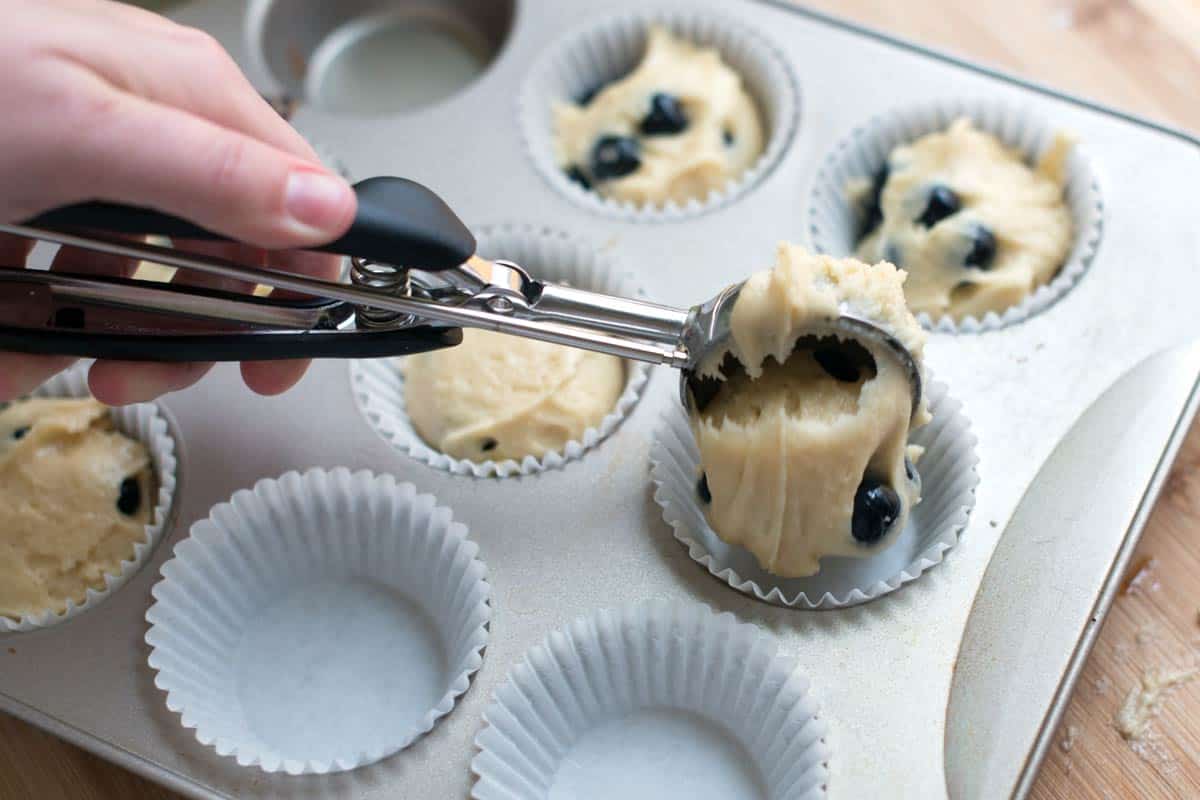 Our recipe can be used to make a variety of muffin sizes. Use our recipe to make the following:
Eight big-topped, bakery size muffins
Ten standard-size blueberry muffins
Twenty to twenty-two mini blueberry muffins
Storing muffins and freezing tips
Store muffins at room temperature for up to 3 days. Place the baked and cooled muffins into a paper towel-lined airtight container for the best results. The paper towel will absorb excess moisture, hopefully preventing the muffins from turning soggy. Since it dries them out, we do not recommend storing muffins in the fridge for an extended period.
Store muffins in the freezer for up to 3 months. After cooling to room temperature, place them into freezer bags or a freezer-safe airtight container for the best results. Thaw overnight in the fridge or reheat from frozen in an oven preheated to 300° F (148° C) for 5 to 8 minutes.
More easy muffin recipes
Since sharing this recipe and learning just how much you love them (see all the reviews below!). We have shared a few more recipes for muffins that use a very similar batter. Take a look at these:
For a slightly healthier take on these muffins, try our banana blueberry muffins. We add whole grains, ripe bananas and reduce the sugar. Most importantly though, they taste great! Or try these vegan muffins.
The batter for our strawberry muffins is very similar to this recipe! We add a little spice from cinnamon and black pepper, which may seem odd, but it is delicious with fresh strawberries.
Try our classic chocolate chip muffins with brown sugar, sour cream, a vanilla-scented batter and lots of chocolate chips. There's a little sour cream added to the batter to make it extra delicious, and you can even add blueberries or strawberries for a fruit-chocolate combination.
Try our ginger oatmeal muffins made with fresh ginger, fresh or frozen blueberries and oats. Plus a spoonful of vanilla-scented glaze to make everything that much better.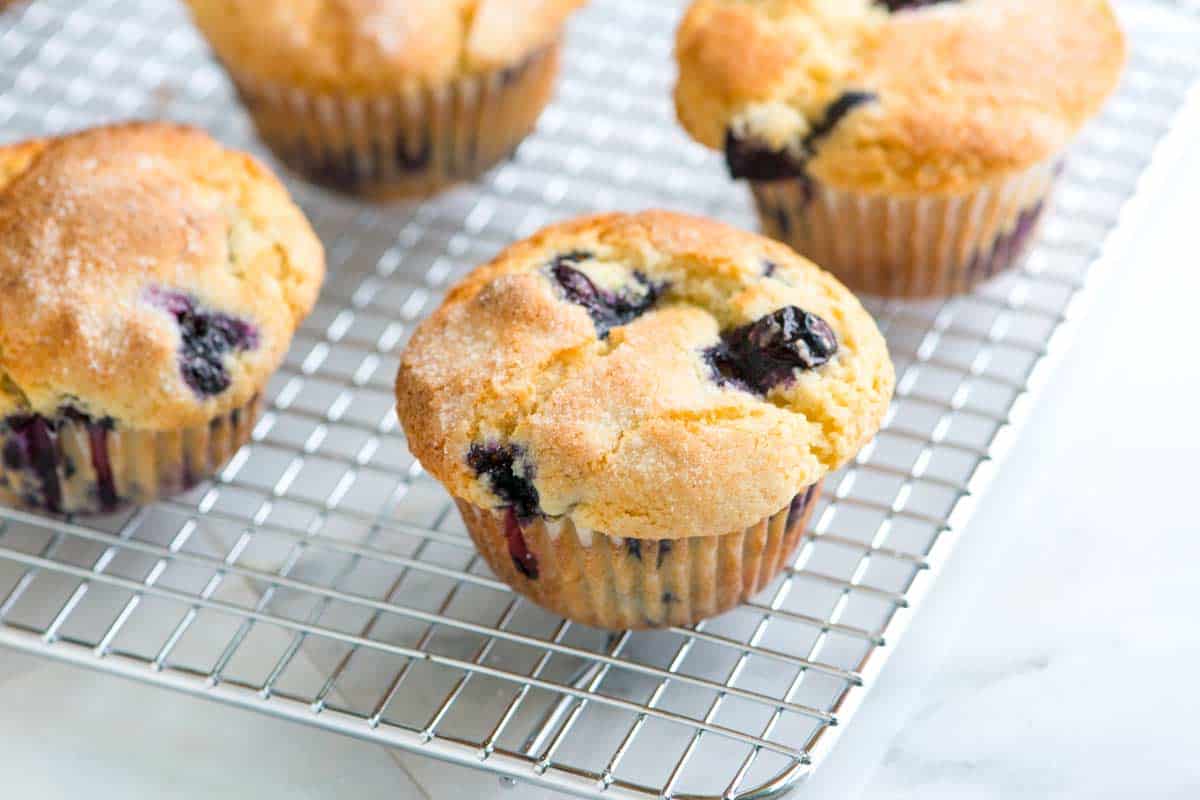 Our Best Easy Blueberry Muffins
This easy blueberry muffins recipe makes eight large, big-topped muffins, ten standard muffins, or 20 to 22 mini muffins (see our note below about baking time for mini muffins).
⭐️ Preventing batter that's too thick: When measuring flour for these muffins, use the "fluff and scoop method" or the weight in grams. To do it, stir the flour in its container to aerate it, and then use a spoon to fill your measuring cup with flour, mounding it slightly over the top. Finally, use a knife to remove excess flour, leveling the top of the cup. Watch me do this in our video! This method guarantees you are using the right amount of flour.
Makes 8 large, big-topped muffins / 10 standard muffins / 20-22 mini muffins
Watch Us Make the Recipe
You Will Need
1 ½ cups (195 grams) all-purpose flour
3/4 cup (150 grams) granulated sugar, plus 1 tablespoon for muffin tops
1/4 teaspoon fine sea salt
2 teaspoons baking powder
1/3 cup (80 ml) neutral-flavored oil, safflower, avocado, and vegetable oil are great
1 large egg
1/3 to 1/2 cup (80 ml to 120 ml) milk, dairy and non-dairy both work
1 ½ teaspoons vanilla extract
6 to 8 ounces fresh or frozen blueberries, generous 1 cup
Directions
Prepare Oven and Muffin Cups

1Heat oven to 400° Fahrenheit (204° C). For big-topped muffins, line 8 standard-size muffin cups with paper liners. For standard-size muffins line 10 muffin cups. Lightly grease or spray the tops of the muffin tin with oil to prevent the oversized tops from sticking. (High-quality nonstick pans may not require this.)
Make Batter

1Whisk the flour, sugar, baking powder, and salt in a large bowl.

2Add oil to a measuring jug that holds at least 1 cup. Add the egg then fill the jug to the 1-cup line with milk (1/3 to 1/2 cup milk). Add vanilla and whisk to combine.

3Add milk mixture to the bowl with dry ingredients then use a fork to combine. Do not over mix. (The muffin batter will be quite thick — see note below for more details). Fold in the blueberries.
Bake Muffins

1Divide the batter between muffin cups. (If making big-topped muffins, the batter will come to the tops of the paper liners). Sprinkle a little sugar on top of each muffin.

2Bake muffins 15 to 20 minutes or until tops are no longer wet and a toothpick inserted into the middle of a muffin comes out with crumbs, not wet batter. Transfer to a cooling rack.

3To store, place them in a plastic bag, seal, and store at room temperature for up to 3 days. To freeze, wrap them tightly in aluminum foil or place them in freezer bags. Freeze for up to 3 months.
Adam and Joanne's Tips
Frozen blueberries: You can make these with fresh or frozen blueberries – if you use frozen, do not thaw the blueberries.
For mini muffins, the baking time will be less — keep an eye on them while they bake and expect them to require 9 to 11 minutes.
Batter Thickness: The batter should be thick and "scoopable" — not runny and not dry or extra thick like dough. If the batter is too runny, add flour, a tablespoon at a time until correct consistency. If the batter is dry or too thick, add milk, a tablespoon at a time until the proper consistency.
Water in cups: In our original recipe, we suggested that you add water to unfilled muffin cups (1 to 2 tablespoons). This is intended to help the muffins bake evenly. After years of testing, we no longer find this tip necessary.
Nutrition facts: The nutrition facts provided below are estimates. We have used the USDA database to calculate approximate values. Calculations are for one standard muffin (this recipe makes 10).
Nutrition Per Serving
Serving Size
1 muffin (10 total)
/
Calories
216
/
Total Fat
8.2g
/
Saturated Fat
1.2g
/
Cholesterol
19.4mg
/
Sodium
71.3mg
/
Carbohydrate
33.2g
/
Dietary Fiber
1g
/
Total Sugars
17.2g
/
Protein
2.9g