How to make a great Caesar salad with our homemade dressing, perfectly crunchy and seasoned croutons and a generous amount of parmesan cheese. Jump to the Caesar Salad Recipe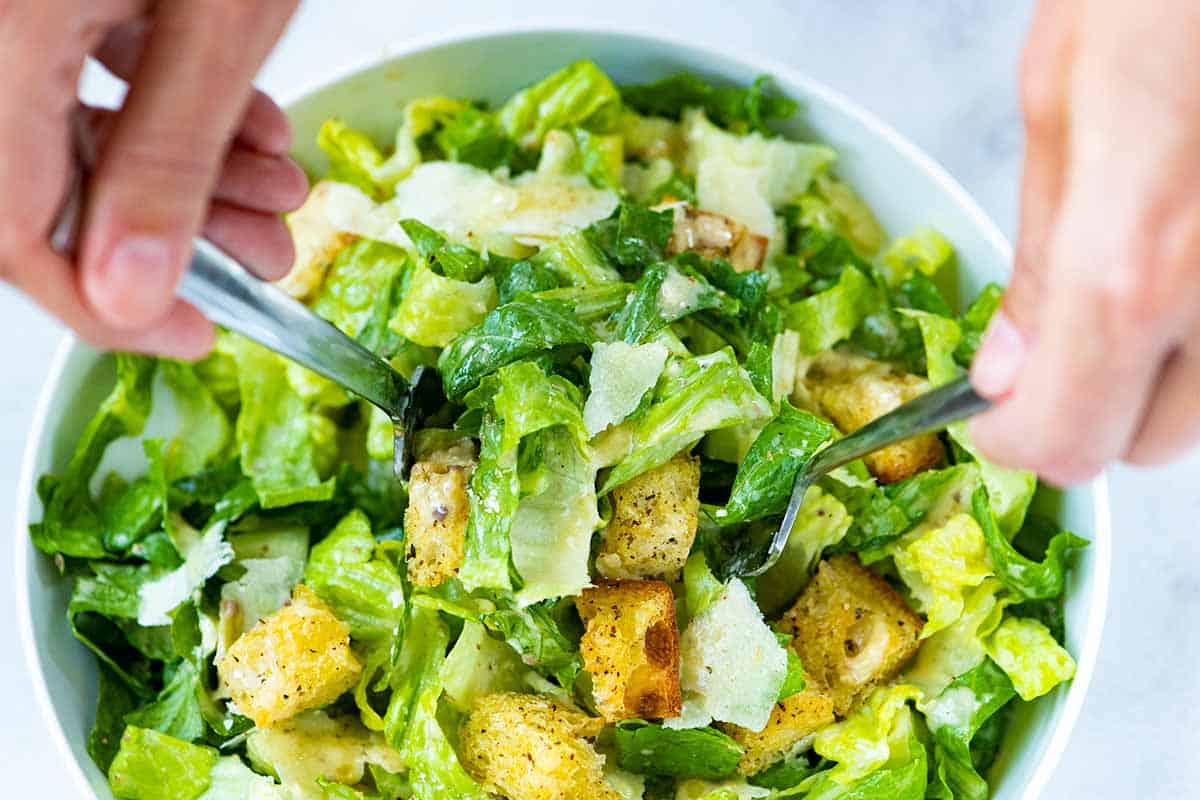 Making Great Caesar salad
The best Caesar Salads start with a stellar dressing. The one I go to most calls for classic ingredients, which means we'll be whisking together raw egg yolk, anchovies, garlic, lemon, and oil. If you aren't a fan of using raw eggs, take a look at this egg-free dressing instead.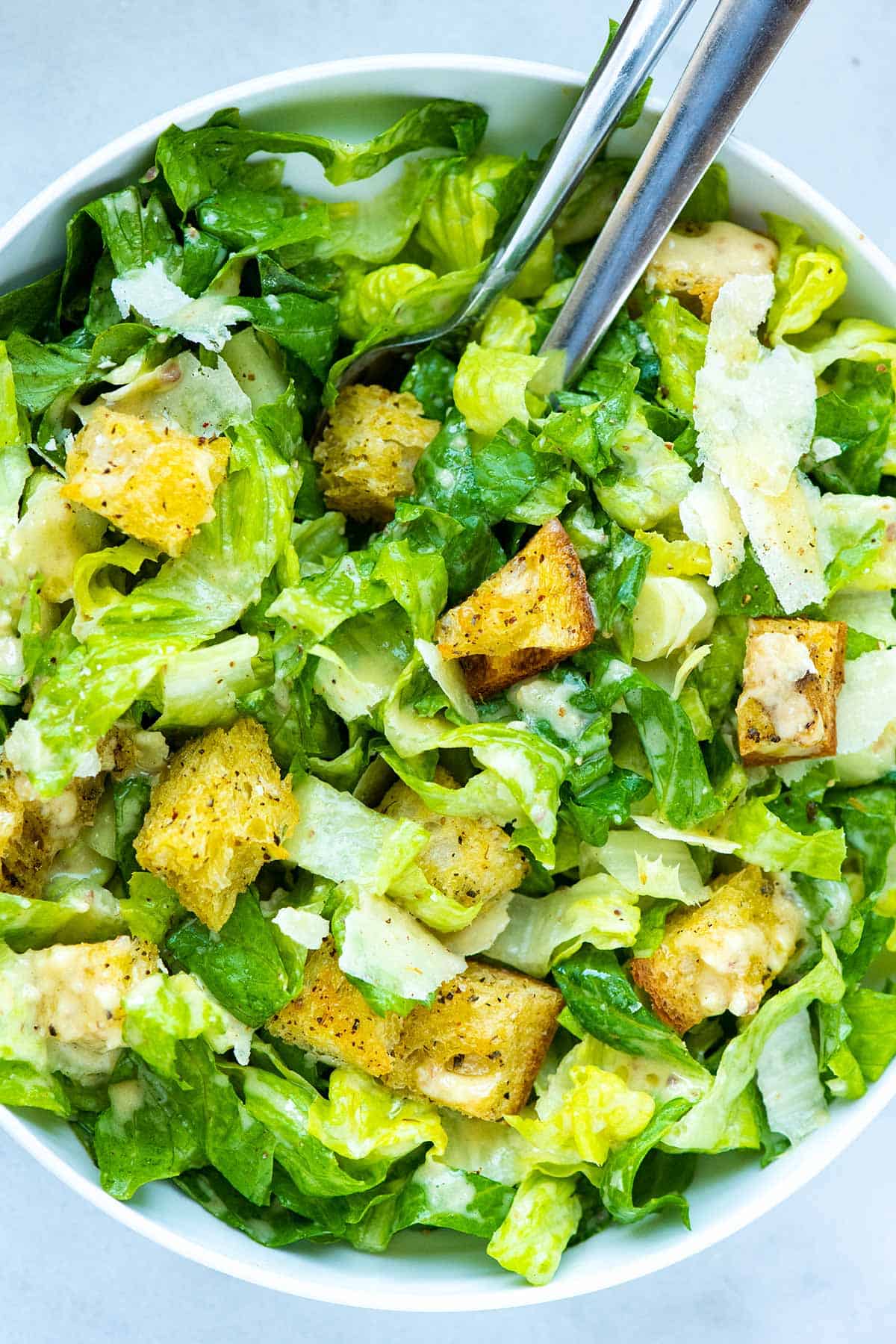 The dressing can be made up to a day in advance. Most of the time, I make it by hand using a bowl and whisk, but you can make it using a blender, immersion blender or food processor. The method for making it by hand is what is shown in the video since we knew everyone will be able to make it this way. We also have an in-depth tutorial for making it here.
Once you have your dressing made, the rest of the salad is pretty darn simple. Croutons are essential for some crunch. You can buy them, but they are also very simple to make yourself.
Simply tear or slice bread into small chunks and toss with olive oil, salt, pepper, and if you'd like to add them, some dried herbs. Bake the seasoned bread in the oven until crisp.
Romaine is the standard for Caesar salad. You can tear the leaves or chop them. If you chop them, keep in mind that Romaine lettuce has a tendency to brown around the cut edges over time. It's because of this that I chop right before serving or simply tear the leaves.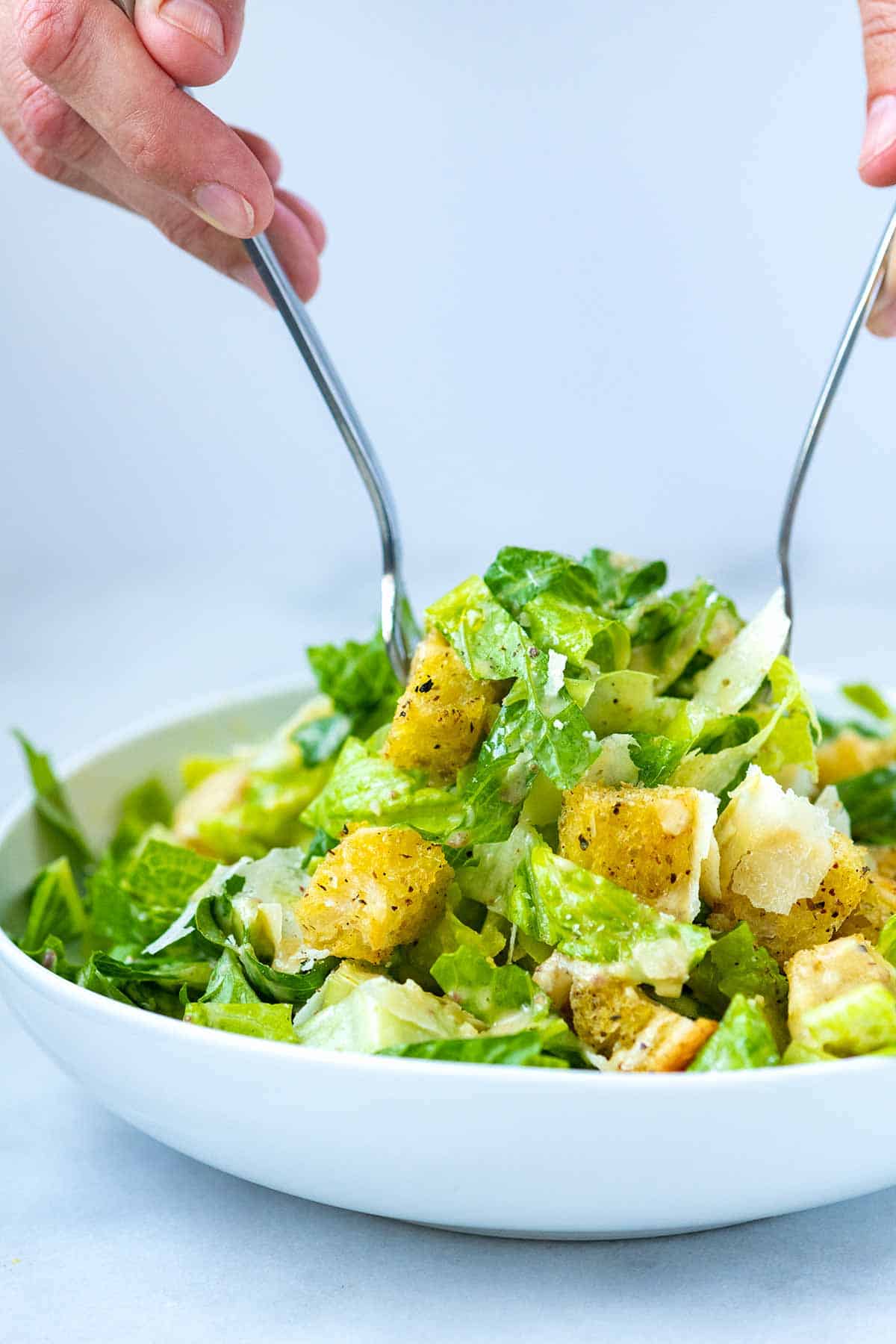 Finally, I love adding a generous amount of parmesan cheese to both the dressing and the salad. For the dressing, I whisk in shredded cheese and for the salad, I use a vegetable peeler to make small shards of cheese to scatter all over the salad.
Recipe variations
Egg-free (and mayonnaise-free) dressing: Take a look at our egg-free Caesar salad dressing.
Vegan caesar salad dressing: Substitute the egg and oil for vegan mayonnaise (1/2 to 1 cup) and replace the anchovies with a tablespoon or so of minced capers. Hummus or tahini are also excellent bases for the dressing. You should also leave out the parmesan cheese.
Made without anchovies: If you don't enjoy anchovies, try capers instead. Use 1 to 2 tablespoons of drained capers and mince them really well before adding to the dressing. A tiny splash of Worcestershire sauce is also a nice addition to help with replacing the briny, umami flavors missed by not including the anchovies.
More salads to try
Our Favorite Homemade Caesar Salad
Homemade Caesar dressing is simple to make and can be done a few different ways: by hand, in a blender, in a food processor or by using an immersion blender. All methods are simple and quick. I particularly love doing this by hand and enjoy seeing little bits of the garlic and anchovy in the dressing. The method for making the dressing by hand is shown below. For making it in a blender, food processor or with an immersion blender, see our more detailed Caesar Salad Dressing recipe.
Makes about 4 main servings
Watch Us Make the Recipe
You Will Need
The Dressing
3 to 5 anchovies packed in oil, depending on taste
2 medium garlic cloves
1 large egg yolk
2 tablespoons fresh lemon juice
1 teaspoon Dijon mustard
4 tablespoons grated parmesan cheese
1/3 cup neutral oil (like grape seed oil, safflower oil or avocado oil), plus more as needed
Salt and fresh cracked black pepper
Homemade Croutons
4 cups torn or cubed day old bread, about 1-inch pieces
3 tablespoons olive oil
Salt and fresh ground black pepper
1/4 to 1/2 teaspoon dried herbs like rosemary thyme, oregano and Italian seasoning, optional
The Salad
2 hearts romaine lettuce, rinsed and chopped or torn into small pieces
Parmesan cheese shavings
Directions
Make the dressing

1Using a chef's knife mince the anchovies and garlic into small bits. Using the side of the knife mash them into a very fine paste by pushing and pulling the mound of anchovies and garlic across the cutting board. Set aside.

2In a medium bowl, whisk the egg yolk, lemon juice and mustard together until frothy. Placing a dishcloth underneath the bowl helps to steady it as you whisk.

3Get into a comfortable whisking position and while you whisk with one hand, slowly stream in the oil with the other hand. You are looking to add the oil in tiny drips and will notice that as you whisk in the oil, the mixture in the bowl will start to lighten in color and thicken.

4When all of the oil has been added, check the consistency. If it's too thick, whisk in a teaspoon or so of water. If it's too thin, continue to whisk and stream in a little more oil.

5Finish by whisking in the mashed anchovies, garlic and parmesan cheese. Taste and generously season with salt and pepper. Store, covered in the refrigerator. Dressing can be made a day in advance.
Make croutons

1Heat oven to 375 degrees Fahrenheit.

2In a medium bowl, toss the pieces of bread with olive oil, a pinch of salt and a few grinds of black pepper. Add dried herbs, if using, and toss well.

3Transfer to a parchment paper lined baking sheet. Bake, stirring once, until crisp and light golden around the edges, 10 to 15 minutes. Cool and then store in an airtight bag for 2 to 3 days.
Assemble Salad

1Toss lettuce with a few generous spoonfuls of the dressing. If the salad looks dry, add a bit more dressing. Scatter over a few handfuls of the croutons and finish with parmesan cheese shavings.
Adam and Joanne's Tips
Anchovy paste: 1 anchovy fillet equals 1/2 teaspoon anchovy paste (anchovy fillets and anchovy pastes do taste slightly different so add based on your own tastes)
Nutrition Facts: The nutrition facts provided below are estimates. We have used the USDA database to calculate approximate values.
If you make this recipe, snap a photo and hashtag it #inspiredtaste — We love to see your creations on Instagram and Facebook! Find us: @inspiredtaste
Nutrition Per Serving
Serving Size
1/4 of the recipe
/
Calories
435
/
Total Fat
33.3g
/
Saturated Fat
6.6g
/
Cholesterol
57.4mg
/
Sodium
531.9mg
/
Carbohydrate
26g
/
Dietary Fiber
2.6g
/
Total Sugars
0.6g
/
Protein
10.5g