Easy pasta salad recipe with a dairy-free lemon basil dressing and grilled vegetables. Jump to the Lemon Basil Pasta Salad Recipe with Veggies or read on to see our tips for making it.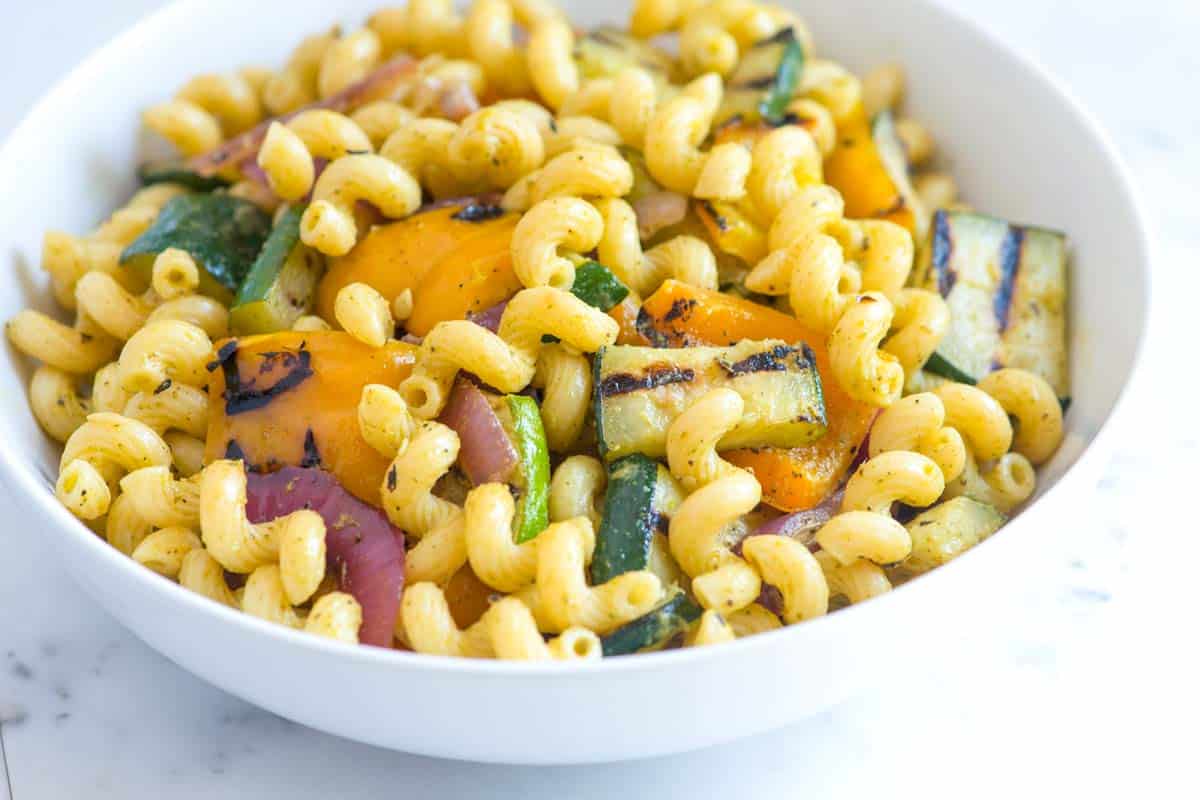 We got our hands dirty with our very first garden. Being gardening newbies is fun — multiple trips to the nursery for supplies, brand new gardening hats and our recent zen-like acceptance of weeds. So far our most successful crop is basil. It's practically coming out of our ears. (By the way, do you want some basil?) Tomatoes are showing promise, but right now we're in a how-may-ways-can-we-use-basil-today kind of mood.
You may also like this easy potato salad recipe. We love this stuff! Joanne and I would be happy to hover over a bowl of it any day. It has few extras thrown in, too. Jump to our Easy Potato Salad Recipe.
How to Make Lemon Basil Pasta Salad
The basil dressing is so simple to make and is absolutely perfect tossed with pasta. It's also excellent over salad, grilled shrimp or chicken.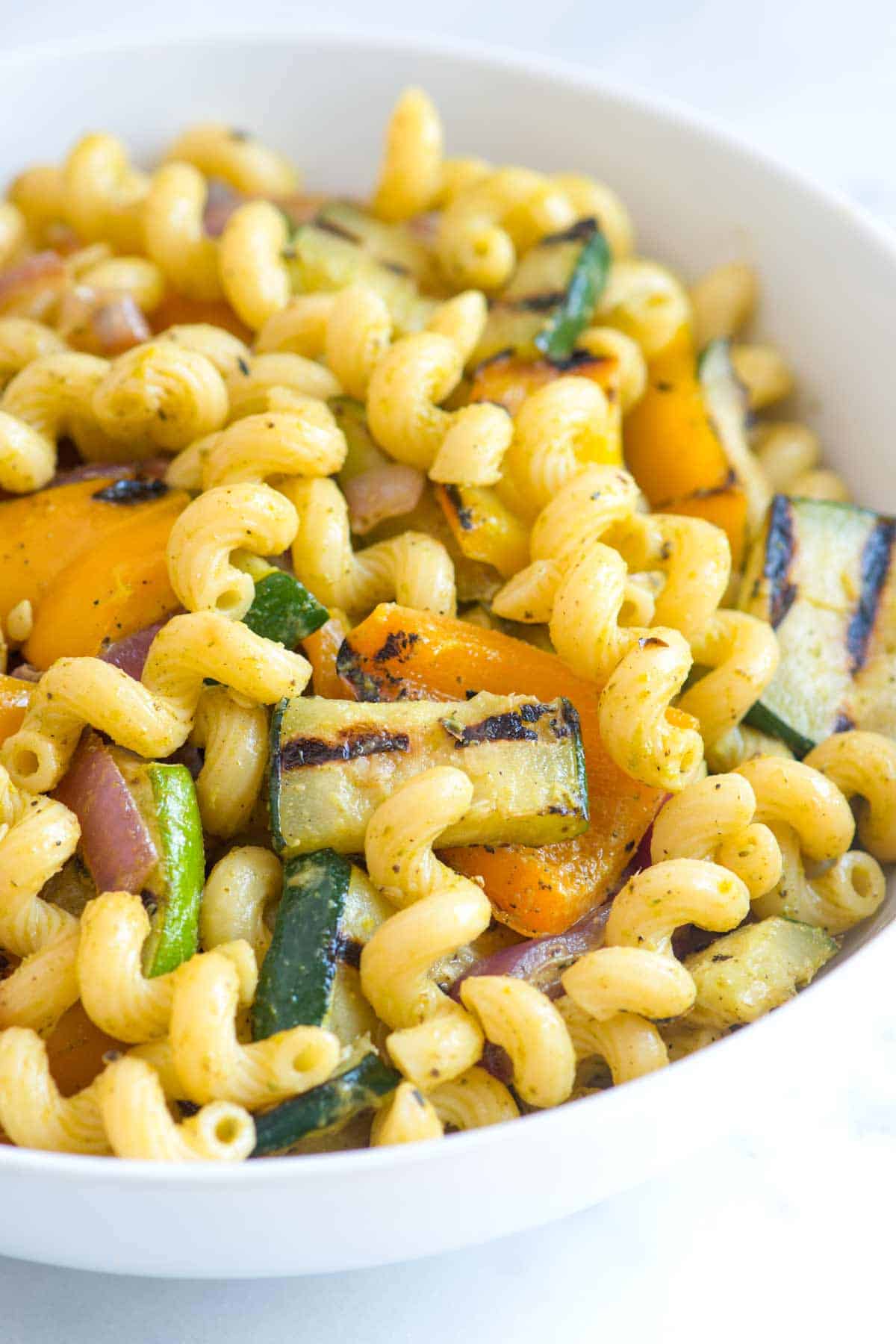 Here's another simple pasta salad recipe with mozzarella and parmesan!
When you add the dressing, add it while the pasta is still warm. This way the pasta soaks up lots of flavor — more than if you were to add it to cold pasta. We also add grilled vegetables. They soak up lots of the flavor from the dressing and add a nice crunch to the pasta salad.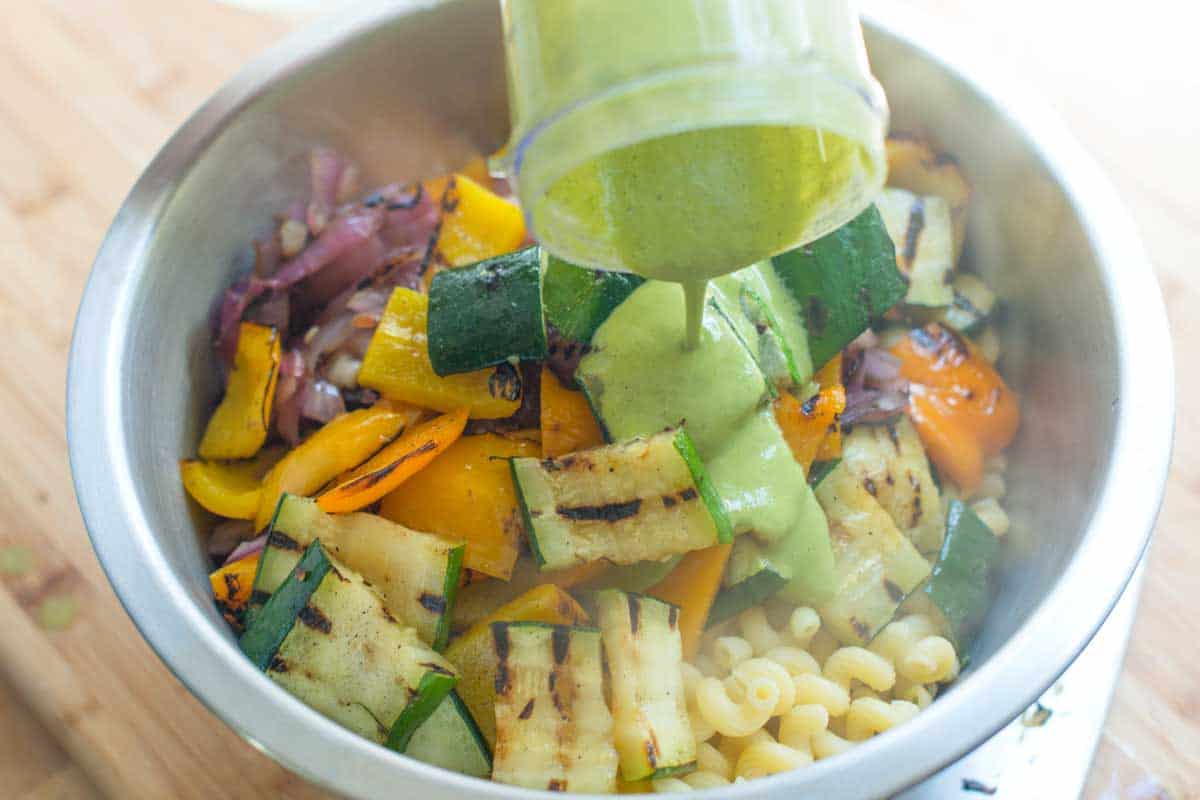 You can eat this warm or cold. I fell in love with it immediately, but Adam thinks it's best eaten at room temperature. So this is perfect for picnics or barbecues. You could even toss some grilled chicken or shrimp on top.
If you loved this, take a look at our Lemon Orzo Pasta Salad with Cucumbers and Olives!
Recipe updated, originally posted July 2013. Since posting this in 2013, we have tweaked the recipe to be more clear. – Adam and Joanne
Lemon Basil Pasta Salad Recipe with Veggies
This pasta salad can be prepared up to 8 hours ahead. Just cover and refrigerate. Then bring to room temperature or warm before serving. The longer the salad sits, the basil will loose some of its bright green color. It sill tastes delicious. It might be a good idea to make a little extra dressing to toss in just before serving.
Makes approximately 6 servings
You Will Need
2 medium zucchini, sliced into long 1/4-inch strips
1 red onion, sliced into 1/4-inch rings
2 bell peppers, seeds removed and quartered
3/4 pound dry pasta such as cavatappi, fusilli or penne
2 tablespoons extra-virgin olive oil
Salt and fresh ground black pepper
Lemon Basil Dressing
2/3 cup loosely packed fresh basil leaves
1 tablespoon Dijon-style mustard
1 teaspoon honey, plus more to taste
2 teaspoons lemon zest
1/3 cup (80 ml) fresh lemon juice
1/3 cup (80 ml) extra-virgin olive oil, plus more if needed
Salt and fresh ground black pepper
Directions
Cook Pasta and Veggies

1Bring a large pot of salted water to a boil then cook pasta according to package directions. Drain.

2Meanwhile, heat a grill pan over medium heat or prepare an outdoor grill or barbecue (medium heat).

3Toss vegetables with 2 tablespoons of oil then season with salt and pepper. Grill vegetables, turning occasionally, until cooked through and edges are beginning to brown; 8 to 10 minutes. Cut vegetables into 1/2-inch pieces. (If using a grill pan, you may need to do this in batches.)
Make Dressing

1Blend basil, mustard, honey, lemon zest and the lemon juice in a food processor or blender, scraping down sides of bowl as needed. With the machine running, gradually add the olive oil and blend until creamy. (If the dressing is too thick, add 1 to 2 tablespoons more olive oil.) Season to taste with salt and pepper.
To Finish

1Combine cooked and drained pasta and grilled vegetables in a large bowl. Mix in enough dressing to coat. Season to taste with salt and pepper. Serve or refrigerate up to 8 hours.