Hands down, this is my favorite creamy potato salad recipe (and so many of our readers agree, just read the reviews). See how to make our homemade potato salad with a simple classic dressing.
Watch the Video
Related: We love this creamy macaroni salad.
How To Make The Best Potato Salad
There's no need to be intimidated. Potato salad is very simple to make. With a few tricks, you'll be making it like a pro in no time. While we're on the subject of potatoes, you should know that we love them around here! Here are a few more favorite recipes: Our go-to mashed potatoes, these easy baked sweet potato fries, and our smoky roasted fingerling potatoes with a dipping sauce inspired by this recipe!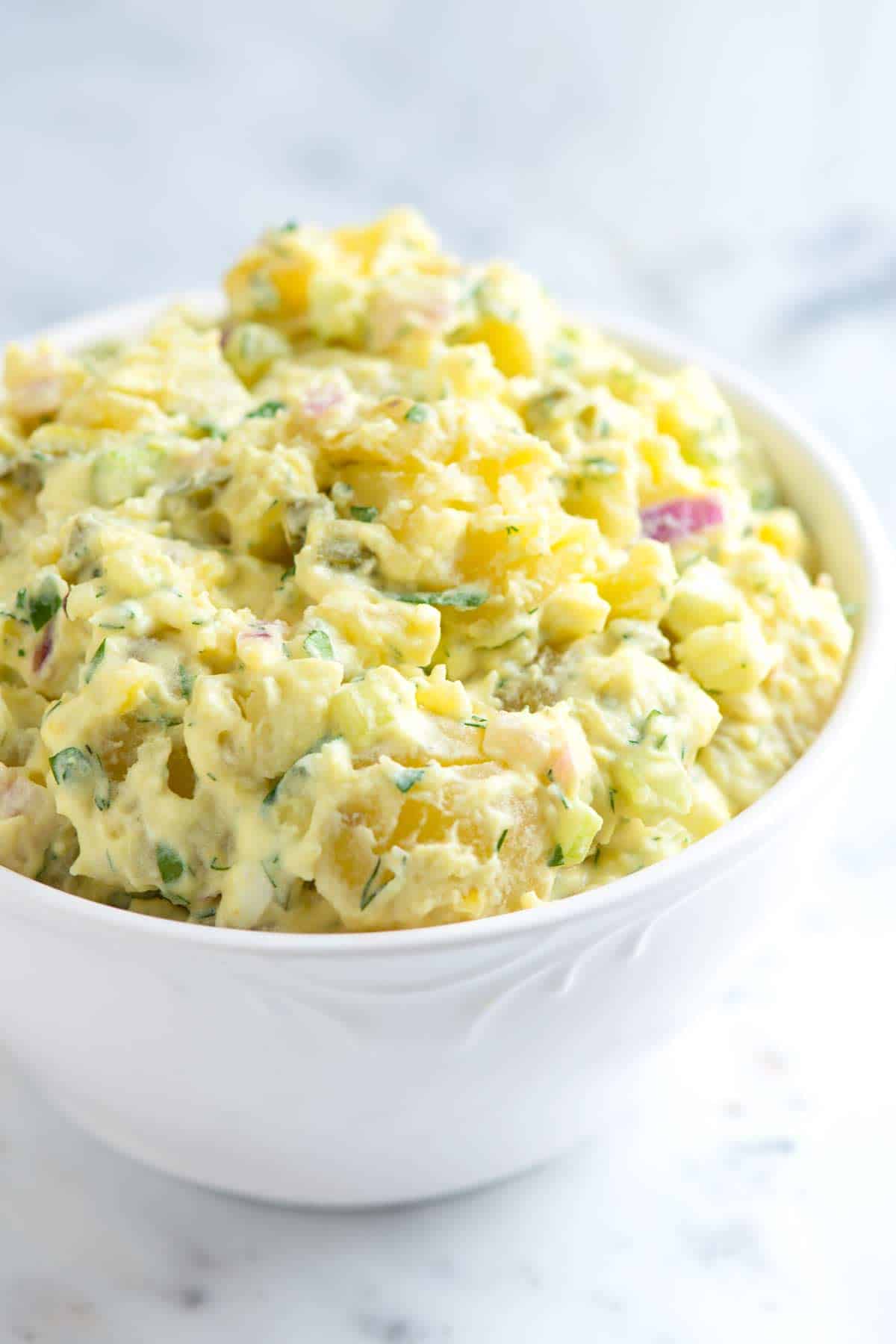 More Recipes: We also love this Red Potato Salad as well as this mayonnaise-free Herb Potato Salad!
The Best Potatoes To Use
Small, waxy, and thin-skinned potatoes are best for potato salad. Small yellow, white or red potatoes are perfect (fingerling potatoes work, too). They are quick-cooking, and since they are already small, there's no need to chop them before cooking them.
Leave the potatoes whole. Whole cooked potatoes maintain more of their flavor and natural sweetness. We're also partial to the texture of potatoes when they are cooked whole compared to chopped.
If you don't have small, waxy potatoes available, other potatoes will work in their place; the texture will be slightly different. We try not to use russet (baking) potatoes since they tend to fall apart. If that's all you have, don't worry. Chop them before cooking — they are much larger and take a long time when cooked whole. (We use the same varieties of potatoes for our favorite roasted potatoes recipe.)
How To Cook The Potatoes
We simmer potatoes whole in salted water when making potato salad. Here are our top tips for doing it:
Salt the cooking water. It's important to add a generous amount of salt to the cooking water. By salting the water, the flavor of the potatoes comes out. They won't taste salty, only like excellent potatoes.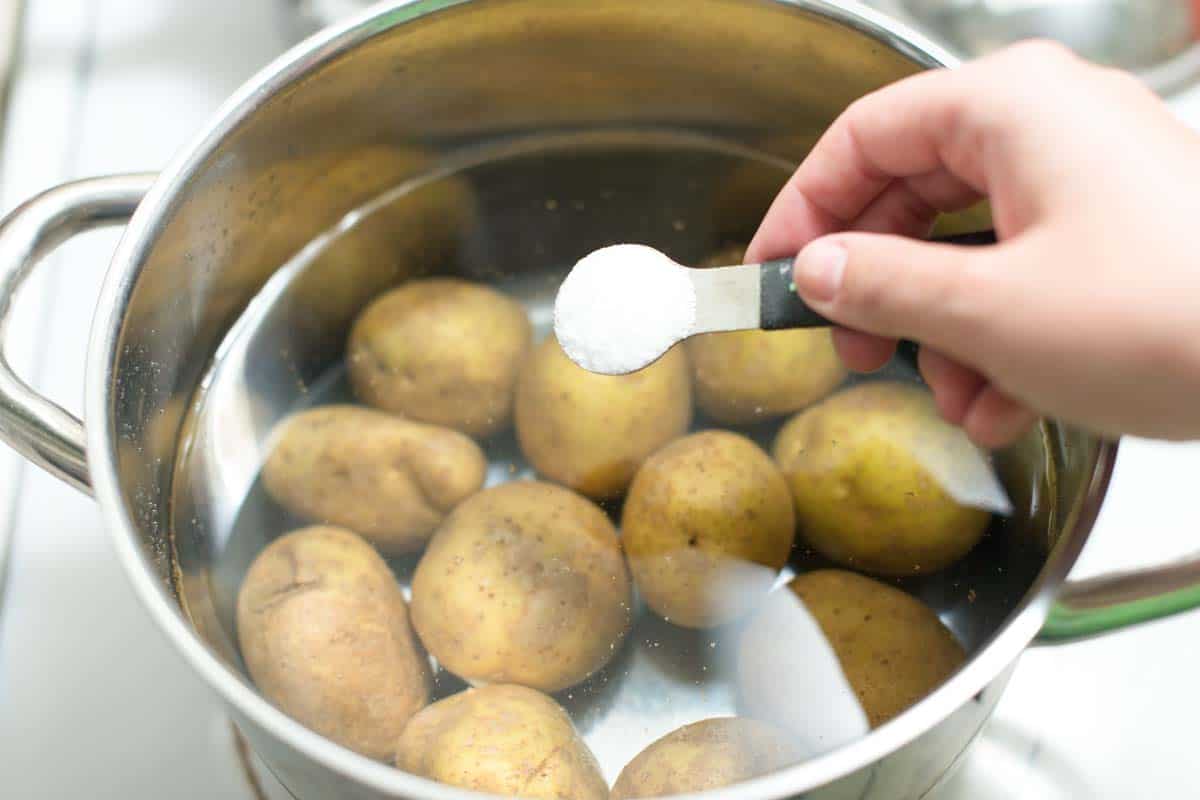 Simmer, don't boil. When it comes to cooking potatoes for potato salad, there's no need to boil. When you do they violently bash against each other. Instead, bring the water with potatoes to a boil then reduce the heat to a gentle simmer. The potatoes cook just as quickly.
Potatoes are cooked when you can push a fork through the center. When they are done, drain the potatoes and add them to an ice bath, which stops them from cooking. After 2 to 3 minutes they are cool enough to handle.
While I love using skin-on potatoes for mashed potatoes, I like to remove the peel from the potatoes for this. Since I use small potatoes, peeling them before cooking would be a frustrating task. Instead, I cook my potatoes with the peel on, let them cool, and then peel. Since the potatoes are cooked, the peel comes off easily (you can see us do this in our video above).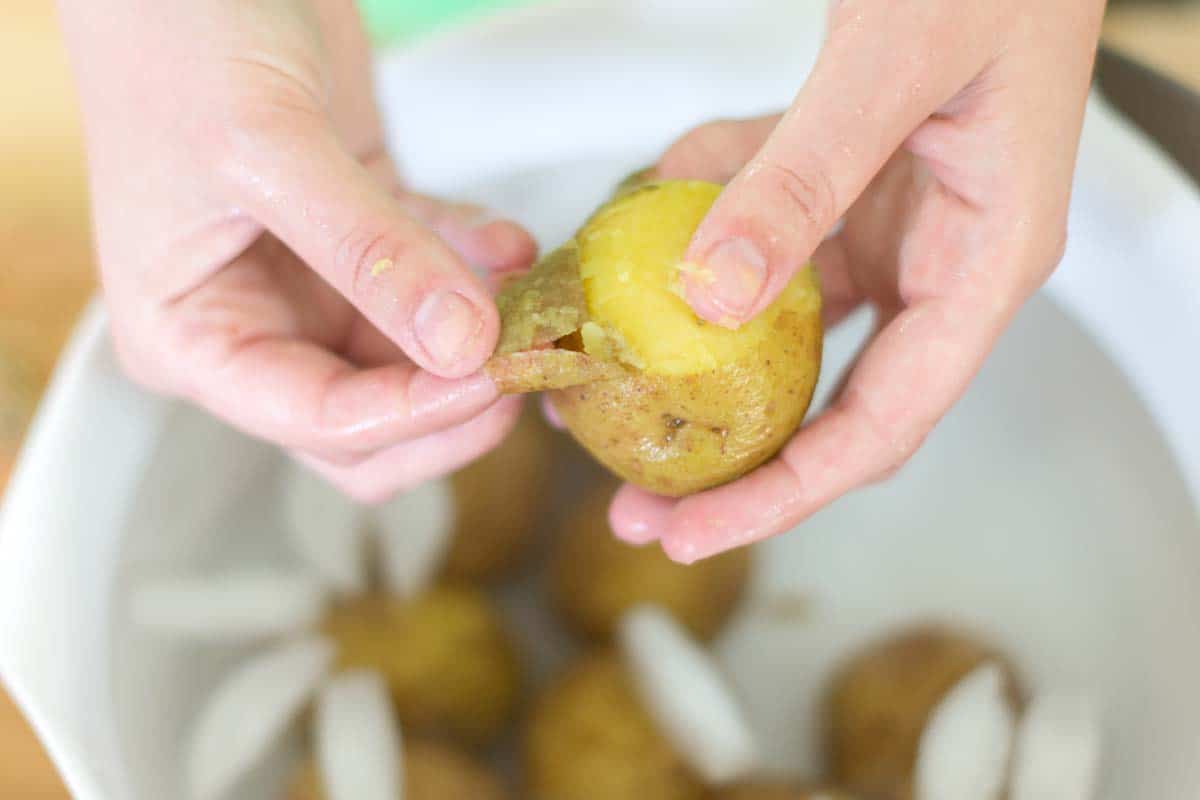 A Quick Recap
Small waxy potatoes are best — they cook quickly, and there's no need to chop them.
Cook the potatoes whole. They taste better and don't get waterlogged.
Bring the water to a boil then reduce to a gentle simmer.
Add a generous amount of salt to the cooking water. Without salt, the potatoes won't taste very good.
Cook potatoes until fork tender, drain them then add to an ice bath, stopping them from overcooking.
My Favorite Potato Salad Dressing
Our potato salad recipe airs on the classic, more traditional side, but we do have a couple of tweaks. (If you are looking for a non-creamy dressing, take a look at our green bean and potato salad with feta and olives or this herby, mayo-free version.)
For the salad dressing, we use mayonnaise and sour cream. Both make the dressing extra creamy, but mayonnaise can be heavy by itself.
Adding the sour cream lightens up the dressing a bit. If you're used to only using mayonnaise, try adding a bit of sour cream next time. It's a game-changer. When I really want to up my potato salad game, I use homemade mayonnaise. It's easier than you might think. Here is our mayonnaise recipe with a video that walks you through how to make it.
We also add regular yellow mustard, which adds an extra kick of flavor as well as a bit of color. I usually use Dijon mustard in our recipes, but when it comes to this salad, regular yellow mustard wins.
We add vinegar as well, but not to the dressing. Instead, we sprinkle vinegar over the cooked potatoes. We learned this tip from Alton Brown.
After dicing the cooked potatoes, scatter a tablespoon or so of vinegar over them. It's incredible how much of a difference the vinegar makes. Use apple cider vinegar, white, or red wine vinegar or even dill pickle juice!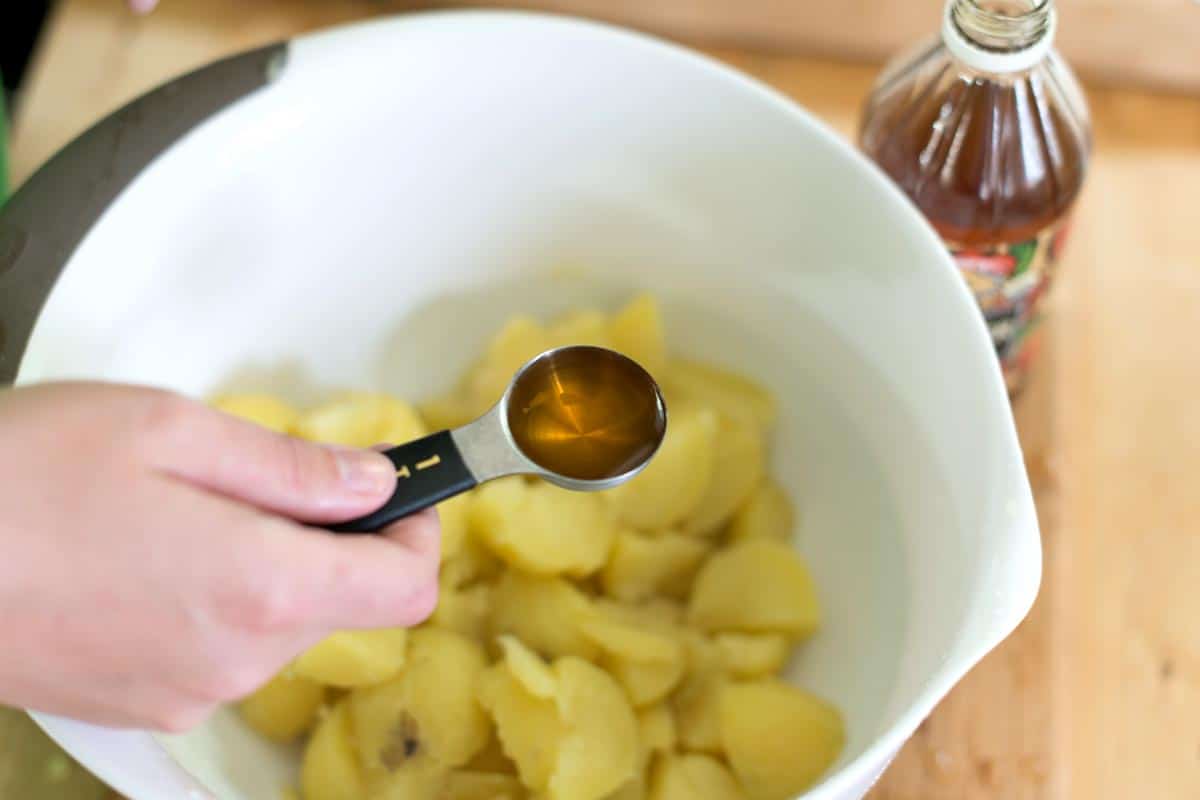 The Rest Of The Ingredients
Now we have perfectly cooked and seasoned potatoes and a creamy dressing, it's time to add some extra ingredients.
Potato salad is a personal process, and there are lots of opinions out there as to what makes it "perfect" or "the best." The recipe below is our version — it includes everything we love, but remember that it's your potato salad, so add what you like!
Celery and Pickles — The celery adds a lovely crunch and our house isn't stable without dill pickles in the refrigerator so adding them is a no-brainer for us. If you don't like pickles in potato salad leave them out (you can also replace them with sweet pickles).
Red Onion — I love the sweetness and crunch of red onion in this. To make sure that the onion doesn't overpower the salad with raw onion flavor, I "deflame" the onions. It's a simple process, simply add cool water to chopped onion and set aside for 10 minutes. The time in the water takes the raw edge off the onion.
Hard-Boiled Eggs — Maybe it's how we were brought up or what we're used to but, potato salad without eggs is missing something. Hard-boiled eggs add texture and extra creaminess.
Fresh Herbs — The most common herbs are parsley and chives, but dill, cilantro, and tarragon all work well. In our recipe below, we use both dill and parsley. Experiment for yourself to see what you love. Add a tablespoon at a time then taste. Also, remember dill and tarragon are a little stronger than other herbs so add accordingly. If you love fresh herbs, try our herb chicken salad!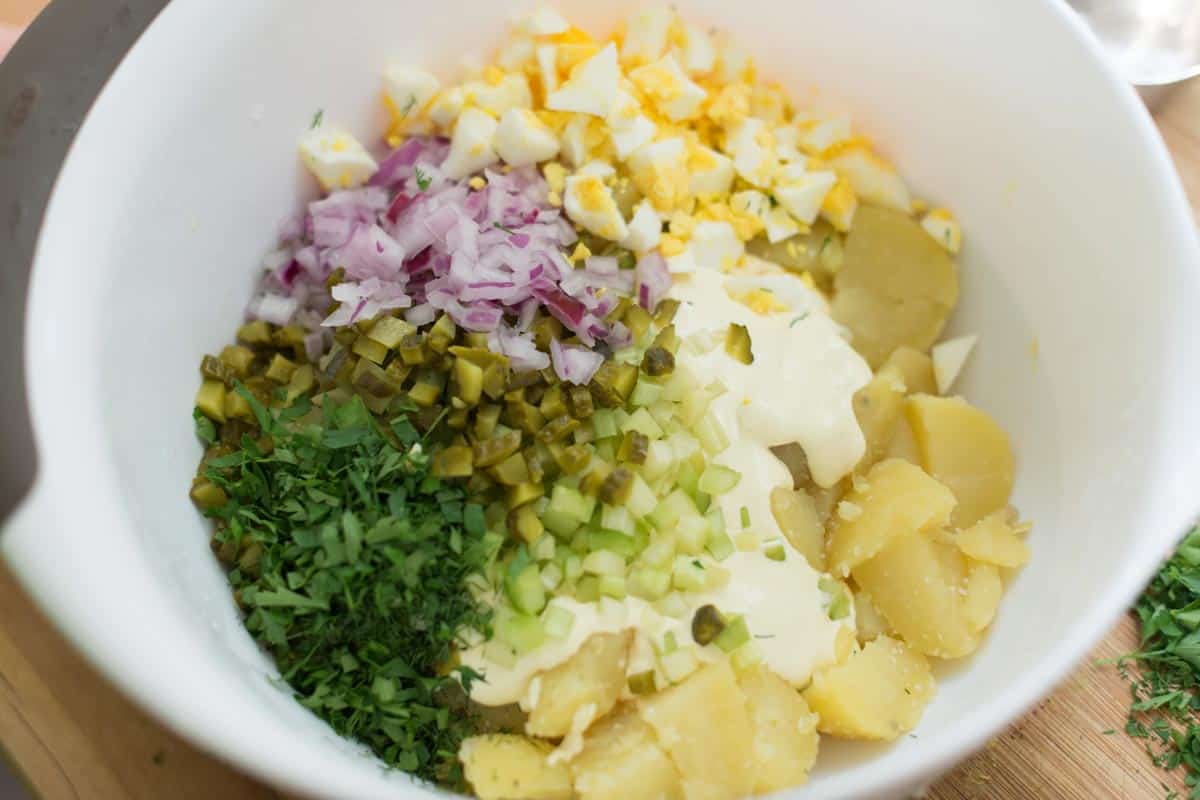 More Easy Side Dishes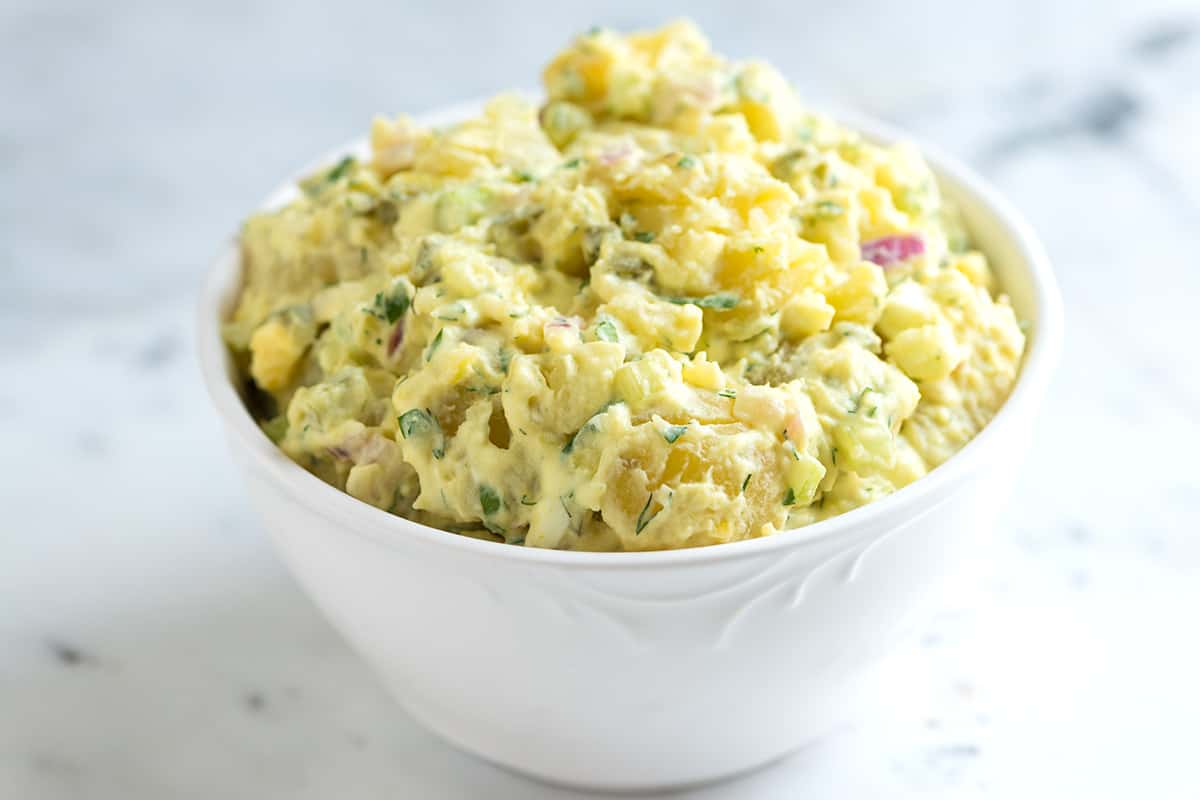 Easy Creamy Potato Salad
Small yellow, white, or red potatoes are best for potato salad. The potatoes maintain their natural moisture and sweetness this way. We prefer the texture when cooked whole, but you can chop the potatoes if you're in a pinch for time or if your potatoes are large.
We love to add fresh herbs and love a combination of chopped parsley and dill. Parsley, dill, chives, tarragon, and cilantro all work well. Add about two tablespoons of herbs first, then add more to taste. Dill and tarragon are strong, so you may not need the whole 1/4 cup.
If you can, store the salad in the refrigerator for 30 minutes or so before serving. This extra time helps the flavors mingle and makes for a better potato salad.
Watch Us Make the Recipe
You Will Need
2 pounds small yellow, red, or white potatoes
1 tablespoon apple cider, wine, or rice wine vinegar
1/2 cup sour cream
1/4 cup mayonnaise, try homemade mayonnaise
1 tablespoon yellow mustard, substitute Dijon or whole grain mustard
1/2 medium red onion, finely chopped, about 1/2 cup
3 celery stalks, finely chopped, about 1/2 cup
1 medium dill pickle, finely chopped, about 1/3 cup, try homemade pickles
2 hard-boiled eggs, peeled and chopped, optional
1/4 cup chopped fresh herbs like parsley, dill, chives, tarragon, or cilantro
Salt and fresh ground black pepper
Directions
Cook Potatoes

1Add the potatoes to a large pot and cover with 1 1/2 inches of water. Season with salt — use one teaspoon for every quart of water.

2Bring the water to a boil, then reduce to a simmer (boiling the potatoes can cause them to hit one another and break apart)—Cook 15 to 20 minutes or until easily pierced with a fork.

3Meanwhile, set up an ice bath. Add cold water to a medium bowl filled with ice. Drain the potatoes and then place them into the ice bath. When cool, peel the potatoes by gently pinching the skin and pulling it away.

4Chop the peeled potatoes into bite-size chunks, then add to a large bowl. Scatter the vinegar over potatoes and lightly season with salt.
"De-flame" Onions

1While the potatoes cook, add the onions to a small bowl and cover with cold water. Wait for 10 minutes, then rinse. This step helps to tone down the raw flavor of the onions.
Make Potato Salad

1Stir the sour cream, mayonnaise, and mustard in a bowl.

2Add the sour cream mixture, de-flamed onions, celery, pickles, eggs, and herbs to the potatoes. Gently stir to combine, being careful not to mash the potatoes too much.

3Season with salt and pepper to taste. If you have the time, refrigerate at least 30 minutes before serving.
Adam and Joanne's Tips
Substitute 1/2 cup crème fraîche for the sour cream.
Make potato salad up to 3 days in advance.
For instructions on how to cook hard boiled eggs, visit our tutorial: 

How to Cook Hard Boiled Eggs

.
You can use dried herbs for this salad, we recommend adding a heaping tablespoon of dried herbs–I especially love dill and chives.
Nutrition facts: The nutrition facts provided below are estimates. We have used the USDA database to calculate approximate values.
If you make this recipe, snap a photo and hashtag it #inspiredtaste — We love to see your creations on Instagram and Facebook! Find us: @inspiredtaste
Nutrition Per Serving
Serving Size
1/6 of the recipe
/
Calories
250
/
Protein
6 g
/
Carbohydrate
29 g
/
Dietary Fiber
4 g
/
Total Sugars
3 g
/
Total Fat
13 g
/
Saturated Fat
4 g
/
Cholesterol
75 mg
Recipe updated, originally posted May 2013. Since posting this in 2013, we have tweaked the recipe to be more clear. The recipe video has also been updated. To watch the original video (from 2013), watch it on YouTube – Adam and Joanne