This is an easy potato salad recipe. We love this stuff! Joanne and I would be happy to hover over a bowl of it any day. It has few extras thrown in, too. Jump to our Easy Potato Salad Recipe now or read on for more tips.
You'll notice that we've made lots of suggestions for substitutions and mentioned where things are optional (like eggs). We love everything listed, but potato salad is personal. Always add to your likings and taste.
How to Make the Best Potato Salad
Our recipe is pretty classic with just a few extras thrown in. Here are our best tips for making potato salad.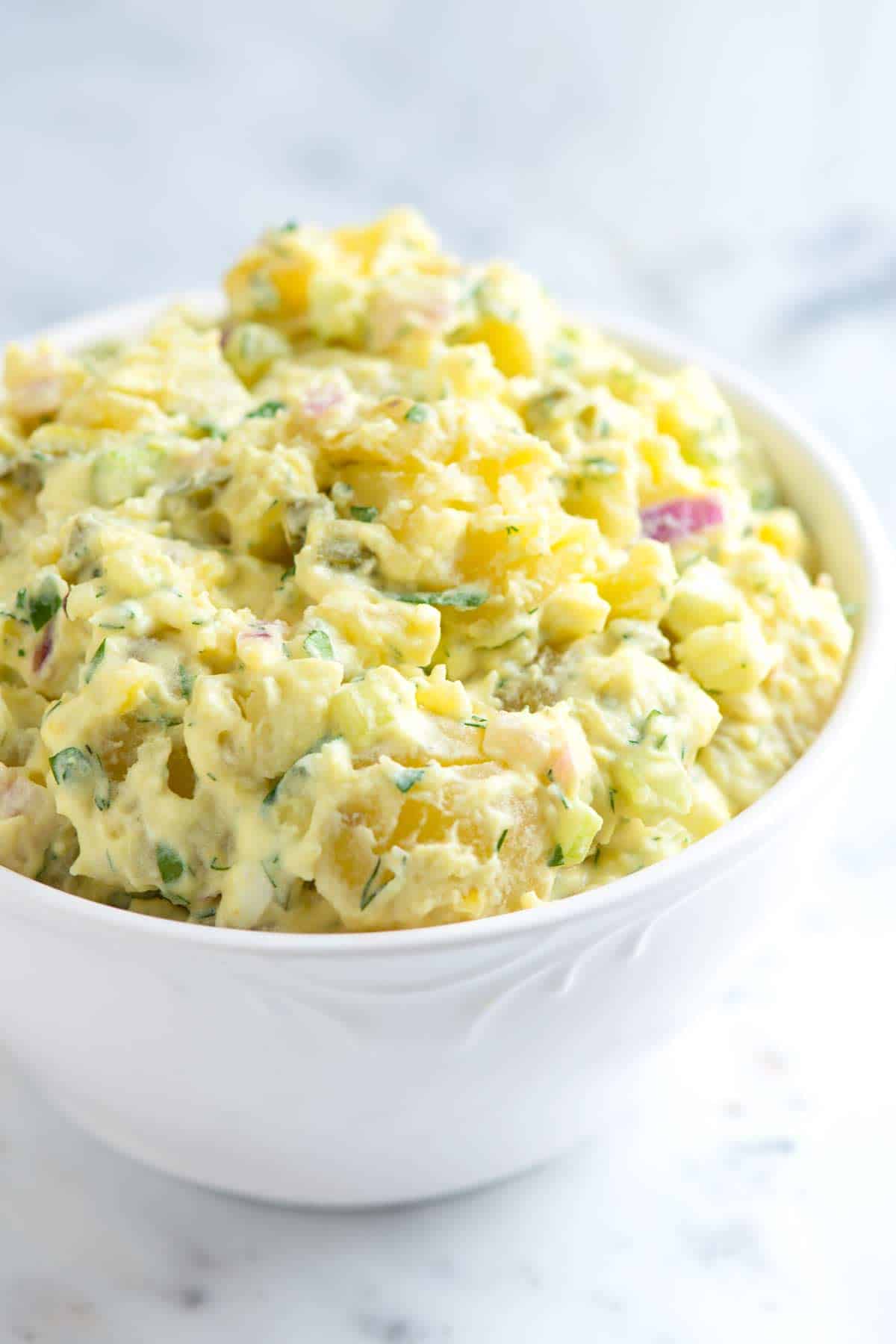 YOU MAY ALSO LIKE: Make your potato salad extra special with Homemade Mayonnaise! See our Fail-Proof Mayonnaise Recipe made with whole egg, mustard, vinegar and oil.
Best Potatoes to Use and How to Cook Them
We like the potatoes to hold a little shape in the salad and not fall apart. We go for small, waxy and thin-skinned potatoes. Small yellow, white or red potatoes are perfect. They will take between 12 and 20 minutes to cook. At 12 minutes we check for doneness — if a fork can pierce through easily, they are done.
We try not to use russet (baking) potatoes — they aren't as waxy and seem to fall apart. We have used them on occasion (they still taste great). If that's all you have, don't worry. If using russet potatoes, dice them before cooking — they are usually much larger and would take a long time if cooked whole. Keep everything similarly sized then cook until a fork can easily pierce the potato.
For smaller potatoes (we prefer these), we cook them whole. Dicing them up will make things go faster, but when you cook the potatoes whole, they maintain more of their flavor and natural sweetness. We're also partial to the texture of whole cooked potatoes. Speaking of cooking potatoes, there's really no need to boil your potatoes. When you do they violently bash against each other. Instead, bring the water with potatoes to a boil then immediately reduce the heat to a gentle simmer. The potatoes cook just as quickly.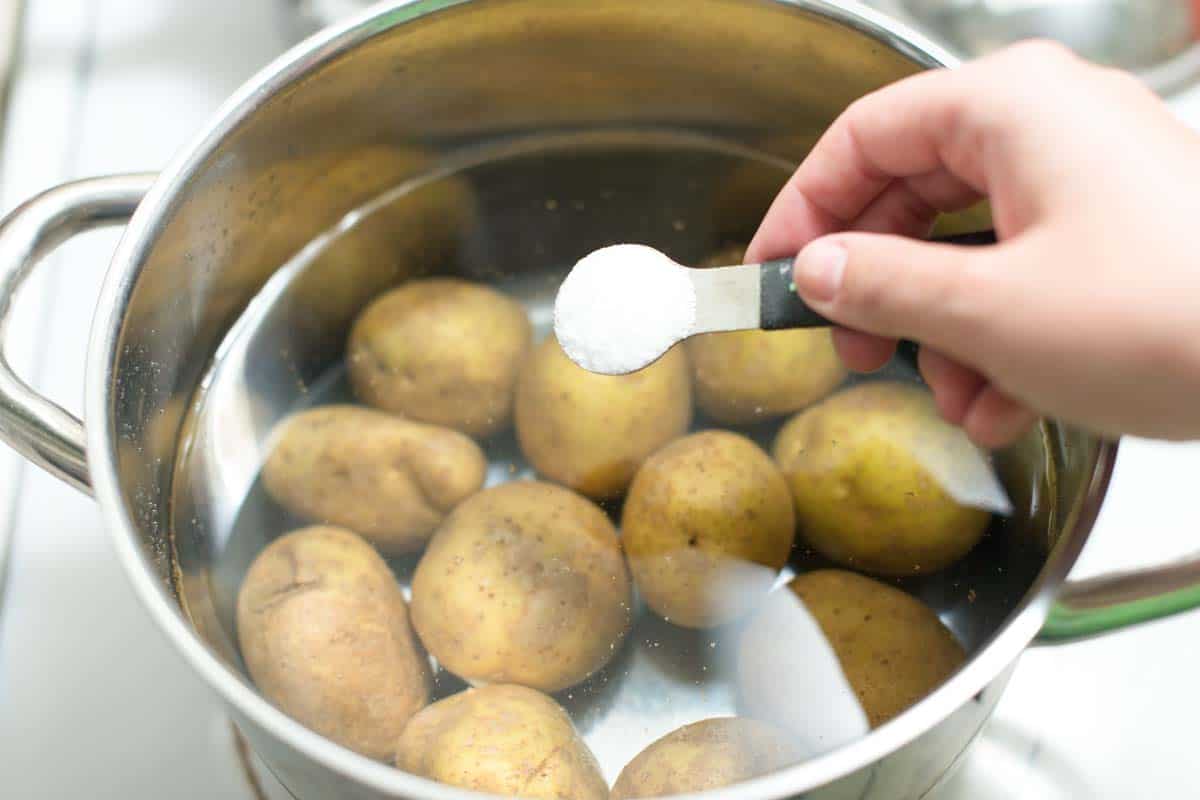 No matter what potato you choose to cook, don't forget the salt. We cover the potatoes with 1 1/2 inches of water then generously salt the water. A teaspoon of salt per quart of water should do it. By salting the water, the flavor of the potatoes really comes out. They won't taste salty, only like awesome potatoes.
Once your potatoes are done, drain them and stop the potatoes from cooking by adding them to an ice bath. After 2 to 3 minutes they will be cool enough to handle. Now, you have two choices: skin- on or peel them. We peel them. Since cook them whole, it's really easy to peel the potatoes — just pinch the skin and pull it away. (So much easier than peeling raw potatoes).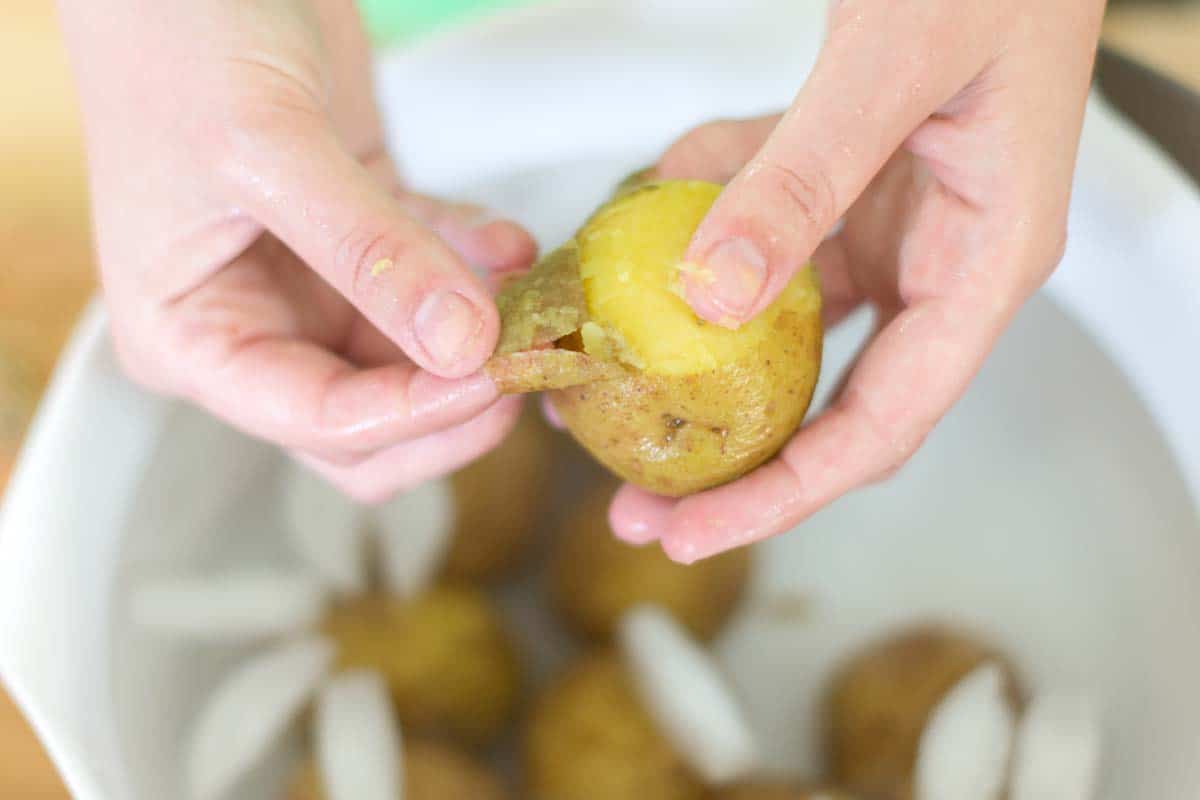 After that, cut into bite-size pieces and mix with dressing and other ingredients in our or your favorite recipe.
YOU MAY ALSO LIKE: Joanne's Favorite Coleslaw recipe! With a generous amount of acidity from apple cider vinegar and Dijon mustard, our favorite coleslaw is anything but dull.
More Tips — Vinegar, Mustard, Pickles, Eggs and Herbs
Potato salad is a personal process and there are lots of opinions out there as to what makes it "perfect" or "the best." The recipe below is our version — it includes everything we love. Here are a few things we love to add — remember that you can add none of it or more of it.
The Basics — The base to our recipe is pretty classic — a mixture of sour cream and mayonnaise. We add more sour cream than mayonnaise to lighten things up a bit — mayo can be heavy.
Mustard — We love adding mustard. It jazzes everything up. We're partial to American-style yellow mustard, but Dijon or whole grain mustard work well, too.
Vinegar — We learned this tip from Alton Brown. After cooking and cutting, scatter a tablespoon or so of vinegar over the potatoes. The vinegar really makes the potatoes stand out. In our recipe we call for apple cider vinegar, but white wine vinegar, white vinegar or even some dill pickle juice work.
Pickles — Our house isn't stable without dill pickles in the refrigerator so adding them is a no brainer for us. If you don't like them leave them out or replace with sweet pickles.
Eggs — Maybe it's how we were brought up or what we're used to. To us, potato salad without eggs is missing something. Hard boiled eggs add texture and extra creaminess. If you aren't a fan, leave them out.
Fresh Herbs — The most common herbs are parsley and chives, but dill, cilantro and tarragon all work well. In our recipe below, we use two both dill and parsley. Experiment for yourself to see what you love. Add a tablespoon at a time then taste. Also, remember dill and tarragon are a little stronger than other herbs so add accordingly.
For more easy side salads, take a look at our Smoky Black Bean and Corn Salad, this Easy Broccoli Salad with Bacon and our Tangy Cucumber Salad.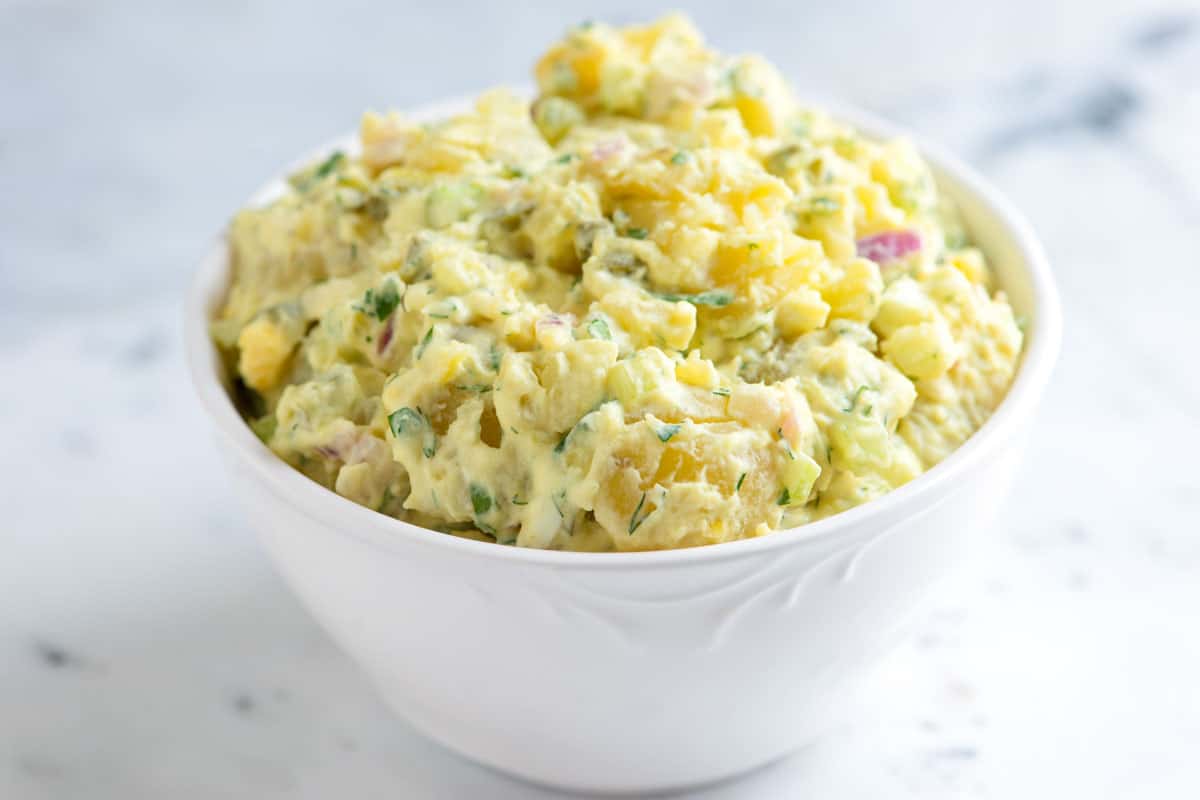 Recipe updated, originally posted May 2013. Since posting this in 2013, we have tweaked the recipe to be more clear and added a quick recipe video. – Adam and Joanne
Easy Potato Salad Recipe with Tips
Small yellow, white, or red potatoes are best for potato salad. The potatoes maintain their natural moisture and sweetness this way. If you're in a pinch, you can chop the potatoes, just remember they well take less time to cook. Adding fresh herbs are a nice touch – we like to use a combination of chopped parsley and dill. Parsley, dill, chives, tarragon and cilantro all work well. Add about 2 tablespoons of herbs at first then add more to taste. Dill and tarragon are strong, so you may not need the whole 1/4 cup.
If you can, try to make the salad and set it aside in the refrigerator for 30 minutes or so before serving. This extra time helps the flavors mingle and makes for a tastier potato salad.
You Will Need
2 pounds small yellow, red, or white potatoes
1 tablespoon apple cider, wine, or rice wine vinegar
1/2 cup sour cream
1/4 cup mayonnaise, try our homemade mayonnaise recipe
1 tablespoon yellow mustard, substitute Dijon or whole grain mustard
1/2 medium red onion, finely chopped (about 1/2 cup)
3 celery stalks, finely chopped (about 1/2 cup)
1 medium dill pickle, finely chopped (about 1/3 cup)
2 hard-boiled eggs, peeled and chopped, optional
1/4 cup chopped fresh herbs (parsley, dill, chives, tarragon, or cilantro)
Salt and freshly ground black pepper
Directions
Cook Potatoes

Add potatoes to large pot and cover with 1 1/2 inches of water. Season with salt — use 1 teaspoon for every quart of water. Bring the water to a boil then reduce to a low simmer. Cook 15 to 20 minutes or until potatoes can easily be pierced with a fork.

Meanwhile, set up an ice bath. Add cold water to a medium bowl filled with ice. Drain the potatoes and add to the ice bath. Once cool, peel potatoes by gently pinching the skin and pulling it away.

Chop peeled potatoes into bite-size chunks then add to a large bowl. Scatter the vinegar over potatoes and lightly season with salt.

"De-flame" Onions

While the potatoes cook, add onions to a small bowl and cover with warm water. Wait 10 minutes then rinse. (This tones down the raw flavor of the onions).

Make Potato Salad

Combine sour cream, mayonnaise, and the mustard in a bowl.

Add sour cream mixture, de-flamed onion, celery, pickles, eggs, and herbs to the potatoes. Gently stir to combine. (Try not to mash the potatoes). Season with salt and pepper to taste. If you have the time, refrigerate at least 30 minutes before serving.
Adam and Joanne's Tips
Substitute 1/2 cup crème fraîche for the sour cream.
Make-Ahead Tip: Make potato salad up to 3 days in advance.
For instructions on how to cook hard boiled eggs, visit our tutorial: 

How to Cook Hard Boiled Eggs

.
Nutrition facts: The nutrition facts provided below are estimates. We have used the USDA Supertracker recipe calculator to calculate approximate values.
If you make this recipe, snap a photo and hashtag it #inspiredtaste — We love to see your creations on Instagram and Facebook! Find us: @inspiredtaste
Nutrition Per Serving:
Calories
250
/
Protein
6 g
/
Carbohydrate
29 g
/
Dietary Fiber
4 g
/
Total Sugars
3 g
/
Total Fat
13 g
/
Saturated Fat
4 g
/
Cholesterol
75 mg