How to make the best homemade chocolate cookie ice cream sandwiches. Jump to the Chocolate Cookie Ice Cream Sandwich Recipe or read on to see our tips for making them.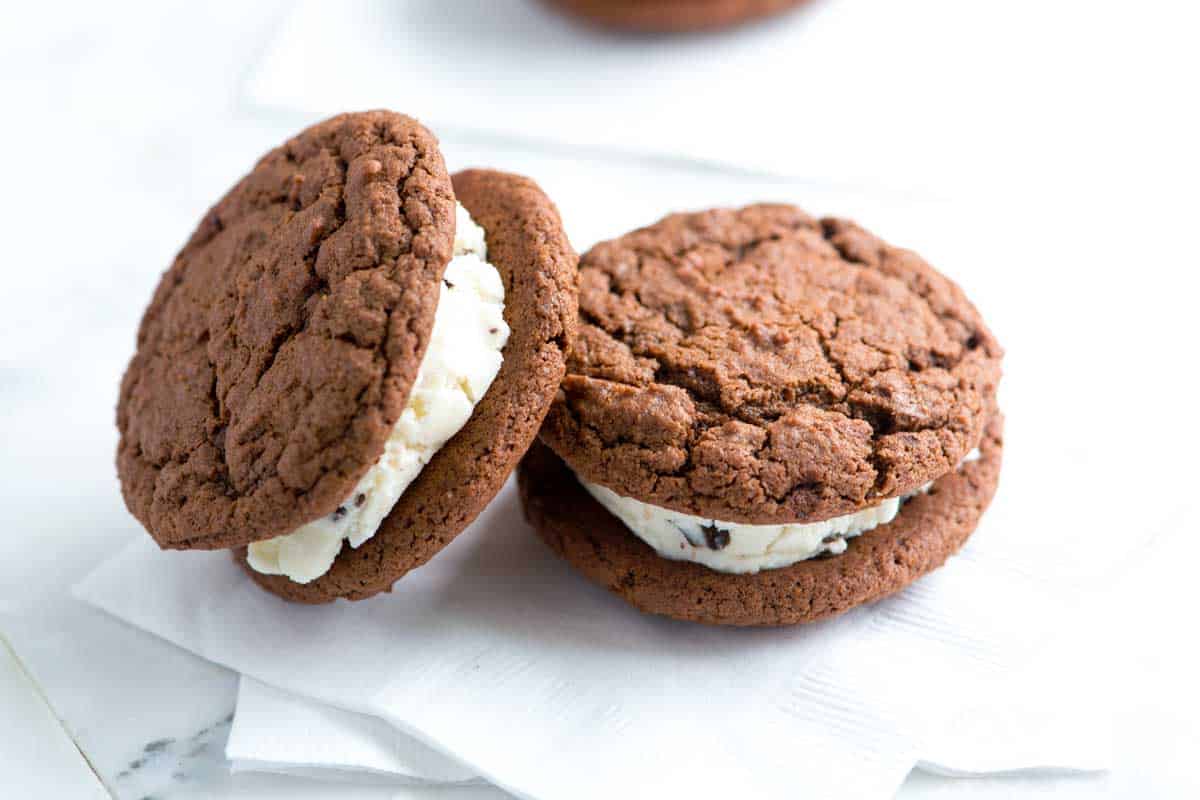 – This Recipe is Sponsored by Gold Medal Flour –
Who isn't charmed by ice cream sandwiches? Nestling your favorite ice cream between two cookies is never a bad thing, right? We don't think so, which is why we've got a bunch of these chocolate ice cream sandwiches stacked up in our freezer. Here's how to make them.
YOU MAY ALSO LIKE: Swap the chocolate cookies for oatmeal raisin! Here's how to make oatmeal cookies that are soft in the middle and a little chewy on the outside. Jump to the Oatmeal Cookies Recipe
How to Make Homemade Ice Cream Sandwiches
You want to start with cookies that are chewy and thick. The chocolate cookies that we use are are a simplified version of our double chocolate cookies recipe. When you take a bite, they buckle gently instead of breaking and are completely delicious once frozen — almost brownie-like.
Once you have the cookies, you need ice cream. Choose your favorite flavor — we love mint chocolate chip. Scoop big balls of ice cream onto a baking sheet with parchment paper, cover the cookies with more parchment paper then gently flatten the balls so that they are roughly the diameter of the cookies.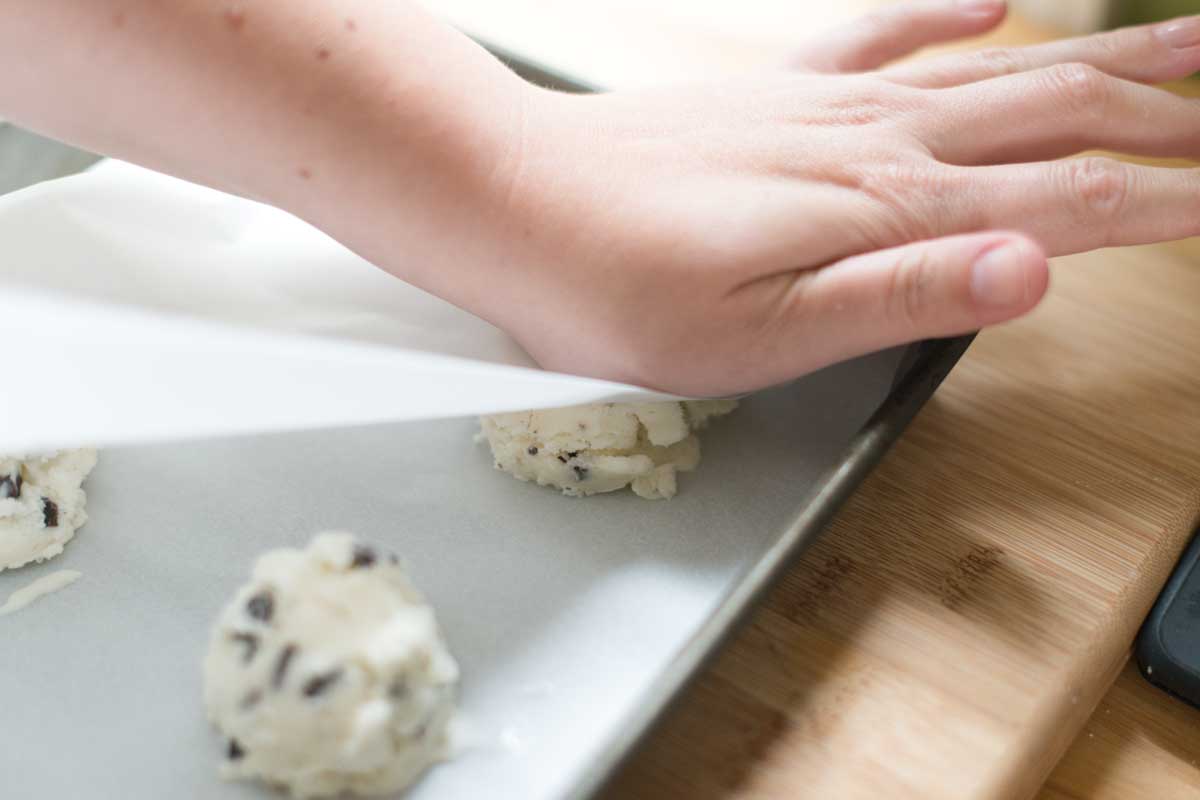 Then you can enjoy them straight away or wrap in plastic or parchment and freeze for later. Just make sure you wrap them well, otherwise the ice cream picks up extra flavor from the freezer — no good!
YOU MAY ALSO LIKE: Swap the chocolate cookies for Snickerdoodle cookies! Take a look at our easy snickerdoodles recipe with crispy edges and soft and chewy centers. Jump to the full Snickerdoodles Recipe.
Disclosure: We're sharing this in partnership with Gold Medal Flour. This recipe was part of an ongoing relationship with Gold Medal.
Recipe updated, originally posted July 2013. Since posting this in 2013, we have tweaked the recipe to be more clear. – Adam and Joanne
Homemade Chocolate Cookie Ice Cream Sandwiches
These chocolate cookies are chewy and thick, making them perfect for ice cream sandwiches. The cookies buckle gently instead of breaking and are completely delicious once frozen — almost brownie-like. Choose your favorite ice cream flavor for the middle. We love mint-chocolate chip.
Makes 10 ice cream sandwiches
You Will Need
8 tablespoons (115 grams) unsalted butter at room temperature (1 stick)
1/2 cup (100 grams) granulated sugar
1/2 cup (100 grams) light brown sugar
1 large egg
1 teaspoon vanilla extract
1/4 teaspoon salt
1 1/4 cups (160 grams) all-purpose flour
6 tablespoons (30 grams) unsweetened cocoa powder
1/2 teaspoon baking soda
2 cups ice cream
Directions
Make Cookies

1Heat oven to 350 degrees F. Line two baking sheets with parchment paper.

2Add butter and sugars to a large bowl, turn a hand mixer to medium speed and beat until creamy, light and fluffy; 3 to 5 minutes. Add the egg, vanilla extract, and salt. Turn mixer to medium and beat until well incorporated.

3In a separate bowl, whisk the flour, cocoa powder, and baking soda until blended.

4With the hand mixer on low, slowly add the dry ingredients to the wet ingredients, scraping down the sides of the bowl as needed. The cookie batter will become very thick. You only need to mix until everything has combined.

5Drop cookie dough by rounded tablespoonfulls onto baking sheets (or use a medium cookie scoop). Bake 9 to 12 minutes or until the cookies have puffed a little and the tops are dry. Cool on baking sheets for 5 minutes then transfer to a cooling rack and cool completely.
Prepare Ice Cream

1Meanwhile, line a baking sheet or pan with parchment paper or aluminum foil. Scoop ice cream into 10 balls – about 3 tablespoons per scoop. (This recipe should make 10 sandwiches, if you were able to make more than 20 cookies, scoop extra ice cream to accommodate).

2Cover ice cream with another sheet of parchment paper then gently push the ice cream balls down to fit the width of the cookies. If the ice cream starts to melt, place baking sheet into the freezer for 5 to 10 minutes to firm up.
To Finish

1Sandwich one pressed ice cream ball between two cookies. Enjoy immediately or wrap with plastic, foil or parchment paper then freeze up to 3 months.