Our coffee cake is outrageously good with vanilla butter cake batter swirled with brown sugar cinnamon streusel. Coffee cake is perfect for informal get togethers or as a treat to enjoy throughout the week.
Watch the Video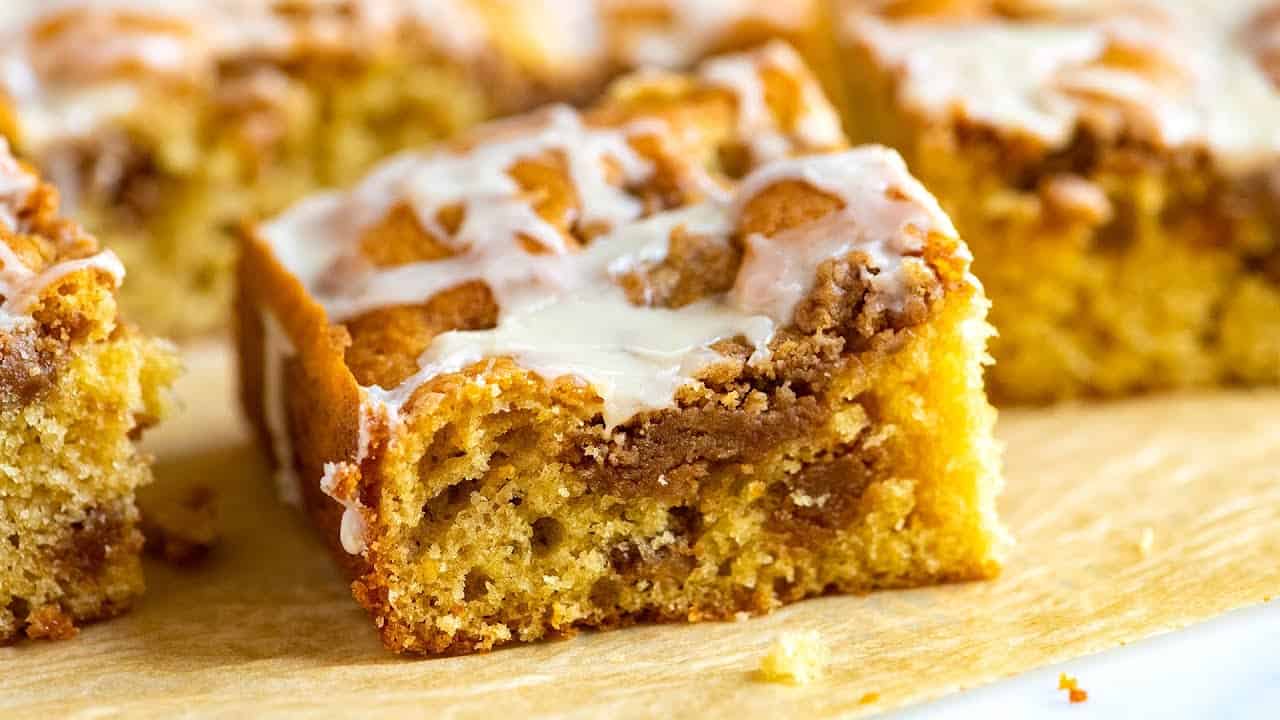 All About Coffee Cake
Coffee cake is an odd ball in the cake arena. Even though it's called coffee cake, it doesn't usually contain coffee. Instead, it's a simple, low key cake that's perfect for enjoying with coffee or company. More importantly, it's delicious!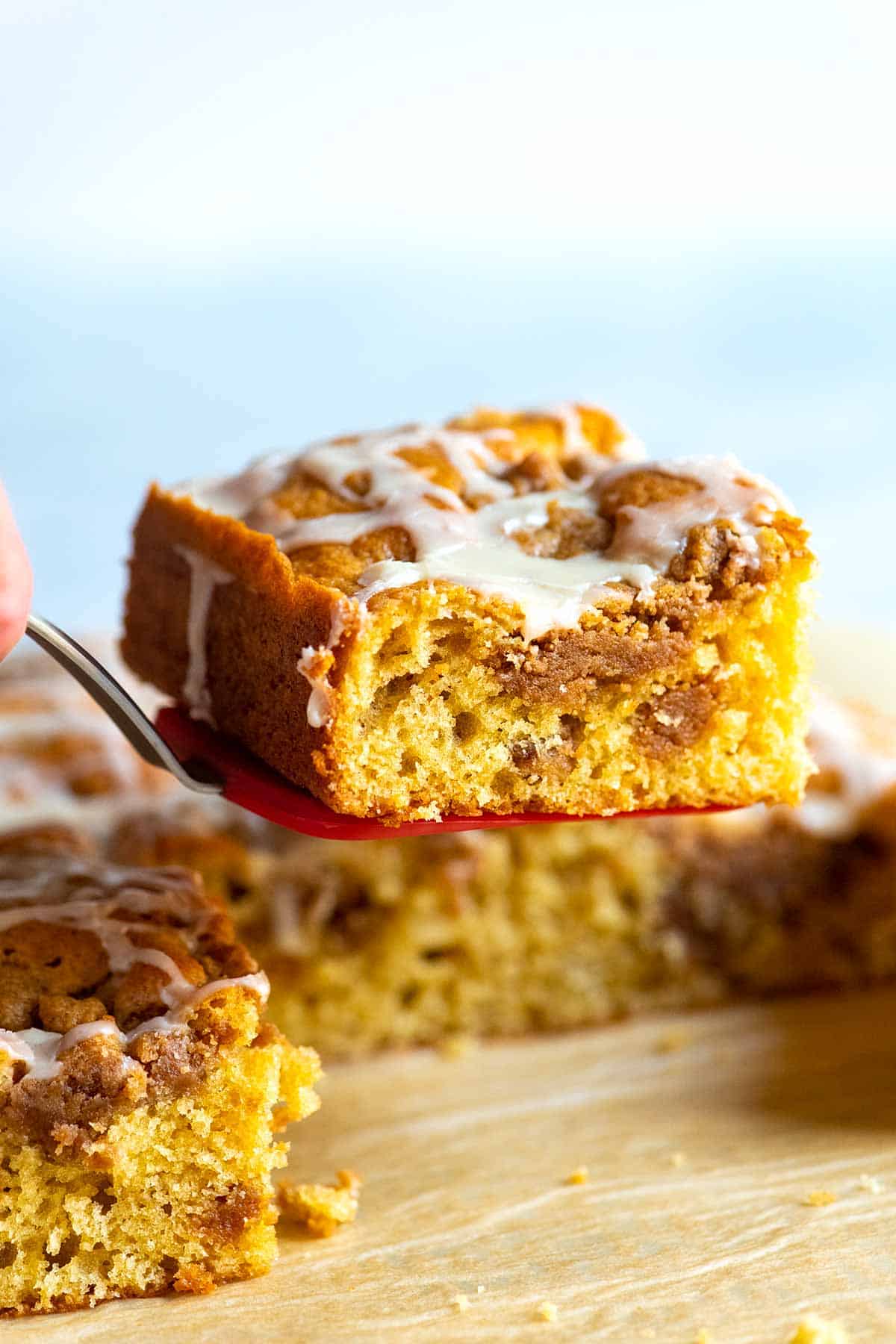 In our recipe, we keep the cake very simple and start with a butter cake batter with a generous amount of vanilla. (The cake batter is so good, Adam has to watch me so I don't eat it all before baking!)
Then we swirl in a flavorful brown sugar streusel, which we make with cinnamon and molasses. It's rich, dark and makes the cake taste incredible.
Making the cake batter
Butter is key in this cake. It keeps the crumb moist and flavorful. For even more moisture and flavor, we add sour cream. Thanks to sour cream's high fat content, it makes the cake light, airy and moist. It also adds a subtle tang to the cake, which works beautifully with the brown sugar streusel.
Besides butter and sour cream, the cake batter calls on standard cake ingredients. You will need all-purpose flour, sugar, baking powder, baking soda, vanilla extract, almond extract, and salt.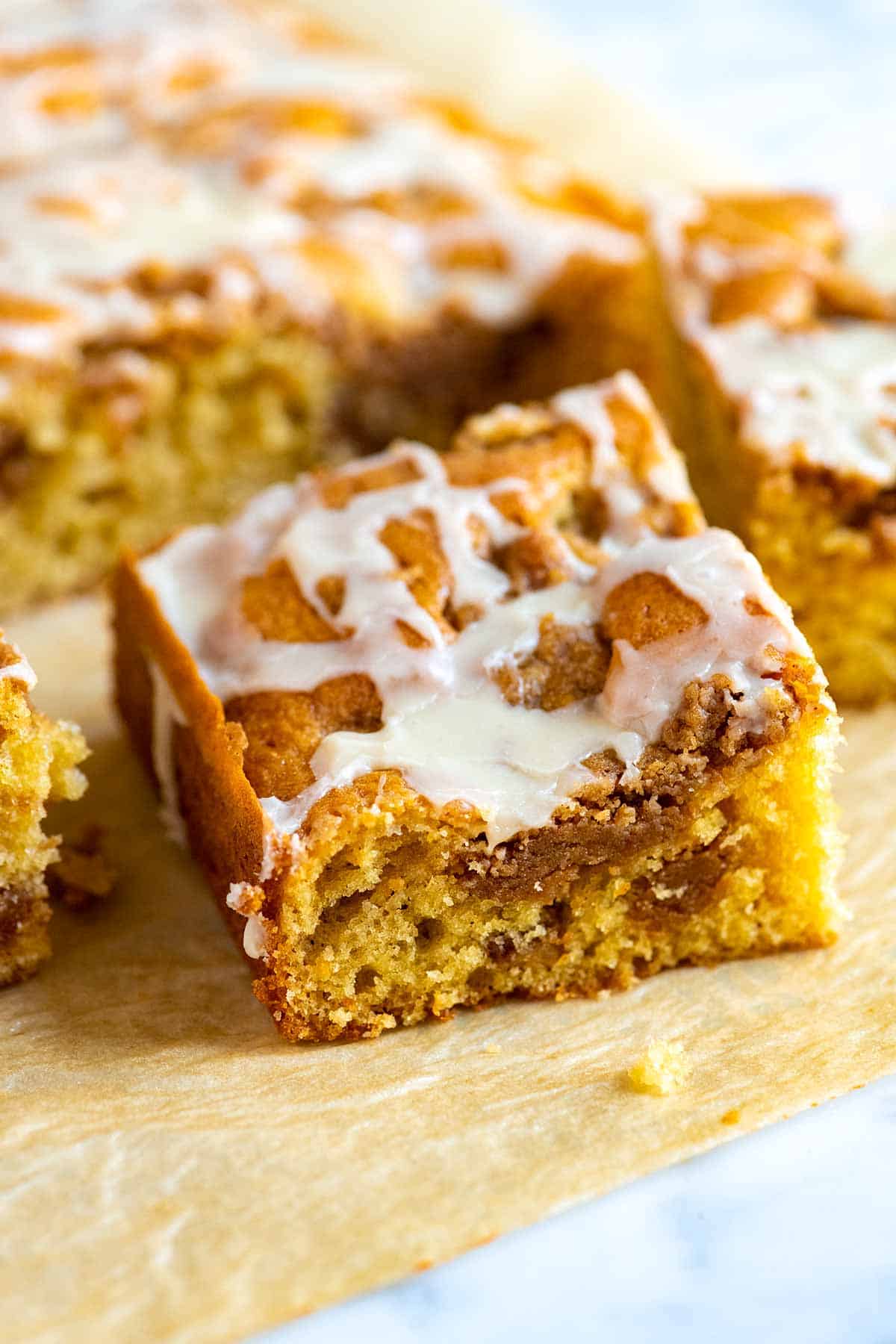 Tip: When you combine vanilla extract with a little bit of almond extract in butter cakes, the flavor is much better. Your cake will taste like it came from a fancy bakery. You won't really be able to tell almond extract is in there, but the cake will taste amazing.
Making the streusel topping
Brown sugar streusel takes this coffee cake over the top. Here's what you need to make it:
Brown sugar and granulated sugar: The brown sugar adds flavor and the granulated sugar adds a little texture.
Cinnamon, nutmeg and salt: We use a lot of cinnamon and don't apologize for it.
Melted butter: Using melted butter is easier than cutting cold butter into the streusel ingredients.
All-purpose flour: Flour acts as our base and makes sure the streusel doesn't melt away into the cake.
Molasses: Just one tablespoon adds a richness and color. It's wonderful.
Optional nuts (I especially love walnuts for this cake)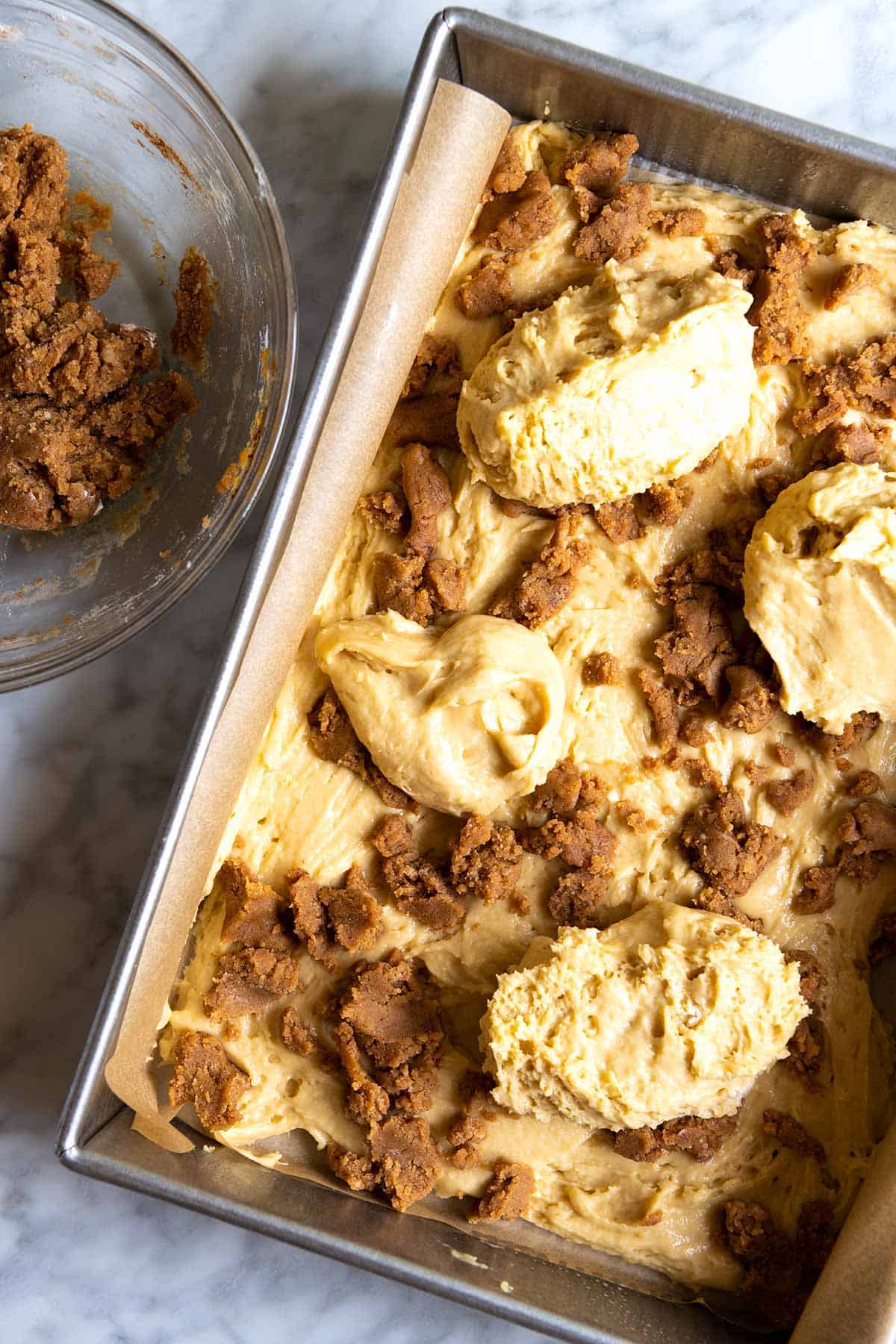 This cake is best when baked in a 9-inch by 13-inch baking dish. We add half of the batter first and spread into one layer. Next, we scatter half of the streusel and then finish with the rest of the cake batter and more streusel on top. As you spread the batter out, streusel will swirl into the batter. It might even seem like you don't have enough batter, but trust us, this cake rises a lot in the oven.
Finishing the cake
Bake the coffee cake in the oven until it's risen, springy and a toothpick comes out clean. Let it cool for a bit, and then add the final touch: a maple butter drizzle.
Mix powdered sugar with maple syrup, melted butter, milk and a touch of salt. When it's the consistency of thick syrup, drizzle it all over the cake.
(This cake is delicious without the extra drizzle, but it's pretty incredible with it. Other options are to leave the cake plain or add a dusting of powdered sugar on top instead.)
And that's it. How to make my favorite coffee cake recipe with a rich brown sugar streusel and maple butter drizzle!
More of my favorite cake recipes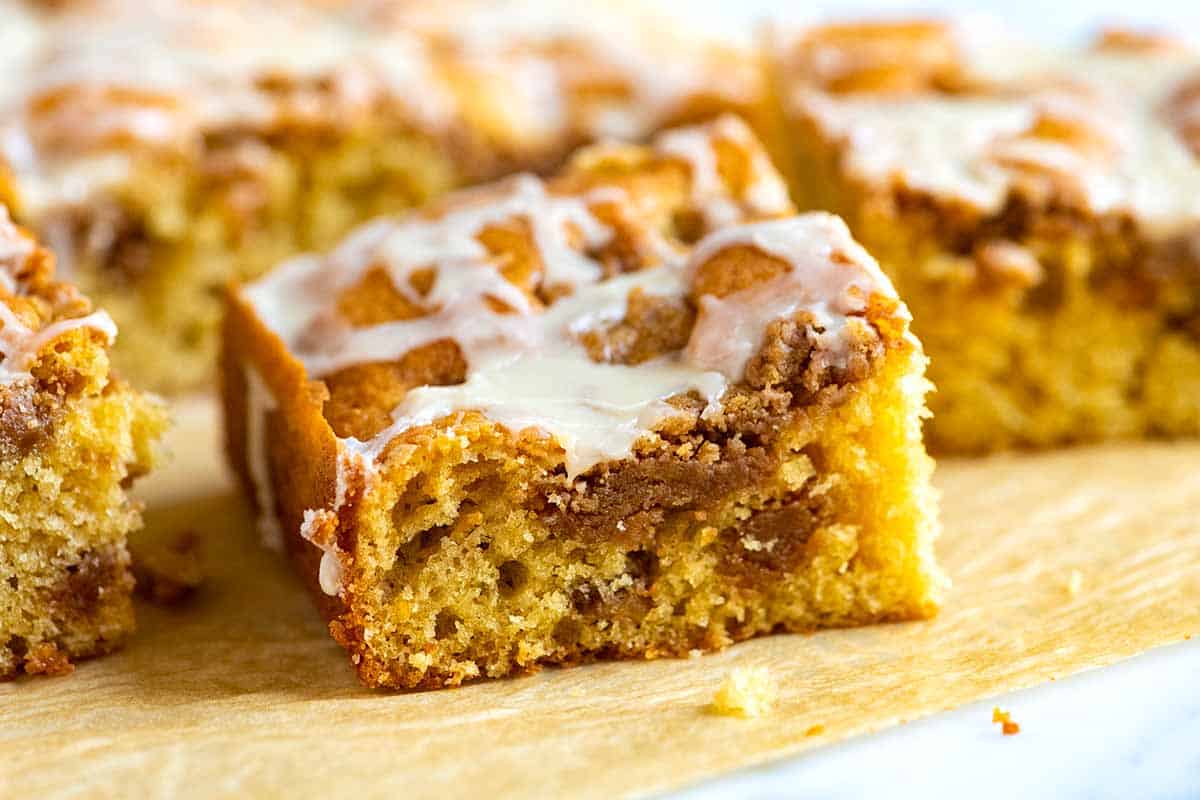 Cinnamon Swirled Coffee Cake
Our coffee cake is outrageously good with vanilla butter cake batter swirled with brown sugar cinnamon streusel. We also add a maple butter drizzle after baking. It's very good, but you can leave the cake plain or simply add a dusting of powdered sugar on top instead.
Makes 12 servings (or 24 small slices)
Watch Us Make the Recipe
You Will Need
For Coffee Cake
12 tablespoons (170 grams or 1 1/2 sticks) unsalted butter, at room temperature
2 large eggs, at room temperature, see notes
1 large egg yolk, at room temperature, see notes
2 1/4 cups (282 grams) all-purpose flour, see notes
2 teaspoons baking powder
1/2 teaspoon baking soda
1/2 teaspoon fine sea salt
3/4 cup (150 grams) brown sugar
1/2 cup (100 grams) granulated sugar
1 tablespoon pure vanilla extract
3/4 teaspoon almond extract
1 1/4 cups (10 ounces) sour cream
For Streusel
1/2 cup (113 grams or 1 stick) unsalted butter, melted
1 tablespoon molasses
1 tablespoon ground cinnamon
1/4 teaspoon fine sea salt
1/4 teaspoon grated nutmeg
1/3 cup (66 grams) brown sugar
1/4 cup (50 grams) granulated sugar
1 1/3 cups (167 grams) all-purpose flour
2/3 cup (70 grams) walnuts, chopped, optional
For Maple Butter Drizzle
2 tablespoons unsalted butter
1 tablespoon pure maple syrup
1/2 cup (60 grams) powdered sugar
1 tablespoon milk
Pinch fine sea salt
Directions
Make Batter

1Center a rack in the oven and heat to 350 degrees Fahrenheit. Line a 9-inch by 13-inch baking pan with parchment paper and lightly spray with nonstick cooking spray.

2In a medium bowl, sift or whisk the flour, baking powder, baking soda and salt together.

3In a large bowl, beat 12 tablespoons of room temperature butter, brown sugar and the granulated sugar with an electric mixer on high speed until light and fluffy, 2 to 3 minutes. (Alternatively, add butter and sugars to the bowl of a stand mixer and mix on medium speed until fluffy.)

4Beat in the eggs, one at a time, then add the egg yolk, vanilla and almond extract.

5With the mixer on low speed, add one-third of the flour mixture to the batter. When it's mostly combined, add another third and mix until almost no flour remains. Add the sour cream and mix just until smooth then finish by adding the remaining flour to the batter and beat until just combined. Finish stirring with a spatula to be sure the batter is completely blended.
Make Streusel

1In a medium bowl, whisk the melted butter with the molasses, cinnamon, nutmeg and salt until well blended. Add the brown sugar, granulated sugar, and flour. Stir until a soft dough forms. Stir in nuts (optional).
Bake Cake

1Spread about half of the cake batter into the prepared baking pan. It's okay if the batter doesn't spread all the way to each corner. Scatter half of the streusel over the cake batter. (I like to scatter some larger pieces as well as come crumbles for interest.)

2Spoon dollops of the remaining batter on top of the streusel, and then spread into an even layer. It's okay if some of the streusel from below gets mixed in to the top layer of batter. Finish with the remaining streusel on top. It might look like too much, but don't worry, the batter rises quite a bit, while some of the streusel will fall down into the cake.

3Bake the coffee cake until it's starting to pull away from the sides of the pan, is springy and a cake tester or toothpick can be inserted and comes out mostly clean, 40 to 50 minutes.

4Cool in the baking pan for 10 minutes, and then transfer the cake to a wire rack and cool completely.
To Finish

1Melt the butter in a small bowl, and then stir in the maple syrup. Whisk in the powdered sugar, milk and salt. The mixture should be the consistency of thick syrup and easy drizzled. If it's too thin, add a little more powdered sugar. If it is too thick, add a little more milk.

2Drizzle the maple butter frosting over the cake, and then set aside for 5 minutes or until it hardens slightly. Cut the cake into 12 large slices or 24 smaller slices, and then serve.
Adam and Joanne's Tips
Measuring the flour: Flour should be spooned and leveled in the measuring cup. Use a spoon to add the flour into your measuring cup, and then use a flat edge to scrape the top of the cup flat. This method of adding flour to your measuring cup makes sure that you do not add too much flour to the batter.
Room temperature butter and eggs: It's important that the butter and eggs be room temperature for this cake recipe. If the eggs are too cold, the chill from the eggs will make your batter lumpy since they will chill the butter and it will start to harden. It's best to leave butter out in advance at room temperature. To quickly bring eggs to room temperature, place them into a bowl with lukewarm water for 5 to 10 minutes. (It's okay if the sour cream is a bit cooler since we add it at the end, but I do prefer to take it out just before I start making the cake recipe.)
Nutrition facts: The nutrition facts provided below are estimates. We have used the USDA database to calculate approximate values.
If you make this recipe, snap a photo and hashtag it #inspiredtaste — We love to see your creations on Instagram and Facebook! Find us: @inspiredtaste
Nutrition Per Serving
Serving Size
1 of 12 slices
/
Calories
542
/
Total Fat
26.1g
/
Saturated Fat
15.7g
/
Cholesterol
110.7mg
/
Sodium
252.4mg
/
Carbohydrate
71.2g
/
Dietary Fiber
1.4g
/
Total Sugars
39.4g
/
Protein
7.1g