How to make homemade pumpkin butter from scratch. Start with a fresh pumpkin, or use pumpkin puree — fresh or canned. We've included everything you need to know.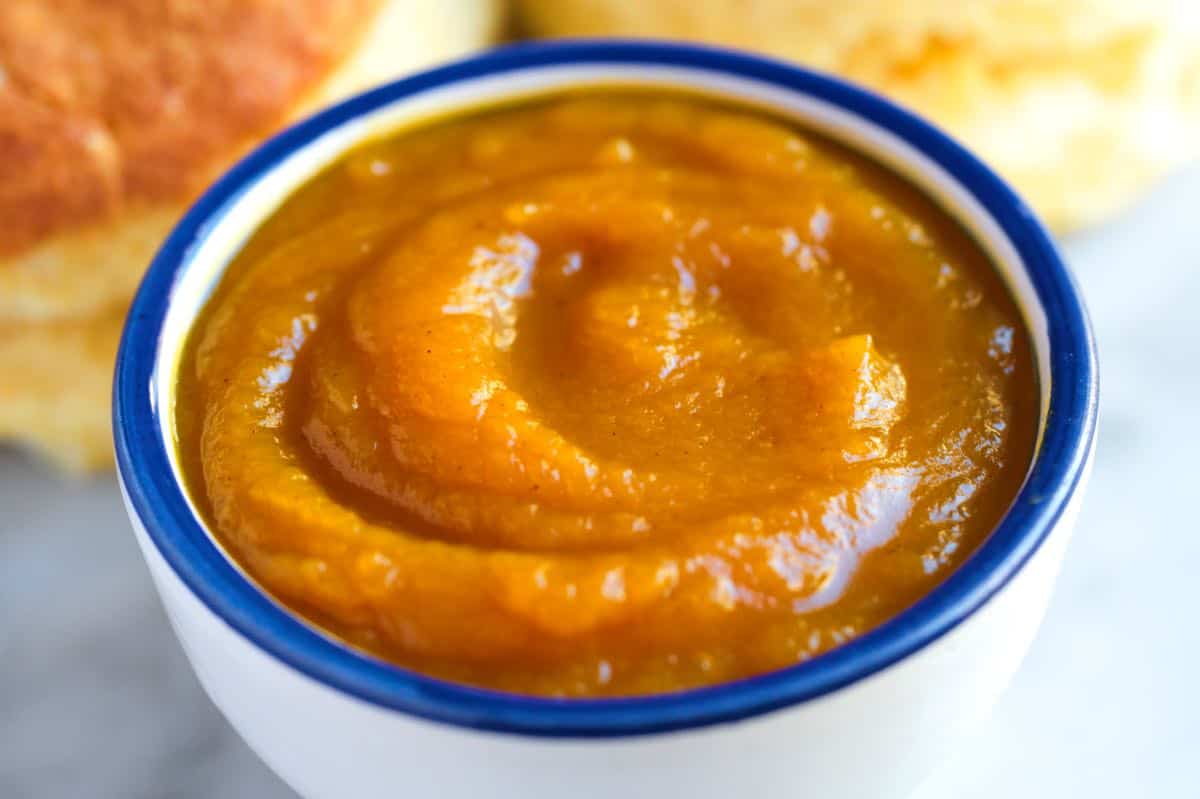 How to Make Pumpkin Butter
Pumpkin butter is a sweet spread made from pumpkin puree — fresh or canned — spices and sugar. We simmer them over low heat until thick, sweet, and glossy. Like apple butter, there's no actual butter used to make pumpkin butter. It's delicious spread onto toast, swirled into yogurt or oatmeal, and perfect for topping pancakes.
Our recipe for pumpkin butter starts with a fresh pumpkin, but don't let that scare you off. Making pumpkin butter from scratch is very simple. If you are looking for a recipe that starts with pumpkin puree (canned or fresh), you can still use our easy recipe!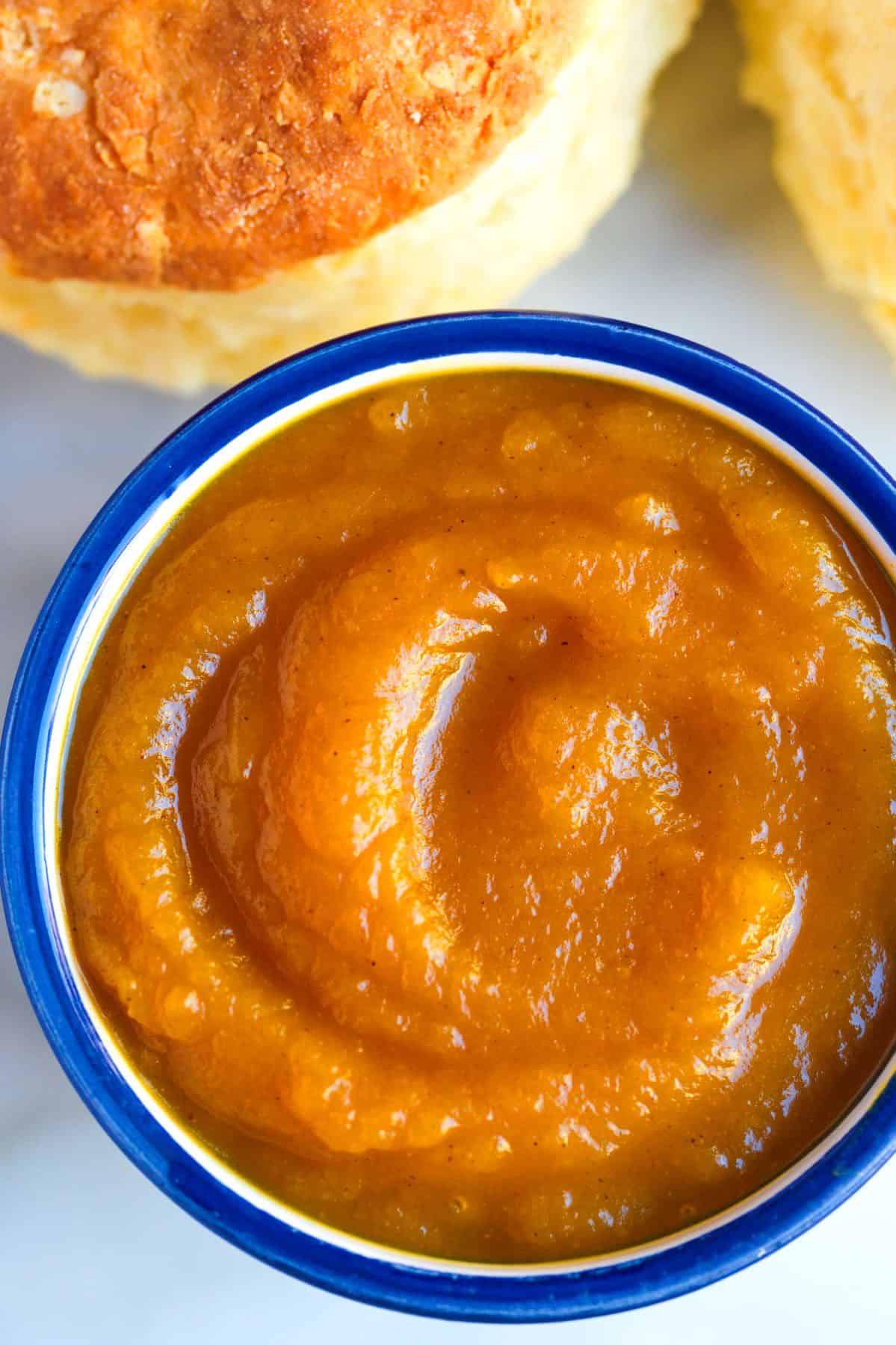 When starting with a fresh pumpkin, we need to roast it. We use a similar process as when we make homemade pumpkin puree. Use a small baking pumpkin, sometimes called pie pumpkin or sugar pumpkin. Larger Halloween jack-o-lantern pumpkins aren't the best for this since they don't taste as good as the smaller baking-specific options.
To roast the pumpkin, give it a good rinse, then cut it into quarters. As you cut, keep your fingers out of the way. A dishtowel helps to keep the pumpkin from moving around on me. Scoop out all the seeds — yes, you can roast them. Then, cut the pumpkin into quarters.
Place the pumpkin quarters, flesh facing up, rub with some oil, and sprinkle a little sugar over them. Roast the pumpkin in the oven until soft. We aren't looking to brown the flesh, so keep an eye on it so that it doesn't over brown.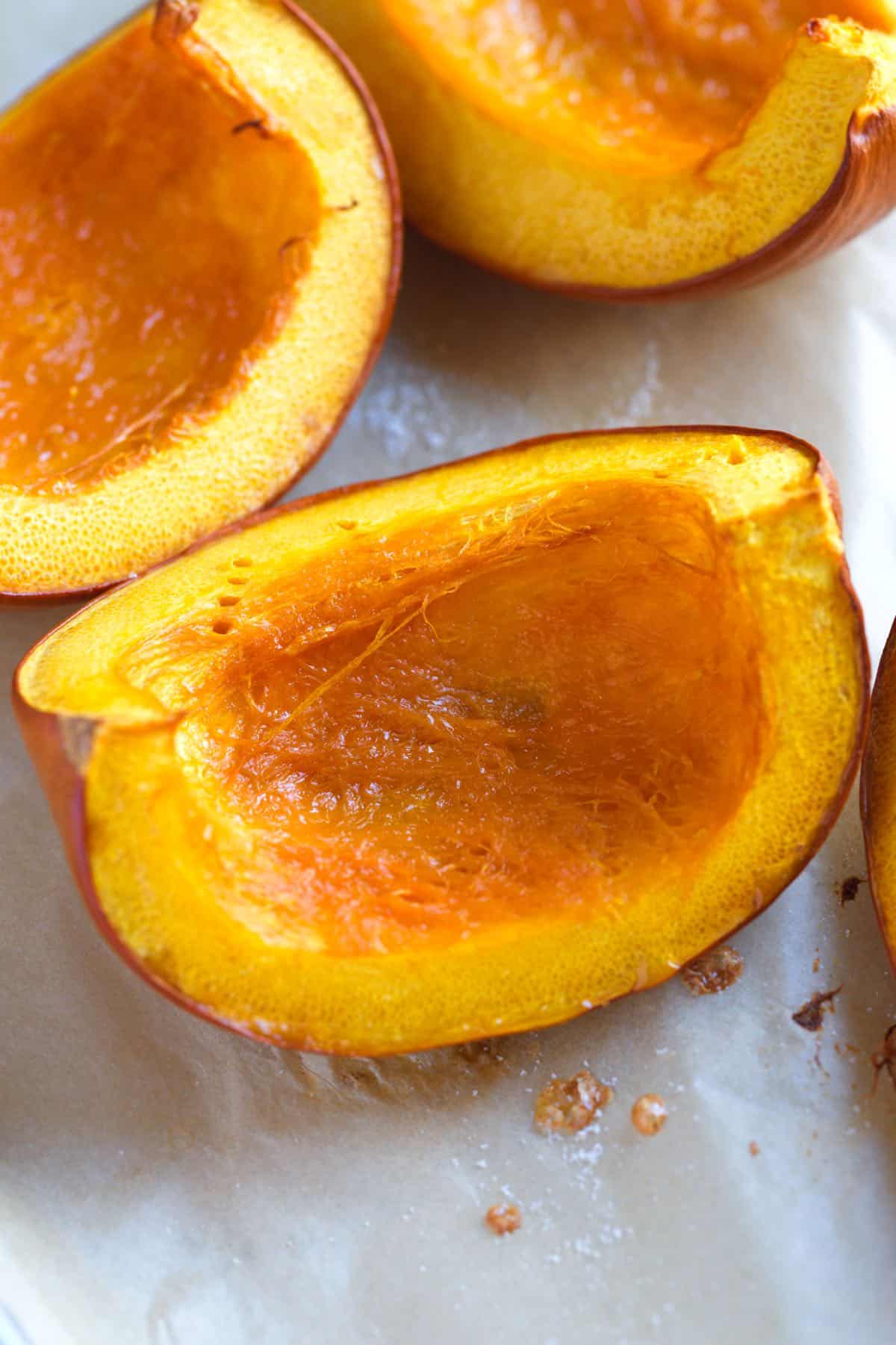 When the pumpkin is soft, scoop out the flesh, add it to a saucepan, and mash with the rest of our pumpkin butter ingredients: maple syrup, brown sugar, vanilla extract, ground cinnamon, ground cloves, ground ginger, allspice, and salt. As an optional ingredient, add a little amaro (a bittersweet liqueur) for some bitterness. By the way, this is where you would start if you are starting with canned pumpkin or fresh pumpkin puree.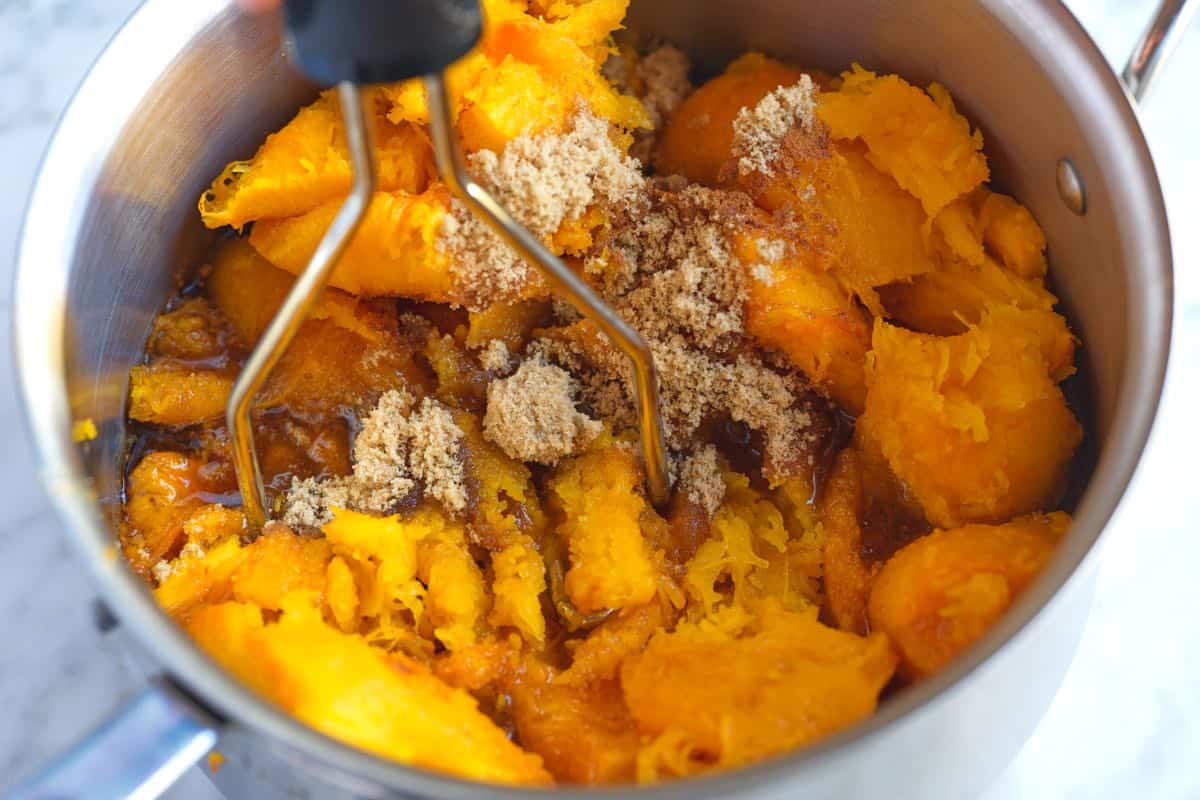 Simmer everything with the lid on for about 40 minutes, then blend until smooth. You can taste the pumpkin butter while it's warm to see if you'd like to add more salt or spices, but it shows its full flavor when it has cooled down. (If you want to make the pumpkin butter in your slow cooker, I've included tips in the recipe below.)
How to Store Pumpkin Butter
Our pumpkin butter recipe makes about 3 cups. Transfer to resealable containers — I like using glass jars — and then refrigerate for up to 2 weeks. You can also freeze homemade pumpkin butter. Use freezer-friendly containers or freezer-safe jars and store in the freezer for up to 6 months.
While we are not canning experts, we do not recommend canning pumpkin butter. It is low in natural acids essential for safe canning.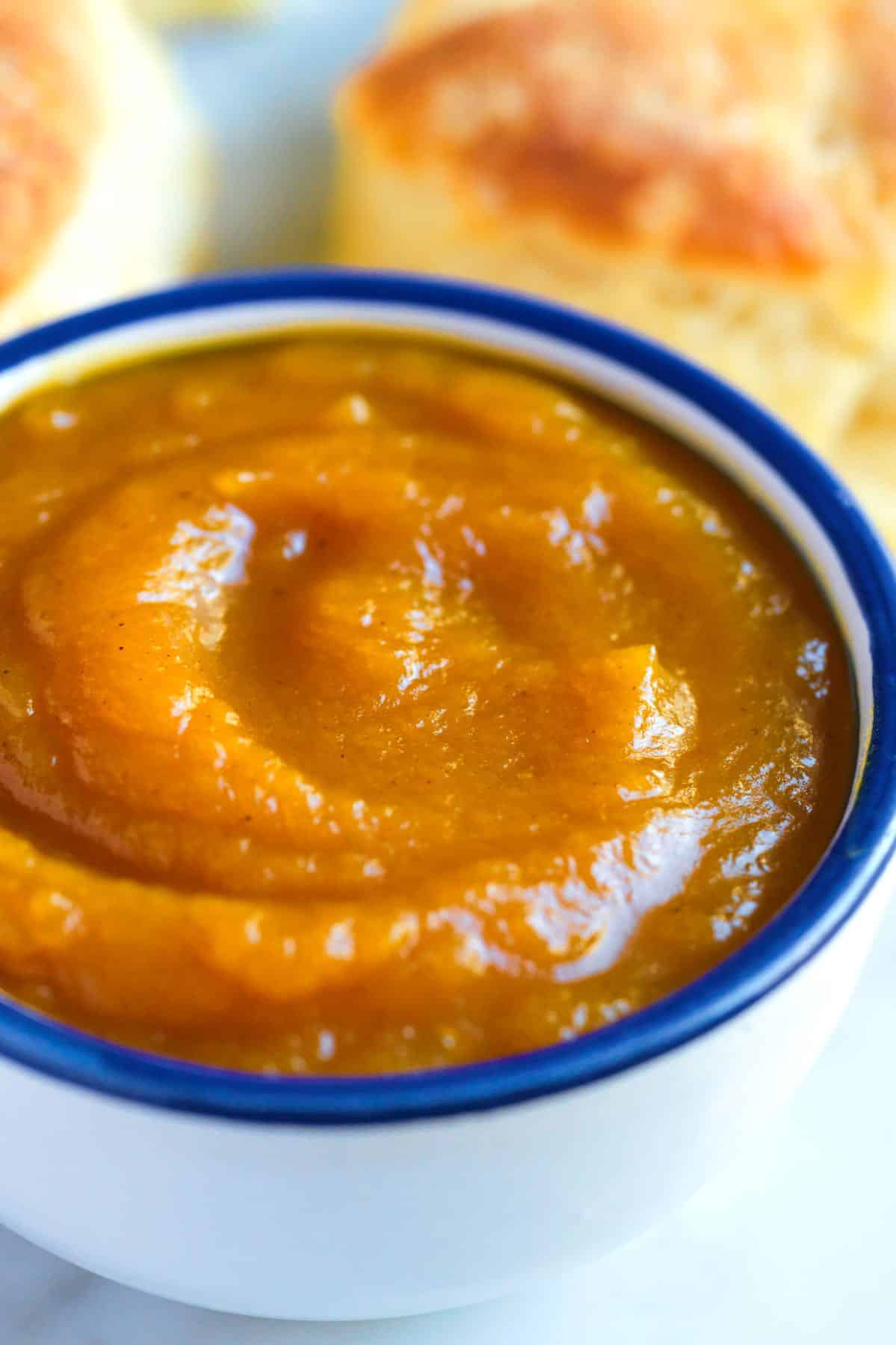 How to Use Pumpkin Butter
Pumpkin butter is more versatile than you might think. Here are my favorite ways to use pumpkin butter:
We're sharing this delicious pumpkin butter recipe with the help of our friend and chef, Richard Hattaway, who also helped us with this honey apple butter (we love it so much!).
Maple Pumpkin Butter
We love this easy homemade pumpkin butter made with fresh pumpkin and maple syrup. If you do not want to roast your own pumpkin, you can use canned or fresh pumpkin puree in this recipe; check the tips section for our notes.
You Will Need
1 small baking pumpkin, 4 to 6 pounds, sometimes called sugar or pie pumpkin
1/2 tablespoon avocado oil or olive oil
1 tablespoon (12 grams) granulated sugar
1/4 cup (50 grams) brown sugar
1/2 cup + 2 tablespoons (130 grams) maple syrup
1/4 teaspoon vanilla extract
1/2 teaspoon ground cinnamon
1/8 teaspoon ground allspice
1 pinch ground ginger
1 pinch ground cloves
1/8 teaspoon fine sea salt
1 tablespoon amaro liqueur, optional
Directions
Roast Pumpkin

1Heat the oven to 400° Fahrenheit and line a baking sheet with parchment paper.

2Rinse and pat dry the pumpkin. Cut the from stem to end, but don't try to cut through the stem (it's too hard). When you've cut through the pumpkin, just pull each half apart. We do this in two parts. Cut one side from the stem down to the bottom of the pumpkin. Remove the knife, rotate the pumpkin to the opposite side then do the same. When there is a slit down both halves of the pumpkin, put down the knife and pull the halves apart. They should separate at the stem. Cut the pumpkin into quarters (4 pieces total).

3Scoop out the seeds and most of the stringy bits. Rub the inside of the pumpkin quarters with oil then place them down, flesh facing up onto the baking sheet. Sprinkle over the granulated sugar, then roast until the pumpkin can easily be pierced with a knife in several places and the flesh pulls away from the skin, about 50 minutes. Leave on the counter until the pumpkin is cool enough to handle.
Make Pumpkin Butter

1Scoop the cooled pumpkin meat into a medium saucepan. Add in the remaining ingredients: maple syrup, brown sugar, cinnamon, ginger, cloves, allspice, salt, and the optional amaro.

2Use a potato masher to smash the pumpkin and mix the ingredients. Cook, covered with a lid, over low for 40 minutes. The pumpkin butter will look thick and shiny. If it seems thin, uncover and cook for another 5 to 10 minutes to reduce.

3Transfer to a blender and blend until very smooth–see the note below about safely blending hot liquids. Transfer to jars and store in the refrigerator.
Adam and Joanne's Tips
Start with pumpkin puree (fresh or canned pumpkin): To make this recipe with pumpkin puree, use 4 cups of pumpkin puree (from 2 cans). Follow the recipe starting at the step where we add the softened roasted pumpkin to a saucepan with the remaining ingredients.
A note about blending: Since the pumpkin will be very hot, remove the center insert of the blender lid and cover it with a kitchen towel while blending — this helps some of the steam release and prevents the lid from popping off (which can be a big, hot mess).
Storing: Refrigerate for up to 2 weeks. You can also use freezer-friendly containers or freezer-safe jars and store it in the freezer for up to 6 months.
Slow cooker pumpkin butter: To make pumpkin butter in a slow cooker, roast the pumpkin as directed above, then add the fork-tender pumpkin, maple syrup, brown sugar, and spices to your slow cooker. Mash well, then cook on LOW until thick and shiny, 3 to 4 hours. Blend until smooth.
Nutrition facts: The nutrition facts provided below are estimates. We have used the USDA database to calculate approximate values.
If you make this recipe, snap a photo and hashtag it #inspiredtaste — We love to see your creations on Instagram and Facebook! Find us: @inspiredtaste
Nutrition Per Serving
Serving Size
2 tablespoons
/
Calories
47
/
Total Fat
0.3g
/
Saturated Fat
0.1g
/
Cholesterol
0mg
/
Sodium
14.1mg
/
Carbohydrate
10.7g
/
Dietary Fiber
0.2g
/
Total Sugars
8.9g
/
Protein
0.3g