You may have heard about poaching pears, but have you ever considered roasting them? Jump to the Roasted Pears Recipe or read on to see our tips for making them.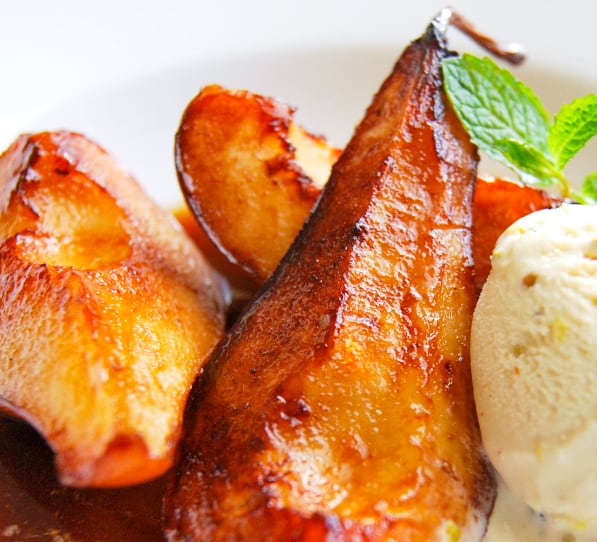 The inspiration for this recipe happened over a weekend years ago. Adam and I had planned to poach pears in wine. We had all our ingredients ready and just before starting the dish, we tried the wine. It was delicious. We liked it so much that we drank the whole bottle! That night, the idea of poaching our pears went out the window and we roasted them instead. Best decision ever.
YOU MAY ALSO LIKE: How to make muffins with fresh pear and vanilla inspired by our trip to Paris, France. Jump to the Pear and Vanilla Muffins Recipe.
Roasting pears is simple and your kitchen will smell unbelievable while you do it. To roast pears, we rub quartered pears with some powdered sugar. Then we place them down into a pan with melted butter. As the pears cook, the sugar rubbed onto the outside and some of the sugars from the actual pears begin to caramelize and brown.
Once they are nicely browned, we flip them over and pour in a little wine — just 3/4 cup — as well as a whole star anise and cinnamon stick. After about 15 minutes the pears are tender and the wine will have reduced down into a thin syrup.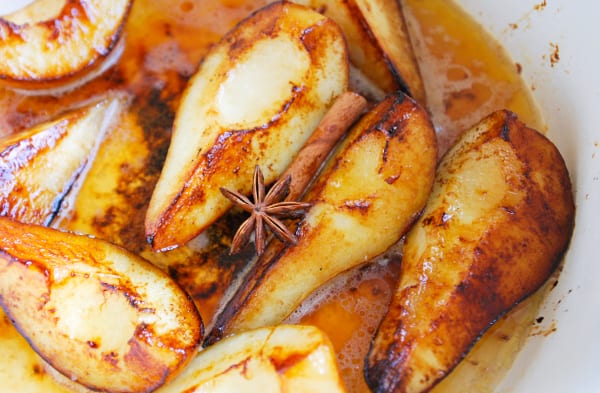 When you serve, drizzling the syrup over the pears and adding a scoop of ice cream or whipped cream on top is a must. By the way, we did actually get around to poaching pears. Here's our Red Wine Poached Pears Recipe. It's absolutely stunning on the plate and surprisingly easy to make.
Recipe updated, originally posted December 2010. Since posting this in 2010, we have tweaked the recipe to be more clear. – Adam and Joanne
Easy Butter Roasted Pears Recipe
These roasted pears are absolutely stunning. Towards the end of cooking, we add some wine and spices to the pears. As they finish cooking the wine will reduce into a thin syrup. This is excellent drizzled over the pears when serving.
You Will Need
4 semi-ripe Bosc pears
1/3 cup powdered sugar
3 tablespoons butter
3/4 cup off dry white wine like riesling
1 star anise
1 (3-inch) cinnamon stick
Pinch sea salt
Ice cream or whipped cream, for serving
Directions
1Heat oven to 400 degrees F. Quarter and core the pears, then dust the cut sides of pears with powdered sugar.

2Melt butter in an oven-safe Dutch oven over moderately high heat. When the butter is melted, add pears, cut-side down, to the butter and cook, moving the pears around so the cut sides become caramelized and browned, about 8 to 10 minutes.

3Flip pears so that they are skin-side up. Pour in the wine and drop in the star anise, cinnamon stick, and a small pinch of salt. Place the pan, uncovered, into oven and roast until the pears are tender and the wine has reduced down into a thin syrup, 15 to 20 minutes.

4Transfer pears to a serving dish, drizzle with some of the syrup at the bottom of the pan and top with a scoop of ice cream or whipped cream.