Learn how to make perfect apple butter in the slow cooker! Made with five ingredients, this recipe is easy, delicious, and much better than store-bought.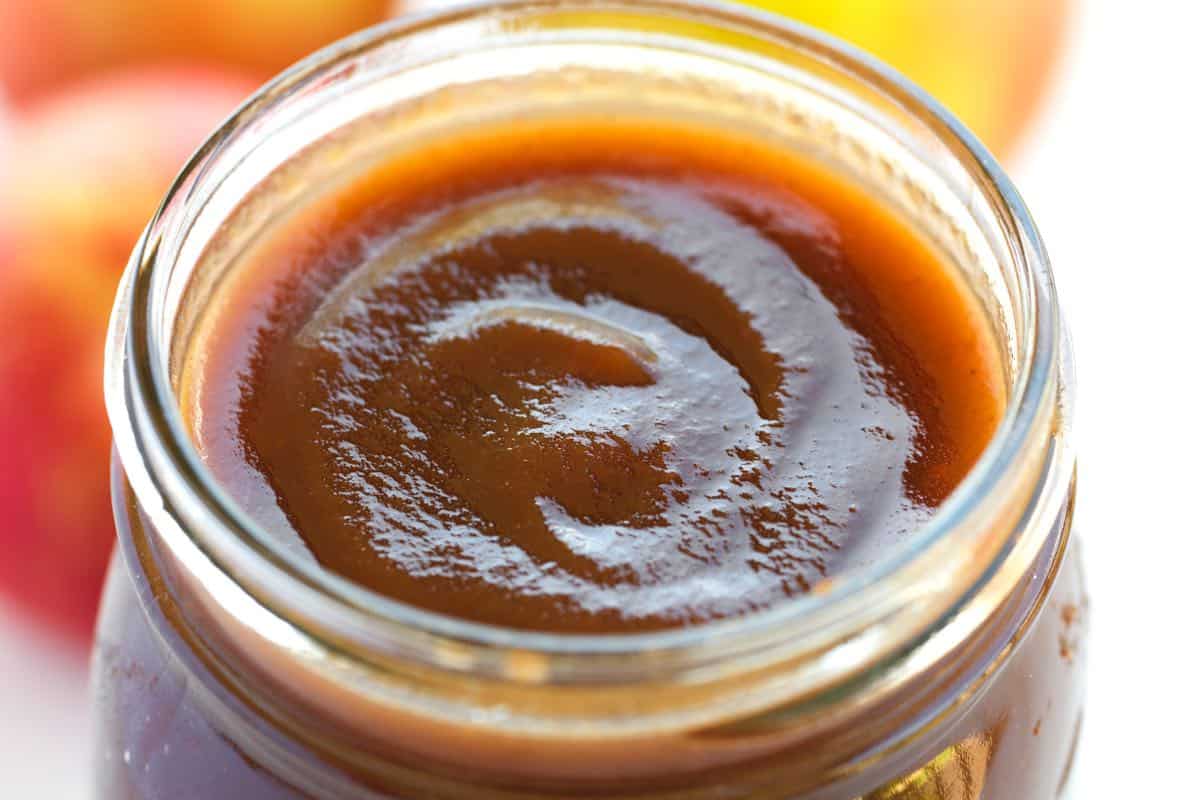 What is Apple Butter?
Apple butter is a sweet, silky spread made with slow-cooked apples and spices. Think applesauce, but thicker and much more concentrated. It's similar to the consistency of jam with a rich and intense apple flavor.
Use apple butter to spread onto toast and biscuits, or use it as a topping for pancakes, waffles, and oatmeal.
Apple Butter Recipe Ingredients
You only need five ingredients to make this recipe, here's an explanation and tips:
Apples! – You can't make apple butter without a bunch of apples. We'll need 8 to 9 medium apples for this recipe. We typically reach for crisp apples when making apple butter (just like when we make applesauce). Honeycrisp, Gala, Fuji, and Pink Lady apples are all great options. More tart apples, like Granny Smith, are also excellent in this recipe.
Brown sugar – Since we are looking for a concentrated jam-like quality for our apple butter, we need some sugar. Brown sugar keeps things sweet and adds a caramelized note, too.
Honey – I love the floral notes honey adds to this apple butter. If you prefer to make vegan apple butter, use maple syrup as a substitute.
Hard apple cider – Here's where our recipe is a bit different from other apple butter recipes we have seen online. Hard apple cider adds extra flavor and a bit of bitterness, which is so delicious when matched with the sweet apples, sugar, and honey. If you'd prefer to leave this out, we have suggestions in the recipe tips section below. Use one you enjoy as the flavors will concentrate as it cooks.
Chinese Five Spice – Apples and warm spices like cinnamon were meant for each other (especially in the Fall!). You can use cinnamon in our recipe, but for a bit more spice and flavor, use Chinese Five Spice, which is a blend of Chinese cinnamon, star anise, cloves, Sichuan (Szechuan) peppercorns, and fennel. Pumpkin pie spice is also an excellent idea.
Find the complete recipe with measurements below.
How to Make Apple Butter
First, prepare your apples. Core and chop them. There is no need to peel apples when you make apple butter. The peel adds color and flavor. Then, combine the apples with brown sugar and Chinese five spice. I like to toss them well in a large bowl.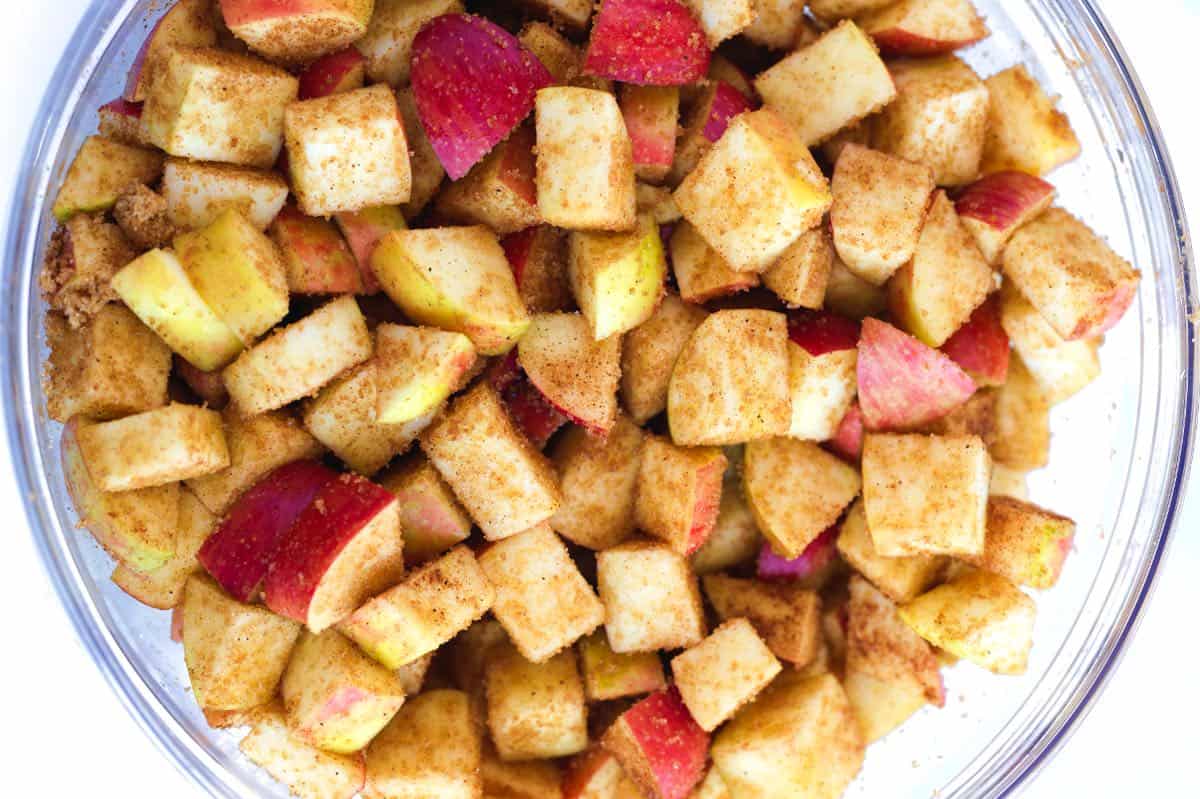 Next, add the sugar and spiced apples to your slow cooker (ours is a 6-quart model, but smaller models should also work). Pour the honey and hard apple cider around the apples, then give everything a good stir.
Cover the slow cooker and cook on LOW for 10 hours. By simmering the apples over very low heat, they almost melt into themselves, making the apple butter silky.
After 10 hours, uncover the slow cooker, turn to HIGH heat, and cook, with the lid left off, for 2 hours. This step helps to concentrate the apples even more and ensures a thick, spreadable apple butter.
Finally, blend! We use an immersion blender in the slow cooker, but you can always transfer the apples (and any juices) to a blender and blend there.
Note that you might like the consistency to be thicker after blending. If this is the case, place the pureed mixture back into the slow cooker and cook, uncovered on HIGH, for another 30 minutes to an hour. Or use the stovetop. We have provided notes in the tip section of the recipe. (Remember that apple butter thickens a bit when cooled.)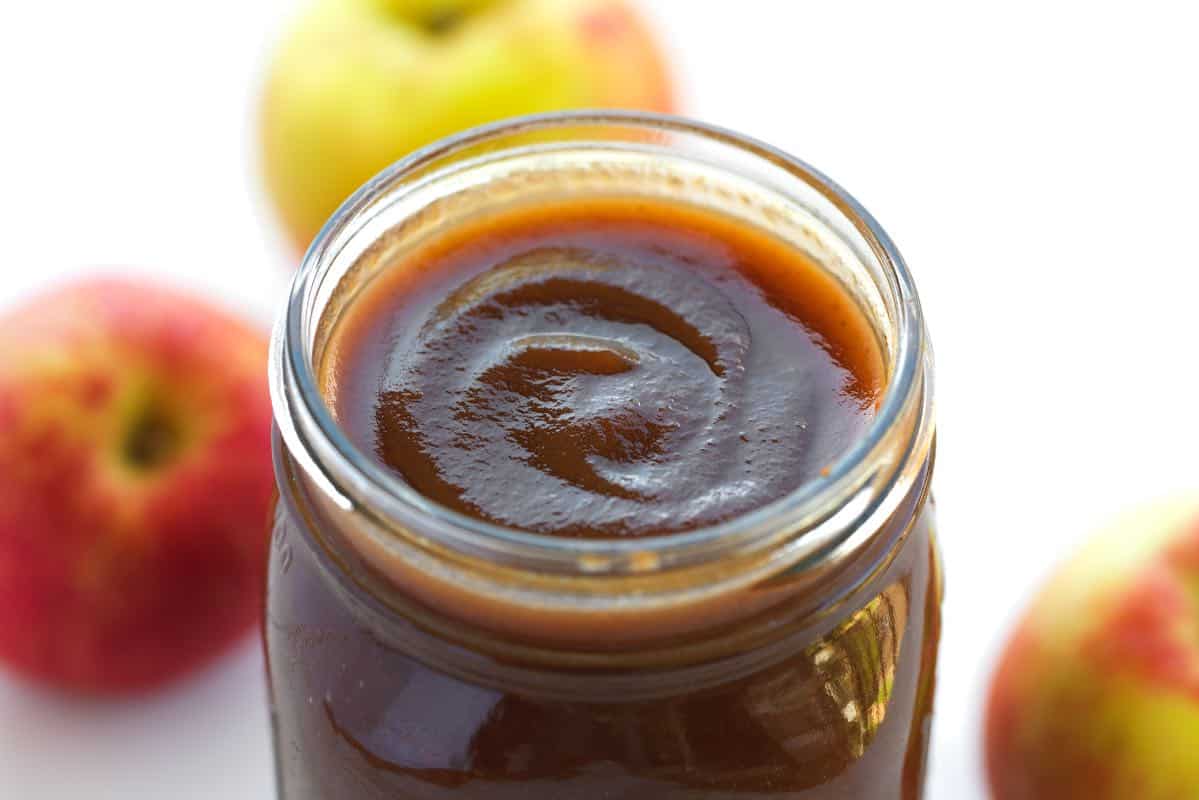 How to Use Homemade Apple Butter
This slow cooker apple butter is delicious spread onto toast, but the ways to eat it don't end there. Here are a few more ideas to get you started:
Honey Apple Butter
This slow cooker apple butter recipe is easy and delicious! Perfectly sweet, lightly spiced, and with a rich and concentrated apple flavor, it's so much better than store-bought.
The hard cider in this recipe makes slightly thinner apple butter. We love the flavor it adds and especially love the slight bitterness from the hard cider. If you find that your apple butter is too thin after cooking for our recommended times, don't worry; we have provided tips in the recipe and tips section below.
You Will Need
3 ½ pounds apples, 8 to 9 medium apples
1 cup (200 grams) brown sugar
1 tablespoon Chinese Five Spice, see notes
1/2 cup (165 grams) honey
1 (12-ounce) bottle hard cider, see notes
Pinch salt, optional
Directions
1Core and chop the apples into 1/2-inch pieces. There is no need to peel them.

2In a large bowl, toss the apples with brown sugar and Chinese Five Spice, then add to your slow cooker.

3Pour over the honey and hard apple cider. Season with a pinch or two of salt, if desired (I almost always do).

4Cover and cook on LOW for 10 hours.

5Uncover and cook on high for another 2 hours to reduce the liquid around the apples.

6Use an immersion blender to puree the apples until silky and smooth. If the apple butter seems thin, don't worry; you can thicken it easily. Continue to cook uncovered in the slow cooker for another hour or until you are happy with the texture (see tips below for fixing runny apple butter). Keep in mind that it will thicken slightly as it cools.
Adam and Joanne's Tips
Chinese Five Spice blends Chinese cinnamon, star anise, cloves, Sichuan (Szechuan) peppercorns, and fennel. It's delicious in apple butter. If you do not have it, consider using this homemade pumpkin spice blend or substitute with cinnamon.
Slow cooker – We use a 6-quart slow cooker, but you should be okay with a slow cooker as small as 4.5 quarts.
My apple butter is too thin – Here are two ways to thicken apple butter: first, reduce it for a longer time. You can do this in the slow cooker with the lid off or on the stove over medium-low heat. Reducing on the stove will take less time but requires your constant attention since it can over-reduce and burn. The slow cooker takes more time but is more hands-off. Second, if you've already tried to reduce your apple butter and it's still too runny, you can add a cornstarch slurry. Mix one tablespoon of cornstarch with two tablespoons of water and then whisk into the simmering apple butter. Cook for 10 to 15 minutes, stirring occasionally, until thickened.
Alcohol-free version – Substitute the hard apple cider with non-alcoholic apple cider or leave it out altogether. Apple butter made without the cider will be a bit thicker.
Vegan apple butter – Substitute the honey for maple syrup and use vegan-certified brown sugar.
Storing – Store apple butter in an airtight container in the refrigerator for two weeks or freeze for several months.
Canning – Apple butter can be canned, but you will need to use a pressure canner. We do not have instructions for pressure canning. We recommend following the instructions that came with your canning equipment.
Nutrition facts: The nutrition facts provided below are estimates. We have used the USDA database to calculate approximate values.
If you make this recipe, snap a photo and hashtag it #inspiredtaste — We love to see your creations on Instagram and Facebook! Find us: @inspiredtaste
Nutrition Per Serving
Serving Size
1 tablespoon
/
Calories
63
/
Total Fat
0.1g
/
Saturated Fat
0g
/
Cholesterol
0mg
/
Sodium
7.2mg
/
Carbohydrate
15.7g
/
Dietary Fiber
1.1g
/
Total Sugars
14.1g
/
Protein
0.1g