How to make an ultra-moist apple coffee cake with yogurt, almonds and butter. Jump to the Apple Almond Coffee Cake Recipe or read on to see our tips for making it.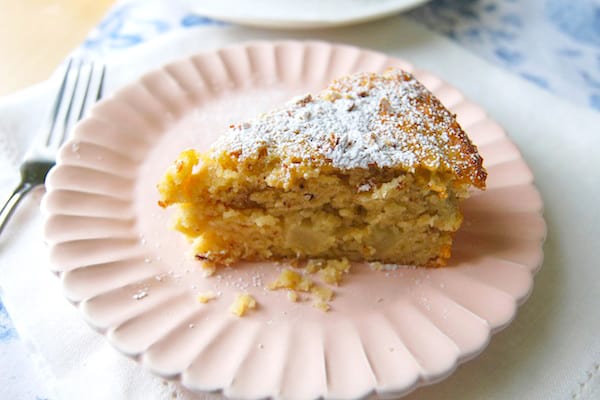 This is my kind of cake — there's no need for frosting and it's only one layer. I love cakes that are quick to make and that let me dig in even when it's still a little warm. We wanted it to be ultra moist so there's lots of extras thrown in, helping with that. There's yogurt, butter, three eggs and a whole apple. The cake isn't light, it's more dense in the middle — something you really want to eat with a fork.
YOU MAY ALSO LIKE: How to make a stunning apple tart with a buttery crust, thinly sliced apples, and toasted almonds. Jump to the Simple Apple Tart Recipe.
Recipe updated, originally posted January 2010. Since posting this in 2010, we have tweaked the recipe to be more clear. – Adam and Joanne
Apple Almond Coffee Cake Recipe
When it comes to the apple, choose a variety that's more tart than sweet. We go straight for Granny Smith for this cake since we love how tart they are.
Makes one 9-inch cake, about 8 servings
You Will Need
1 cup whole almonds
1 medium baking apple like Granny Smith
1 large lemon
1 1/2 cups plus 2 tablespoons all-purpose flour
2 teaspoons baking powder
1/4 teaspoon sea salt
1/4 teaspoon allspice
3 large eggs
1 cup granulated sugar
3/4 cup plain yogurt or sour cream
6 tablespoons unsalted butter, melted
1 teaspoon vanilla extract
1/4 teaspoon almond extract
Powdered sugar for serving
Directions
1Heat the oven to 350 degrees F. Butter and flour a 9-inch cake pan.

2While the oven preheats, place the almonds onto a baking sheet and slide into the oven, stirring occasionally, until lightly toasted and fragrant, about 5 minutes. Add the toasted almonds to a food processor and pulse until chopped very small.

3Zest the lemon and set aside. Peel, core and dice the apple. Squeeze the juice from half of the zested lemon over the apples to prevent browning. Toss the apples with 2 tablespoons of flour. (Save the second lemon half for after the cake has baked).

4In a large bowl, whisk 1 1/2 cups of flour with the baking powder, salt and allspice. In a medium bowl, whisk the eggs with the sugar until frothy and lightened in color, about 1 minute. Whisk in the yogurt, melted butter, lemon zest, almond extract and vanilla until well blended.

5Switch to a large rubber spatula. Scrape the sides and bottom of the bowl with eggs then add the dry ingredients in 3 parts, stirring gently until they disappear and the batter is smooth. Fold in the apples and about three-quarters of the almonds.

6Pour batter into the pan and smooth the top. Scatter the top of the cake with remaining almonds. Bake 30 to 40 minutes, or until a knife inserted into the center of the cake comes out clean. Transfer the cake, still in the pan, to a cooling rack. Squeeze the juice from the leftover lemon half over the top of the cake. Cool then serve slices of cake dusted with powdered sugar.