Lentils are easy to cook, tasty and packed with nutrition. A pantry hero! Learn how to cook lentils as well as the different varieties most commonly sold at stores. Jump to the Basic Lentil Recipe or read on to see all of our tips.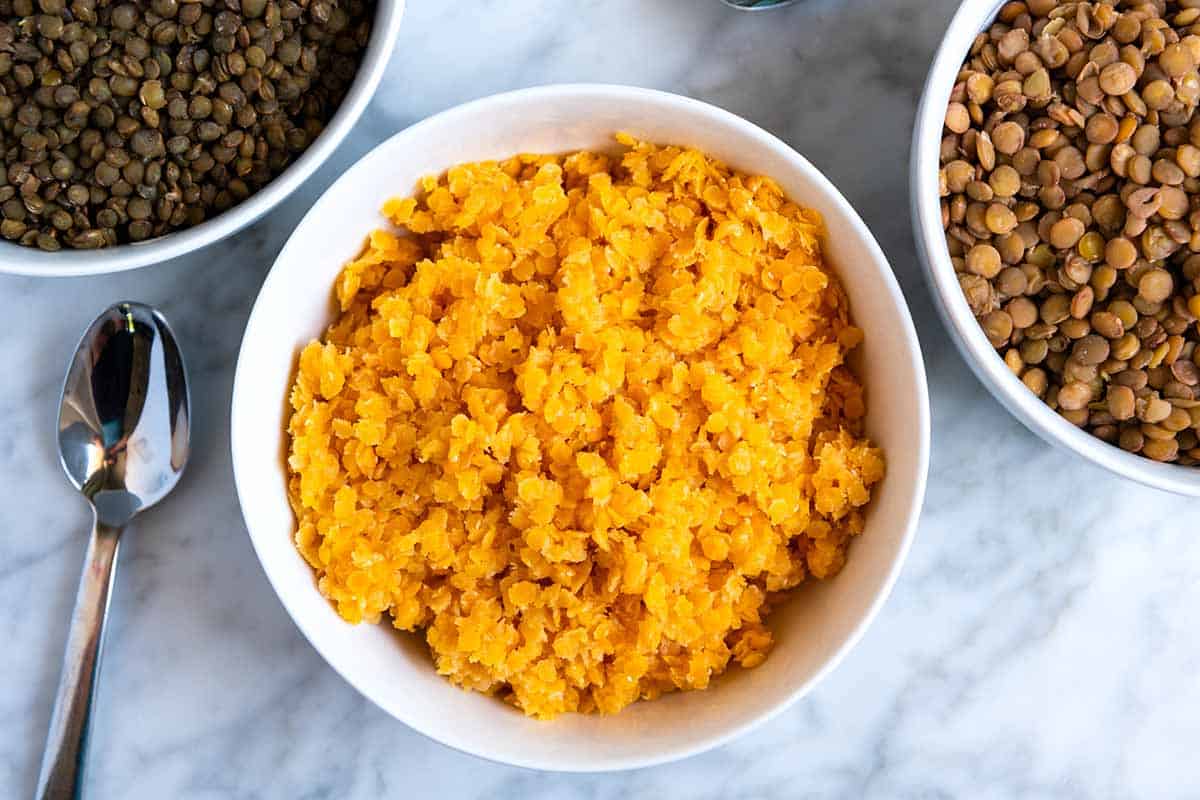 For more basic cooking lessons see our articles for cooking dried chickpeas or try these creamy black beans (cooked from scratch).
How to cook lentils
Lentils are extremely easy to cook. Here's our simple method that you can use for any variety of lentil. All lentils cook quickly, but some varieties take longer than others. For specific cook times, see the next section or jump straight to our recipe.
Rinse the dried lentils and pick out any small stones, beans or grains that might have sneaked into the batch.
Add rinsed lentils to a saucepan and cover with a couple inches of water.
(Optional) Season the water with a generous pinch of salt.
Simmer the lentils until tender. Cook time will depend on the variety of lentil you are cooking.
Drain the lentils and serve or use in your favorite lentil recipes.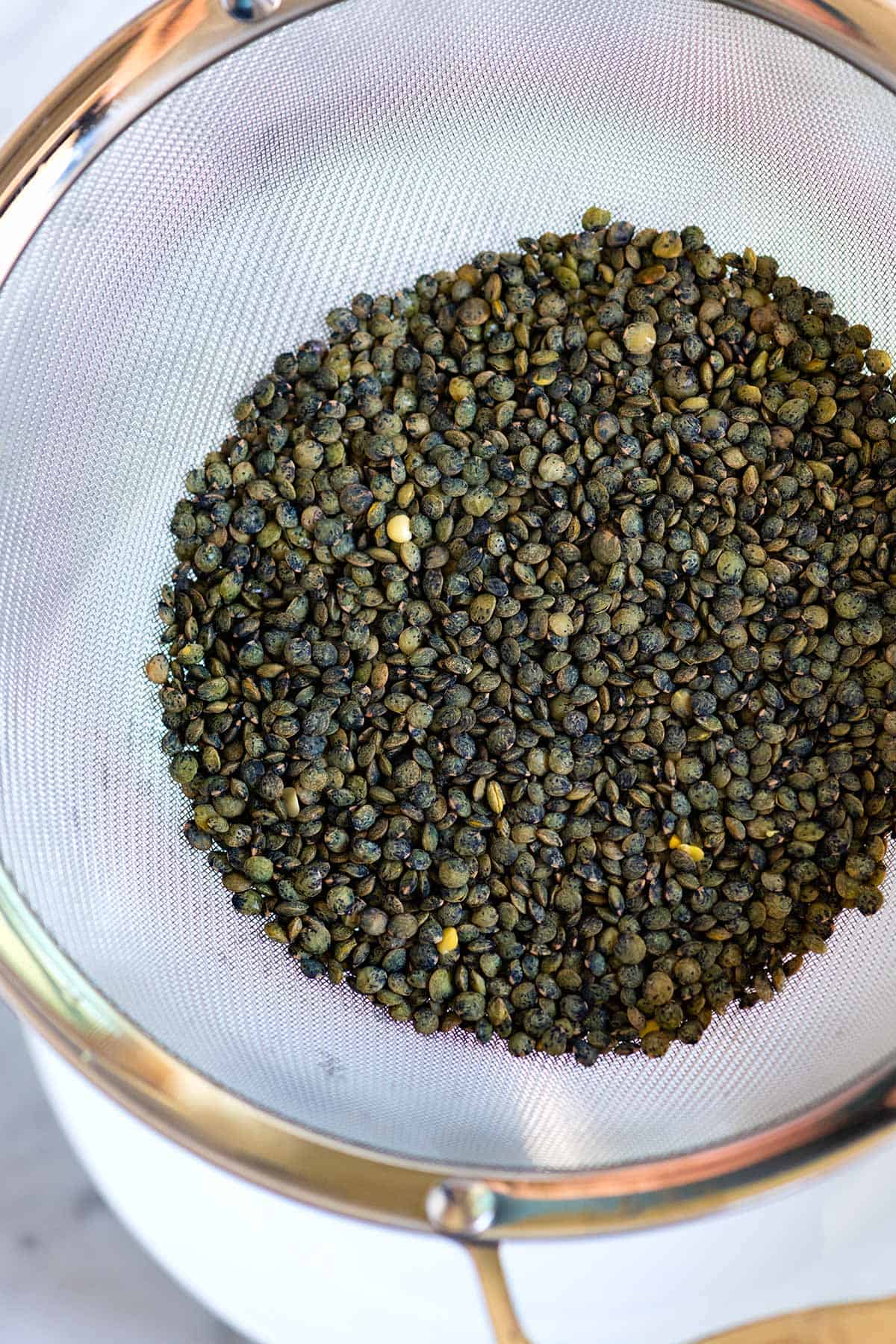 Adding flavor
Lentils cooked in water with a bit of salt are perfectly tasty, but you can add even more flavor when cooking lentils. Here are a few ideas:
Use broth or stock instead of water. Here are our recipes for veggie broth and our homemade chicken stock.
Before adding cooking liquid to the pot, sauté the lentils in a little oil with chopped vegetables like onion, carrot and celery.
Add fresh or dried herbs to the cooking liquid. I love bay leaves (use 1 or 2), rosemary and thyme.
Add smashed garlic cloves or a quartered onion like in our black beans recipe.
After cooking and draining the lentils, toss them with olive oil, fresh herbs and fresh lemon juice or use one of our favorite vinaigrettes. See our honey mustard dressing, the dressing for this couscous salad and this red wine vinegar dressing used in our bean salad.
Different varieties of lentils and their cook times
Lentils come in a variety of colors and sizes, here is a breakdown of the most common varieties sold in stores:
Brown and Green Lentils
Brown lentils are what you have likely seen the most. These are larger than the other varieties shared below and have more of a flattened shape. They are versatile, flavorful and take somewhere from 20 to 30 minutes to cook. We use them to make our Lemony Lentil Soup. Brown lentils become quite soft and when cooked long enough, will fall apart a bit. They are perfect for hearty soups, stews, purees, dips and any recipe where their soft, almost mushy texture is needed.
Cook time: 20 to 30 minutes
Texture when cooked: Soft, almost mushy, perfect for soups, dips and spreads
Green / French Lentils (Lentilles du Puy)
Unlike brown lentils, thanks to their thick skins, French lentils stay intact after cooking. These are perfect for salads and dishes where you'd like lentils that hold their shape. French lentils take a bit longer to cook than the other varieties. We use green lentils to make our Vegan Meatballs recipe!
Cook time: 25 to 35 minutes
Texture when cooked: Firm and intact, perfect for salads and side dishes
Red Lentils
Red lentils are my favorite. I love how quickly they cook and while not all red lentils look red (most turn a light orange), they have a light, almost fragrant flavor. Red lentils are most commonly seen used in Indian dishes, like daal, but you can use them as a substitute for brown and green lentils. Like the brown and green varieties, these break down quickly and turn mushy (which is why they are perfect for soups, sauces and daal). Depending on how soft you'd like them, red lentils take 15 to 20 minutes to cook.
Cook time: 15 to 20 minutes
Texture when cooked: Soft, almost mushy, perfect for soups, dips, daal and spreads
Black Beluga Lentils
Black Beluga lentils are smaller than the other varieties and are very flavorful. They have a thick skin, so when cooked for about 30 minutes, they should be used in recipes where French lentils are called for. Cook them a little longer (45 minute or so) and that tough skin starts to breakdown, making them more appropriate for soups, dips, spreads.
Cook time: 30 minutes for firm, 45+ minutes for soft
Texture when cooked: It depends on cook time.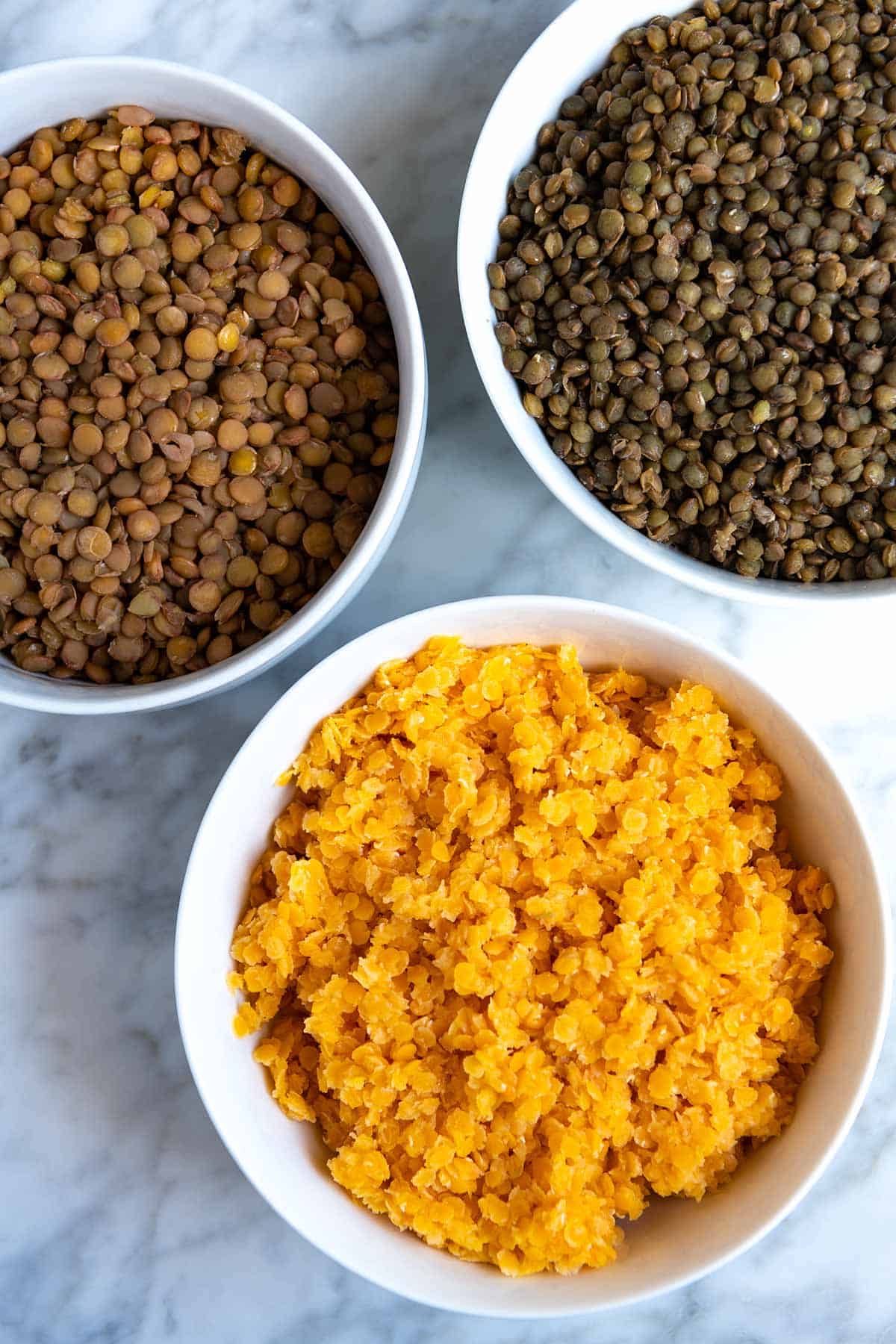 Cooking lentils in a pressure cooker (Instant Pot)
Just as with cooking lentils on the stovetop, cooking time will vary depending on the type of lentil you use. In general, combine 1 cup of rinsed lentils and 2 cups of liquid (water or broth). Seal the lid and cook 6 to 10 minutes (I stick closer to 6 minutes), and then allow the cooker to naturally release for 10 minutes before manually releasing the pressure. If when you open the lid, the lentils need a bit more cooking, use the sauté function and simmer until the lentils are tender.
Cooking lentils in a slow cooker
Just as with cooking lentils on the stovetop, cooking time will vary depending on the type of lentil you use. In general, add 1 cup of rinsed lentils and cover with liquid by two to three inches (water or broth). Close the lid and cook on HIGH for 2 hours or LOW for 4 hours. Check the lentils every once in a while to see how they are progressing. You may need a bit more or less time than what's suggested.
How to store lentils
Keep dried lentils in an airtight container in a cool dry place up to one year.
Cooked lentils should be stored in an airtight container and refrigerated or frozen. Refrigerate for up to five days and freeze for up to three months.
How to Cook Lentils (Ultimate Guide)
Lentils are a pantry hero. They are quick and simple to cook and can be used in a variety of ways. The cook time for lentils depends on the variety of lentil you have on hand so check the recipe for an exact cooking time.
You Will Need
1 cup lentils
Water or broth
Salt
Directions
1Rinse the lentils with cool water, and then quickly sort through to remove any rogue grains or beans that may have sneaked into the bag from the bulk aisle.

2Add the lentils to a medium saucepan and then add enough liquid (water or broth)  so that the lentils are covered by two inches.

3Season the water with 1/2 teaspoon of fine sea salt (optional).

4Bring the water to a boil, and then reduce the heat so that the water is gently bubbling (low simmer).

5Cook, uncovered, until the lentils are tender. Check the lentils every once in a while for texture as lentils can transform from tender to mushy quickly (unless you are looking for very soft lentils that can be used in dips and spreads). Suggested cook times: 20 to 30 minutes for brown or green lentils, 25 to 35 minutes for French lentils, 15 to 20 minutes for red lentils and 30 to 45 minutes for black beluga lentils.
Adam and Joanne's Tips
Tips for cooking lentils in a pressure cooker (like an Instant Pot) or slow cooker are provided in the article.
Nutrition facts: The nutrition facts provided below are estimates. We have used the USDA database to calculate approximate values.
If you make this recipe, snap a photo and hashtag it #inspiredtaste — We love to see your creations on Instagram and Facebook! Find us: @inspiredtaste
Nutrition Per Serving
Serving Size
1/2 cup
/
Calories
135
/
Total Fat
0.4g
/
Saturated Fat
0.1g
/
Cholesterol
0mg
/
Sodium
234.9mg
/
Carbohydrate
24.3g
/
Dietary Fiber
4.1g
/
Total Sugars
0.8g
/
Protein
9.5g