Perfectly juicy, tender chicken breasts are possible when you follow our simple recipe. With a few tricks, you can make the best juicy chicken at home! Our method works for all cuts of chicken, but it is especially helpful for chicken breasts. Jump to the Juicy Chicken Breasts Recipe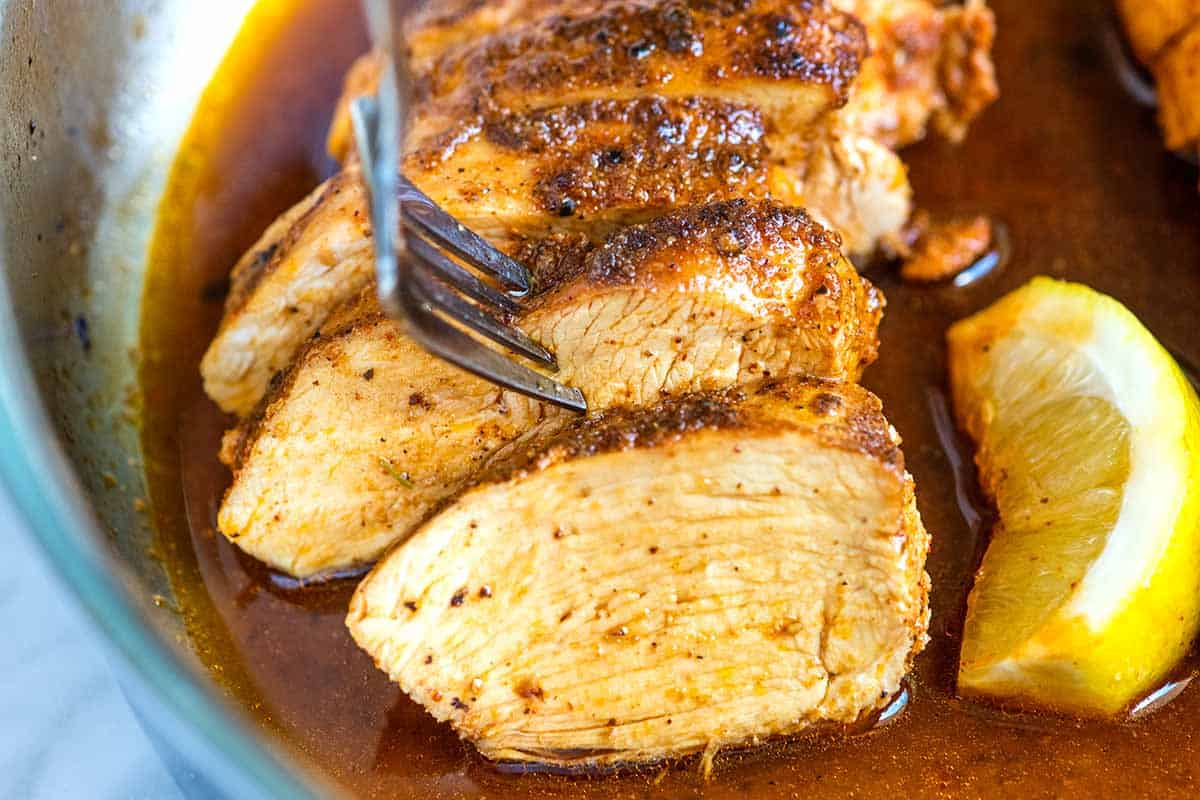 How to Cook Chicken Breasts
Say goodbye to flavorless, dry chicken breasts and hello to mouthwatering, succulent juicy chicken. It's easy to do at home. Here's what we consider to be the best way to cook chicken breasts: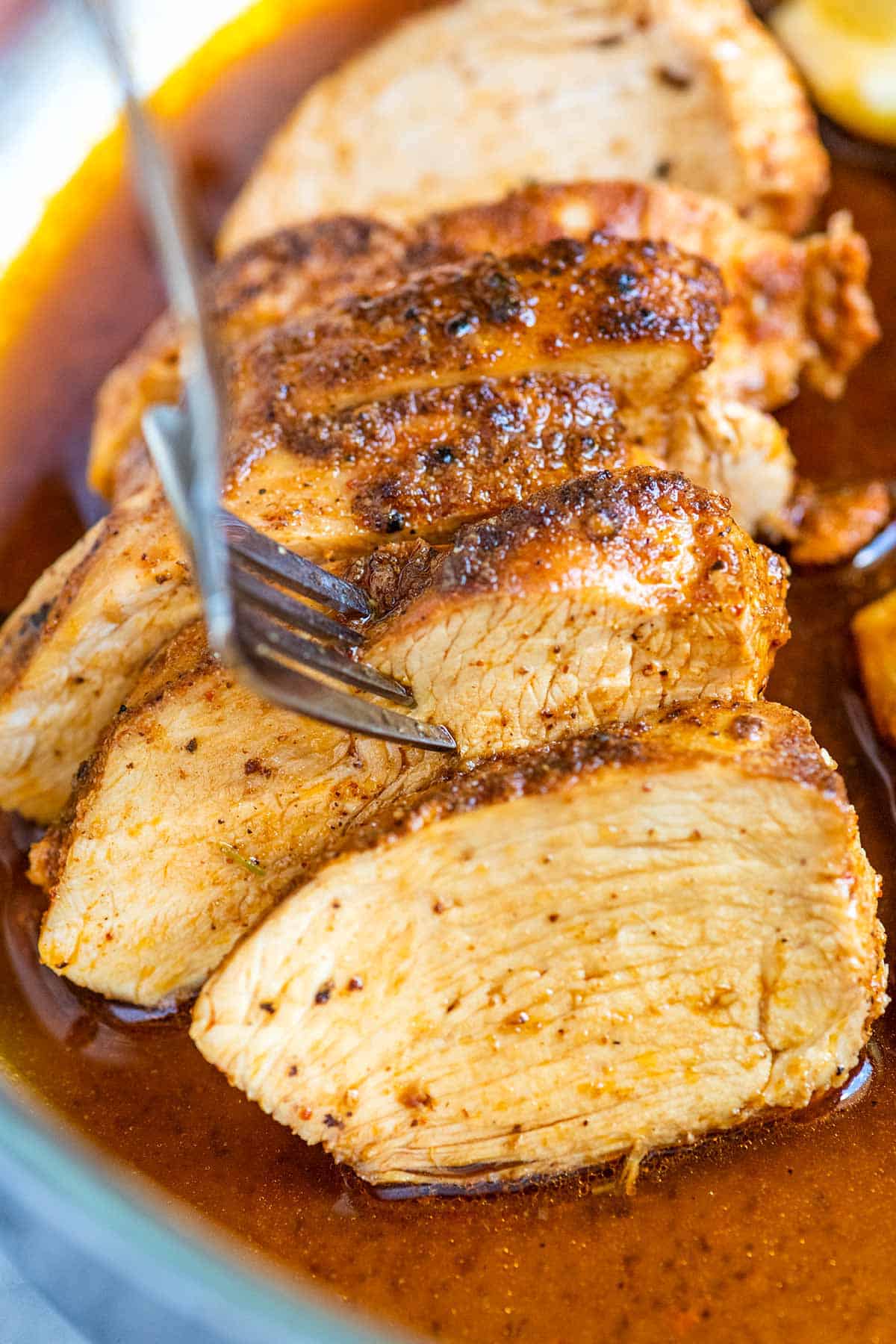 (Optional) Pound the chicken breasts into one thickness — I'm sure you've noticed that chicken breasts are thicker on one end compared to the other. By using a mallet or rolling pin to pound the thicker end to a more similar thickness as the thinner end, you make sure that the chicken cooks evenly. We use this trick when grilling chicken, too. We don't always do this step, but when cooking chicken breasts that are especially thick, it's a good idea.
Season well — You don't need to the marinate chicken (not that it isn't a nice idea). What you do need to do is season it really well. Our simple spice rub and a generous sprinkle of salt on both sides of each breast is all you need for super flavorful chicken. If you did want to marinate, check our our no-fail chicken marinade recipe.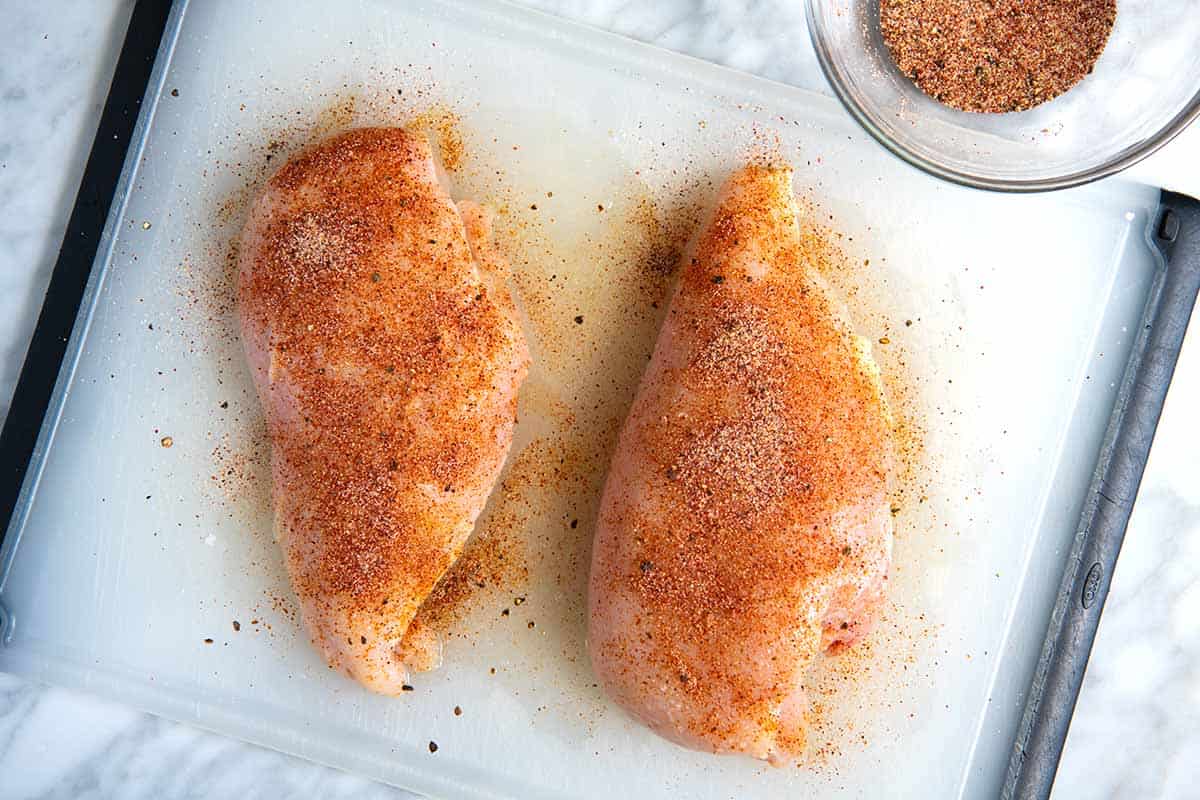 Use the skillet's lid — We use this trick a lot when cooking meat (see our juicy skillet pork chops). First, we sear one side of the chicken until browned then we flip them, turn down the heat to low and cover the skillet with a lid. The second side will slowly turn golden brown, and since we added the lid, the heat from the pan will gently cook the middle. By gently cooking the chicken this way, they remain juicy and become tender.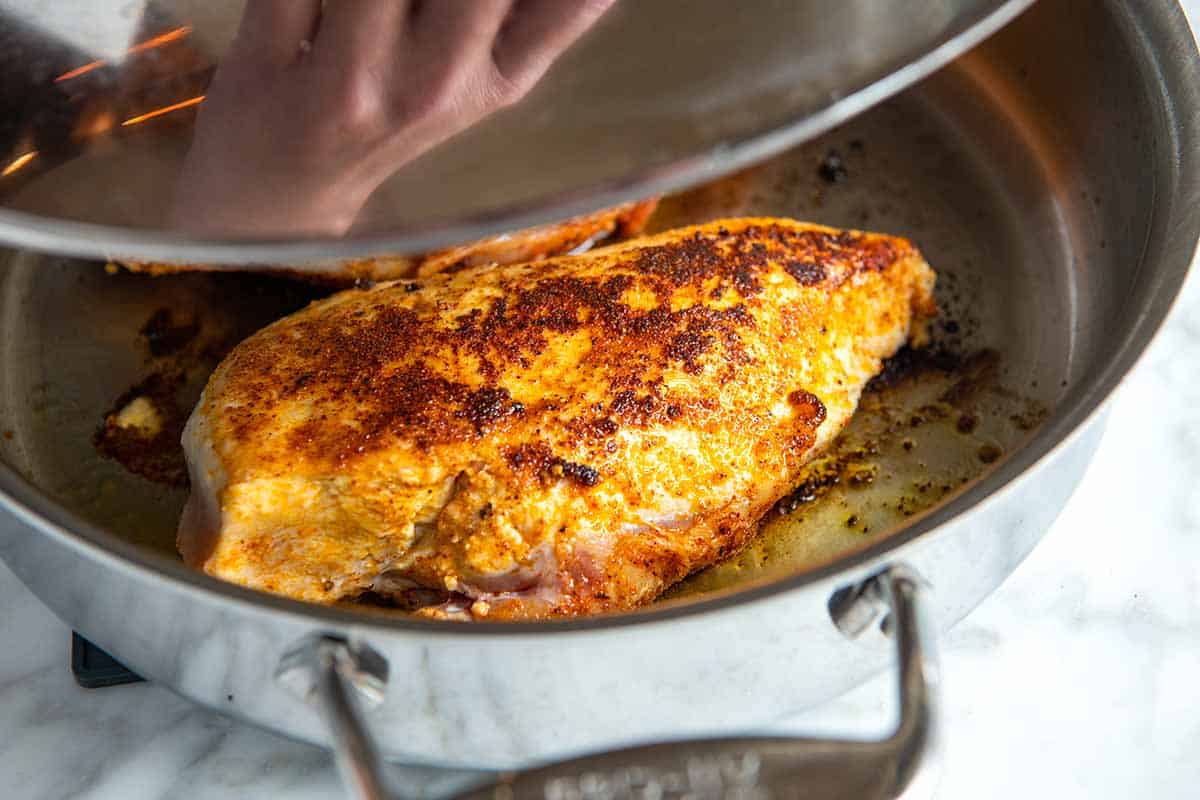 Let the chicken rest — There's some contention as to why it's a good idea to let meat rest after cooking, but here's the deal, before cutting the chicken, give it a few minutes. In this time, it will finish cooking and all the juices inside will either distribute or fall out onto your plate. If there are juices on your plate, save them! They make the best sauce.
Our method works for all cuts of chicken, but is especially helpful for grilled chicken breasts. We also have a recipe for baked chicken breasts, if you are interested.
How to tell when chicken is done?
Here are a two easy ways to tell when chicken is done:
Use an internal thermometer. This is our preferred method since it's no-fail! Chicken is cooked when an internal thermometer inserted into the thickest part of the meat reads 165 degrees Fahrenheit. So in the case of this recipe, you can either, cook the chicken in the skillet until 165° F or if you are worried that carry over cooking will cause the chicken to overcook, you can remove the chicken from the skillet when the thermometer reads 160° F, and then cover it loosely with foil and wait a few minutes. In this time, the chicken should finish cooking.
Check that the juices run clear. When you pierce a knife into cooked chicken, if it is cooked, the juices that run out will be clear. We still prefer the thermometer method, but this is a nice visual check.
What to serve with chicken breasts
We hope you give these juicy chicken breasts a try soon. If you do, try one of these side dishes to go alongside.
More chicken recipes: Try our Juicy Grilled Chicken, this Roasted Whole Chicken or our Lemony Chicken with Cucumber and Feta Salad.
The Best Juicy Skillet Chicken Breasts
Perfectly juicy, tender chicken breasts are possible when you follow our simple recipe. With a few tricks, you can make the best juicy chicken at home! This method works for all cuts of chicken, but it is especially helpful for chicken breasts.
Makes 4 (6-ounce) servings
Watch Us Make the Recipe
You Will Need
1 ½ pounds boneless, skinless chicken breasts; 2 large breasts or 3 medium
Salt, to taste
1 teaspoon chili powder, see our homemade chili powder recipe
1 teaspoon garlic powder
1 teaspoon onion powder
1/2 teaspoon smoked paprika
1/2 teaspoon ground black pepper
1 tablespoon avocado oil or other high heat cooking oil
Half of a lemon, quartered, optional
Directions
1Take the chicken out of the refrigerator and season on both sides with salt — we use just less than 1/4 teaspoon of fine salt per chicken breast.

2Make the spice rub by combining the chili powder, garlic powder, onion powder, smoked paprika and black pepper. Liberally dust the spice rub all over the chicken.

3Heat a tablespoon of oil in a medium frying pan (with lid) over medium-high heat. As soon as the oil is hot and looks shimmery, add the chicken. Cook 2 to 3 minutes until golden. Flip, reduce the heat to low, and then splash a few tablespoons of water (or broth) into the skillet. Cover the skillet with a lid.

4Cook 10 to 15 minutes or until an instant-read thermometer reads 165 degrees F when inserted into the thickest part of the breast.

5Transfer the chicken to a plate and cover loosely with aluminum foil. Let the chicken rest for 5 minutes, cut into thick slices, and then serve with pan drippings and lemon wedges.
Adam and Joanne's Tips
Nutrition Per Serving
Serving Size
1/4 of the recipe (about 6 ounces)
/
Calories
208
/
Total Fat
4.6g
/
Saturated Fat
1g
/
Cholesterol
124.1mg
/
Sodium
387mg
/
Carbohydrate
0.9g
/
Dietary Fiber
0.3g
/
Total Sugars
0.1g
/
Protein
38.5g