Our Favorite Baked Tofu
Our family's favorite baked tofu recipe! Thanks to a few simple ingredients, this recipe takes tofu from boring to delicious. Add this to your favorite stir-fry, rice bowls, curries, or enjoy alone. Jump to Our Favorite Baked Tofu Recipe
We adore this easy tofu recipe. I love it so much I honestly think it might be my favorite way to cook tofu. So let's look at what tofu is and my favorite way to cook it.
What is Tofu?
Tofu, or bean curd, is a mild-flavored food derived from soy. The method for making tofu is simple. First, you curdle fresh soy milk. The resulting curds are then pressed into blocks and cooled. This process is similar to making dairy cheeses. First, milk is curdled, and then the resulting curds are pressed into blocks of cheese.
Tofu is an excellent source of plant-based protein. Many cooks use it as a meat alternative since it is so mild in flavor. You can blend it into sauces, marinate it, saute it, fry it, and just as in this recipe, you can bake it.
The texture of tofu varies depending on which firmness level you buy. It can range from silken to extra firm. Silken tofu has a texture similar to thick custard or jello, while firm tofu holds its shape and is meatier in texture. For this recipe, we prefer to use firm or extra-firm tofu.
You May Also Like: If you love fish or chicken nuggets, try our tofu fingers! These kid-friendly baked tofu fingers are delicious. We also have this scrambled tofu recipe that uses silken tofu.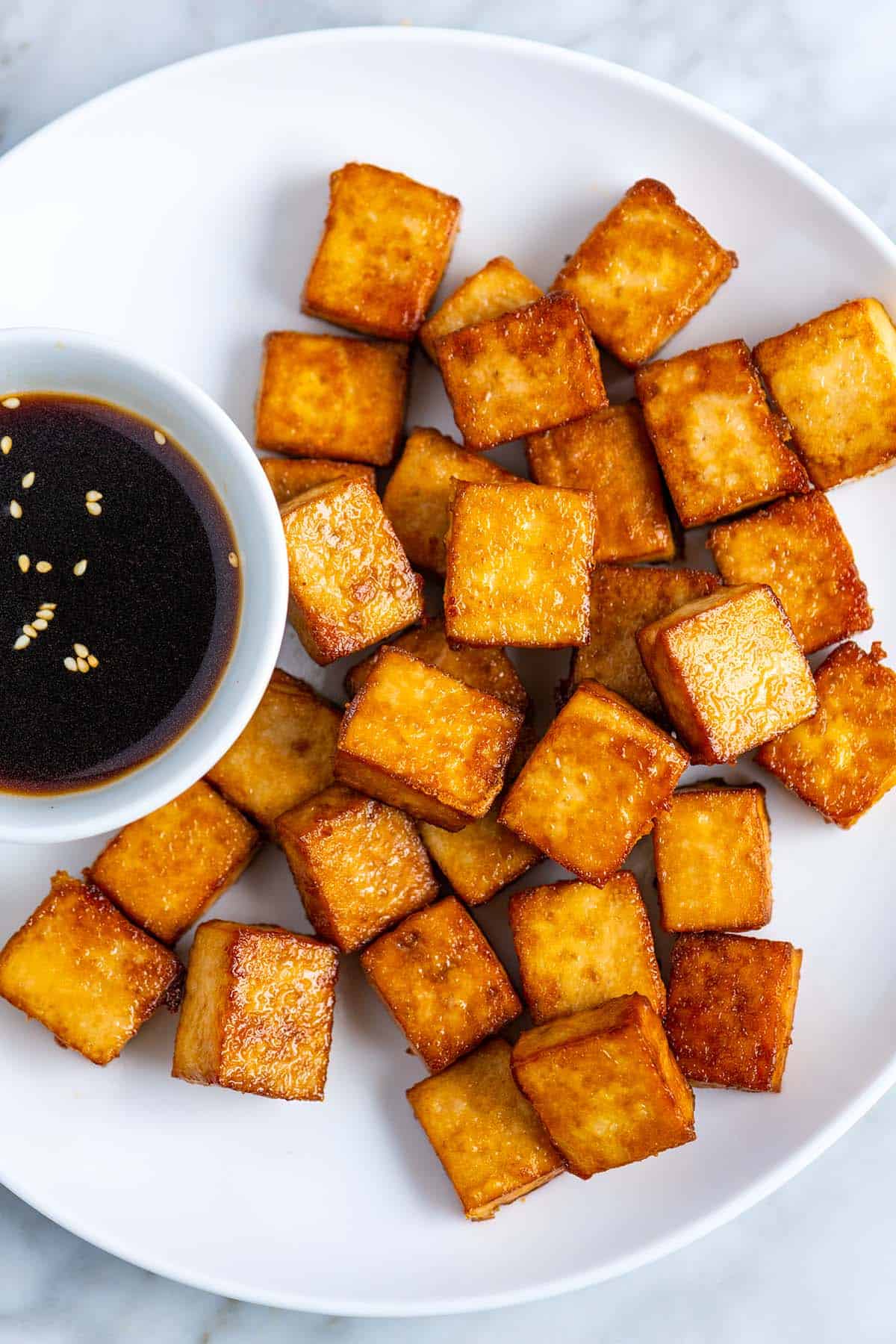 How to Bake Tofu
Our method for the best baked tofu is straight-forward. Follow the following guidelines, and you will be heading to crisp and delicious tofu in no time.
Choose a firm or extra-firm tofu.
Press the tofu. Tofu contains a lot of water, and since our goal is crispy tofu, we will need to remove as much as we can. I realize this adds time, but it's worth it, I promise. I've shared three methods we use below.
Marinate the tofu in a mixture of soy sauce and maple syrup. It's simple but makes the tofu taste amazing.
(Optional) Toss the marinated tofu with some oil and cornstarch before baking. The cornstarch keeps the flavor of the marinade inside and crisps on the outside. Arrowroot works for this, as well, but I prefer cornstarch. Arrowroot is best when you plan to enjoy the tofu straightaway. Cornstarch is your best bet if you are making it ahead of time.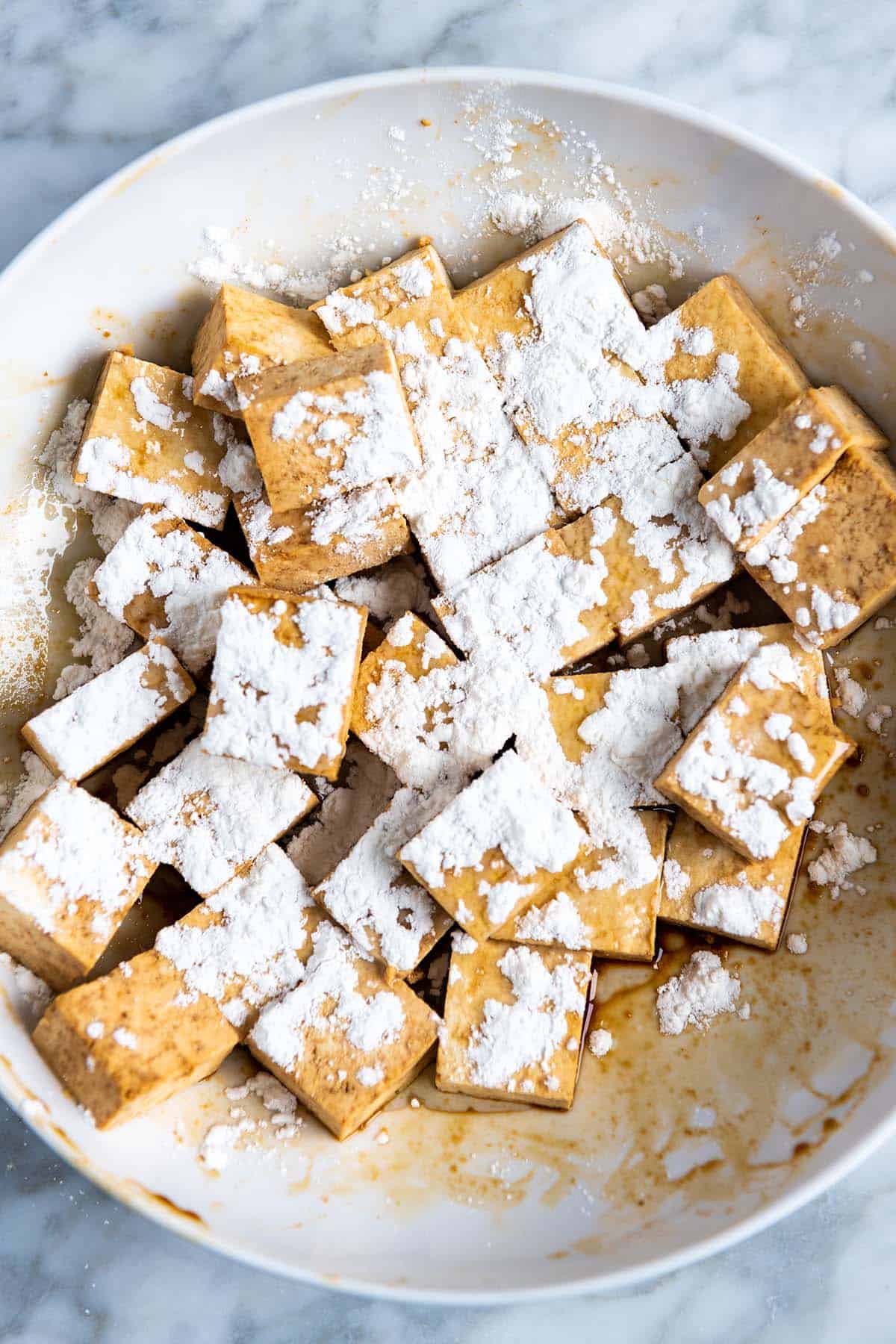 Last, but not least, bake the tofu until golden-brown and crisp. We prefer a hot oven (425° F) and bake the tofu for 20 to 25 minutes. It's a good idea to shake or stir the pan about halfway through to promote even browning.
How We Press Tofu
Excess water in your tofu will prevent it from browning and crisping in the oven, so we should eliminate it. Again, it's a simple process, and you can do it in advance.
Option one: If you start with extra firm tofu, you can place the block between two clean dishtowels and gently press it over the sink. This method does not remove as much water as the other two listed below, but you should be okay since you are starting with extra firm tofu.
Option two: Put the block of tofu onto a clean dishcloth and cover it with a heavy pot. Place a few cans or jars into the pot to make it even heavier. Let the tofu sit this way for at least 30 minutes. If you can make space, you can do this in the fridge and leave it for a few hours.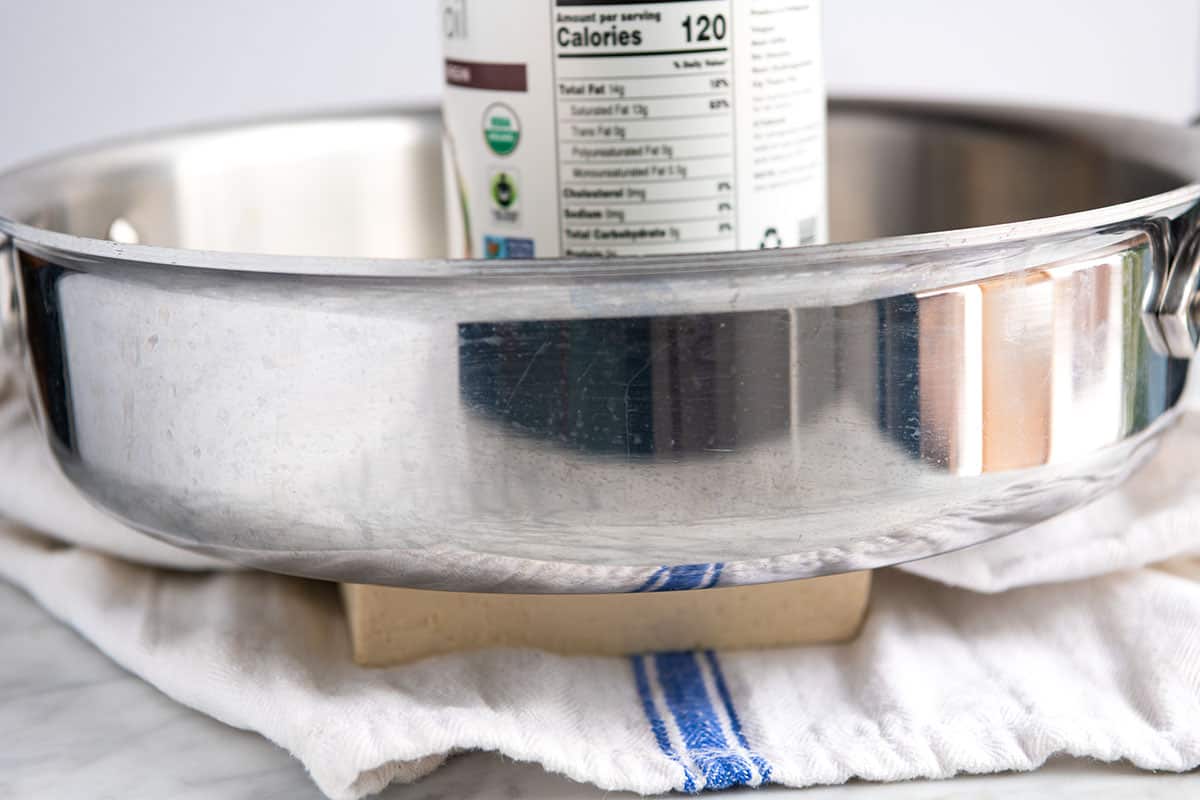 Option three: Use a tofu press to press out the water. This is my preferred method since it takes less space in the kitchen. Check online for highly rated tofu presses — we bought ours from Amazon. It's the Tofuture brand, but there are many options available.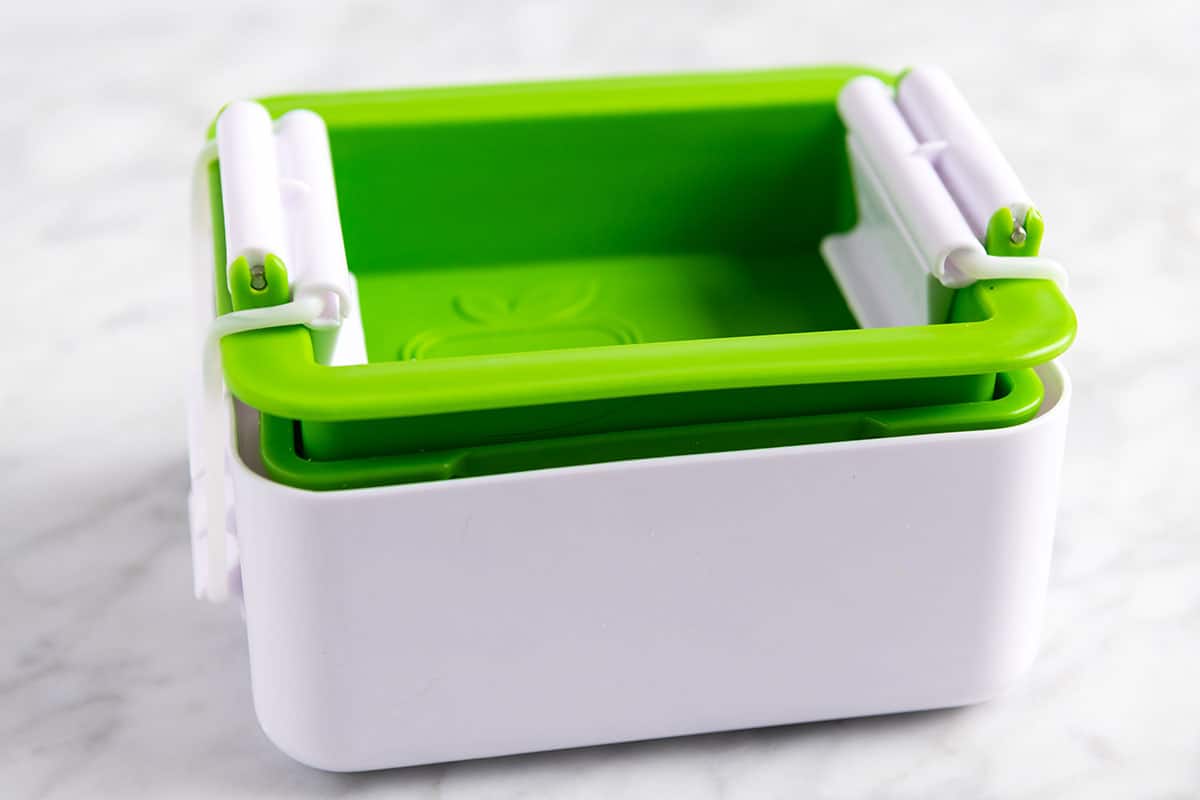 To give you an idea, here's how much water we pressed out of our tofu. This was done using option three (the tofu press). All methods will work, though!
Our Favorite Baked Tofu
Our family's favorite baked tofu recipe! Thanks to a few simple ingredients, this recipe takes tofu from boring to delicious. Add this to your favorite stir-fry, rice bowls, curries, or enjoy alone. The cornstarch is optional, but it will make the exterior of the tofu cubes crispier. Arrowroot is an alternative to cornstarch, but it does not hold up as well over time or when added to curries and soups. I prefer cornstarch for this recipe.
You Will Need
1 block (12 to 15 ounces) organic firm or extra-firm tofu
1 tablespoon low sodium soy sauce or tamari
1 tablespoon maple syrup
1 tablespoon neutral oil like avocado oil or vegetable oil
1 tablespoon cornstarch or substitute arrowroot starch, optional
Directions
Press the Tofu

Drain the block of tofu, and then press as much water from it as you can. You can do this one of three ways. (1) Place the block of tofu between two clean dishtowels and press over the sink and pat dry. (2) Place the tofu down onto a work surface and cover with a clean dishtowel. Place a heavy pot on top with a few cans or jars placed into the pot to add weight. Let the tofu drain for 15 to 20 minutes, and then pat dry. (3) To remove the most liquid, use a tofu press, and then pat dry (see notes for suggestions on where to buy).

Bake Tofu

Heat the oven to 425 degrees Fahrenheit. Line a baking sheet with parchment paper or use a silicone baking mat.

Pat the pressed block of tofu dry and then cut into 1-inch cubes. Pat the cubes dry once more and then add to a bowl.

Add the low sodium soy sauce (or tamari) and maple syrup. Toss well, and then set aside for five minutes to allow the tofu to absorb the marinade.

Add the oil, and then toss well. Scatter one tablespoon of cornstarch over the marinated tofu for the crispiest baked tofu. Toss well.

Tumble the tofu cubes onto the prepared baking sheet and spread into one layer.

Bake for 10 minutes, stir and then bake until golden brown and crisp, 10 to 15 minutes more.
Adam and Joanne's Tips
I love my tofu press. It takes less space in the kitchen and works wonders for getting rid of all the water in blocks of tofu. Check online for highly rated tofu presses — we bought ours from Amazon. It's the Tofuture brand, but there are many options available.
Nutrition facts: The nutrition facts provided below are estimates. We have used the USDA database to calculate approximate values.
If you make this recipe, snap a photo and hashtag it #inspiredtaste — We love to see your creations on Instagram and Facebook! Find us: @inspiredtaste
Nutrition Per Serving:
Serving Size
1/4 of the pan
/
Calories
151 calories
/
Total Fat
8.7g
/
Saturated Fat
1.2g
/
Cholesterol
0mg
/
Sodium
113.1mg
/
Carbohydrate
8.3g
/
Dietary Fiber
1.3g
/
Total Sugars
3.6g
/
Protein
10.3g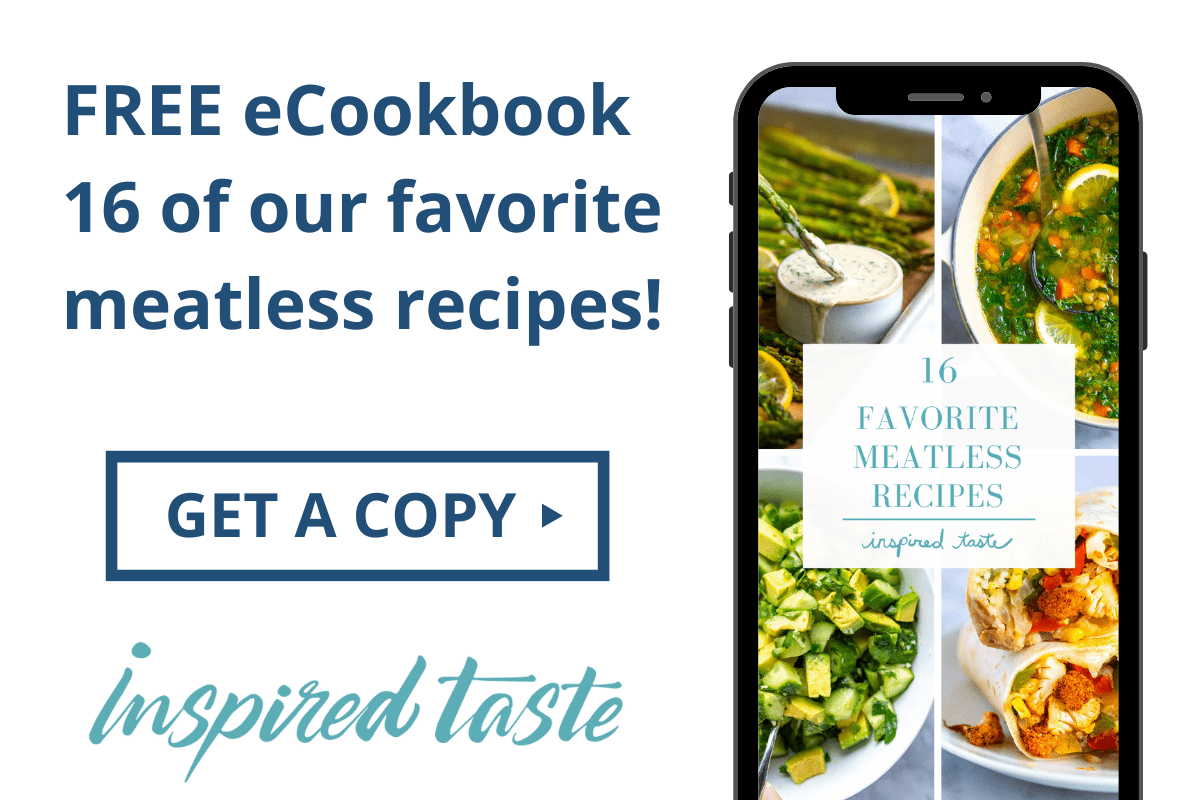 Don't Miss Our Latest Recipes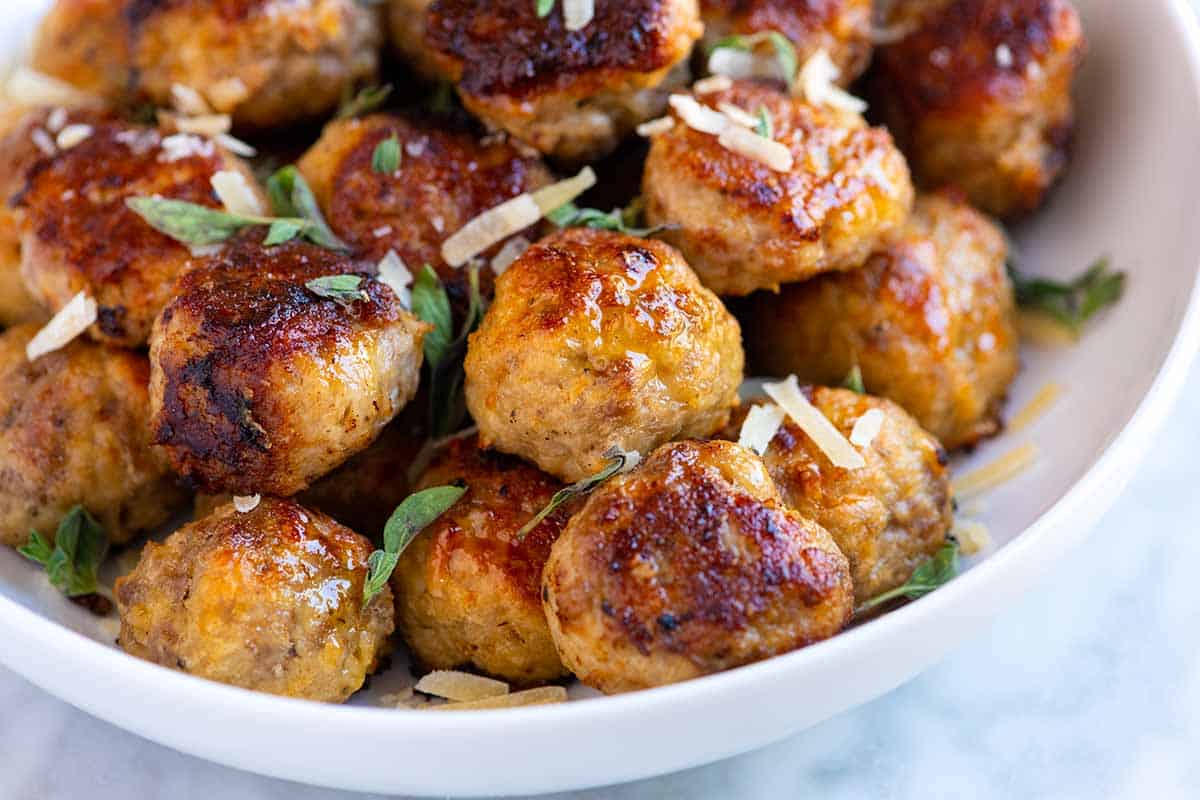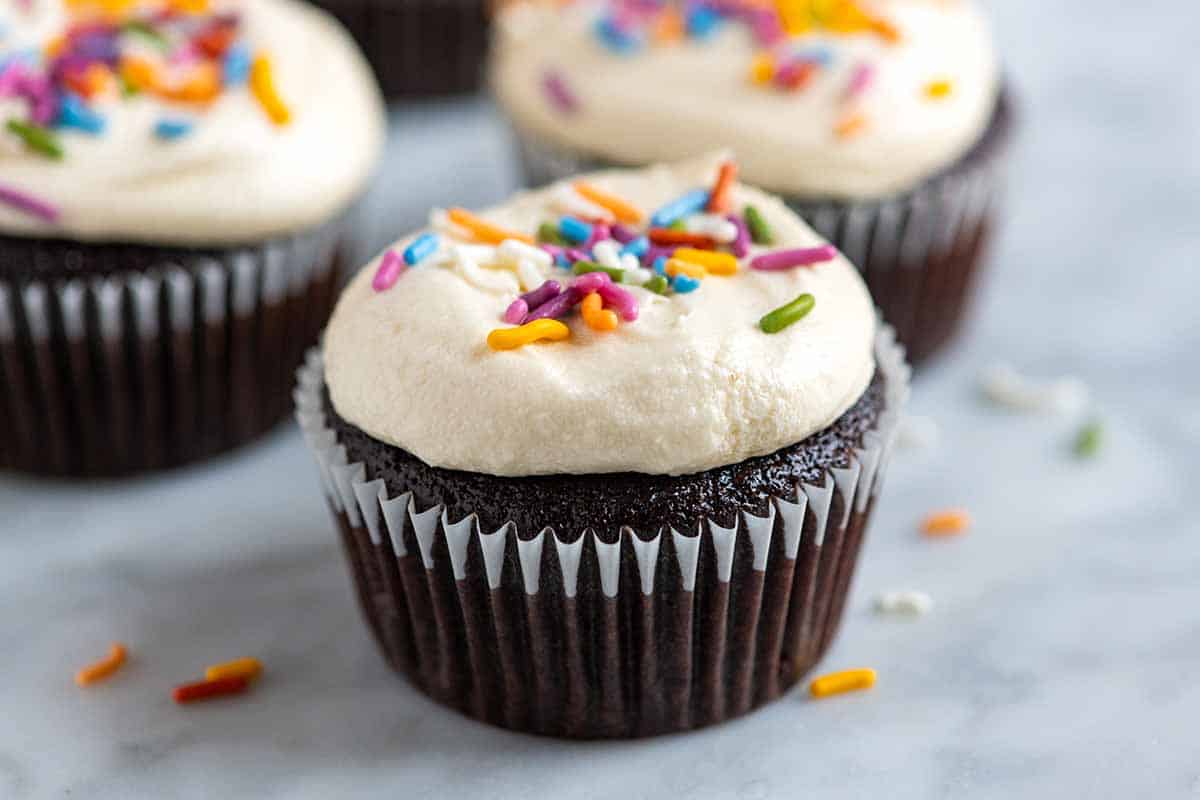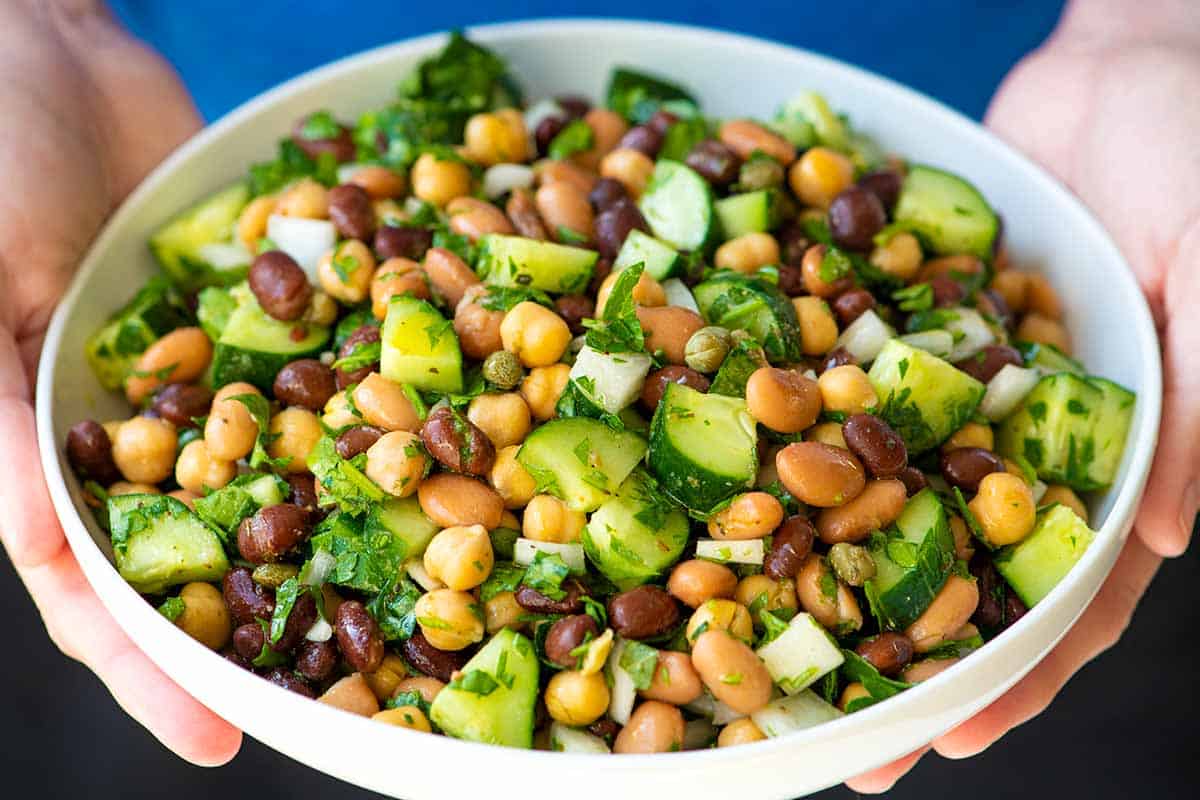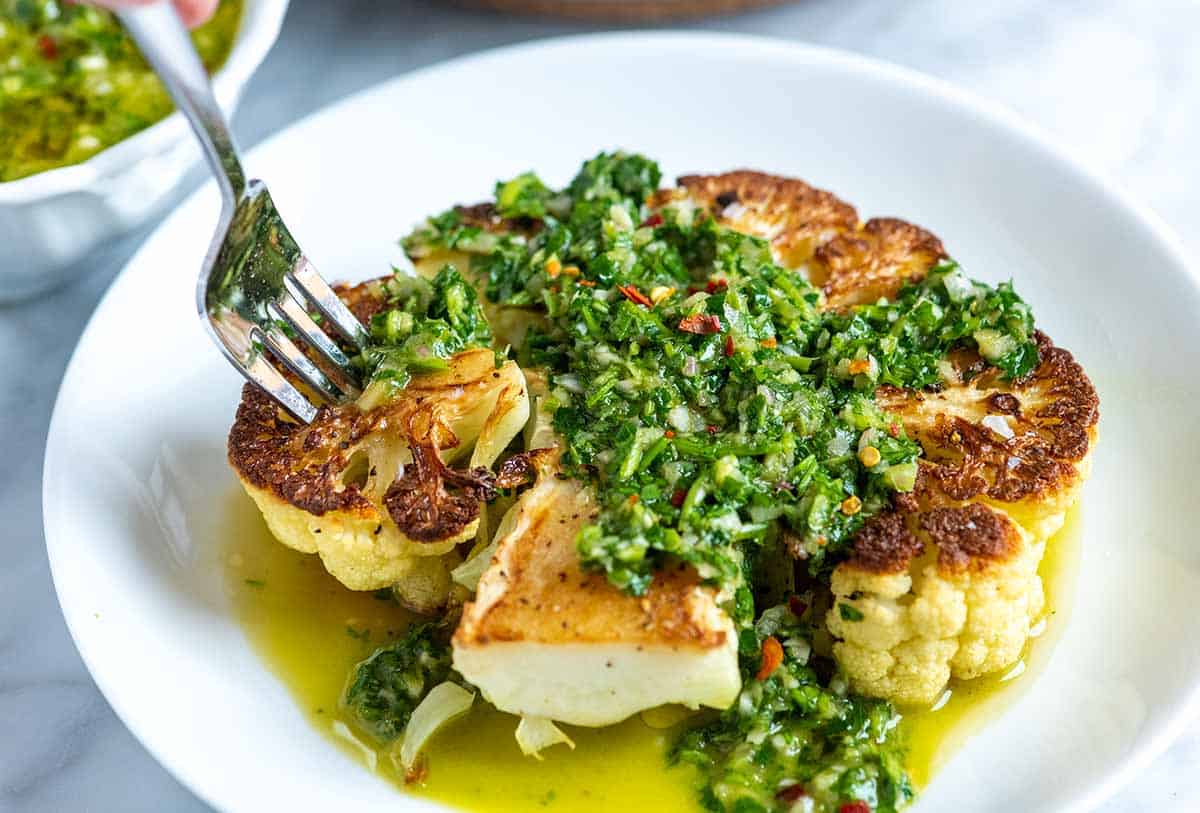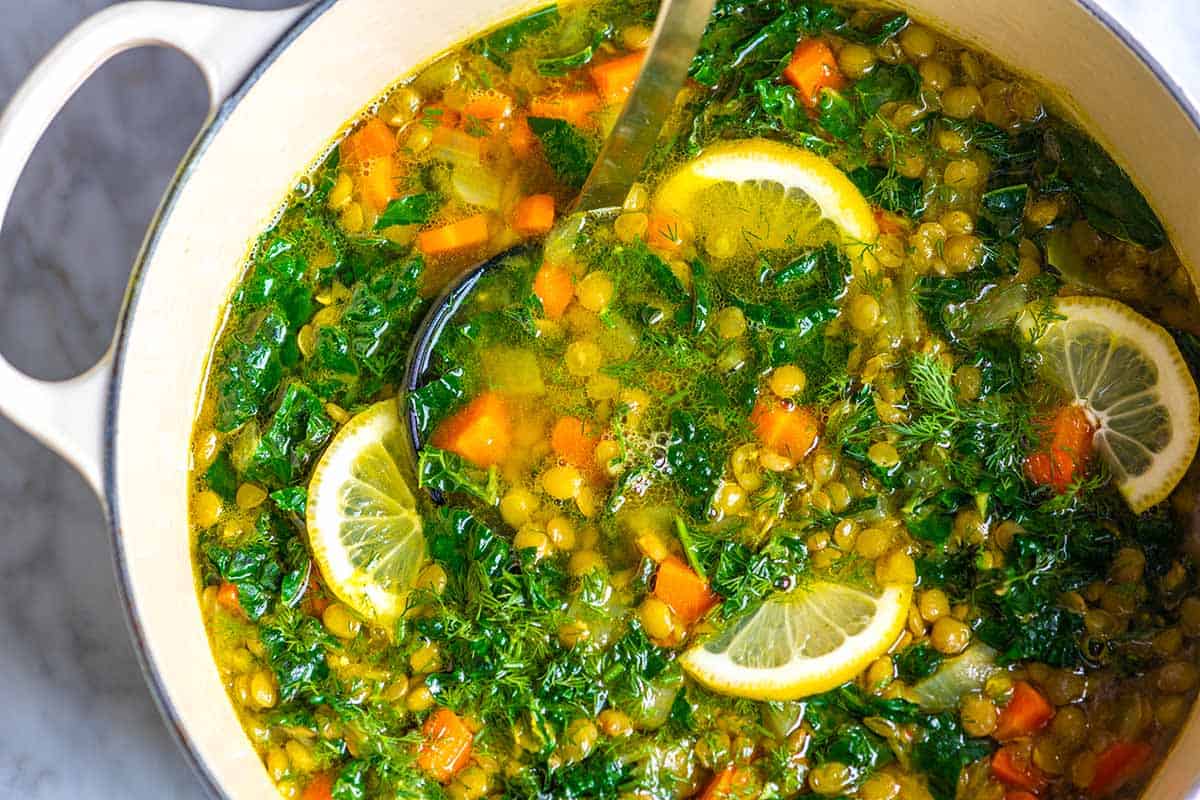 Tour Our New Kitchen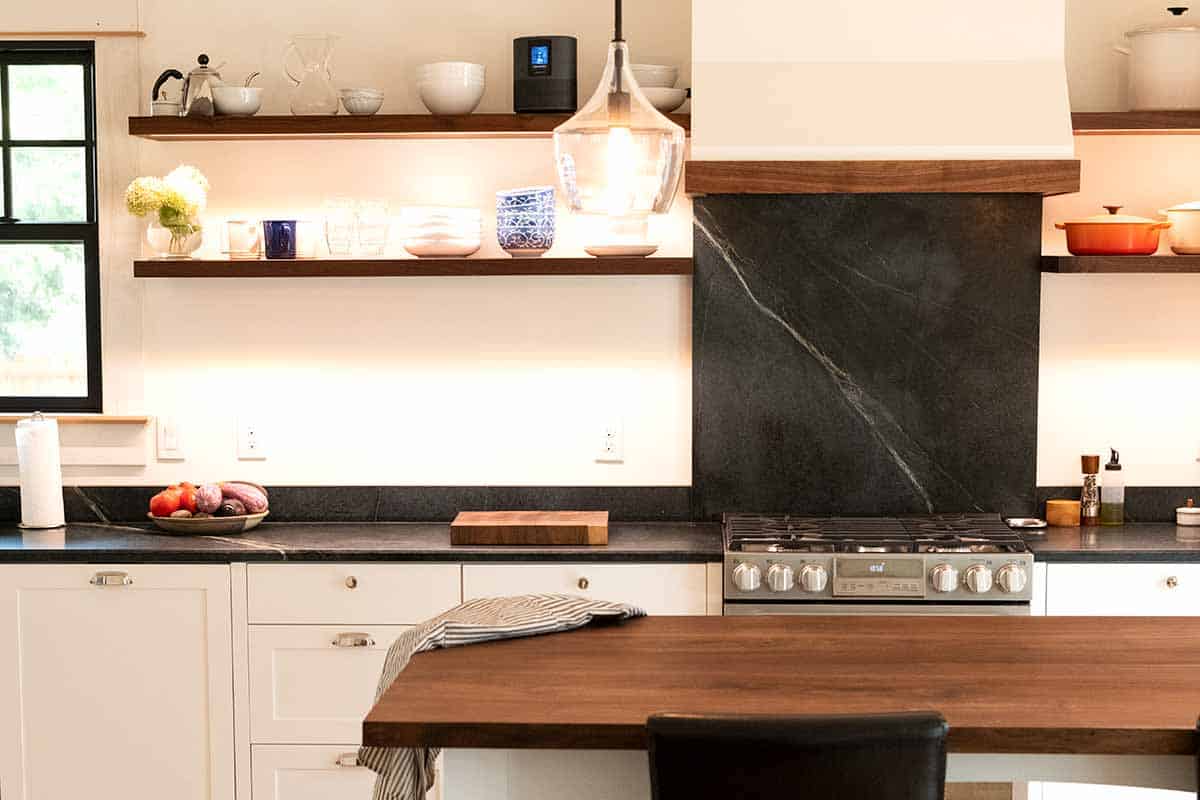 Previous Post: Perfect Poached Chicken
Next Post: Hot Honey Chicken Meatballs