How to make homemade vegetable broth that is hearty enough to enjoy alone as soup and works perfectly as a replacement to boxed stock in your favorite recipes. You will never want to buy the boxed broth again.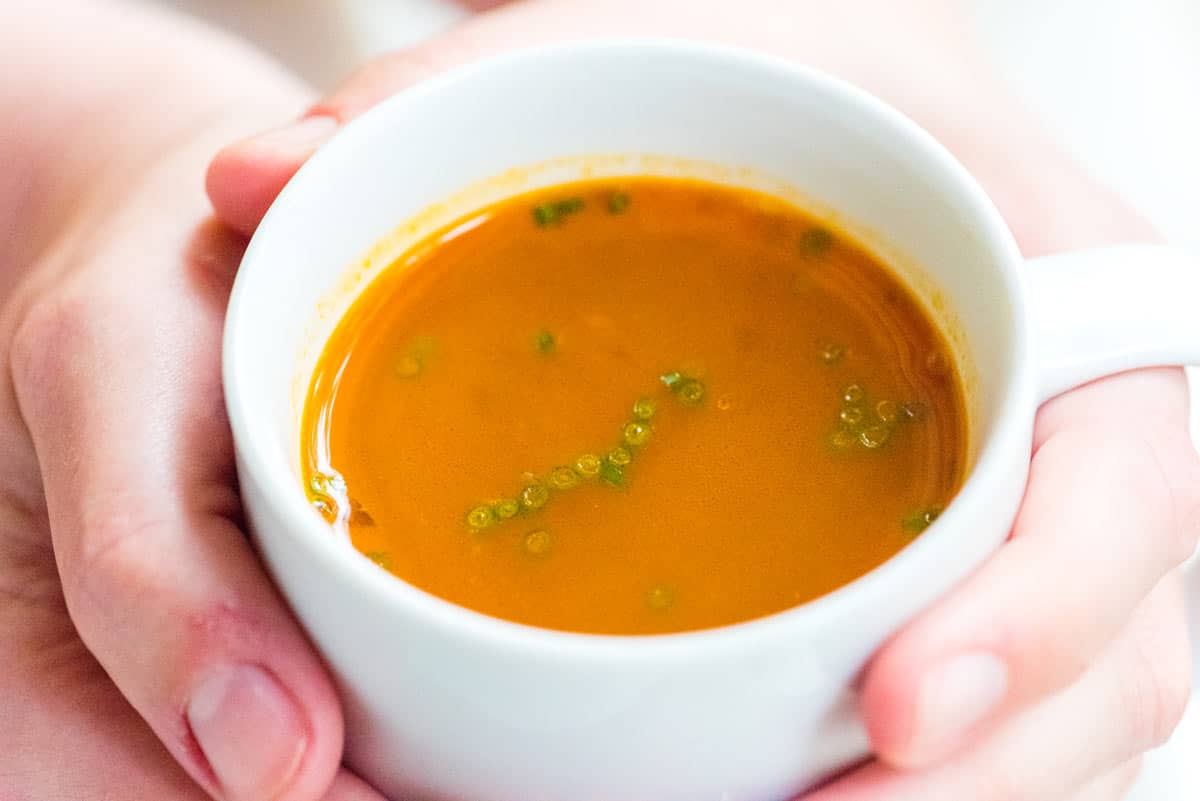 How to Make Vegetable Broth
We love rich chicken and bone broths so it was a challenge to create a meatless vegetable broth that makes us just as happy. After a few tries, we came up with this rich, hearty broth recipe. When I'm sipping away, I even question whether or not there were bones used! It's that good.
I often enjoy this veggie broth alone without anything added (it's so satisfying) and also use it as a substitute to chicken broth in my favorite soup recipes (see this vegetable soup and this potato soup).
Three Tricks For The BEST Vegetarian Broth
For Rich, Satisfying Broth, Roast The Vegetables. Roasting onion, carrots, celery, tomatoes, and garlic until nicely brown intensifies the flavor of the broth. It also adds color. The roasted vegetables add a rich, satisfying quality to the broth.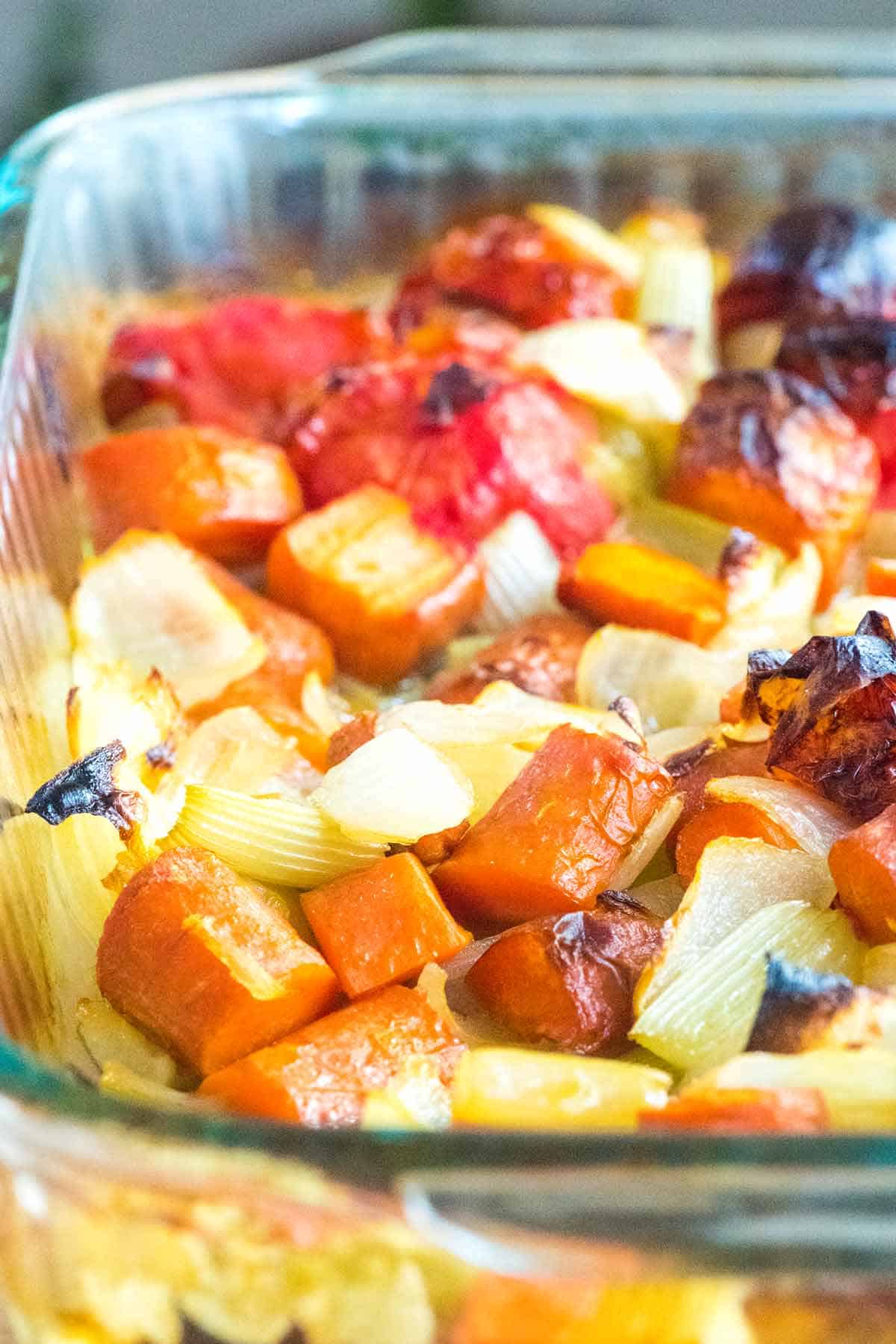 Add tomatoes. Tomatoes add sweetness, color, and umami. Tomatoes are naturally high in glutamate, which means they help out with that "fifth taste." Umami makes dishes taste good — it adds that something something. By adding the tomatoes to the broth, it becomes rich and crave-worthy.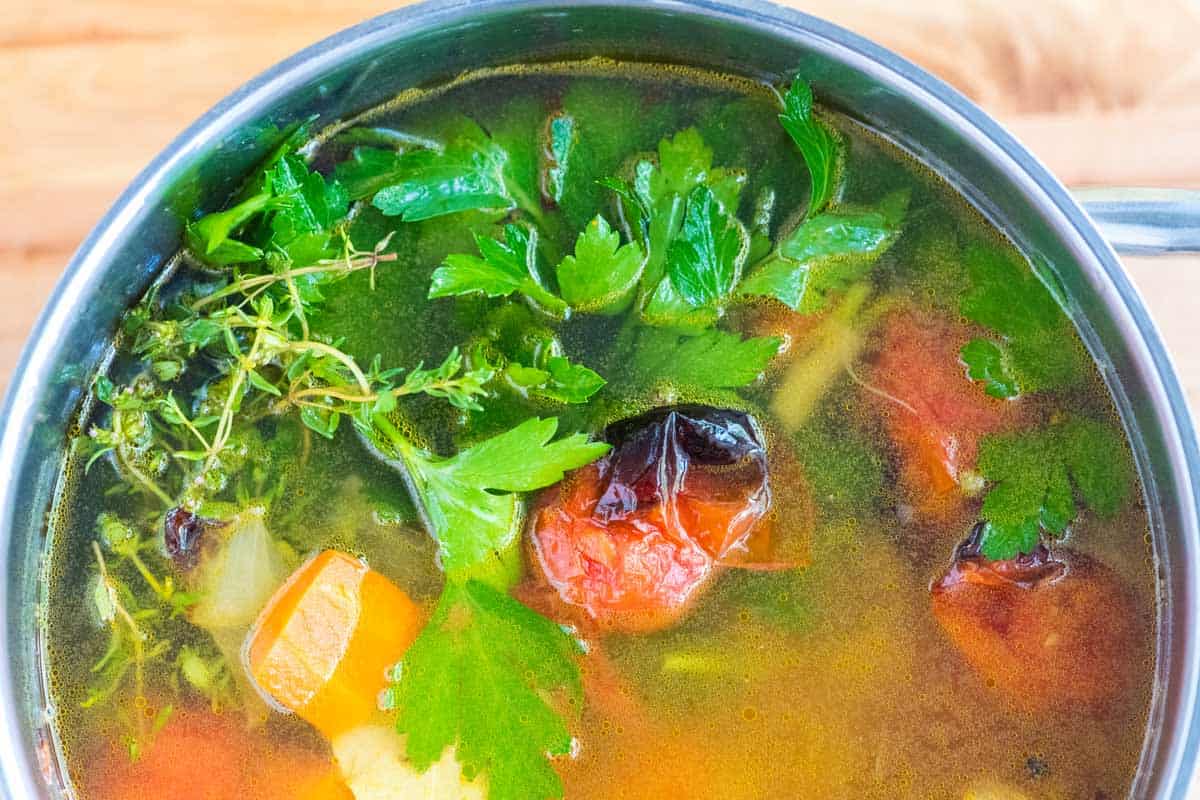 Use dried mushrooms. Even though we don't add any bones or meat to this recipe, it was important for us to still have some "meatiness" in the broth. Mushrooms — especially dried — are the solution. Just 1 ounce of dried mushrooms turns this veggie broth from okay to something you actually question whether or not it's vegetarian or vegan.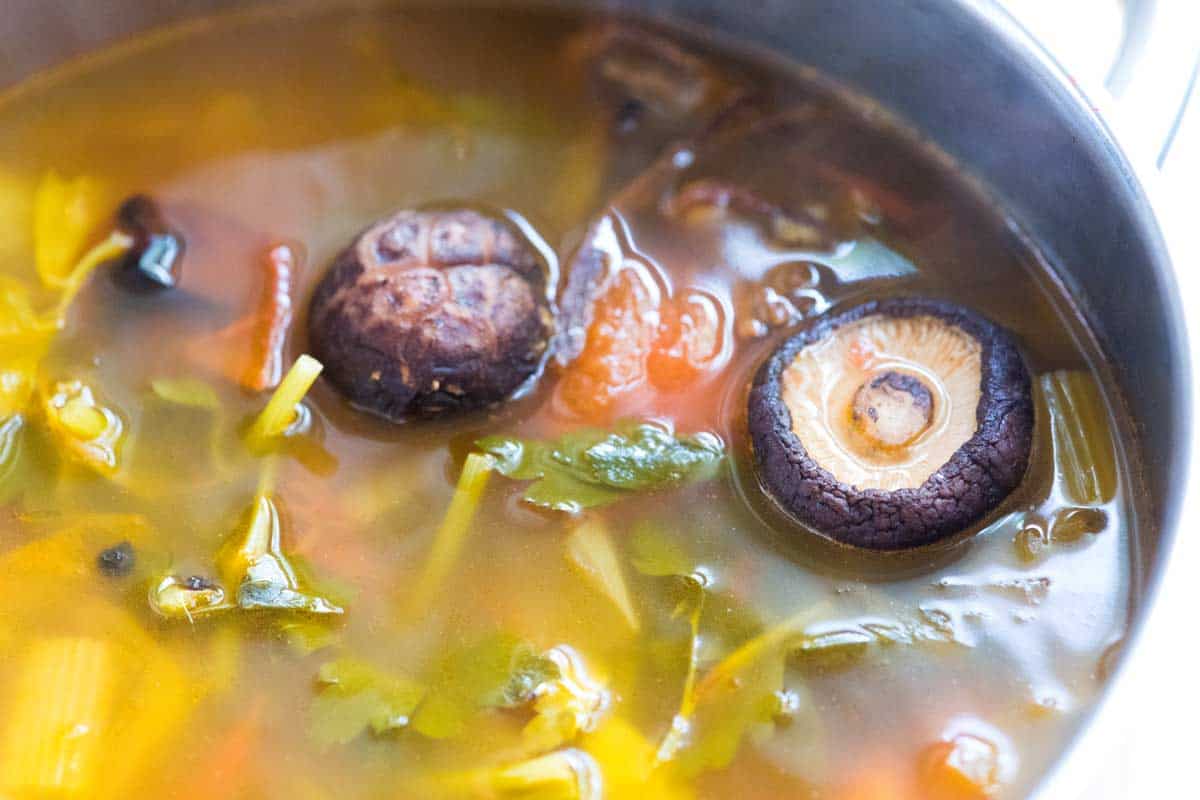 With those three easy tricks, you can make rich, crave-worthy vegetable broth in under 2 hours. We sip on it during the day, have used it to make vegetable noodle soups, and have already used it in some of our favorite soup recipes. This is definitely something to add to your kitchen — it even freezes up to 3 months!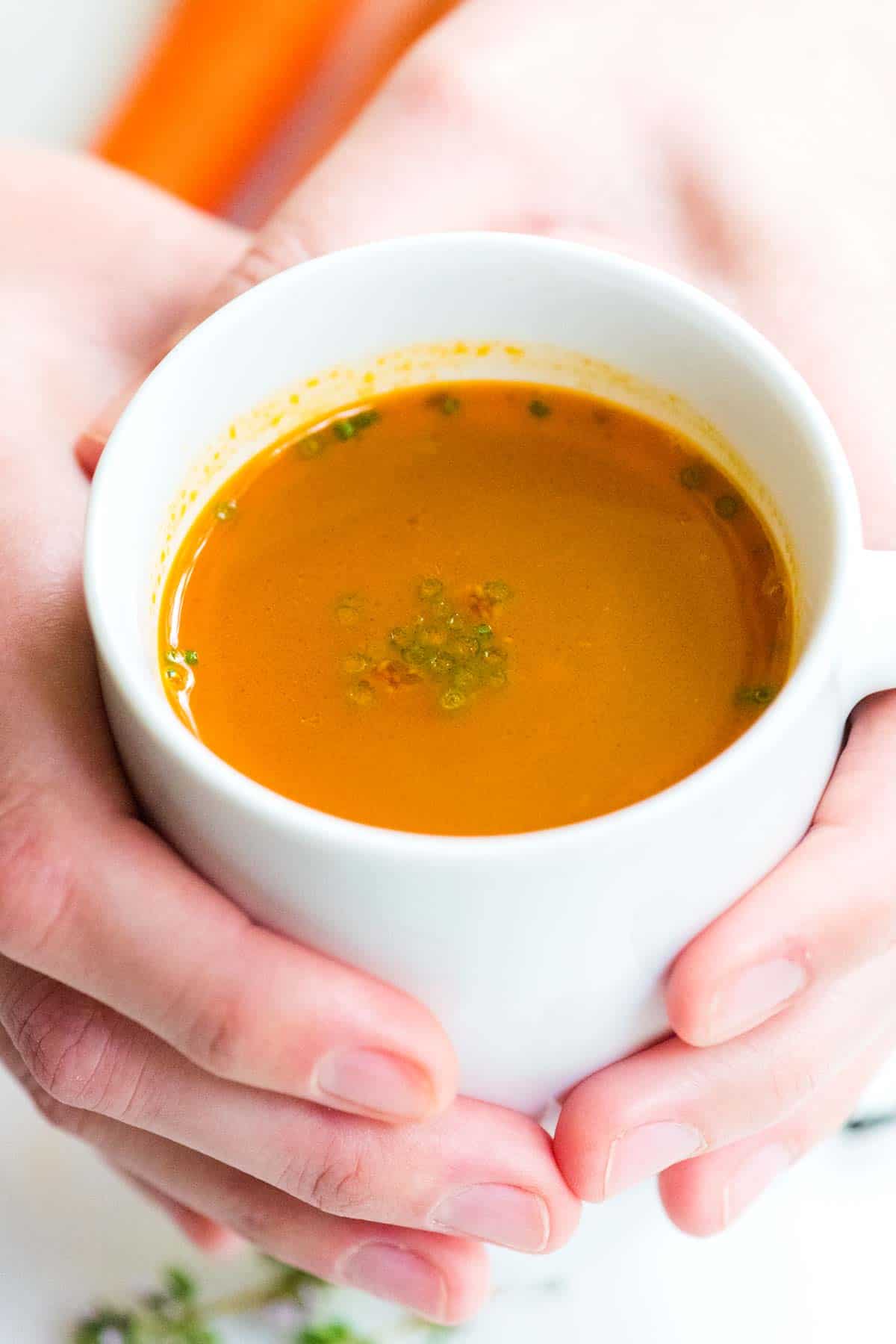 Here Are Some Recipes Where We Use Vegetable Broth
The Best Vegetable Broth
This homemade vegetable broth is hearty enough to enjoy alone as soup and works perfectly as a replacement to boxed stock in your favorite recipes. Roasting is the secret for rich and hearty vegetable broth. When seasoned well, we find this veggie broth just as satisfying as bone broth. Think of the recipe below as a guide and feel free to add any vegetable scraps in your fridge or freezer. Leeks, turnips or mushroom scraps are all excellent when added to the broth. For even more richness, we add dried mushrooms — these can be purchased online and are often found in the spice aisle of larger grocery stores. They pack a punch and add a "meatiness" to the broth.
Makes approximately 10 cups
You Will Need
1 pound onion (3 medium)
1 pound carrots (5 to 6 medium)
1/2 pound celery (4 to 5 ribs)
1 pound tomatoes (4 small)
4 garlic cloves, smashed and peeled
2 tablespoons olive oil
1/2 ounce dried mushrooms such as porcini, oyster or shiitake
Half bunch fresh parsley, leaves and stems or just use the stems
3 sprigs fresh thyme
2 bay leaves
1 to 2 cups vegetable scraps from fridge or freezer, optional
1 teaspoon sea salt, optional
12 cups water, preferably filtered
Directions
Roast Vegetables

1Heat oven to 425 degrees F. Grab a rimmed baking sheet or a 9-inch by 13-inch baking dish for roasting the vegetables.

2Peel onion and roughly chop into 1-inch chunks. Scrub carrots and celery clean and cut roughly into 1-inch chunks. Rinse tomatoes and if they are large, half or quarter them.

3Add onion, carrots, celery, tomato, and the garlic to baking sheet or pan. Toss with olive oil then roast 15 minutes. Stir vegetables and roast another 15 minutes. Stir once more, and then roast until the vegetables are nicely browned and the tomatoes are caving in, another 10 minutes or so.
Make Broth

1Cover dried mushrooms with about 1/2 cup of cold water and set aside for 5 minutes.

2Spoon the roasted vegetables into a tall stockpot. Add 1 cup of water to the baking sheet or pan then stir it around, scraping up as much of the browned bits stuck to the bottom as you can. Pour over the vegetables in the stockpot.

3Add the parsley, thyme, bay leaves, vegetable scraps you need to use up, and the salt (if using).

4Add the partially rehydrated mushrooms then pour the water they are sitting in through a fine mesh strainer to catch any grit. Add the strained mushroom water to the pot with vegetables.

5Cover with 11 cups of water. Bring to a boil, then reduce to a simmer. Cook, partially covered, for 45 minutes.

6Strain broth and use immediately, refrigerate up to 3 days, or freeze up to 3 months. When using, taste the broth and adjust the seasoning with additional salt or if you are okay with using it, a few dashes of fish sauce.
Adam and Joanne's Tips
Dried mushrooms alternative: If you are unable to find dried mushrooms, you can add mushroom scraps or chopped mushrooms to the onions and carrots when they roast. Dried mushrooms will be stronger, but this will still make a delicious broth.
Nutrition facts: The nutrition facts provided below are estimates. We have used the USDA database to calculate approximate values. We have omitted salt since you will need to add to your tastes. The nutrition facts are for 1 cup of broth.
If you make this recipe, snap a photo and hashtag it #inspiredtaste — We love to see your creations on Instagram and Facebook! Find us: @inspiredtaste
Nutrition Per Serving
Calories
70
/
Protein
2 g
/
Carbohydrate
10 g
/
Dietary Fiber
3 g
/
Total Sugars
5 g
/
Total Fat
3 g
/
Saturated Fat
0 g
/
Cholesterol
0 mg