How to make an ultra-satisfying tofu scramble with spinach and tomatoes. Perfect for breakfast, lunch or dinner!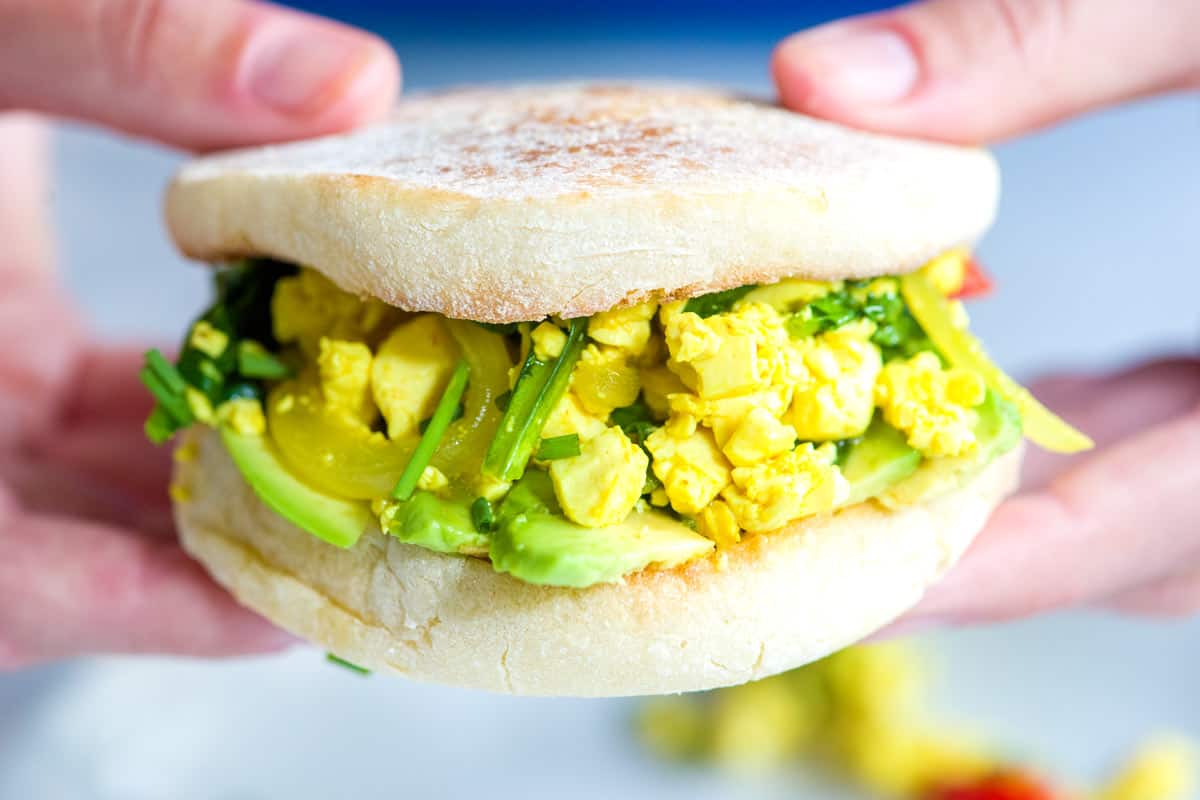 When I first heard of scrambling tofu, I wasn't enthused and I think it's okay to admit that Adam was even less interested. We both adore soft and creamy scrambled eggs and never really thought that tofu could come close. That's until this recipe came into play.
How to Make the Best Tofu Scramble
After a few attempts in the kitchen — some we loved, some not so much — we figured out a way to make scrambled tofu that's soft and that tastes so good, we actually would swap it for regular eggs any day of the week.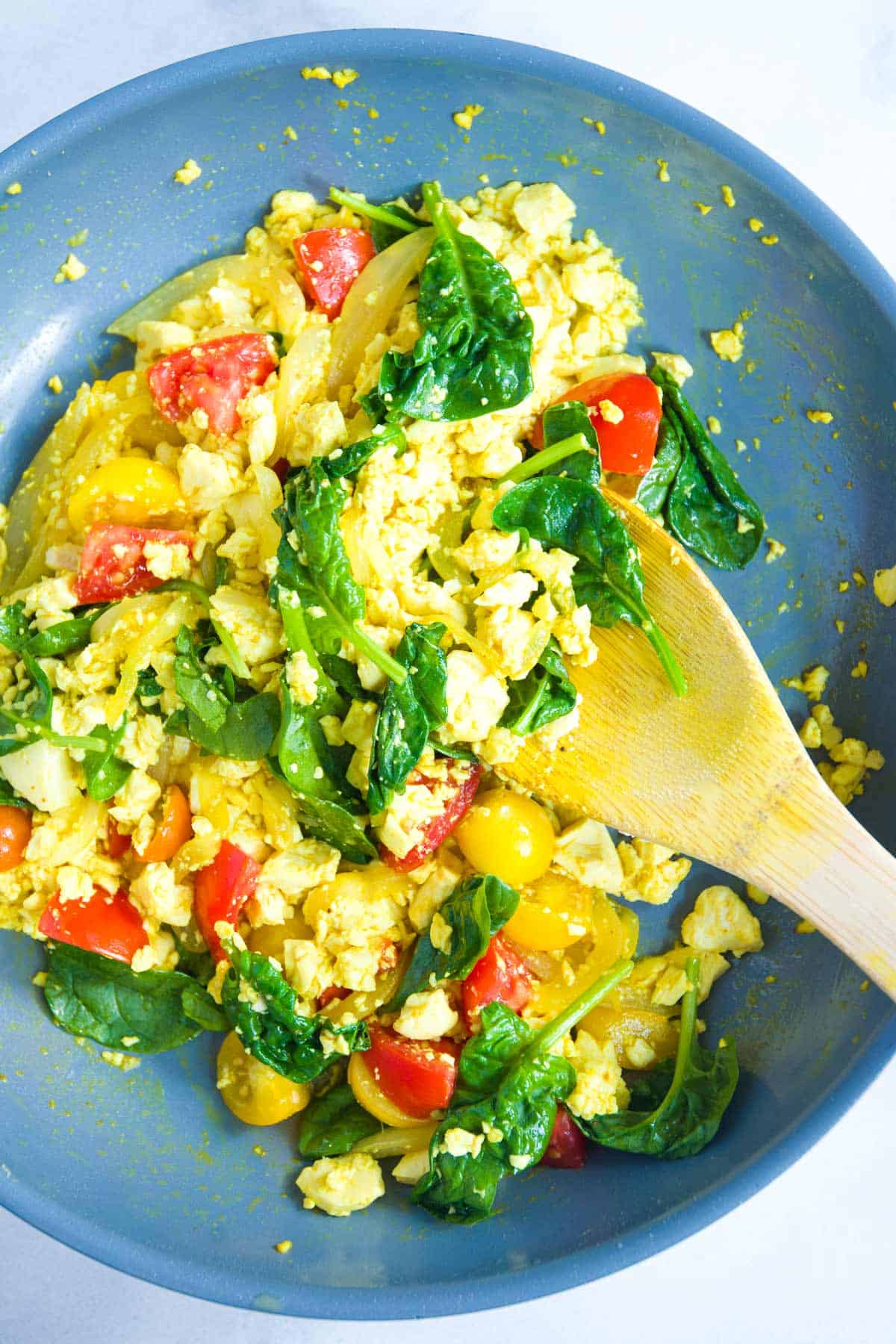 First, we figured out a trio of spices that turns tofu from bland to delicious. We combine turmeric, garlic powder and mushroom powder. Now I know mushroom powder seems odd, but wow do you need it in your kitchen. We've used it in this secret ingredient taco seasoning and raved all about it there if you want to learn more. For now though, let me leave you with this. Mushrooms are full of flavor and umami, something tofu definitely does not have. It's seasoning on steroids. All you need is a 1/4 teaspoon and it takes tofu from boring to crave-worthy. Promise.
You can buy mushroom powder — I'd check online for the best prices. Or make it yourself–here's our recipe! Buy some dried porcini or shiitake mushrooms and blend them up to a powder. Done, you have mushroom powder. Use it here or go wild and swirl some into soups and sauces. Sprinkle over roasted vegetables or use it to bump up the flavor of beans. It even works wonders on meats, like burgers or meatballs.
The garlic powder and turmeric do wonders, too. If you're not a turmeric fan — I know it does tend to leave things orange — you can leave it out. Just keep in mind that the tofu will stay white and you will lose a little flavor.
The second breakthrough for scrambling tofu was figuring out which tofu was best. The answer depends on what kind of texture you are looking for. I mentioned above that we love soft and creamy scrambled eggs so when it came to scrambled tofu, we were looking for a similar texture. Extra firm silken tofu is best for a texture resembling soft scrambled eggs. We find ours at the grocery store, but it isn't in the refrigerated section. The silken tofu is on the top in the photo below.
If you prefer scrambled eggs to be on the firmer, more dry side then regular firm or extra firm tofu is better. This is what you are used to seeing stored in plastic containers surrounded by liquid. It is sold in the refrigerated section of the store. This type of tofu is underneath the box with silken tofu in the photo above.
When using regular tofu, you will need to drain the liquid and press out some of the excess water. To do this, place the block onto paper towels (or a clean dish cloth), layer more towels on top then weigh it down by placing something heavy on top (like a plate). Leave the tofu to drain for 5 to 10 minutes then break it into crumbles for the recipe.
If you use silken tofu, none of this is necessary. There is no need to drain or press out extra liquid. Any excess liquid will simmer away in the pan while the scramble cooks.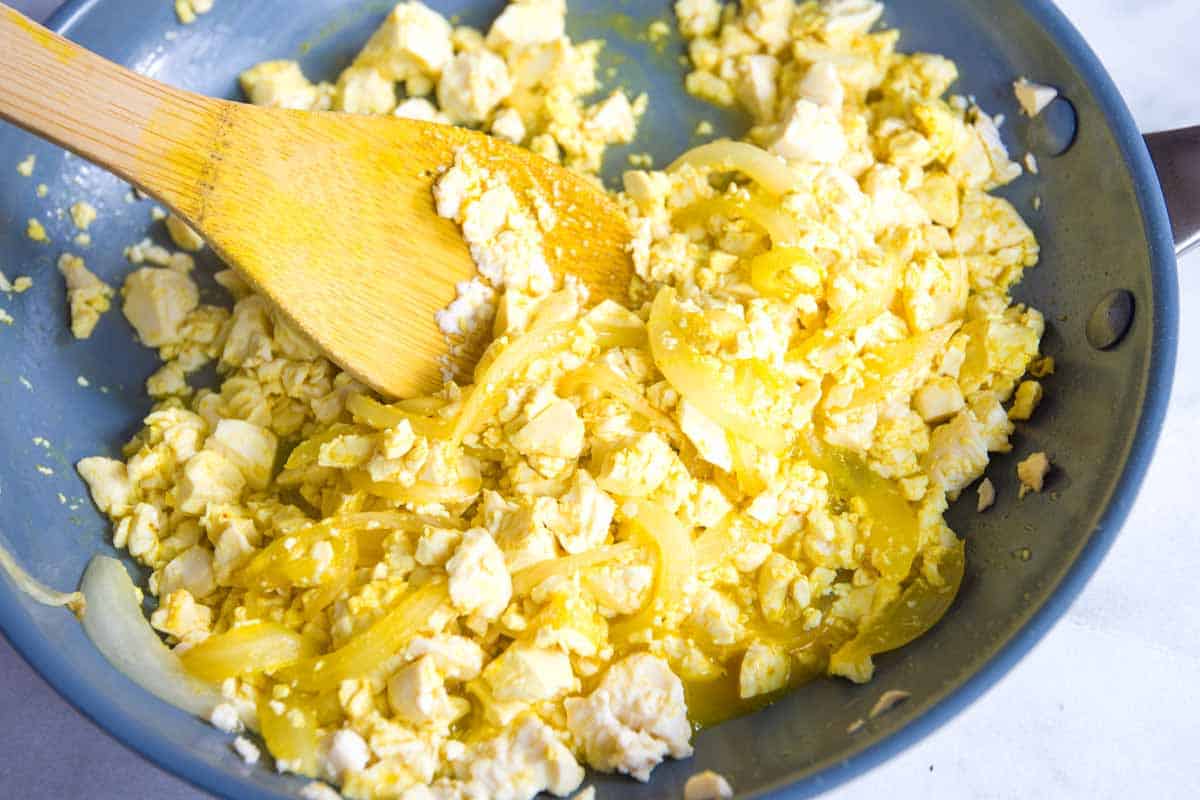 The whole recipe will take about 15 minuets so this one is a real time saver. It's very satisfying, as well. We love adding it to an English muffin and if it's me that's making it, I usually add a few slices of avocado. Adding to toast or tortillas is a nice idea. Or serve as-is alongside some salad or roasted potatoes.
You May Also Like: For more tofu recipes, see our crispy tofu fingers and this easy baked tofu.
Veggie Tofu Scramble
When it comes to choosing tofu for this scramble, you have a couple options. We love extra firm silken tofu, but regular firm or extra firm tofu will work. Check in the notes section below the recipe for our tips. We keep the seasonings simple for this recipe, but if you want to turn this into a Southwestern-style scramble, add 1/2 teaspoon of chili powder and a 1/4 teaspoon of ground cumin to the spice mixture. You can also add some heat with hot sauce or crushed red pepper flakes.
Makes 4 (1/2 cup) servings
You Will Need
Tofu Scramble
2 teaspoons olive oil
1/4 medium onion, thinly sliced
12 ounces tofu, see notes below
1 cup baby spinach or chopped kale leaves
1/4 teaspoon sea salt
1/2 teaspoon ground turmeric
1/4 teaspoon garlic powder
1/4 teaspoon mushroom powder, optional, here's our recipe
3 ounces tomatoes, chopped (about 1/2 cup)
Fresh ground black pepper to taste
Handful chopped fresh herbs like chives, basil, parsley or cilantro
Optional
English muffins, toast or tortillas
Sliced avocado
Directions
1Heat olive oil in a non-stick skillet over medium heat. Add the onions and cook, stirring occasionally until they smell sweet and soften, about 3 minutes. Tumble in the tofu then use the back of a spoon to break it apart in the pan, making it look like scrambled eggs.

2Add salt, turmeric, garlic powder, and the mushroom powder to a small bowl then add a splash of water. Stir to make a slurry then stir into the tofu. Cook until any excess water released from the tofu evaporates, about 2 minutes.

3Slide the pan off of the heat then stir in spinach and the chopped tomatoes until the spinach is mostly wilted. Taste then season with more salt if needed as well as a few grinds of fresh black pepper. Scatter chopped fresh herbs on top then serve as-is or spoon on to an English muffin, toast or tortillas. Adding a few slices of avocado is a nice touch, too.
Adam and Joanne's Tips
What kind of tofu is best for a scramble? We use two varieties in our kitchen: extra firm silken tofu and regular firm or extra firm tofu. We have shared a photo showing these two options in the article above. Silken tofu holds up, but stays soft and has a texture similar to soft scrambled eggs. You do not need to drain silken tofu. For a firmer, drier texture use regular firm or extra firm tofu that has been drained of it's excess liquid and broken into crumbles. To do this, place the block onto paper towels (or a clean dish cloth), layer more towels on top then weigh it down by placing something heavy on top (like a plate). Leave the tofu to drain for 5 to 10 minutes then break it into crumbles for the recipe.
Make-ahead tips: Store leftover scramble in the refrigerator up to 3 days. Simply rewarm before enjoying a second helping.
Turmeric: We love the color and added flavor turmeric provides the tofu, but if you aren't a fan, leave it out.
Mushroom powder: This is a popular secret ingredient in our kitchen. You can buy pre-ground mushroom powder online or make it yourself by blending up a few dried mushrooms. We especially love dried porcini or shiitake mushrooms.
Nutrition Facts: The nutrition facts provided below are estimates. We have used the USDA Supertracker recipe calculator to calculate approximate values. Information is for the scramble only and does not include avocado or an English muffin.
If you make this recipe, snap a photo and hashtag it #inspiredtaste — We love to see your creations on Instagram and Facebook! Find us: @inspiredtaste
Nutrition Per Serving
Serving Size
1/2 cup
/
Calories
82
/
Protein
6 g
/
Carbohydrate
4 g
/
Dietary Fiber
1 g
/
Total Sugars
2 g
/
Total Fat
5 g
/
Saturated Fat
1 g
/
Cholesterol
0 mg