We love this easy chicken noodle soup! No recipe website would be complete without a recipe for chicken noodle soup. Our version is healthy, satisfying, and tastes incredible. Bonus, you can make this soup from scratch in under 40 minutes!
Watch the Video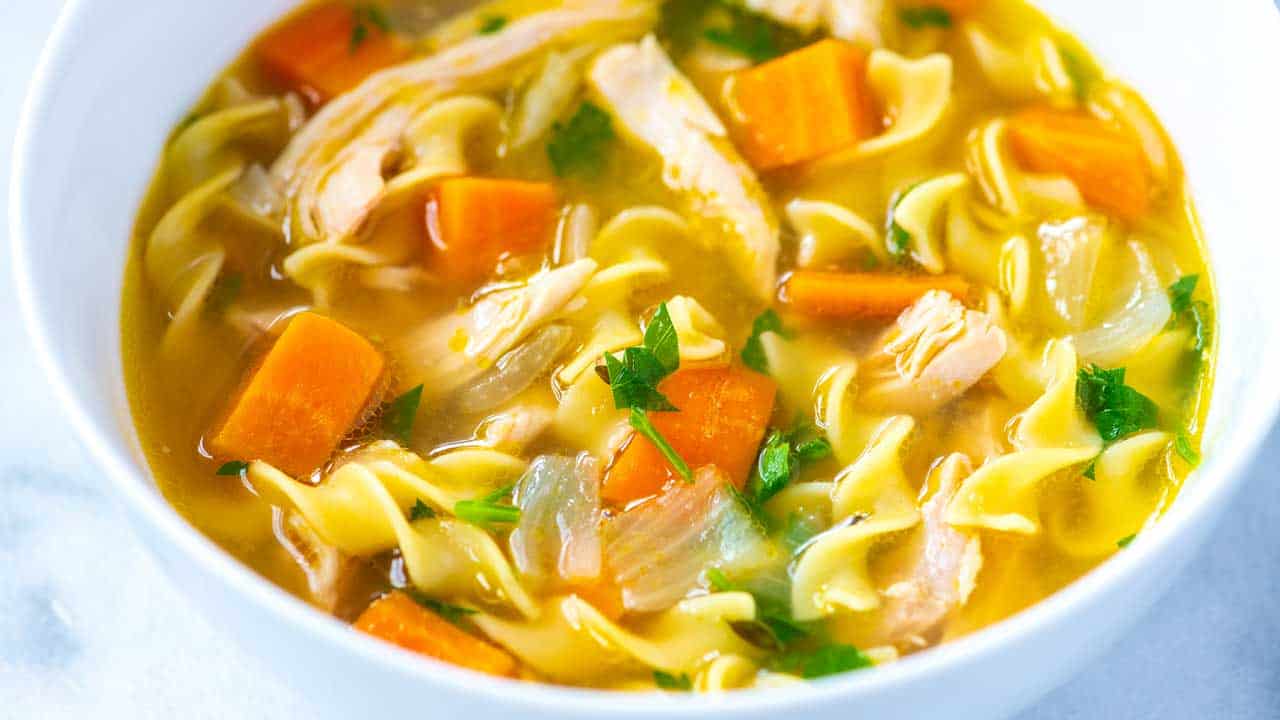 Related: If you are looking for a creamier chicken noodle soup, we love this creamy chicken noodle soup
We Love This Easy Chicken Noodle Soup
Every time I start to think about this soup, I want to make it. Classic chicken noodle soup is pure comfort food. Thankfully, our recipe is so easy you can even make it tonight! Chicken noodle soup is one of the easiest soups to make. The ingredients are simple and inexpensive. You are looking at about 40 minutes from start to finish for this soup. Not too bad, especially when 20 minutes of that time is hands-off! For a creamier soup, take a look at our favorite creamy chicken noodle soup recipe (it's inspired by this one).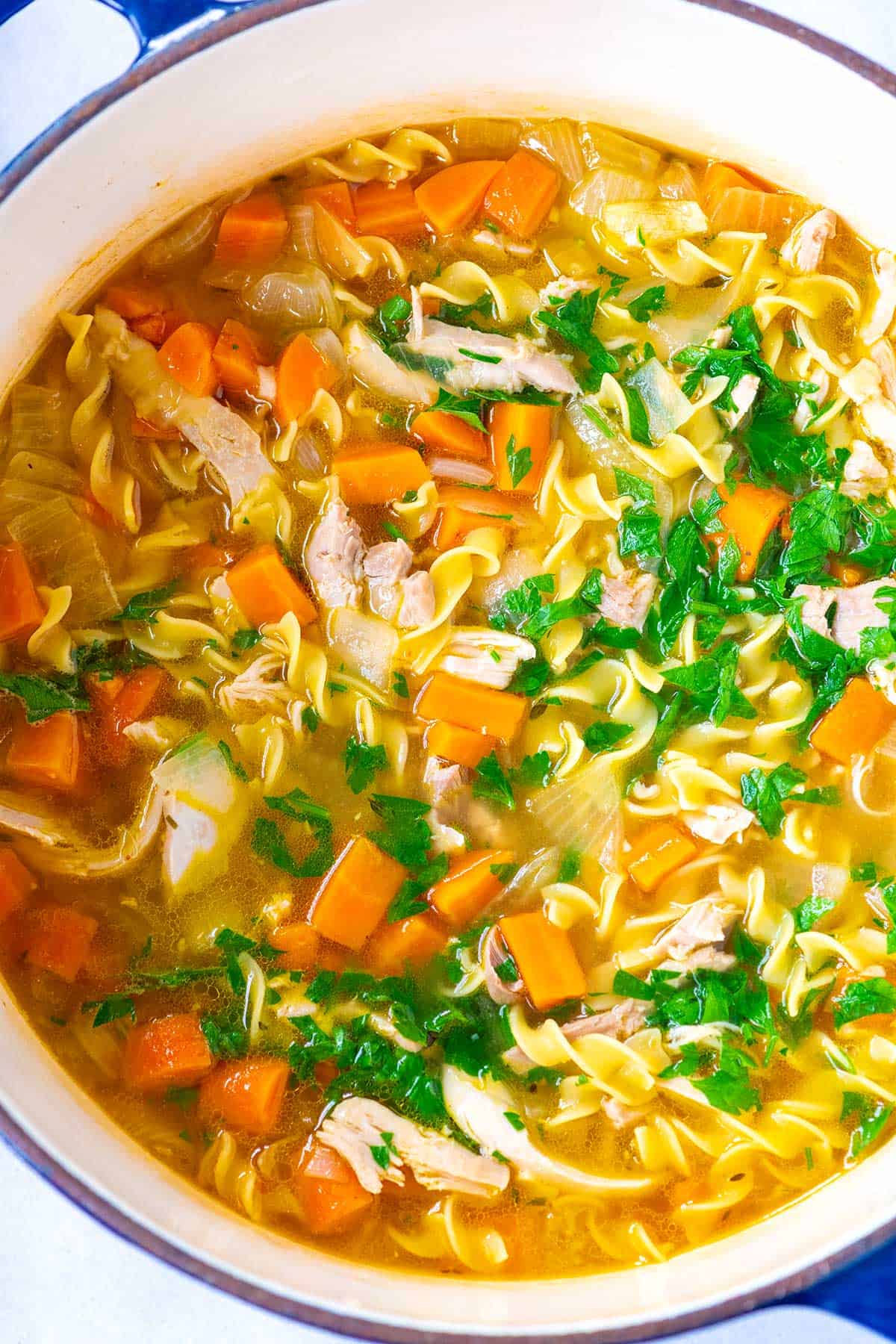 How to Make the Best Chicken Noodle Soup
We've made chicken soup for years and have tried it various ways. We've even started from a whole chicken before. I'll take a bowl of satisfying chicken soup any day, but this version is the one we circle back to. It's straight-forward and quick to make.
It's important to use good-quality chicken broth. While I wish we had homemade chicken broth in our freezer all the time, we don't. When reaching for store-bought broth, we go for low-sodium. We also look for a store-bought broth that's darker in color (usually means more flavor) and since I know it usually has more of a backbone, I like to buy boxed bone broth (we use homemade bone broth sometimes, too). In case you are wondering, we use Pacific Foods Bone Broth and also like the stock sold at Trader Joe's.
Don't be afraid to season your soup. When it comes to soups, season early and check the seasoning often. Before we add the chicken thighs to the soup, we always check the seasoning level of the broth. If the flavor doesn't pop, add a bit more salt.
Another option is to use fish sauce. It may seem odd, but whenever we're tasting something and it's just missing that something something, a small dash of fish sauce fixes it. Fish sauce is a major ingredient in our Pho soup recipe.
For the best chicken soup, I use chicken thighs. Chicken soup is better when made with darker meat. Chicken thighs become tender and soft in the soup — similar to how the chicken turns out in our recipe for shredded chicken. Chicken breast doesn't tenderize and stays firm in the soup. You can use both cuts of chicken, but thighs will produce better soup.
Herbs are a must in this soup — we add thyme and bay leaves at the beginning, which help to add a herby backbone to the broth. For a pop freshness, stir in a handful of chopped fresh parsley at the end. Other herbs will work, too. Instead of (or in addition to) the thyme and bay leaves, try rosemary. For the herbs at the end, try fresh chives for a mild onion flavor.
As for the noodles, you can use whatever you love. We love the lightness of egg noodles, but you can throw just about any pasta into the pot. For another recipe that uses egg noodles, see our easy parmesan buttered noodles.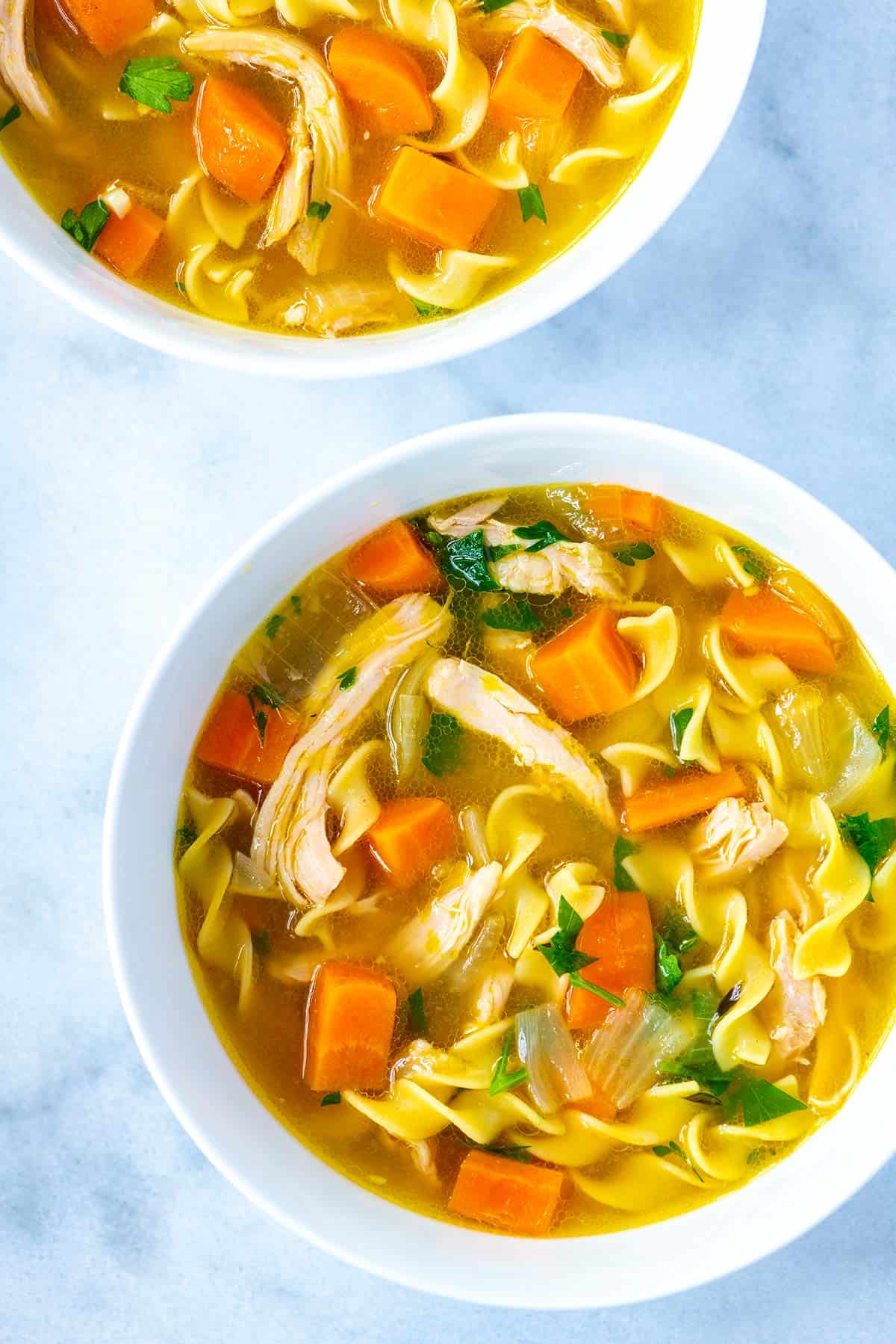 Make Ahead and Storing Tips
The soup can be made and refrigerated for 3 to 4 days and frozen for up to 3 months. If you are not planning on enjoying the soup straight away or plan to freeze it, you might want to hold off on adding the noodles. As the soup sits, the noodles soak up the broth. You can deal with this in two ways:
When reheating the soup, add a bit more broth/stock to the pot. I've even been known to add a splash of plain water to the soup when reheating. As long as you don't need to add a lot, it won't thin the flavor of the soup too much.
When making the soup ahead of time, for the freshest, least soggy noodles, leave the noodles out then refrigerate or freeze the soup. When you are ready to reheat, bring the soup to a low simmer and add dried noodles. Cook until they are done and enjoy.
Quick Recap
Let's recap, for the best chicken noodle soup from scratch, keep the following in mind:
Use high-quality stock/broth
Season the soup early and check it often
Chicken thighs make a better soup and are far more tender than chicken breast
Add extra flavor with herbs, both at the beginning and at the end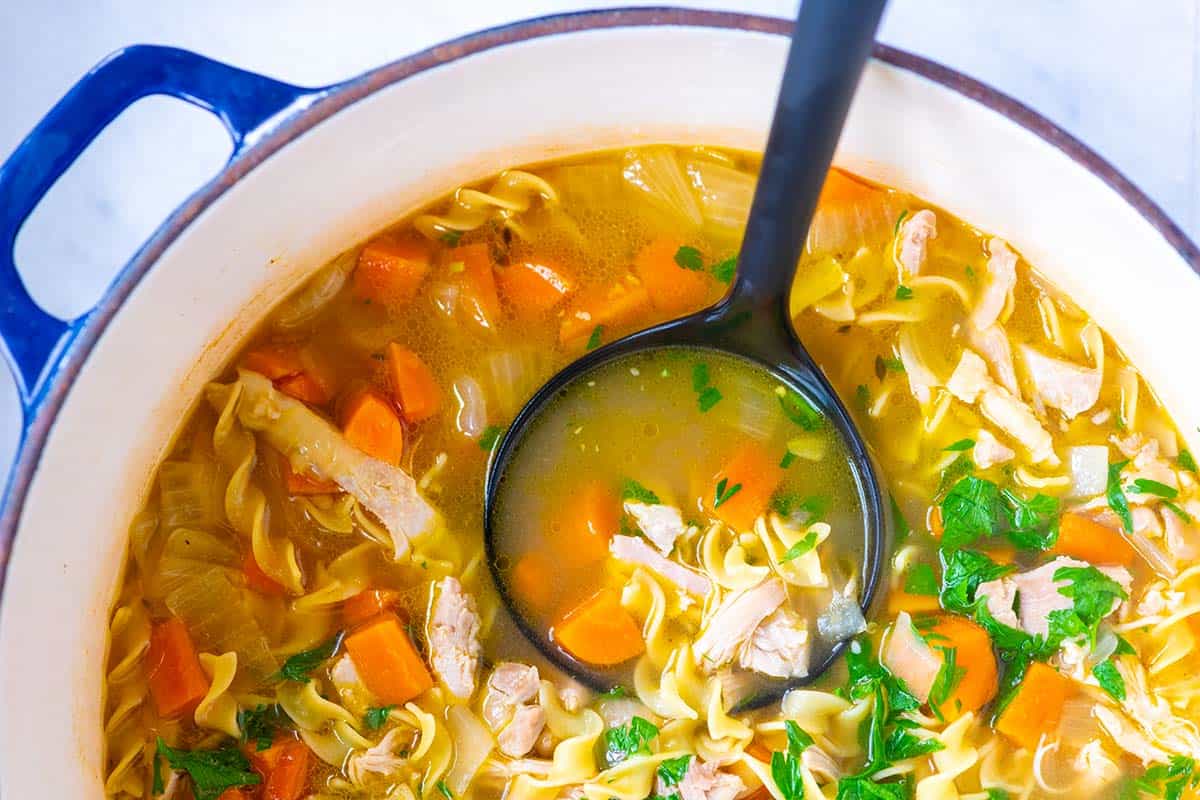 Recipe Variations
Our recipe sticks to classic ingredients and flavors, but that doesn't mean there aren't things you can add to make it your own:
For a creamy chicken noodle soup, add 2 to 4 tablespoons of heavy cream or half-and-half. We do this when making our creamy chicken soup.
Add three to four lemon slices for a lemon chicken soup — similar to this Lemony Chicken and Vegetable Soup.
Add three or four slices of lime, swap the parsley for fresh cilantro, and then add diced tomatoes and cubed avocado for Mexican-style chicken soup. You can even add diced corn tortillas as we do for this tortilla chicken soup.
Add a teaspoon of toasted sesame oil and a few dashes of fish sauce for an ultra-satisfying, umami-packed soup.
Swirl in fresh spinach or kale at the end of cooking for more of a vegetable-heavy soup.
Swap the noodles for potatoes, winter squash, rice, quinoa or grains. Add hearty veggies (like potatoes) to the pot along with the onions and carrots. When it comes to rice and grains, add them already cooked. (Take a look at our sausage and potato soup or our homemade creamy potato soup for some inspiration)
Swap the noodles for tortellini — I love using cheese-filled pasta when making this veggie tortellini soup.
Save Time and Use Rotisserie Chicken or Leftover Chicken
For the easiest chicken noodle soup, if you have a rotisserie or leftover chicken, instead of adding chicken thighs to the pot, add two to three cups of shredded or diced cooked chicken to the soup at the same time as adding the dried noodles.
Since there is no need to cook the chicken thighs anymore, reduce the simmer time by 10 minutes. We use this method whenever we've roasted a whole chicken the night before.
For even more tips, you can also take a read through our article for How to Make the Best Leftover Chicken Soup.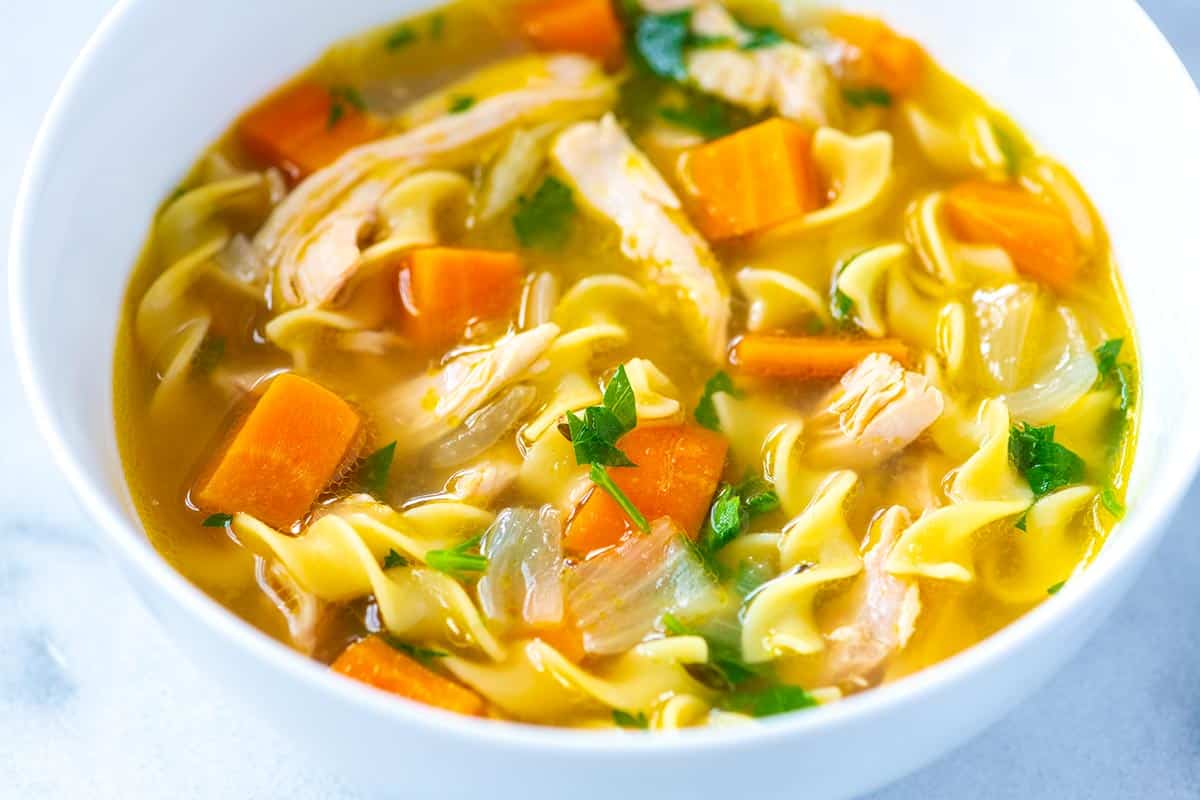 Our Best Chicken Noodle Soup
This quicker version of homemade chicken noodle soup skips cooking a whole chicken and calls on boneless, skinless chicken thighs instead. The soup still tastes incredible, satisfying, and classic. The significantly reduced cook time makes this chicken soup from scratch possible on a weeknight. We highly recommend chicken thighs for this because of their flavor and soft texture when cooked, but if you prefer them, chicken breasts will work.
Watch Us Make the Recipe
You Will Need
2 tablespoons butter, chicken fat or olive oil
1 large onion, chopped
2 large carrots, chopped
2 stalks celery, chopped (optional)
Heaped tablespoon minced garlic (4 cloves)
2 bay leaves
3 sprigs fresh thyme or use 1/2 teaspoon dried thyme
1 pound skinless, boneless chicken thighs (4 or 5 thighs)
8 cups chicken stock or broth, low sodium or use homemade stock
5 ounces egg noodles (or pasta of choice)
Salt and pepper, to taste
1/4 cup fresh parsley, finely chopped
Water or more stock, as needed
Directions
1Melt butter in a large pot or Dutch oven over medium heat. Add the onions, carrots, and celery. Cook, stirring every few minutes until the vegetables begin to soften; 5 to 6 minutes.

2Stir in the garlic, bay leaves, and thyme. Cook, while stirring the garlic around the pan, for about 1 minute.

3Pour in the chicken stock and bring to a low simmer. Taste the soup then adjust the seasoning with salt and pepper. Depending on the stock used, you might need to add 1 or more teaspoons of salt.

4Submerge the chicken thighs into the soup so that the broth covers them. Bring the soup back to a low simmer then partially cover the pot with a lid and cook, stirring a few times until the chicken thighs are cooked through; about 20 minutes.

5If, during this time, the broth seems low, add a splash more stock or a bit of water. Turn the heat to medium-low.

6Transfer the cooked chicken to a plate. Stir the noodles into the soup and cook until done, 6 to 10 minutes depending on the type of noodles used.

7While the noodles cook, shred the chicken into strips or dice into cubes. Slide the chicken back into the pot and then taste the soup once more for seasoning. Adjust with more salt and pepper, as needed. Stir in the parsley and serve.
Adam and Joanne's Tips
Refrigerating Chicken Noodle Soup: As the soup sits, the noodles soak up the soup broth. When reheating, add a splash of extra chicken stock or if you don't have any, water.
Freezing Chicken Noodle Soup: The noodles don't fare too well when frozen. If you plan on freezing the soup, remove the portion of soup you plan to freeze before adding the noodles. Freeze the broth, chicken, and vegetables. When you are ready to reheat the soup, add dried noodles to the soup and simmer until done.
Seasoning the Soup: If you feel the soup is missing some zing, add a bit more salt. You can also add a pop of flavor with a squeeze of fresh lemon juice, a dash of fish sauce (we use this trick for store-bought stocks and broths often) or Worcestershire sauce.
Nutrition facts: The nutrition facts provided below are estimates. We have used the USDA database to calculate approximate values.
If you make this recipe, snap a photo and hashtag it #inspiredtaste — We love to see your creations on Instagram and Facebook! Find us: @inspiredtaste
Nutrition Per Serving
Serving Size
1/6 of the recipe
/
Calories
298
/
Total Fat
11.4g
/
Saturated Fat
4.4g
/
Cholesterol
97.7mg
/
Sodium
748.7mg
/
Carbohydrate
22.9g
/
Dietary Fiber
1.7g
/
Total Sugars
7.5g
/
Protein
24.8g