This ultra-flavorful chicken tortilla soup is thickened with corn tortillas and has shredded chicken, ancho chili powder, corn and lime. Jump to the Easy Chicken Tortilla Soup Recipe or read on to see our tips for making it.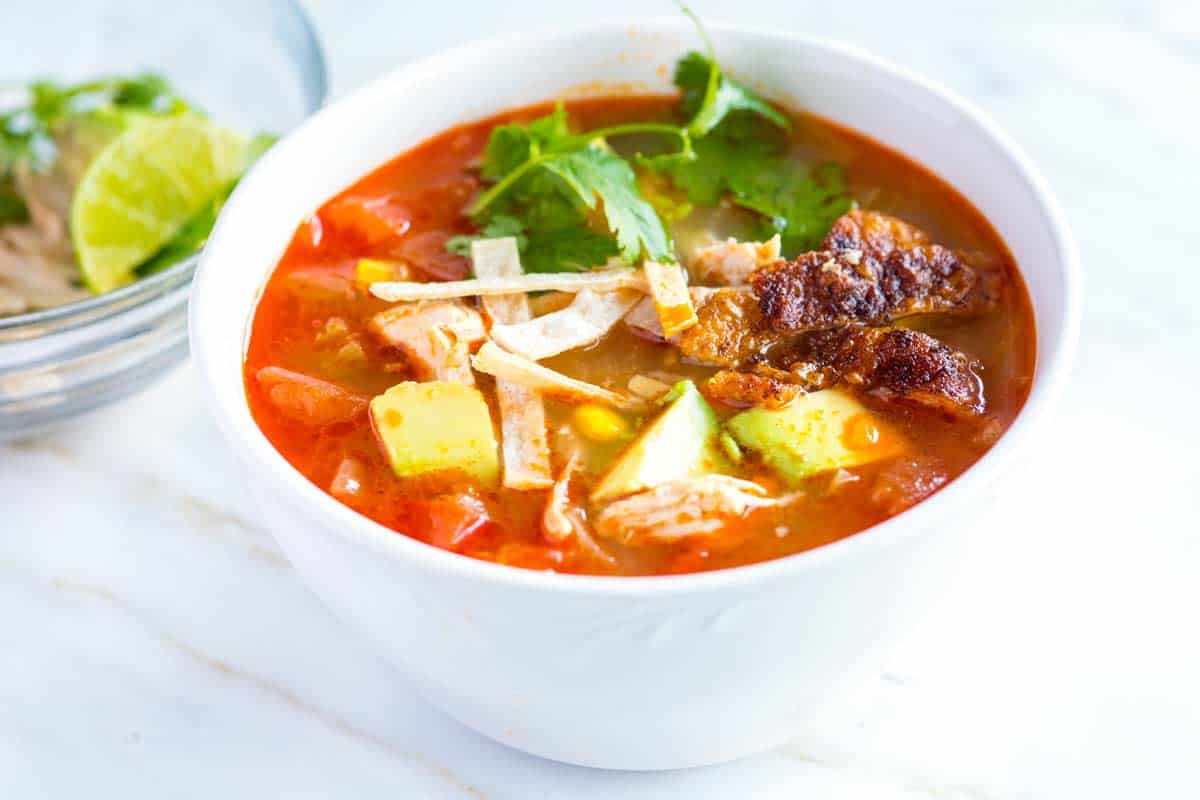 We consume a fair amount of soup in our house and this easy tortilla soup is high on our list of favorites. We make it completely from scratch, as shown in the recipe below, as well as at times when there's leftover chicken or vegetables in the fridge.
YOU MAY ALSO LIKE: Salsa Verde Chicken Enchiladas Recipe with shredded chicken in a creamy green sauce with cheese. Extra easy to make and so delicious!
How to Make Chicken Tortilla Soup
If you're sitting here with a leftover chicken in the fridge then use that! This soup is perfect for bringing it back to life. If you're starting from scratch, go for chicken thighs — skin-on, bone-in chicken thighs. They're cheaper and tastier than chicken breast.
To cook them, we use a two-part process. Crisp the chicken skin in the same pot as we plan to make the soup in then transfer the chicken to the oven and roast until cooked through, but still juicy. Then we shred the chicken and save the crispy skin for a topping.
By starting the chicken in the soup pot, we're left with all those bits stuck to the bottom as well as fat that's just perfect for cooking the vegetables in. There will most likely be too much rendered fat left in the pot — you'll only need a tablespoon. The rest can be discarded or use elsewhere.
Throw lots of goodies like onion, celery, jalapeño, garlic, chili powder and cumin into a big soup pot and cook until soft and sweet.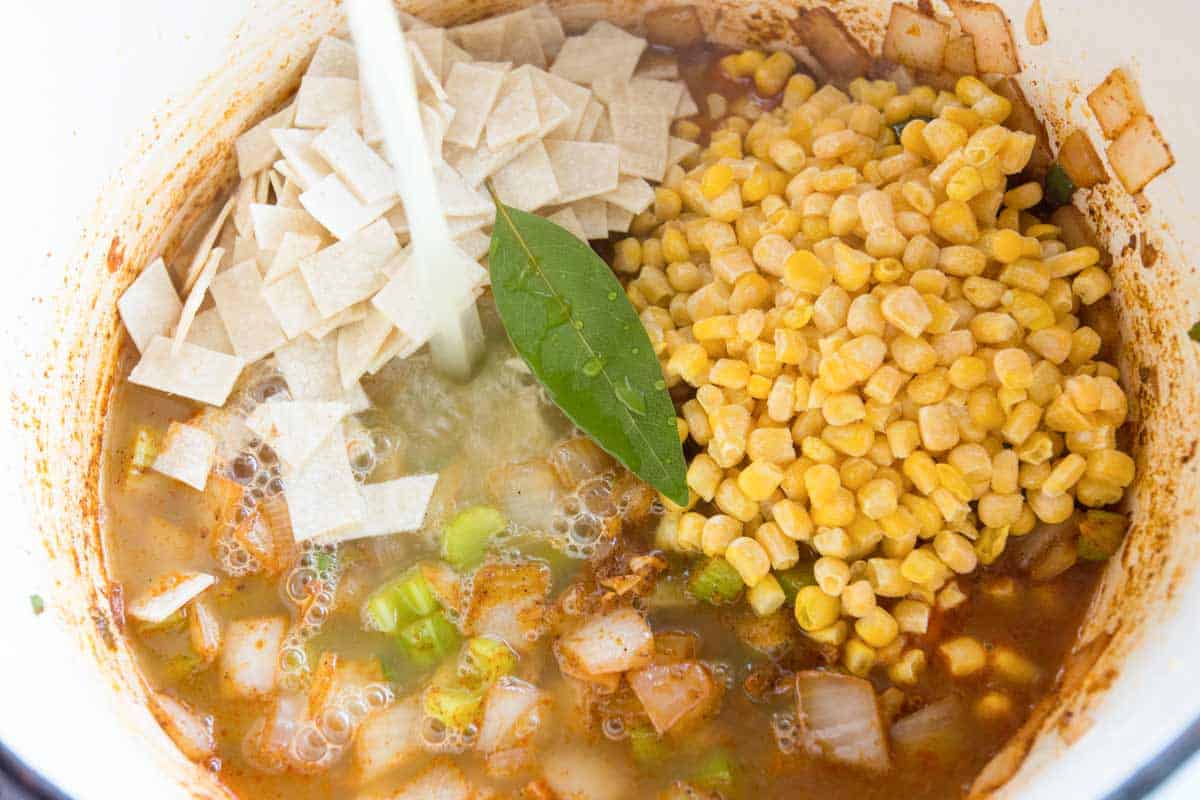 Follow with chicken stock, corn, a bay leaf and corn tortillas that have been chopped small. After 20 minutes of simmering, the house will smell insanely good and the soup will have become slightly thickened and perfumed from the tortillas. Tomatoes are next — they lighten and freshen up the soup. Use fresh or canned.
After 10 more minutes of simmering and the addition of shredded chicken and fresh lime juice, you will have THIS. Fresh, slightly thickened and ultra-flavorful chicken tortilla soup.
Then it's up to you to add your favorite toppings. We go for fresh cilantro, an extra squeeze of lime, diced avocado, crispy tortilla strips (see how we make them below) and the crispy chicken skin.
By the way, if you're all about that crispy chicken skin like we are, you'll love this Chimichurri Chicken Thighs recipe. We cook the chicken the same way and top it with a zesty, green chimichurri sauce made with cilantro, garlic, red wine vinegar and olive oil.
Recipe updated, originally posted January 2016. Since posting this in 2016, we have tweaked the recipe to be more clear. – Adam and Joanne
Easy Chicken Tortilla Soup Recipe from Scratch
Ancho chili powder is mild, sweet and fruity. It's absolutely perfect in this soup. We've been able to find it sold in international grocery stores for ages, but only recently have we noticed it in regular grocery stores. Take a walk down the spice aisle and pick one up — McCormick makes a perfectly acceptable one or save a little money and go to the nearest international market. There's also a variety of homemade versions online, Alton Brown has one that is especially good.
You Will Need
Chicken
2 teaspoons neutral flavored oil
1 pound skin-on, bone-in chicken thighs
1/2 teaspoon kosher salt
1/4 teaspoon ancho chili powder
Tortilla Soup
1 large onion, finely chopped
5 stalks celery, finely chopped
1 large jalapeño, finely chopped
3 garlic cloves, minced (about 1 tablespoon)
1 1/2 teaspoons ancho chili powder
1 1/2 teaspoons ground cumin
1 bay leaf
1 1/2 cups corn, fresh or frozen
4 (6-inch) corn tortillas, roughly chopped
6 cups homemade or store-bought low-sodium chicken stock, see our homemade chicken stock recipe
1 pound tomatoes, cored and finely chopped or 1 (14-ounce) can diced tomatoes
Juice of half a lime
Salt and fresh ground black pepper, to taste
For Serving
Fresh cilantro leaves and tender stems
1 lime, cut into wedges
1 avocado, diced
Crumbled or shredded cheese (queso fresco, Monterey jack or cheddar)
Crispy tortilla strips, see notes
Directions
Cook Chicken

Heat oven to 400 degrees F. Line a baking sheet with aluminum foil.

Rub chicken on both sides with salt and ancho chili powder.

Heat the oil in a large soup pot over medium heat. Add chicken thighs, skin-side-down and cook until the skin is golden brown, about 12 minutes. Transfer the chicken, skin-side-up, to the prepared baking sheet and roast until the chicken is cooked through; about 20 minutes.

Once roasted, transfer to a plate and allow to rest for 10 minutes. Sometimes the chicken skin can be a bit stubborn when you are removing it from the pan. If some is left stuck to the bottom of the pan, don't worry. Scrape up the larger pieces and place them on top of the chicken thighs. Leave the smaller bits in the pot, they will be used in the soup.

When you are able, remove the skin from the chicken and shred the meat. Either discard the skin or save it as a topping for the soup.

Make Soup

While the chicken roasts in the oven you can make the soup. Remove all but 1 tablespoon of the chicken fat left in the pot from browning the chicken thighs then add the onions, celery, jalapeño, garlic, chili powder and cumin. Cook until the onions are soft, about 10 minutes.

Stir in the bay leaf, corn, chopped tortillas and the chicken stock. Bring to a boil, lower the heat, season to taste with salt and pepper and simmer uncovered for 20 minutes.

Add the tomatoes and simmer uncovered for 10 minutes. Stir in the shredded chicken and the lime juice.

Just before serving the soup, turn the broiler to high then broil the chicken skin (if using) until crisp, about 1 minute. Cut into strips.
Divide the soup between bowls and top with cilantro an extra squeeze of lime, avocado, cheese, crispy tortilla strips and the reserved crispy chicken skin.
Adam and Joanne's Tips
How to Make Crispy Tortilla Strips in less than 1 minute: Place a paper towel into the microwave then scatter thinly sliced corn tortillas, in one layer, on top. Microwave for 45 seconds, check the tortilla strips then microwave in 20 second intervals until crisp. Be careful not to burn them.
Substitute a mild chili powder for the ancho chili powder.
If you make this recipe, snap a photo and hashtag it #inspiredtaste — We love to see your creations on Instagram and Facebook! Find us: @inspiredtaste