Crave-Worthy Teriyaki Chicken
You'll love this easy teriyaki chicken recipe that rivals your favorite teriyaki restaurants. Thanks to a simple teriyaki sauce that doubles as a marinade, the chicken is a little sticky, takes on a beautiful shine, tastes fantastic, comes together quickly, and can easily be made in advance. Jump to the Easy Teriyaki Chicken Recipe or read on to see our tips.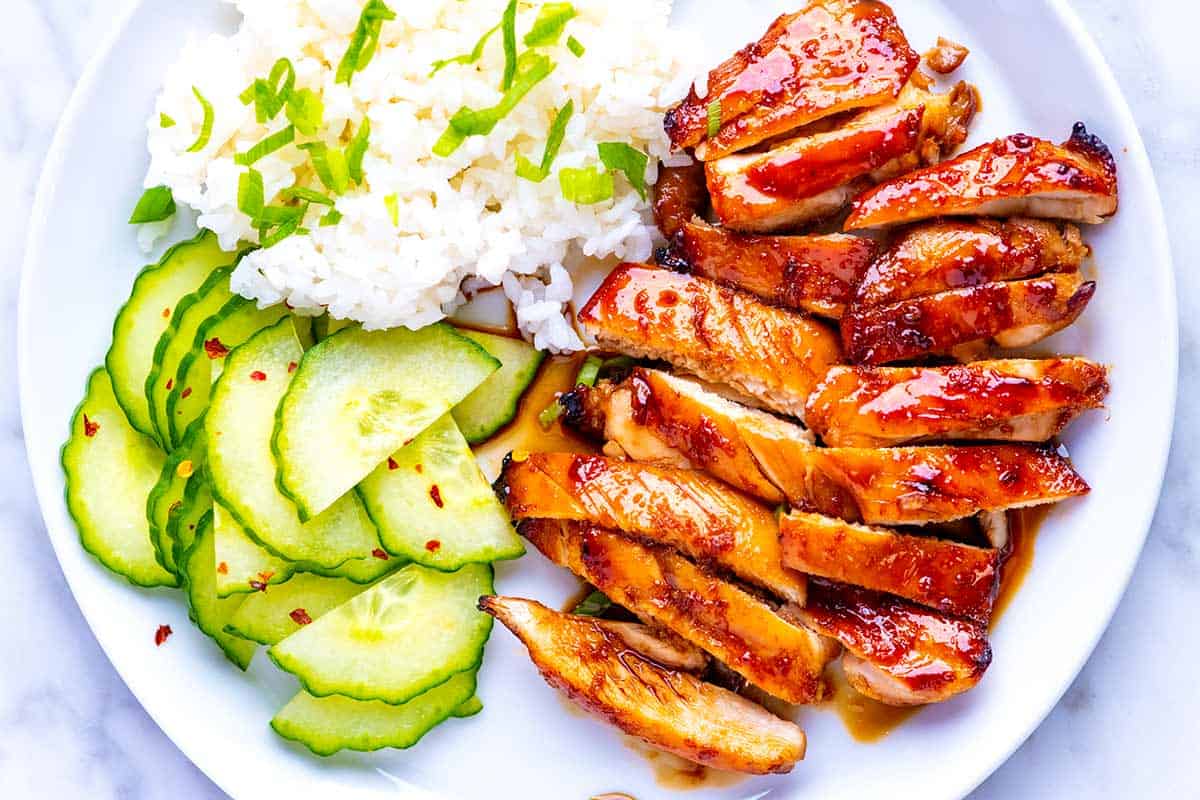 We just shared our homemade teriyaki sauce with you, and that's precisely what we're using to make this chicken teriyaki. It's made with only five ingredients and lasts for weeks in the fridge. For another variation of teriyaki, take a look at our Orange Ginger Teriyaki Chicken. In this recipe, we swap sugar for orange juice and honey. You might also enjoy this easy stir fry sauce made with fresh ginger and garlic.
How to Make Teriyaki Chicken
We absolutely love this recipe — the chicken is almost addictive. The recipe is simple, quick, and provides lots of opportunities for making it in advance. Read on for our tips for making the sauce, the best cut of chicken to use, and our favorite way to cook it.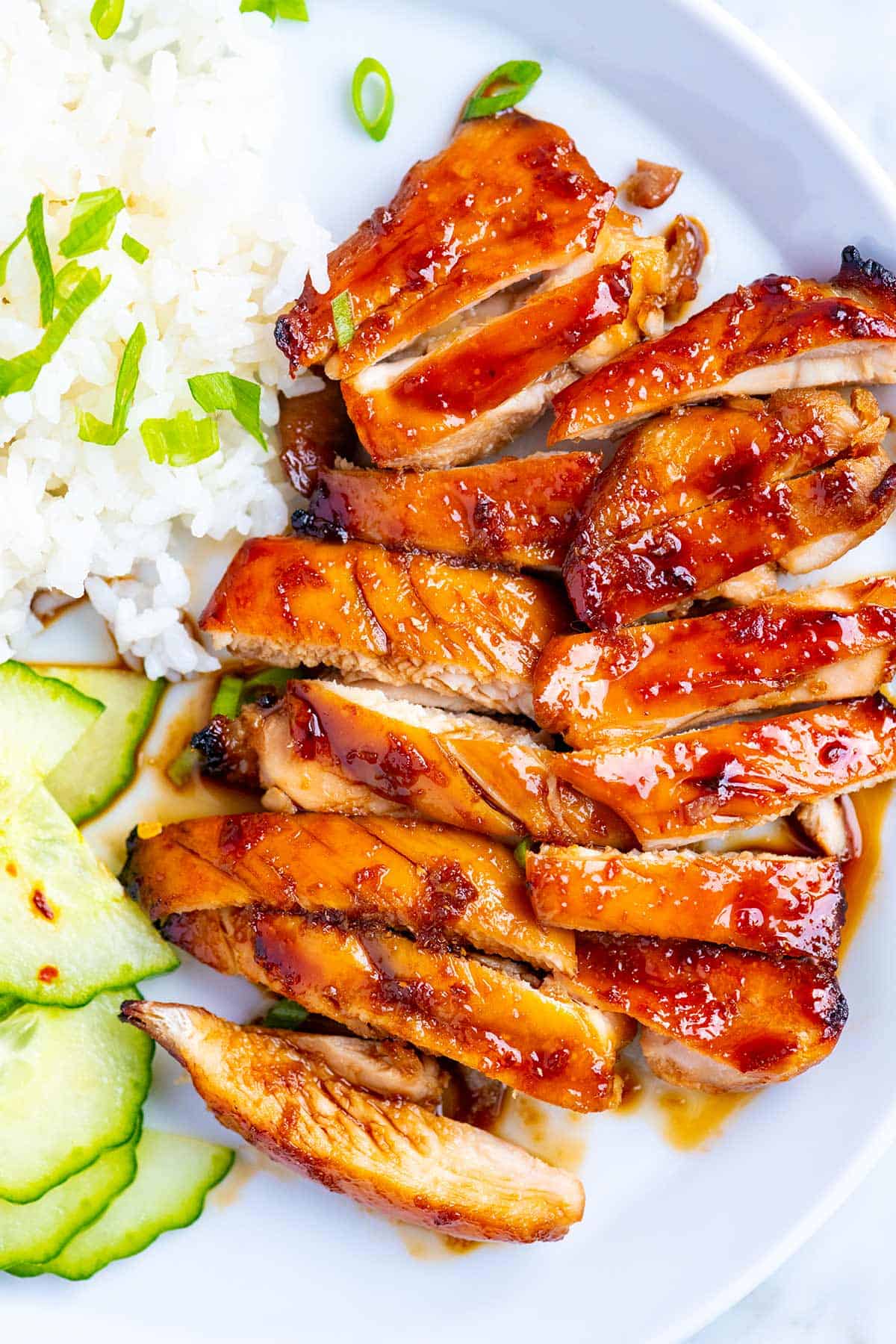 Thanks to our homemade sauce, teriyaki chicken is very easy to make! The sauce takes 10 minutes to make and can be made days, if not weeks, in advance. Here's what goes into it:
Low sodium soy sauce adds color, lots of flavor, and seasoning to the sauce. It's salty and strong by itself, but when you mix it with the other ingredients, it tastes incredible.
Sugar balances the saltiness and umami of the soy sauce.
Sake is my favorite ingredient in the sauce. It's Japanese rice wine and adds a lovely balance to the sauce. You can also use mirin, which is similar in flavor, but sweeter than sake. If you cannot find sake or mirin, dry vermouth or dry sherry will do the trick, and as a last resort, you can leave it out altogether, but keep in mind that this will change the taste of the sauce dramatically.
Rice vinegar is another favorite ingredient for me. I love how it balances the sugar and soy in the sauce and takes the dish to a whole new level.
Ginger isn't typically used in Japanese teriyaki, but we love the extra flavor it adds. We use a Microplane rasp grater to finely grate the ginger so that it "melts" into the sauce.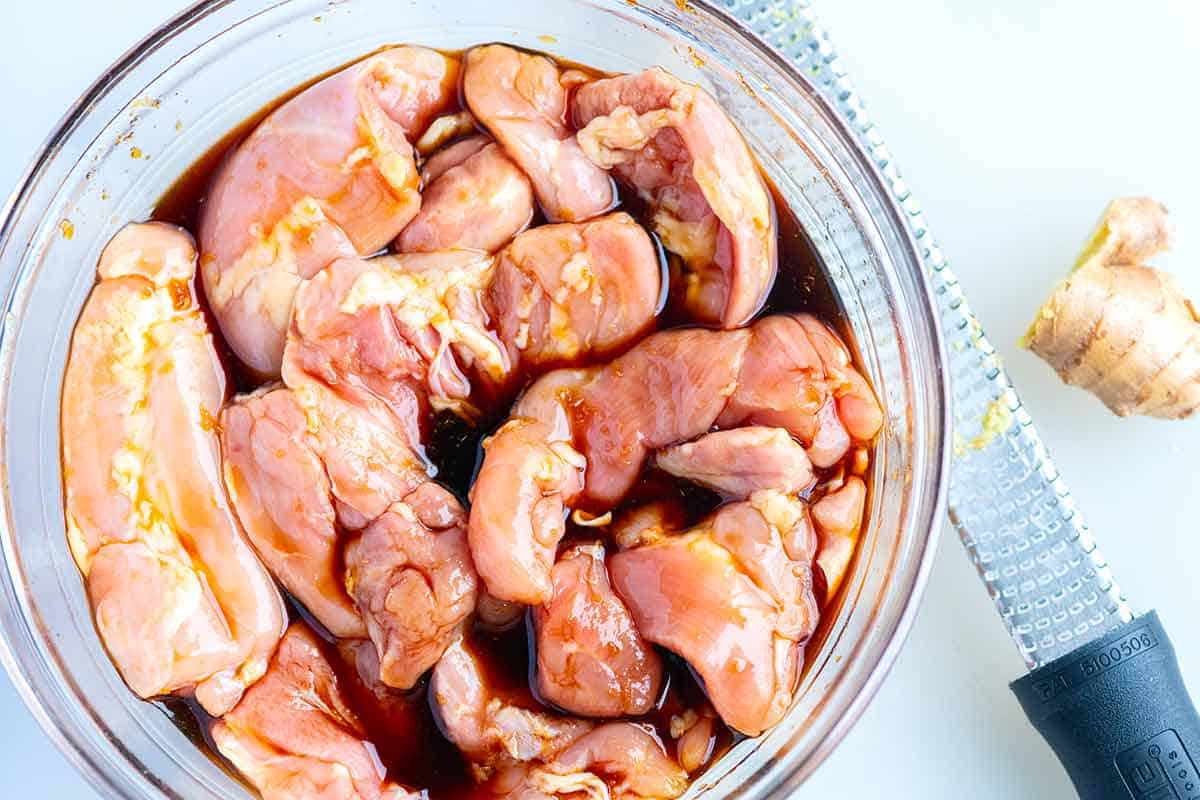 There's so much flavor in this sauce, which is why we prefer to marinate the chicken for a while. You can do this a variety of ways:
If you are short on time, a quick 30-minute marinade will do (although we do prefer the chicken when it marinates longer). Since we use some of the sauce to baste the chicken while it cooks, you will still enjoy excellent results.
For the best results, combine the chicken and marinade the night before you plan to cook it. This way, the chicken sits in the sauce for a long time, and when it's time to cook, all you need is 15 minutes, and dinner will be on the table!
Freeze the chicken and marinade together then, the night before you plan to make teriyaki chicken, take the frozen chicken and marinade out of the freezer and thaw in the fridge. As it thaws, the chicken marinates in the sauce.
What kind of chicken to use?
Just like many of the chicken recipes on Inspired Taste, we prefer skinless, boneless chicken thighs when making chicken teriyaki. Thighs are more tender, cook quickly, and have more flavor than chicken breast. That said, there's no reason why you couldn't swap chicken breast for thighs. It's entirely up to you.
What's the best way to cook teriyaki chicken?
Traditionally, teriyaki chicken cooks over a grill. You could do that with this recipe, but we wanted to figure out a way to get all the benefits of a grill inside. The answer is to broil the chicken.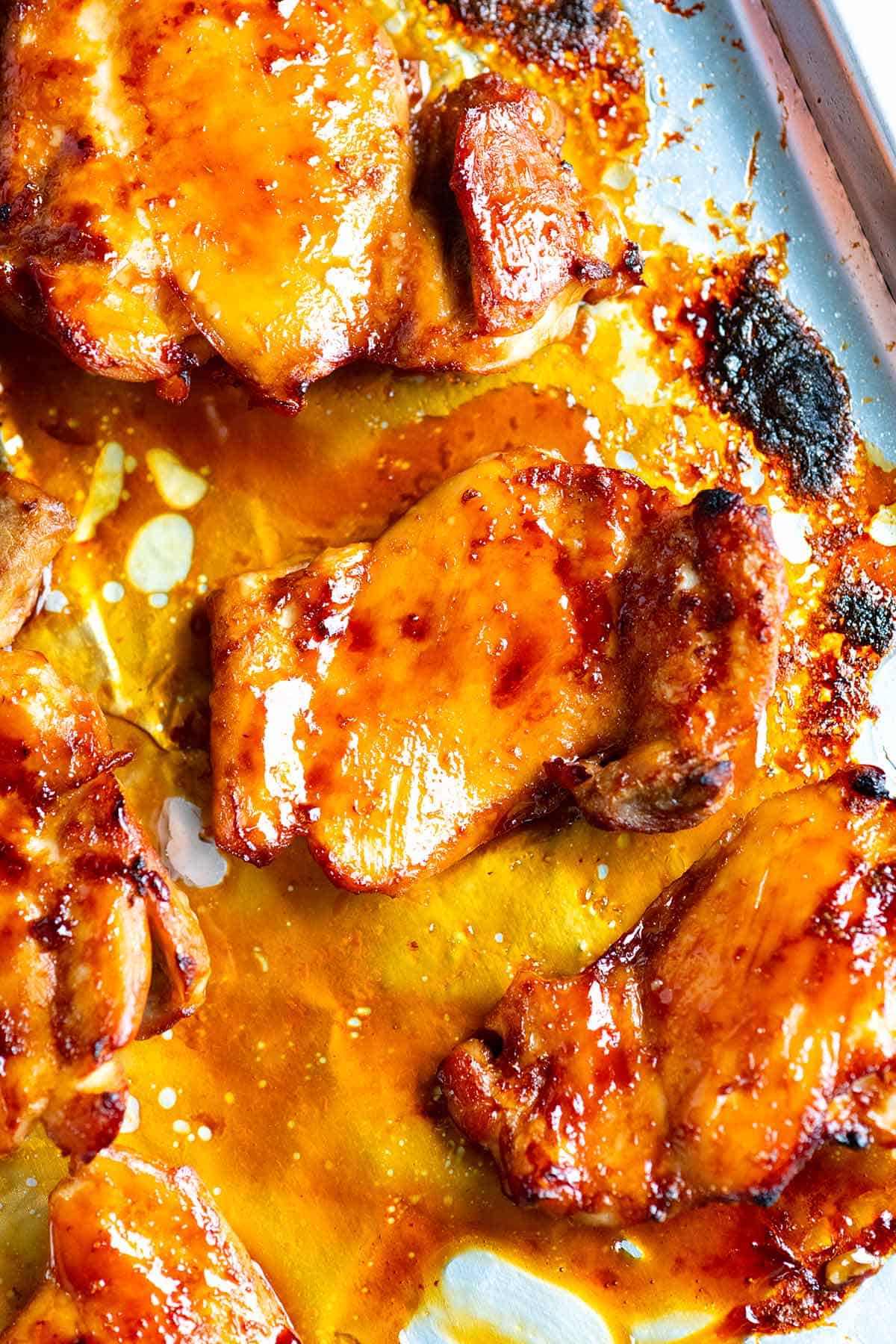 You can think of a broiler as an upside-down grill. Here's how we do it:
Position an oven rack towards the top of the oven — about six inches from the burner is perfect.
Transfer marinated chicken to a baking sheet and place the chicken onto the oven rack.
Broil until the chicken is brown and starting to firm up.
Flip the chicken and continue to broil until the chicken is cooked through.
The cooking process takes about 15 minutes, and if you spoon or brush a little sauce over the chicken while it cooks, the sauce turns into a glaze and becomes shiny — just like at the best teriyaki restaurants.
If you don't have a broiler, an outdoor grill or a grill pan set onto the stovetop are excellent alternatives. You can also bake the chicken, although, you won't get the same glazed look. That's okay, though. It will still taste incredible!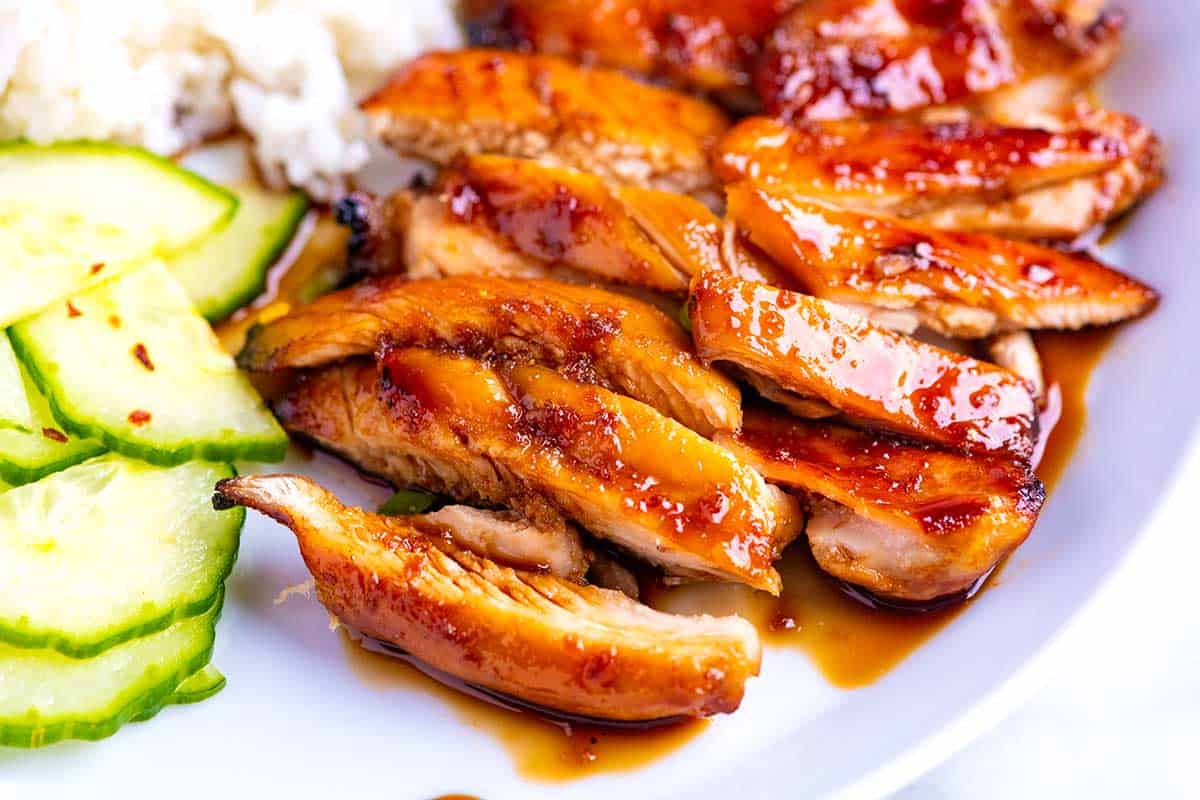 Crave-Worthy Teriyaki Chicken
You'll love this easy teriyaki chicken recipe that rivals your favorite teriyaki restaurants. The chicken is best when marinated for a while (we like to marinate overnight), but you can get away with a shorter marinating period if you're short on time.
In our recipe, we've shared the ingredient amounts to make one batch of teriyaki sauce, which is perfect for 1 1/2 pounds of chicken. We highly recommend making a larger batch of sauce (it's that good). You can find the instructions for a larger batch in our teriyaki sauce recipe (click here for the recipe). The recipe makes 2 cups, which provides enough sauce for two batches of chicken. The sauce stores for weeks in the fridge. If you make the larger quantity, you will need to use about 1 cup of the sauce for 1 1/2 pounds of chicken.
You Will Need
1 1/2 pounds boneless, skinless chicken thighs (6 medium thighs)
1/2 cup (120 ml) light soy sauce
1/2 cup (100 grams) granulated sugar
1/4 cup (60 ml) sake (Japanese rice wine), see notes for alternatives
2 tablespoon (30 ml) rice vinegar
2 teaspoons finely grated ginger, see notes
Directions
Prepare Chicken

Combine the soy sauce, sugar, sake, vinegar, and ginger in a small bowl. Stir until the sugar completely dissolves. Transfer about 6 tablespoons of the sauce to a resealable plastic bag or container and add the chicken. Marinate the chicken in the refrigerator, turning once, for at least 30 minutes, preferably longer.

Add the remaining sauce to a small saucepan over medium heat. Bring it to a simmer and cook until the sauce reduces slightly and looks shiny; 3 to 5 minutes. If it reduces too much, add a bit of water to bring it back to a pourable consistency. Cool, and then save this in the refrigerator to use as a sauce for the cooked chicken.

Cook the Chicken

Position an oven rack towards the top of the oven, about 6-inches from the broiler. Heat the broiler to high.

Line a baking sheet with foil, and then arrange the chicken so that the side that would have had skin is facing down. Spoon a bit of the marinade that was with the chicken on top and discard the rest. Broil for 5 minutes. Stay close to the oven to keep an eye on the chicken as it cooks.

Flip the chicken, and then if there are any juices or sauce pooling on the pan, spoon or brush it back onto the chicken. Doing this a few times during cooking helps to add a shiny, browned crust to the chicken. Alternatively, you can steal some of the sauce saved for serving to spoon or brush over the chicken. Broil another 5 to 10 minutes or until the outside of the chicken looks brown and caramelized and the inside is cooked through.

Meanwhile, reheat the sauce from earlier, adding a bit of water if it seems too thick. (This is the sauce that has not touched raw chicken, not the sauce used to marinate.)

To serve, slice the chicken into strips, place onto plates and drizzle with the warmed sauce. Leftover sauce can be stored in the refrigerator for a few weeks (I like drizzling it over rice and vegetables)
Adam and Joanne's Tips
Depending on your oven, broil times may differ. Keep an eye on the chicken, if it looks or smells like it is burning, move the sheet pan down a rack. If the chicken seems to be cooking slower than expected, continue to broil until cooked through.
For the ginger, we use a Microplane rasp grater, which helps the ginger to "melt" into the sauce. You can finely mince, but you will be left with bits of ginger in the sauce.
Substitute for Sake: We love the delicate flavor of sake for teriyaki sauce, but if you cannot find it there are some alternatives. Mirin is a sweeter version of sake. You can either swap it for the sake and leave the sugar amount as is or pull back on the amount of sugar slightly to accommodate the extra sweetness. Dry vermouth or dry sherry can also work as a substitute. As a last resort, you can leave it out altogether, but keep in mind that this will change the taste of the sauce dramatically (taste the sauce before using as you may find that without sake/mirin, you will need to adjust with additional vinegar or sugar).
Nutrition facts: The nutrition facts provided below are estimates. We have used the USDA database to calculate approximate values. You will likely have leftover sauce, so the actual nutritional data may be less.
If you make this recipe, snap a photo and hashtag it #inspiredtaste — We love to see your creations on Instagram and Facebook! Find us: @inspiredtaste
Nutrition Per Serving:
Serving Size
1/4 of the recipe (about 1 1/2 medium thighs)
/
Calories
370
/
Total Fat
7.1g
/
Saturated Fat
1.9g
/
Cholesterol
159.8mg
/
Sodium
1000.9mg
/
Total Carbohydrate
30.9g
/
Dietary Fiber
0g
/
Total Sugars
26.6g
/
Protein
36g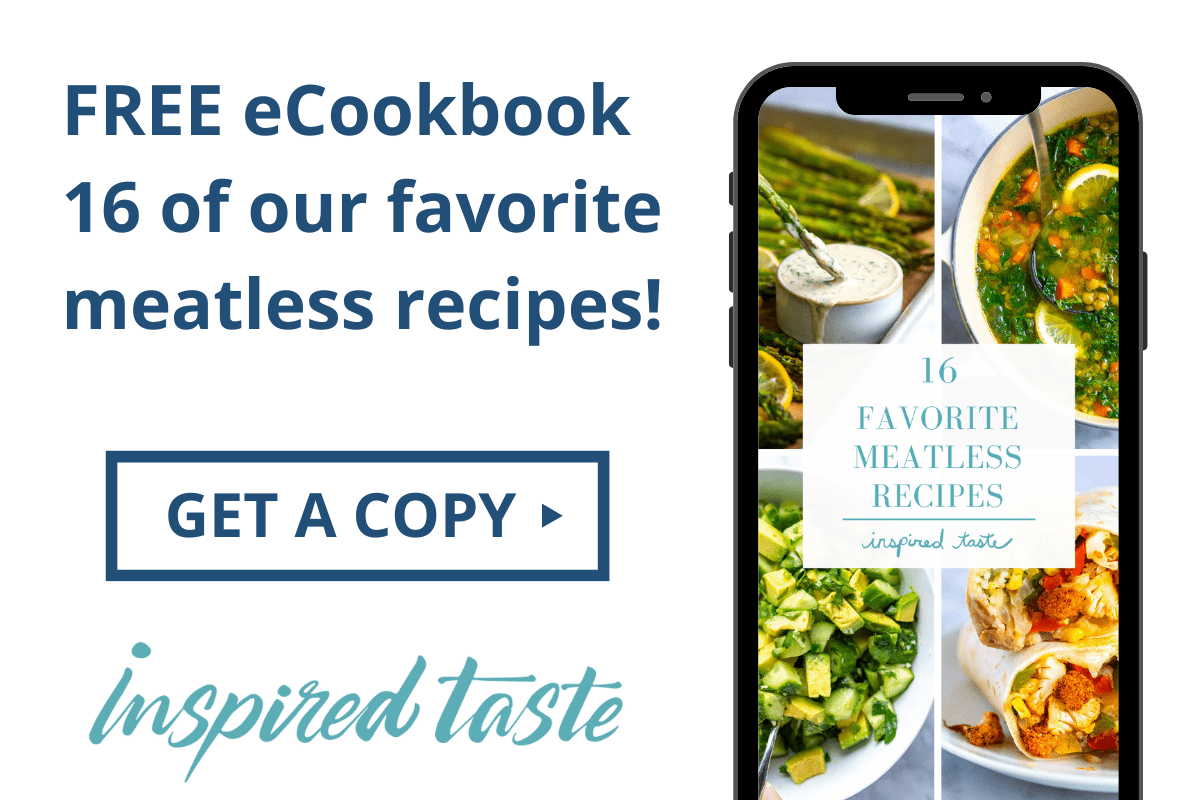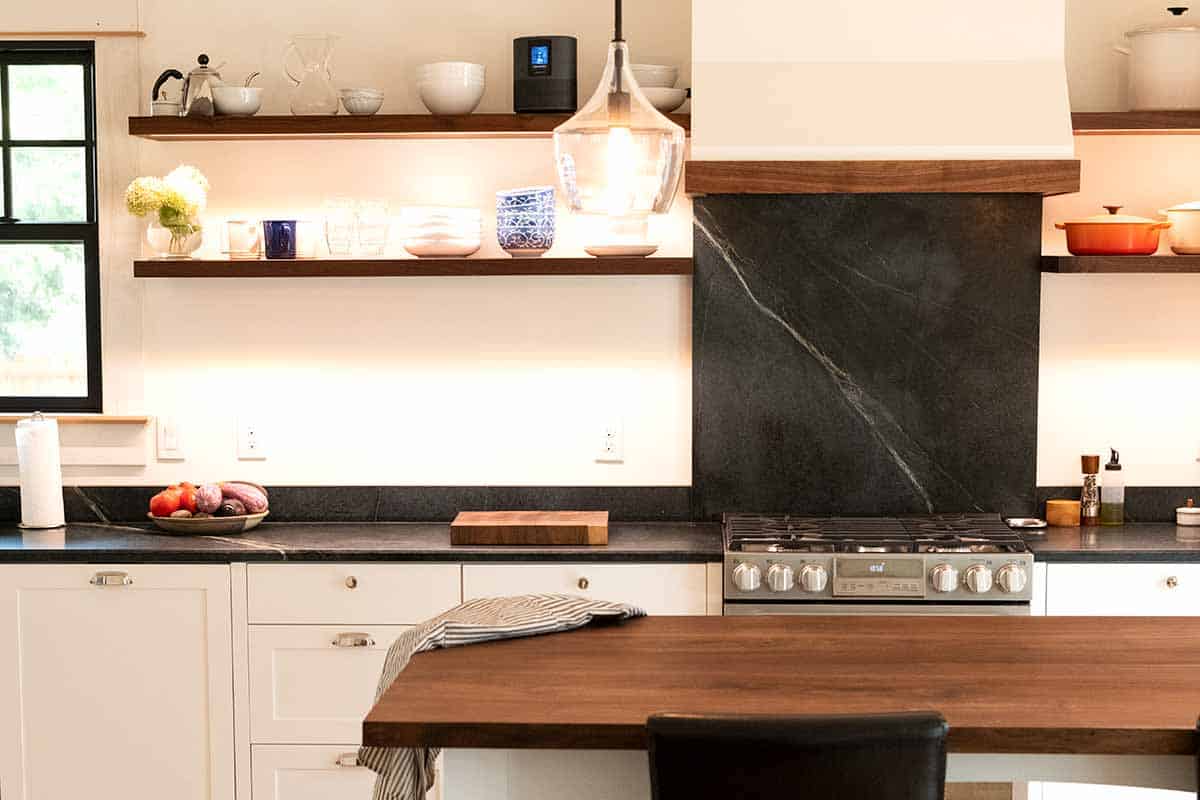 Take a look around where we create recipes and videos!
Previous Post: Our Favorite Black Bean Soup
Next Post: How to Make Teriyaki Sauce From Scratch