We love this easy quinoa bowl recipe with fluffy quinoa, greens, veggies, candied nuts, and feta cheese. Add our five-minute lemon garlic tahini dressing, and it tastes fantastic.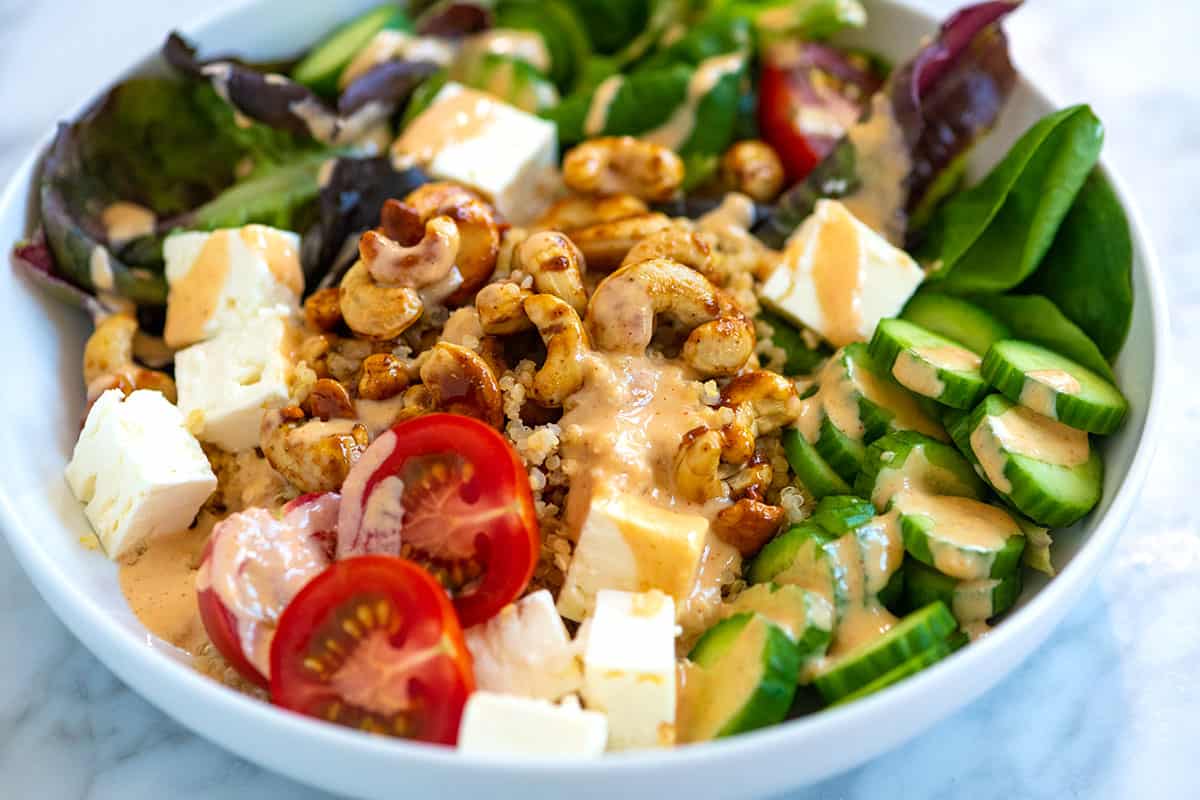 Not Boring Quinoa Bowls
This healthy and nutritious quinoa bowl has made it onto our repeat list. We love how quick and easy it is to make, and I can't get enough of that lemon tahini dressing! Here are a few tricks for making the best quinoa bowls at home:
Start with fluffy quinoa! Follow our quick recipe for cooking quinoa at home. With our recipe, you are guaranteed to have fluffy quinoa ready for this bowl. Bonus, it lasts a good while in the fridge (6 to 7 days).
Toss the quinoa with a bit of dressing before adding it to the bowl. I find plain quinoa bland and a little bitter. That's why I always toss it with a flavorful sauce. In this case, before building my bowls, I toss the quinoa with some of the lemon tahini dressing. I still drizzle more on top of the bowl, but I make sure that my quinoa is well seasoned first.
Use a variety of colors and textures. You can see from our photos that we are combining a variety of textures. Quinoa is soft, so make sure that you add some crunch. In our photos, we achieve crunch from cucumbers and nuts. I also love adding something creamy. In these bowls, we have a creamy dressing and some feta cheese. If you want to keep these vegan, leave out the cheese, but try some cubes of tofu instead.
Try this: Here's our baked tofu recipe. It's crisp on the outside and creamy on the inside. It would be perfect for adding to these quinoa bowls!
Use a flavorful dressing. I am biased when it comes to the salad dressing. I love our lemon garlic tahini dressing–here's the recipe and video showing how to make it. It's sitting in my fridge right now. It's dairy-free, creamy, and tastes fantastic. Here are some more options that would be delightful: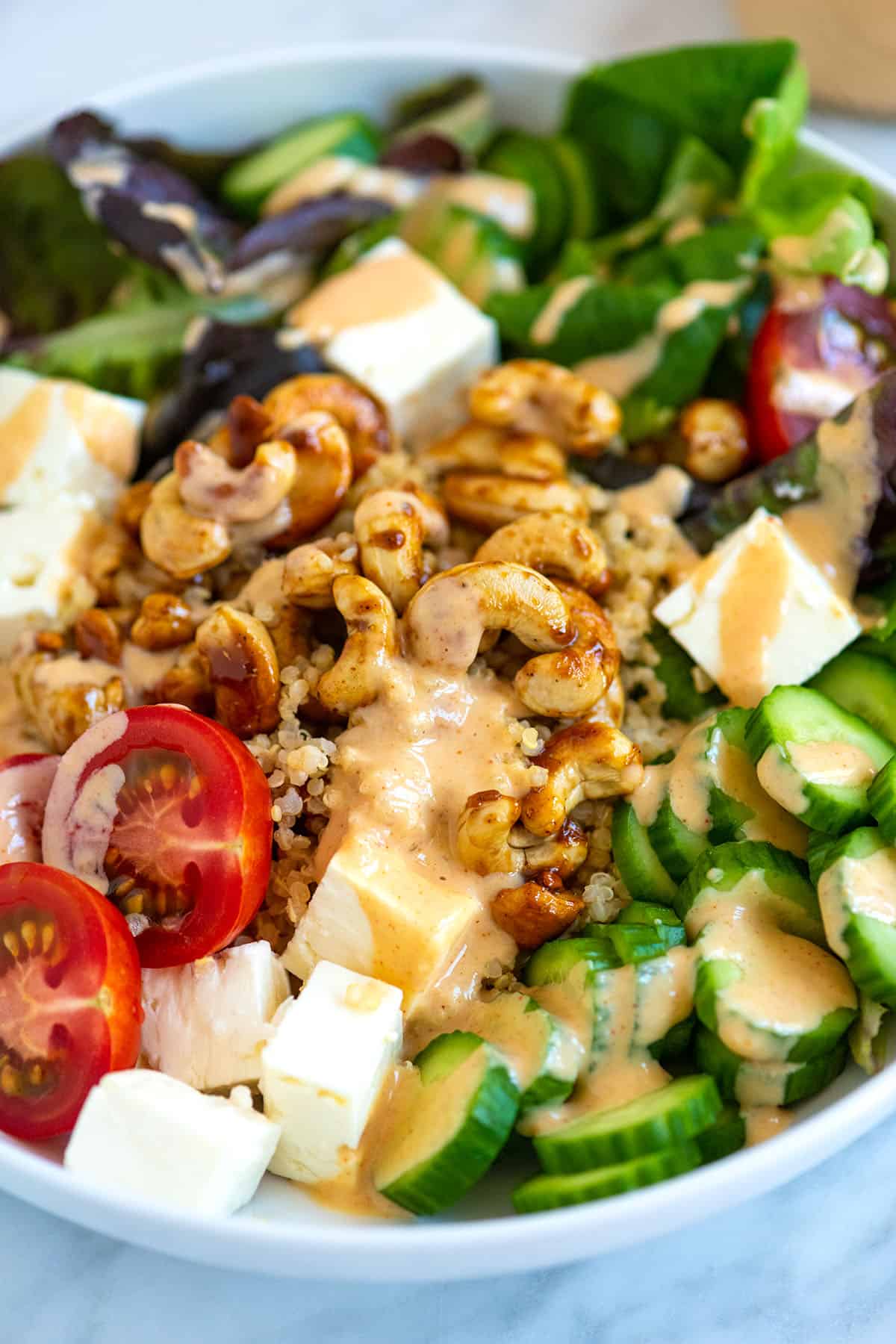 Tahini Lemon Quinoa Bowls
We love these easy quinoa bowls with fluffy quinoa, greens, veggies, candied nuts, and feta cheese. For a vegan version, leave out the feta cheese or substitute it with cubed or baked tofu.
You Will Need
Quinoa Bowls
1 cup cooked quinoa
1/4 cup lemon garlic tahini dressing, plus more to taste
2 cups baby salad greens
Half of a large thin-skinned cucumber, sliced
1 cup halved cherry tomatoes
2 ounces feta cheese, cubed
1/2 cup candied cashews or toasted nuts, candied cashew recipe below
Maple Candied Cashews
1 cup (85 grams) cashews
2 tablespoons pure maple syrup
Pinch ground cinnamon
Pinch cayenne pepper
Pinch fine sea salt
Directions
Make Candied Cashews

1Heat a wide skillet over medium heat, and then add the cashews, maple syrup, pinch of cinnamon and pinch of cayenne. Stir the nuts around the pan for 2 to 3 minutes or until lightly toasted, and the maple syrup begins to stick to them.

2Slide the nuts onto a plate or piece of parchment paper, then sprinkle with a pinch of salt. Allow the nuts to cool. If any nuts are stuck together, gently break them apart.

3Store cooled candied nuts in an airtight container. They will last at room temperature for one week, in the refrigerator for a few weeks and in the freezer for a month, if not longer.
Build Quinoa Bowls

1Make a bed of baby lettuce greens at the bottom of two salad bowls.

2Stir two tablespoons of the lemon garlic tahini dressing into the cooked quinoa, then divide between the bowls.

3Scatter the cucumber slices, halved cherry tomatoes, cubes of feta cheese, and a handful of candied cashews on top.

4Lightly season with salt and pepper, and then drizzle with the remaining dressing.
Adam and Joanne's Tips
Nutrition Per Serving
Serving Size
1 bowl (recipe makes 2)
/
Calories
600
/
Total Fat
30.2g
/
Saturated Fat
8g
/
Cholesterol
25.3mg
/
Sodium
592.8mg
/
Carbohydrate
69.2g
/
Dietary Fiber
7g
/
Total Sugars
16.4g
/
Protein
20.2g