We love this delicious potato salad recipe with no mayo! Thanks to our simple vinaigrette, this herb potato salad is naturally gluten-free, egg-free, and vegan.
Watch the Video
Related: We also love this popular classic potato salad!
This mayo-free potato salad is quick to make, calls on a short list of ingredients, is a bit healthier, and tastes fantastic! This recipe tosses warm potatoes with a simple Dijon vinaigrette — like French potato salad. Since the potatoes are warm, they absorb all the delicious flavors of the dressing.
We have a few popular potato salad recipes on Inspired Taste. For a creamy option, try this easy potato salad. I also love this potato and green bean salad with feta cheese. We also have our delicious fingerling potato appetizer that's served with a potato salad inspired sauce.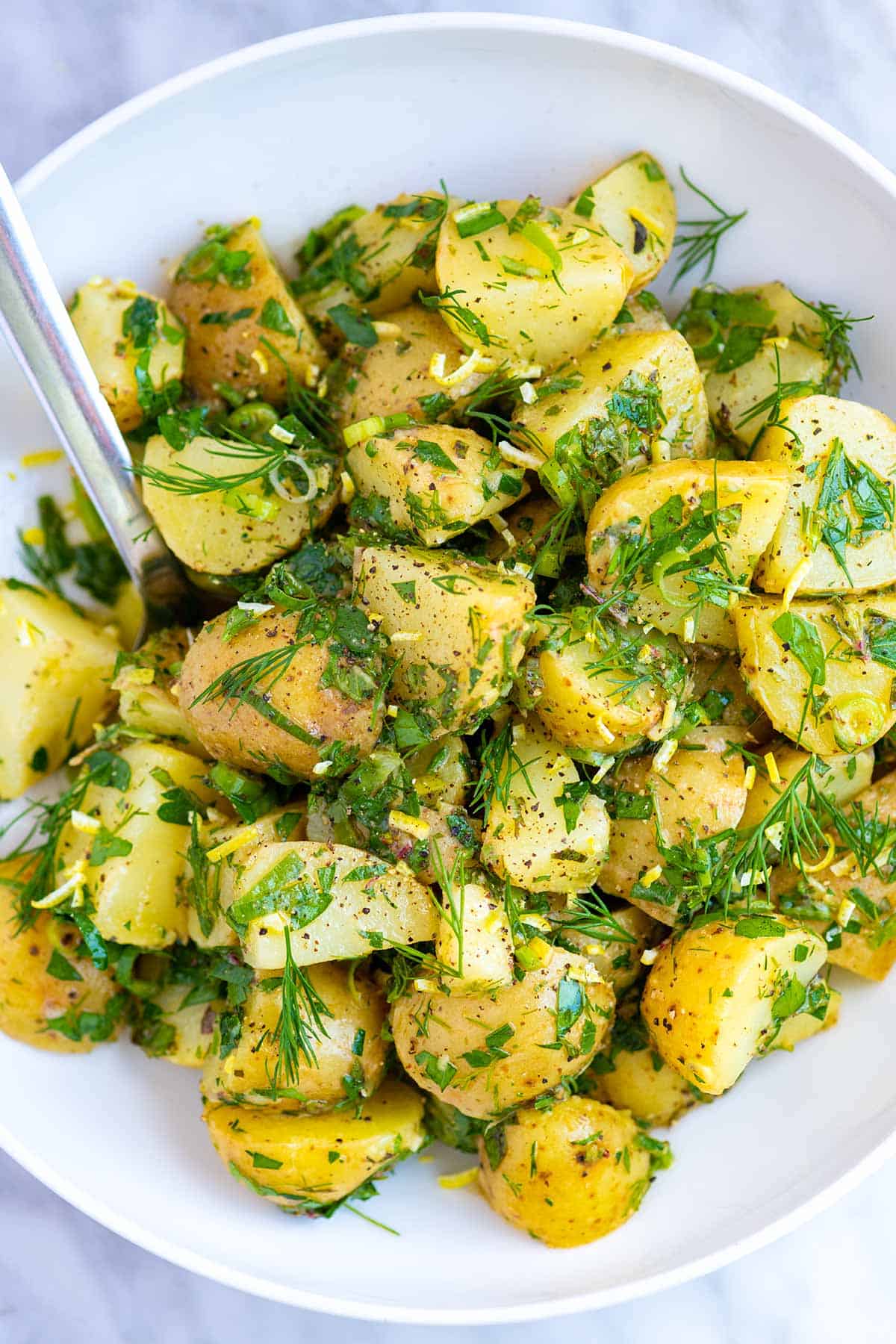 Herb Potato Salad Ingredients
The recipe for potato salad is below, but here's where I dive into the ingredients a bit. So, if you have any questions about why an ingredient is included or if you can substitute it, I have hopefully answered them here.
Potatoes — I love using small waxy potatoes for this salad. Red bliss potatoes or fingerlings are also excellent options. The smaller the better, this way they cook quickly and you don't need to spend extra time chopping.
Salty water — The number one trick for the best potato salad is to salt your cooking water. I add at least 1 tablespoon to the water, which means that as the potatoes cook, they become nicely seasoned and flavorful (just like when you boil pasta).
Fresh lemon and red wine vinegar — I love the combination of fresh lemon juice and red wine vinegar for the potato salad dressing (champagne vinegar is nice, too). If you don't have both in the kitchen, don't worry, you can use just one.
Dijon mustard — We use Dijon mustard a lot when making salad dressings. It's tangy and helps to make vinaigrettes creamy and emulsified.
Olive oil — Mayonnaise is a popular ingredient to classic American potato salad, but for this recipe, we leave it out and instead whisk in olive oil to the lemon juice, red wine vinegar, and mustard to make a creamy (dairy-free) vinaigrette.
Lots of fresh herbs and scallions — This is my favorite part of the recipe. I've said it before and I'll say it again. When it comes to fresh salads, I honestly don't think you can add too many herbs! I usually end up adding parsley, dill, and mint, but basil, chives or tarragon would also be wonderful.
How to Make Mayo-Free Potato Salad
This salad is quick and easy. Let me walk you through our method for making our herb potato salad:
Cook the potatoes. We've found that for the best texture for boiled potatoes it's best to add the potatoes whole to cold salted water and then place over a burner. Adding 1 tablespoon of salt to the water helps season the potatoes as they cook. Since we add cook the potatoes whole, we buy the smallest potatoes we can find in the store.
Drain the potatoes and let them sit for a few minutes. When you can easily pierce the potatoes with a fork, drain them. Then set them aside off of the heat so that they can cool down. When they are warm, but cool enough to handle, cut them in halves or quarters.
Make the potato salad dressing and add to the warm potatoes. Simply whisk lemon zest, lemon juice, red wine vinegar, Dijon mustard, a pinch of salt, pepper, and olive oil together until emulsified and creamy. Pour the dressing over the warm potatoes. The warm potatoes will soak up the dressing much better than cold potatoes would.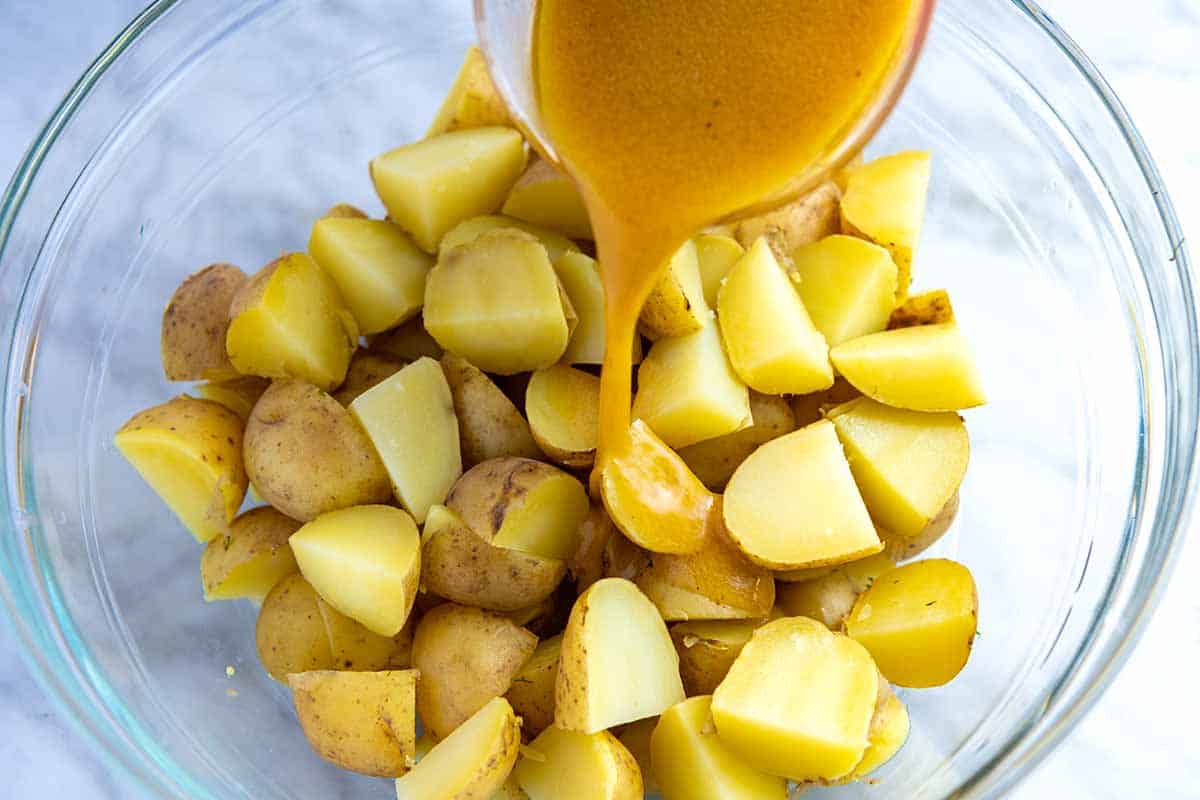 Stir in herbs and scallions. As a final step, we carefully toss the potatoes with lots of fresh herbs and scallions (a little extra lemon zest is a nice idea, too).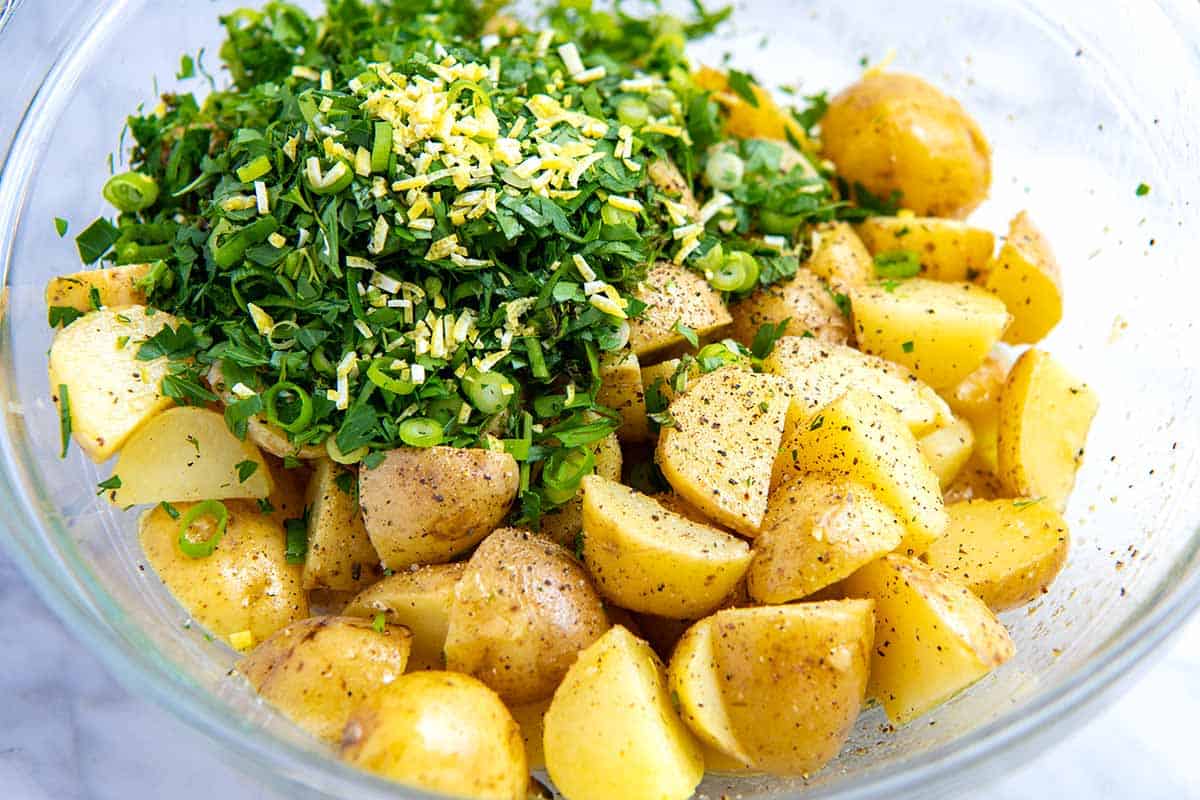 Serve the potato salad warm or set aside and let the potatoes soak up even more of the dressing and serve at room temperature or cold. It's delicious!
Can I Make This Potato Salad in Advance?
Potato salad is perfect for making in advance. In fact, I think it tastes better over time. The the potatoes soak up the flavors in the dressing over time. Feel free to make this up to 3 days in advance. Just keep it covered and stored in the refrigerator.
One thing to think about if making this herbed potato salad in advance: as they sit in the dressing, the herbs will loose a little color and freshness. For the best potato salad made ahead of time, toss the potatoes with the dressing and store covered in the fridge. Then, when you are ready to serve it, toss in the herbs, scallions, and lemon zest.
How Long Does Potato Salad Last?
Potato salad should not sit out at room temperature for longer than 2 hours. If refrigerated, the salad will last 3 to 4 days.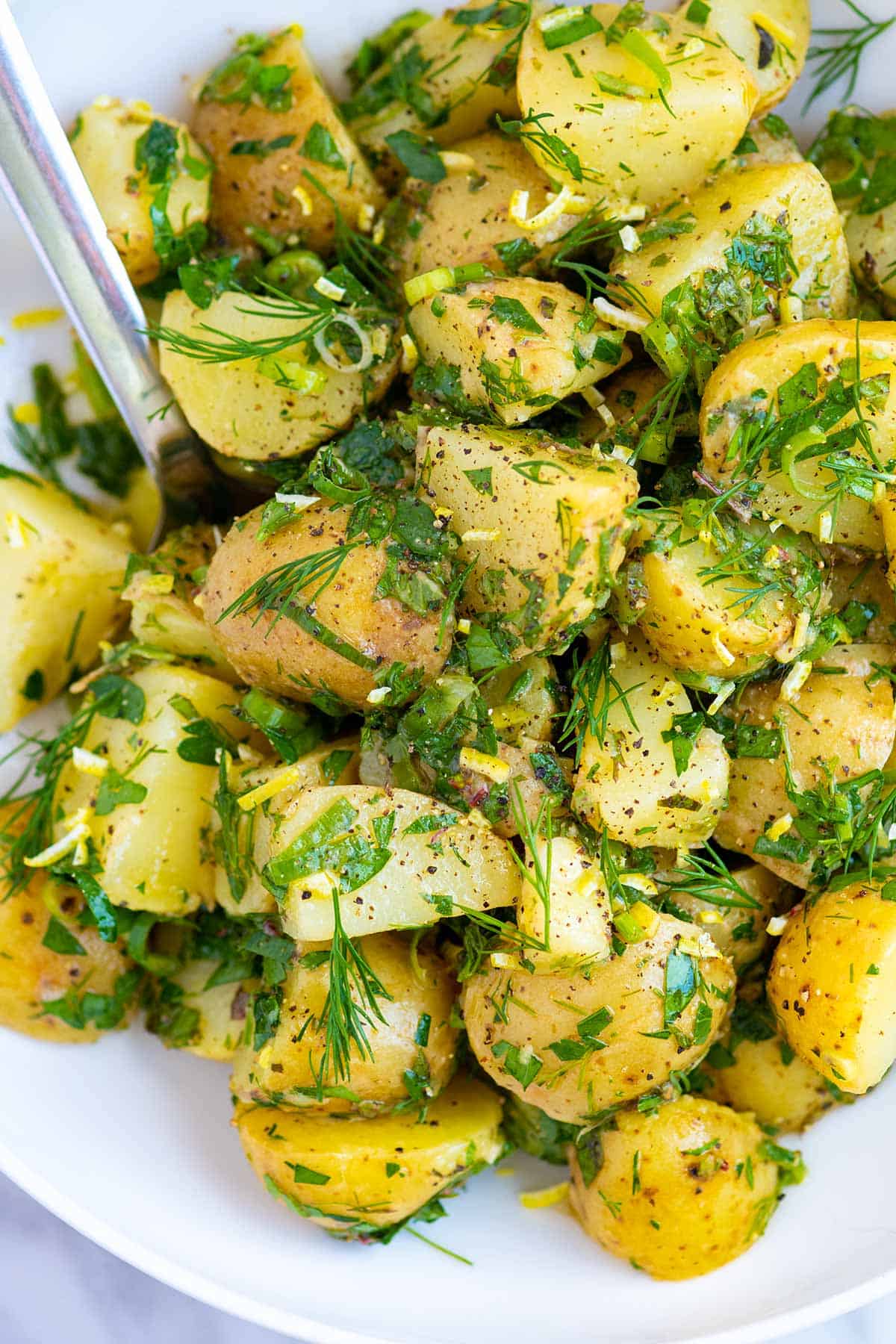 More Easy Salad Recipes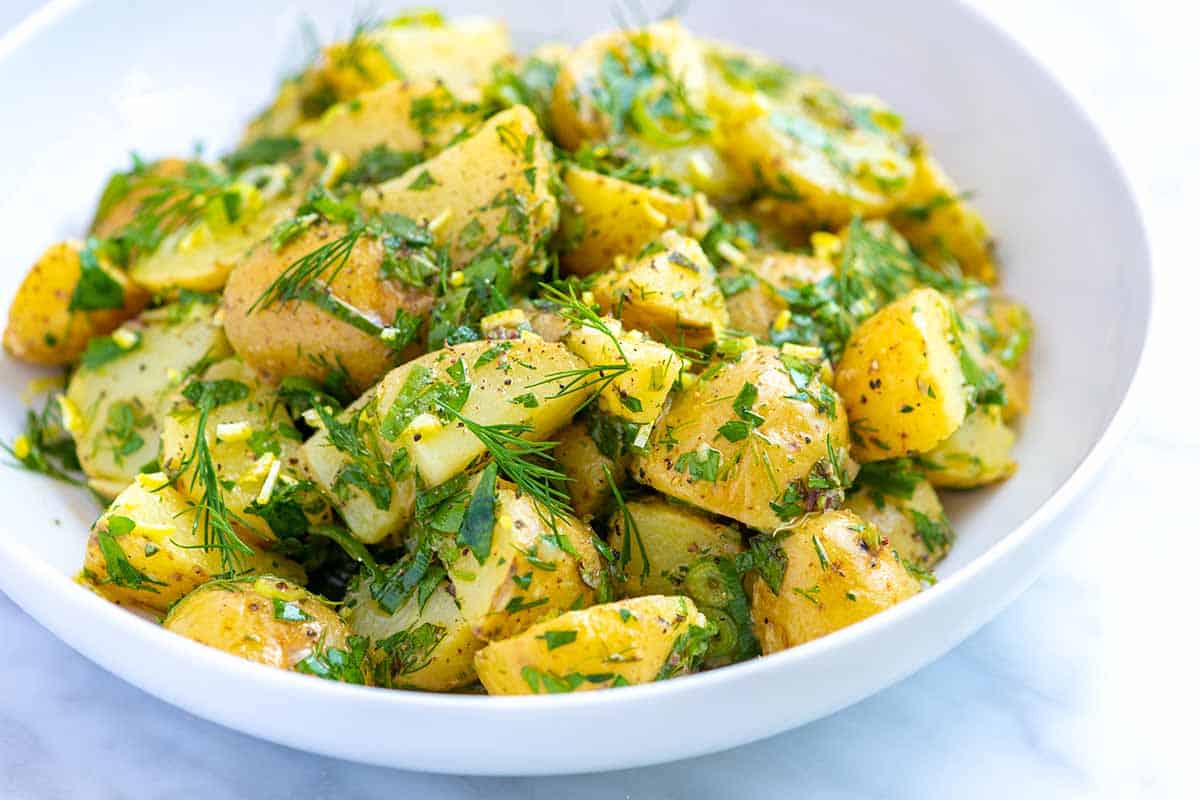 Herb Potato Salad (No Mayo)
Our mayonnaise free potato salad is packed with flavor thanks to a simple olive oil vinaigrette, lots of fresh herbs, and lemon. We prefer to use small baby potatoes (sometimes labeled New Potatoes), fingerling potatoes, or Red Bliss potatoes for this salad.
Makes 6 servings (side portions)
Watch Us Make the Recipe
You Will Need
2 pounds small yellow or red potatoes
2 teaspoons Dijon mustard
1 1/2 teaspoons finely grated lemon zest
2 tablespoons fresh lemon juice
2 tablespoons red wine vinegar or champagne vinegar
6 tablespoons extra virgin olive oil
3 medium scallions (green onions), thinly sliced
1/4 cup chopped fresh parsley
2 tablespoons chopped fresh mint
2 tablespoons chopped fresh dill
Salt and freshly ground black pepper, to taste
Directions
1Add the potatoes to a large stockpot and cover with water by 2 inches. Add 1 tablespoon of salt to the water, and then bring to a boil. Reduce to a simmer and cook until the potatoes are fork tender, 15 to 20 minutes. Drain then set aside to cool.

2When the potatoes are cool enough to handle, cut them into bite sized chunks or slice into thin rounds. Add to a large salad bowl.

3Whisk the mustard, lemon zest, lemon juice, vinegar, and olive oil together until creamy and emulsified. Season to taste with salt and pepper. Pour all but 1/4 cup of the dressing over the potatoes and toss. Set the potatoes aside for five minutes to absorb the dressing (it will look like a lot at first, but the potatoes will soak it up).

4Add the scallions and fresh herbs. Toss gently, but thoroughly. If the potato salad seems dry, add a splash of the remaining dressing. Serve warm or cover and refrigerate, and then serve the salad cold.
Adam and Joanne's Tips
Nutrition Per Serving
Serving Size
1/6 of the recipe
/
Calories
235
/
Total Fat
14.5g
/
Saturated Fat
2.1g
/
Cholesterol
0mg
/
Sodium
224.6mg
/
Carbohydrate
25.4g
/
Dietary Fiber
4.3g
/
Sugars
2.2g
/
Protein
3.1g