A must make! Our spicy roasted cauliflower recipe combines perfectly roasted and browned cauliflower, ultra-flavorful spices, and fresh lime juice for an almost addictive cauliflower dish!
Watch the Video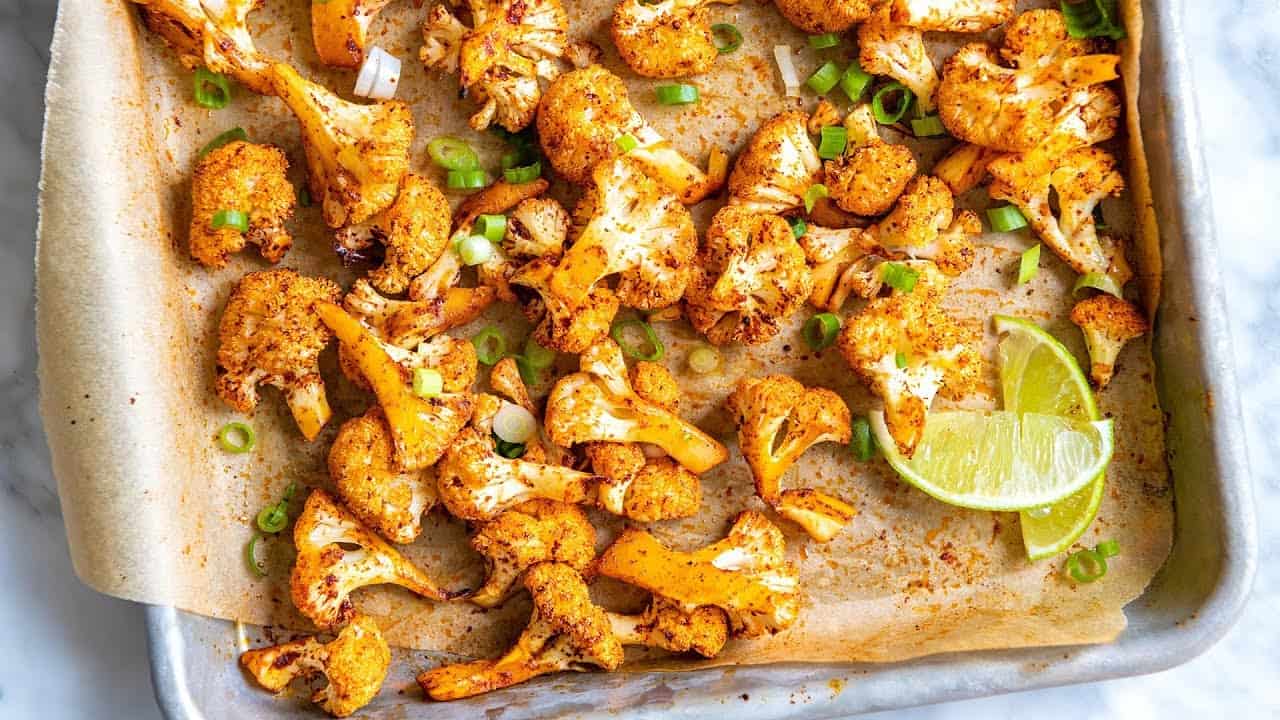 Making Chili Lime Roasted Cauliflower
I've proclaimed our love of cauliflower many times over the last few years. We've shared our love for this parmesan lemon roasted cauliflower, a garlicky herby cauliflower rice, this popular cauliflower salad, and we've even shared how to turn cauliflower into a mash.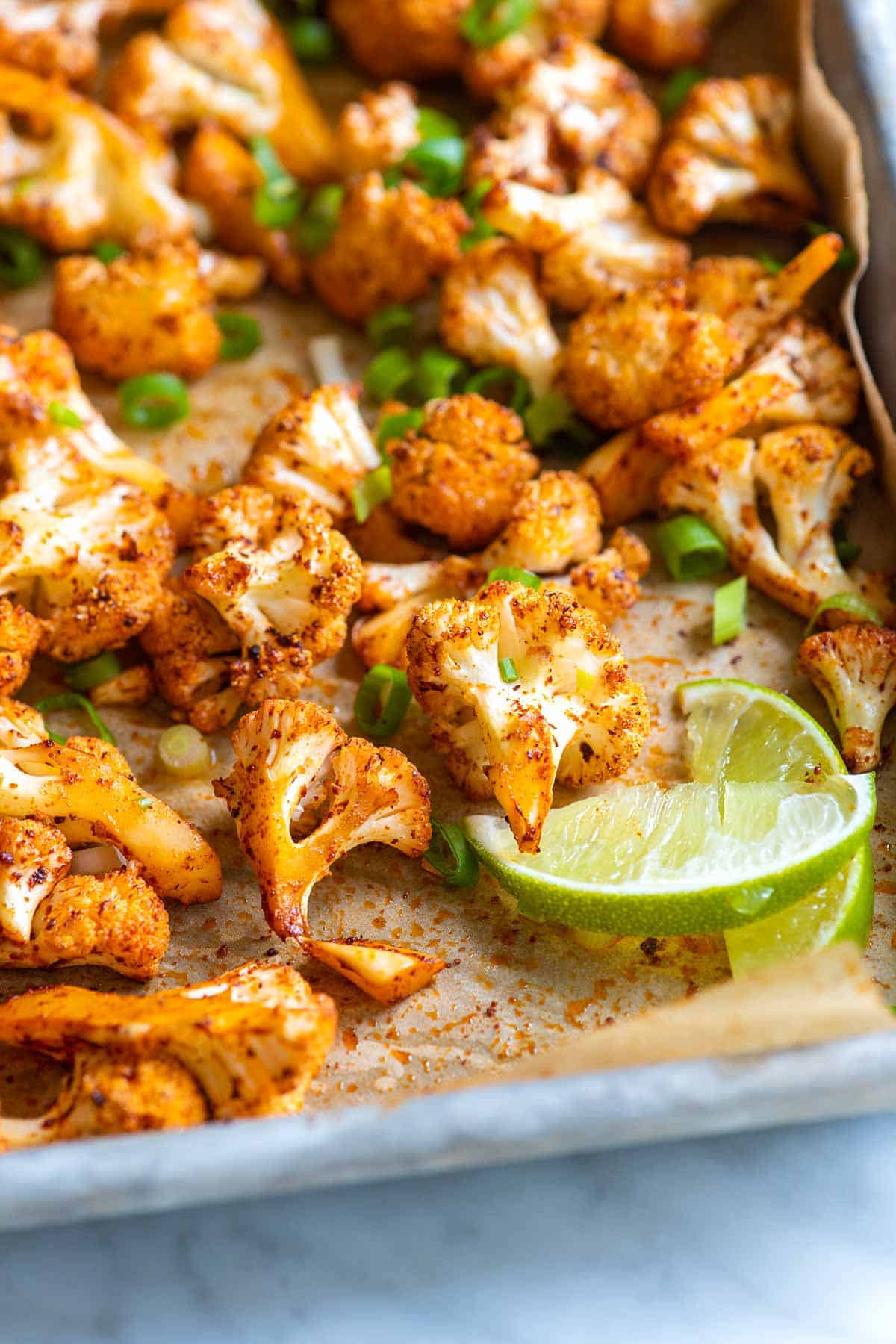 We both love all the cauliflower recipes on Inspired Taste and I'm so excited to add this one. The color of this roasted cauliflower alone will turn heads. The smell is heavenly and absolutely gets the taste buds excited. Then there is the flavor, which, thanks to some of my favorite spices is bold and a little spicy (or a lot spicy if you want it). Let's walk you through how to make it, shall we?
When it comes to shopping for cauliflower, look for creamy white, compact clusters of florets and give cauliflower that is spotted or browned a pass. We call for a medium head of cauliflower in the recipe below, but if you've found yourself a big head of cauliflower, use it, just increase the oil and spices a touch.
I find that the heads of cauliflower I buy at the grocery store are usually medium-ish in size, while the cauliflower at our local farmer's market are much larger (and tastier for that matter). Whatever cauliflower you have will work in this recipe.
Once you have a cauliflower on hand, we need to break it down into small florets. If you're hesitant in cutting cauliflower, we shared a full tutorial a few years ago showing how to buy and cut cauliflower. It's easy and won't take you long ?
For this recipe, we use our basic method for roasting cauliflower, which is also used to make our parmesan roasted cauliflower and this buffalo roasted cauliflower. Once you know the basic method, you can create multiple variations in your own kitchen. In the case of this recipe, we use bold spices like ancho chili powder and smoked paprika, but you can use your favorite spices or spice blends to make the cauliflower your own.
Our Basic Method For Roasting Cauliflower
Like with most vegetables, we prefer to roast cauliflower in a 400 to 425 degree Fahrenheit oven (200C to 220C). At this higher temperature, the cauliflower turns tender in the middle and becomes caramelized and browned on the outside.
Here are the simple steps for making perfect roasted cauliflower:
Heat the oven between 400 and 425 degrees Fahrenheit.
Toss cauliflower florets with oil, salt, and any spices. In this chili lime version, we use ancho chili powder, smoked paprika, onion powder, garlic powder, and cayenne pepper.
Spread the florets in a single layer on a baking sheet. By spreading the florets into one layer, the florets will brown instead of steam.
Roast for 20 minutes then stir. The cauliflower will need more time, but giving the florets a stir in the middle of roasting helps them to roast more evenly.
Continue to roast until tender in the middle and lightly browned on the outside. In our oven, cauliflower takes 30 to 35 minutes.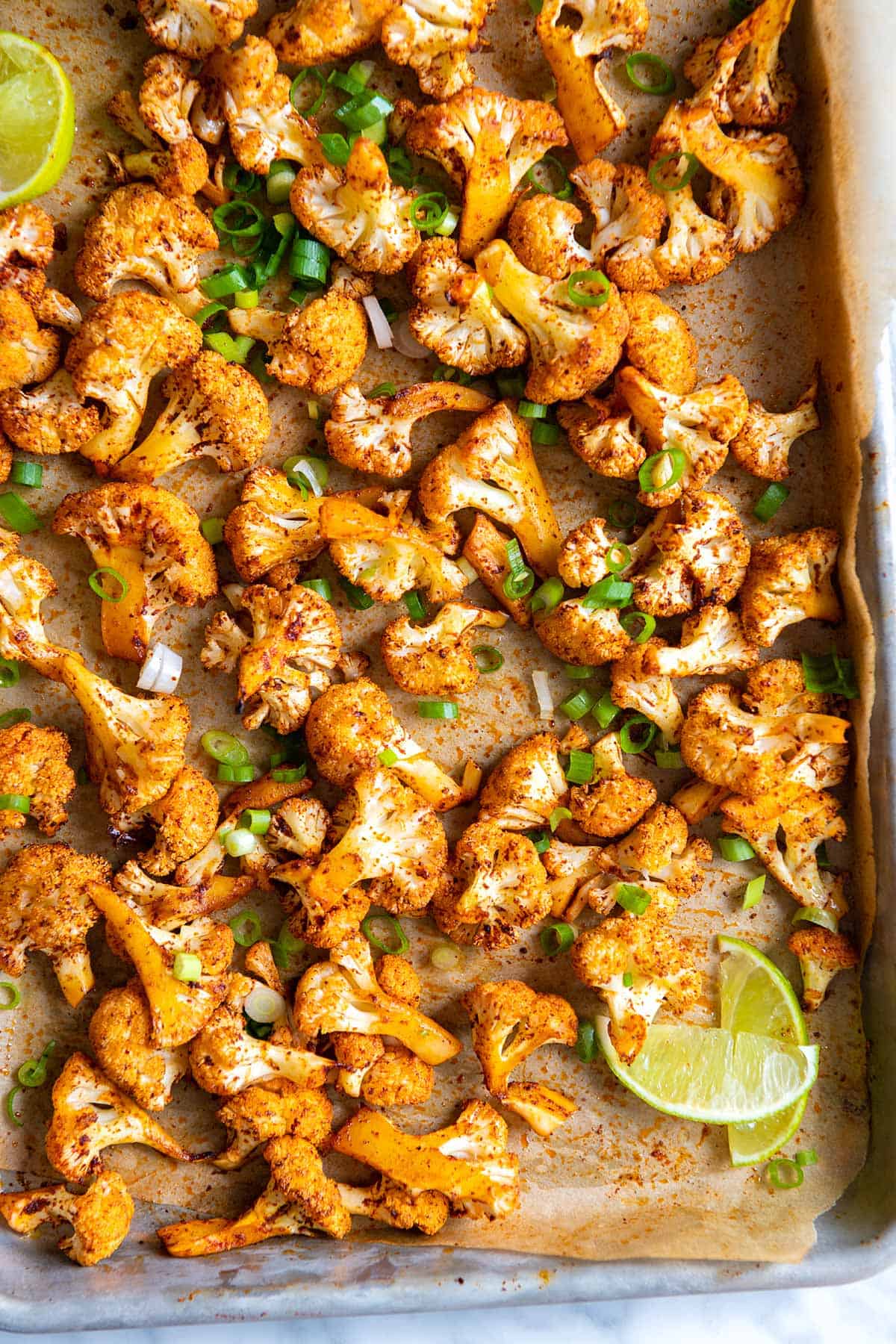 For the chili lime roasted cauliflower, we add one additional step before serving. To really pump up the flavors, we spritz the juice of a few lime wedges over the roasted cauliflower and toss in some chopped scallions. I love the pop of green the scallions adds (sometimes called green or spring onion). If you don't have any on hand, green herbs work as well. Try cilantro, parsley, chives, and even basil.
How to Serve the Cauliflower
If no one was looking, I'd eat the cauliflower straight off the pan, but I do love this added to rice bowls, tacos, salads, burritos (see our spicy roasted cauliflower burritos), and served on the side of anything that might benefit from a pop of flavor and color.
The cauliflower does last in the refrigerator for a few days. It will loose a little of its texture, but that doesn't bother me too much, not to mention, it makes an easy leftover for lunch the next day.
More Roasted Vegetable Recipes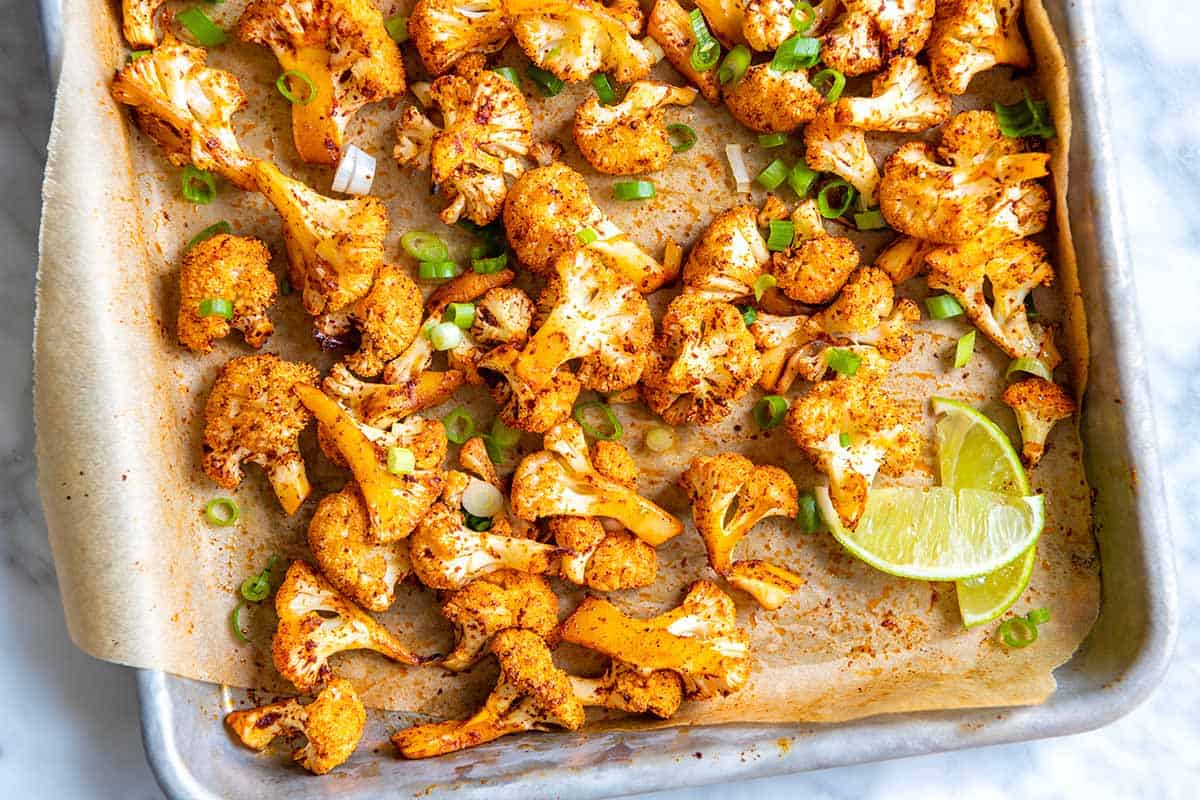 Chili Lime Roasted Cauliflower
This spicy roasted cauliflower is a quick and easy dish to make. When roasted, cauliflower tastes nutty and slightly sweet. In this spicy roasted cauliflower recipe, we toss cauliflower florets with a generous amount of ancho chili powder, smoked paprika, onion powder, garlic powder, salt, and cayenne pepper for some spice. For a spicy dish, add the full amount of cayenne, for milder palates, half the amount called for in the recipe.
Makes 2 large servings or 4 side servings
Watch Us Make the Recipe
You Will Need
1 medium head cauliflower (about 1 1/4 pounds), cut into small florets
2 tablespoons olive oil, grape seed oil or neutral flavored oil
1/4 teaspoon fine sea salt
1 teaspoon ancho chili powder or use our homemade chili powder, see notes
1 teaspoon smoked paprika
1/2 teaspoon onion powder
1/2 teaspoon garlic powder
1/8 teaspoon to 1/4 teaspoon cayenne pepper
1 scallion, ends trimmed and finely sliced
2 to 3 lime or lemon wedges
Directions
1Heat the oven to 425 degrees Fahrenheit. Line a baking sheet with parchment paper or a silicone baking mat — lining the pan is not entirely necessary, but this does help with cleanup.

2In a large bowl, toss the cauliflower florets with the oil,  salt, chili powder, smoked paprika, onion powder, garlic powder, and cayenne pepper. Add the seasoned florets to the baking sheet. Spread them out, facing as many of the flatter edges down onto the baking sheet so that they brown nicely.

3Roast until the edges are crisp and brown and the insides are tender, 20 to 35 minutes. After 20 minutes, give the cauliflower a stir to promote even browning.

4Serve tossed with the scallions and a squeeze of lime juice.
Adam and Joanne's Tips
Any chili powder will work for this recipe, but we love using ancho chili powder, which tastes sweet, fruity, and mild. We also love substituting our homemade chili powder blend, which is packed with flavor.
Smoked Paprika is made from dried and smoked pimiento peppers. It adds a deep smoky aroma and flavor. Unless noted on the packaging, it isn't typically hot (spicy) and instead is mild and a bit sweet.
Nutrition facts: The nutrition facts provided below are estimates. We have used the USDA database to calculate approximate values.
If you make this recipe, snap a photo and hashtag it #inspiredtaste — We love to see your creations on Instagram and Facebook! Find us: @inspiredtaste
Nutrition Per Serving
Serving Size
Side Portion, 1/4 of the recipe
/
Calories
103
/
Total Fat
7.6g
/
Saturated Fat
1.2g
/
Cholesterol
0mg
/
Sodium
209.8mg
/
Carbohydrate
8.7g
/
Dietary Fiber
3.5g
/
Total Sugars
3.1g
/
Protein
3.1g