Perfectly golden brown and tender cauliflower steaks topped with our favorite zesty, green chimichurri sauce. Enjoy this easy plant-based recipe as your main meal or as a side to other dishes.
Watch the Video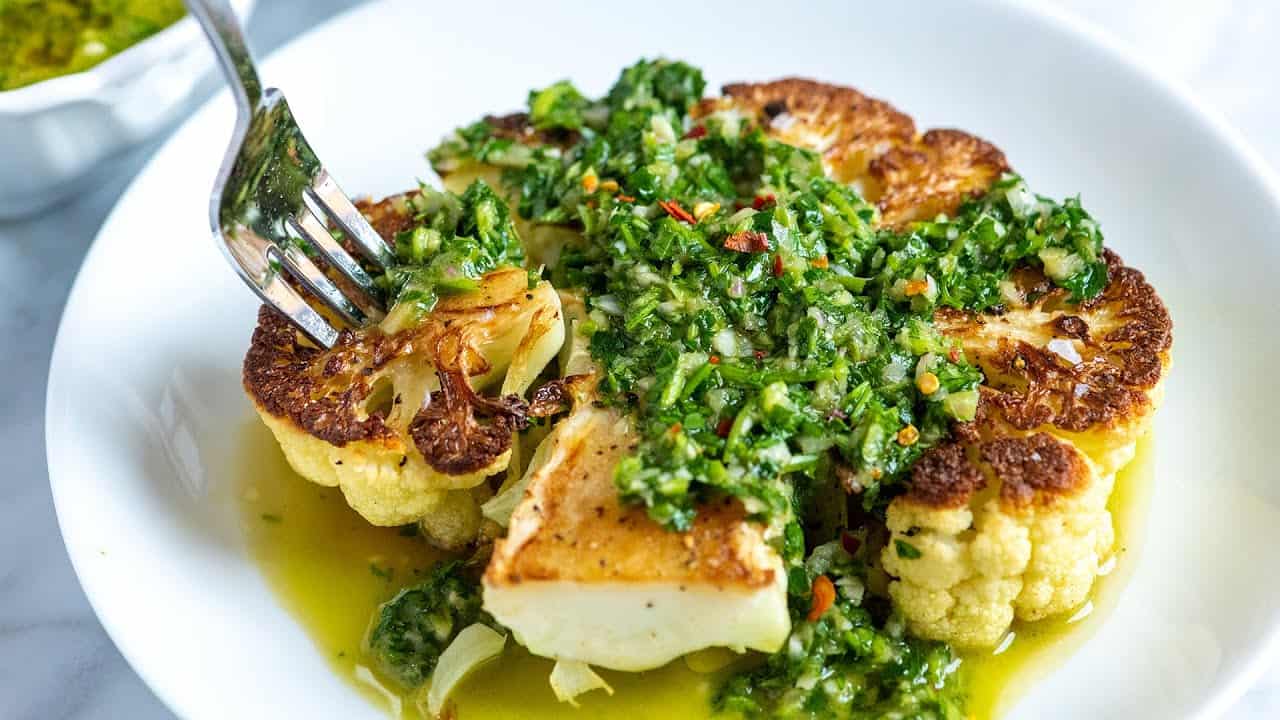 We Love Cauliflower Steaks!
We love roasted cauliflower as shown by this cheesy roasted cauliflower, this buffalo version, our favorite soup, and this roasted cauliflower with chili and lime. As much as we love all three of those recipes, these cauliflower steaks still blow our minds.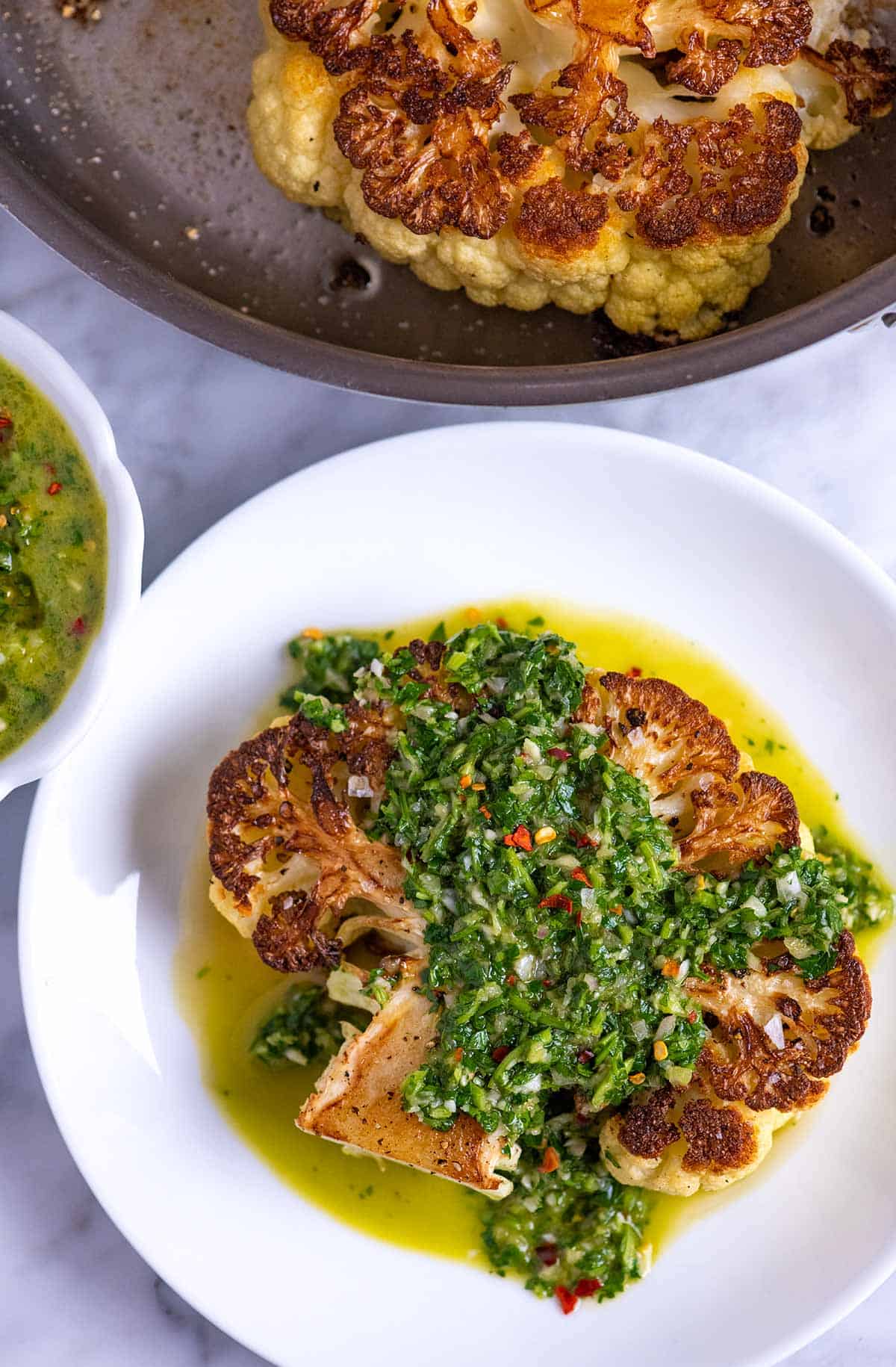 First off, since each steak is sliced so that the cauliflower lays flat, the level of caramelization and browning is amazing. I mean, just look at how golden brown they look!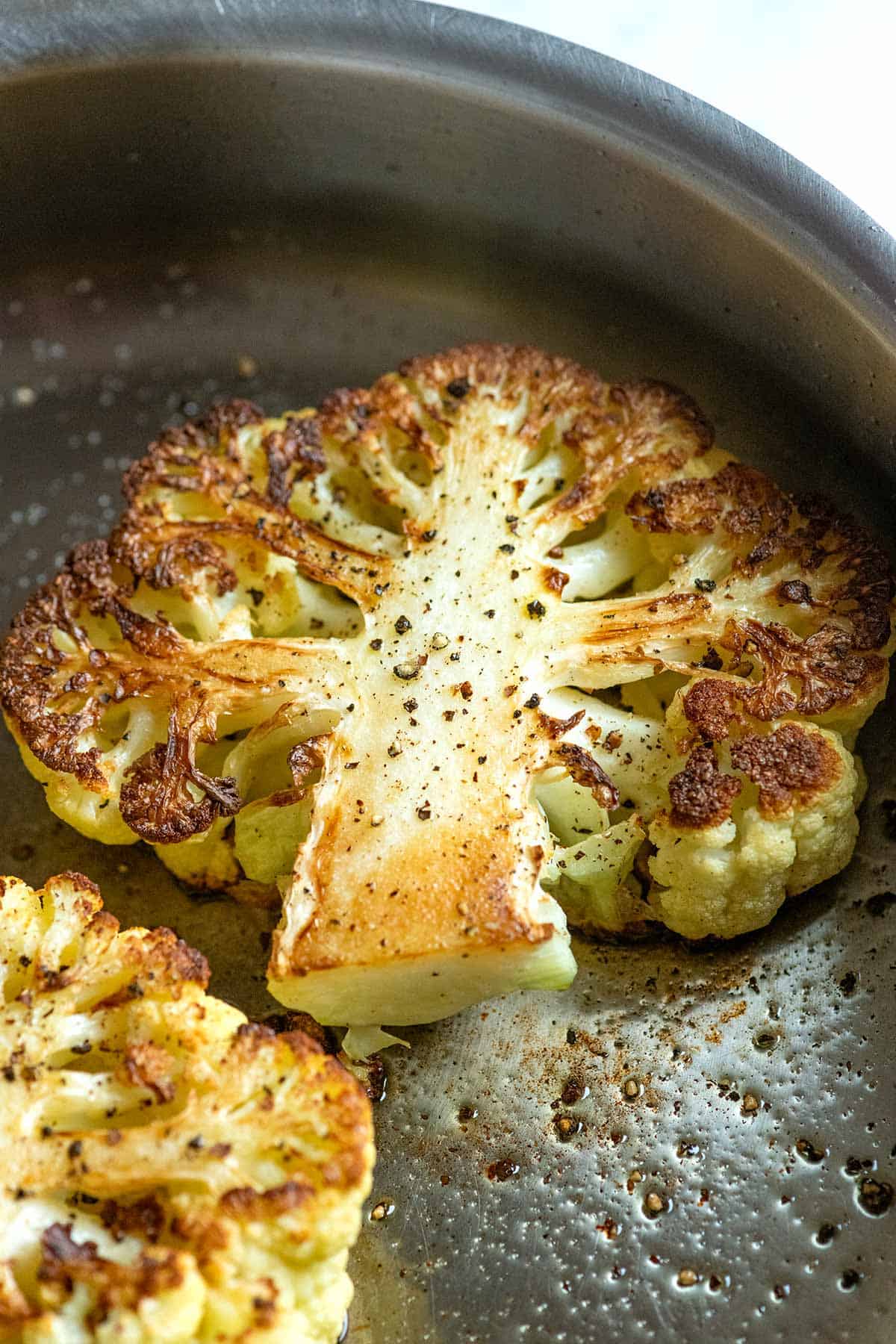 Second, the combination of toasty golden brown cauliflower and our zesty, fresh chimichurri sauce is outrageously good. Chimichurri is a simple combination of parsley, garlic, olive oil and red wine vinegar and is often found spooned on top of grilled meats, but I have to say that I'm just as happy when adding it to my cauliflower steak. It really is that good.
How to cut cauliflower in to steaks
The trick to cauliflower steaks that don't fall apart is to make sure that each steak has some of the stalk attached. You can get two thick steaks out of one medium cauliflower.
Simply slice the head of cauliflower in half through the stalk, and then trim the rounded edge of each half, leaving about 1 1/2-inch thick slices that still have the stem attached. You can see us do this in our video!
Cooking the steaks
For the best cauliflower steaks, start them in an oven-safe skillet. This means that we can get the perfect golden brown sear on both sides before finishing the steaks in the oven where they become tender.
If you don't have an oven-safe skillet, don't worry. Simply start them in a regular skillet and then transfer them to a baking sheet to finish in the oven.
How to serve them
These are hearty and really can stand alone as a main meal. I like serving them next to a salad, with quinoa or with rice (like this cilantro lime rice).
You can also serve these as a side dish — consider splitting each steak into two to make four side portions. Serve them alongside black bean burgers or a hearty salad like this black bean and quinoa salad. They are also excellent alongside shrimp or meat dishes. Try these garlic butter shrimp or this tender cooked salmon.
More plant-based recipes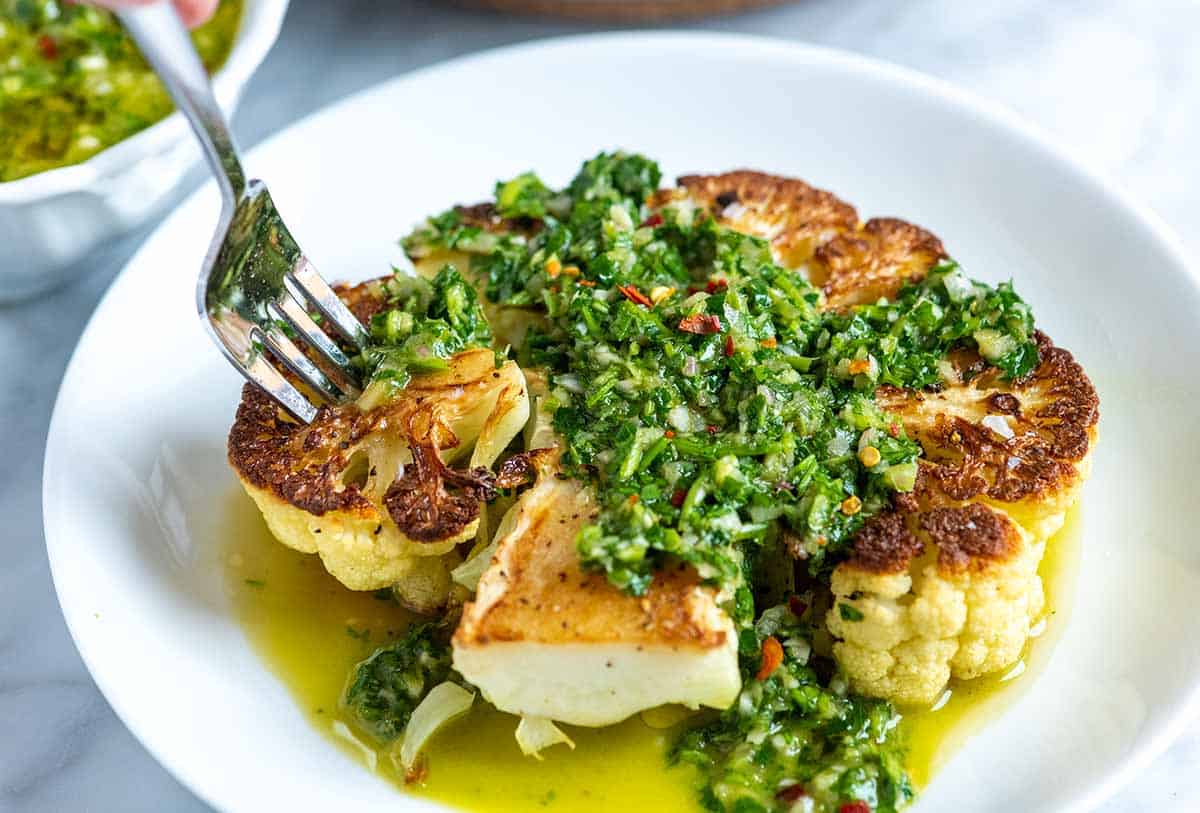 Chimichurri Cauliflower Steaks
Enjoy these cauliflower steaks with chimichurri sauce as a plant-based main dish or served as a tasty side. We cut our steaks thick, which means that one cauliflower will make two steaks. You will have unused cauliflower after cutting the steaks, but don't worry, these can be used to make cauliflower rice, mashed cauliflower or roasted alongside the steaks and saved for another meal.
The recipe for chimichurri sauce makes about 1 cup. You will have plenty left over to be used in other dishes. Take a look at the original sauce recipe for suggestions on other ways to use it.
Makes 2 servings or 4 side portions
Watch Us Make the Recipe
You Will Need
Cauliflower Steaks
1 medium head of cauliflower
2 to 3 tablespoons olive oil
Salt, to taste
4 tablespoons chimichurri sauce or more to taste, recipe below
For Chimichurri Sauce (Makes about 1 cup)
2 cups (50 grams) packed parsley leaves and tender stems
3 to 4 garlic cloves (1 tablespoon minced)
1 medium shallot
1/2 to 3/4 teaspoon fine sea salt
1/2 to 1 teaspoon crushed red pepper flakes or 1 jalapeño or fresno chili pepper, finely chopped
1/2 cup (120 ml) extra-virgin olive oil
1/3 cup (80 ml) red wine vinegar
Directions
Prepare Cauliflower

1Heat the oven to 400 degrees Fahrenheit.

2Remove the large outer leaves of the cauliflower and trim a small amount of the stem to create a flat base. Cut the cauliflower in half, from rounded top to stem.

3To make each cauliflower steak, trim the rounded edge of each cauliflower half, leaving about 1 1/2-inch thick slices that still have the stem attached (see our video for a tutorial). Save the trimmed cauliflower for another recipe like cauliflower rice, mashed cauliflower or for snacking during another meal.

4Heat the olive oil in a wide oven-safe saucepan over medium heat. Place the cauliflower steaks into the hot oil and cook until deep golden brown, about 5 minutes. It helps to occasionally move the steaks so that the oil gets underneath. Carefully flip the steaks, and then cook another 3 to 5 minutes or until the second side is well browned. As the second side browns, season the steaks with salt.

5(If you do not have an oven-safe skillet, you can brown the steaks in a regular skillet, and then carefully transfer them to a baking sheet lined with parchment paper or a silicone baking mat.)

6Slide the oven-safe pan into the oven and roast the steaks until the stems are tender and can be pierced with a fork, 8 to 10 minutes.

7Serve cauliflower steaks with a generous spoonful of chimichurri sauce on top. For side portions, slice each steak in half and then serve.
Make Sauce

1Make the sauce by hand: Mince the garlic and shallot, and then add to a medium bowl. Finely chop the parsley then add to the bowl along with the salt, red pepper flakes, olive oil and the red wine vinegar. Stir then taste taste and season with more salt or red pepper flakes if needed.

2Make the sauce in a food processor (or blender): Add garlic and shallots to the bowl of a food processor (or blender), and then pulse until minced. Add the parsley, salt and red pepper flakes. Pulse until the parsley is chopped small. Scrape the sides, and then pour in the olive oil and red wine vinegar. Pulse a few more times until the sauce comes together. Taste and season with more salt or red pepper flakes if needed.

3Storing: The sauce is excellent the day you make it, but it will last a few days in your refrigerator (you just might notice the parsley's green dulls slightly).
Adam and Joanne's Tips
For the chimichurri, Once you have the base recipe, you can play around with it depending on what ingredients you have on hand. Try switching parsley for cilantro, or use a combination of both herbs. A little fresh mint or oregano is also a nice addition.
Nutrition Facts: The nutrition facts provided below are estimates. We have used the USDA database to calculate approximate values.
If you make this recipe, snap a photo and hashtag it #inspiredtaste — We love to see your creations on Instagram and Facebook! Find us: @inspiredtaste
Nutrition Per Serving
Calories
325
/
Total Fat
28.8g
/
Saturated Fat
4.4g
/
Cholesterol
0mg
/
Sodium
678.9mg
/
Carbohydrate
16.6g
/
Dietary Fiber
6.9g
/
Total Sugars
5.6g
/
Protein
6.6g