Vegetable packed and easy veggie burritos with spicy cauliflower, onions, peppers, rice, cheese, and beans. Easy to make and freezer friendly! Jump to the Veggie Burritos Recipe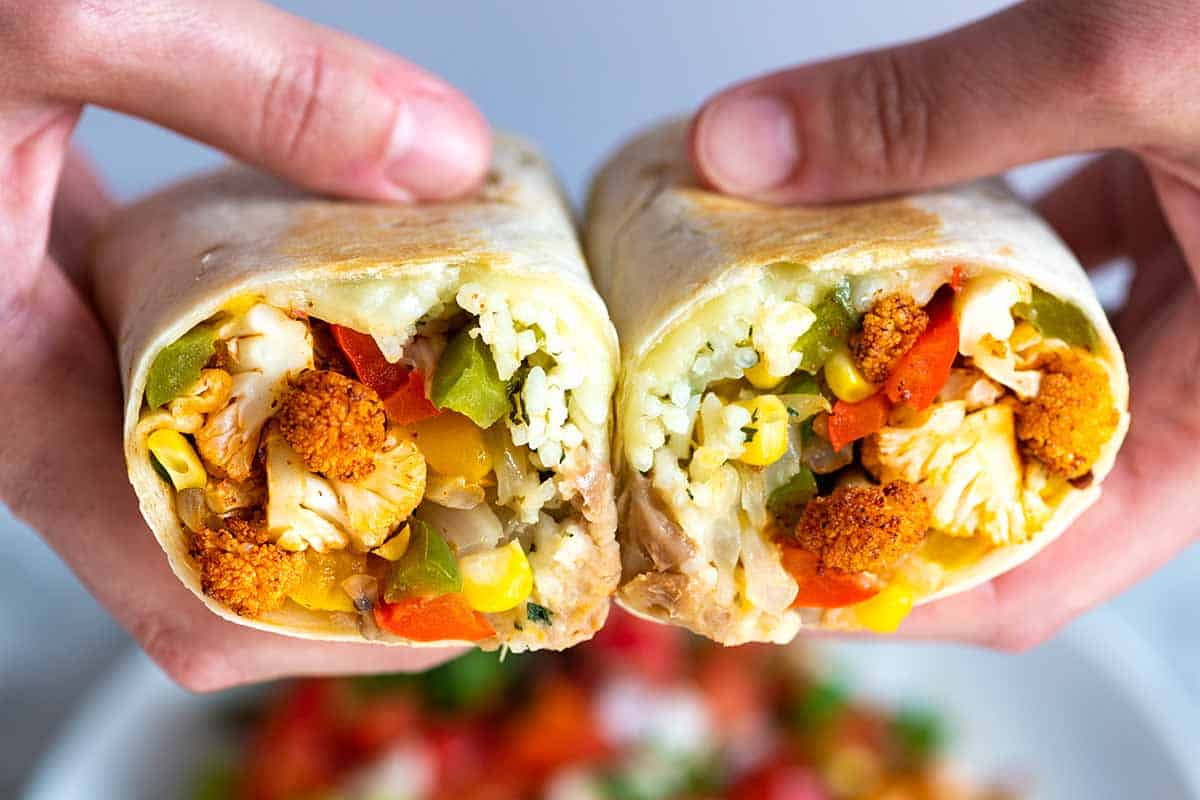 How to Make Delicious, Freezer-Friendly Veggie Burritos
A few days ago, we shared our new favorite way to cook cauliflower: Chili Lime Roasted Cauliflower. The recipe combines perfectly roasted and browned cauliflower, ultra-flavorful spices, and fresh lime juice for an almost addictive cauliflower dish. Since sharing it with you, we've been experimenting with ways to serve it, which brings us to these amazing veggie burritos! By the way, if you love this recipe, you may also love these vegetarian roasted veggie tacos.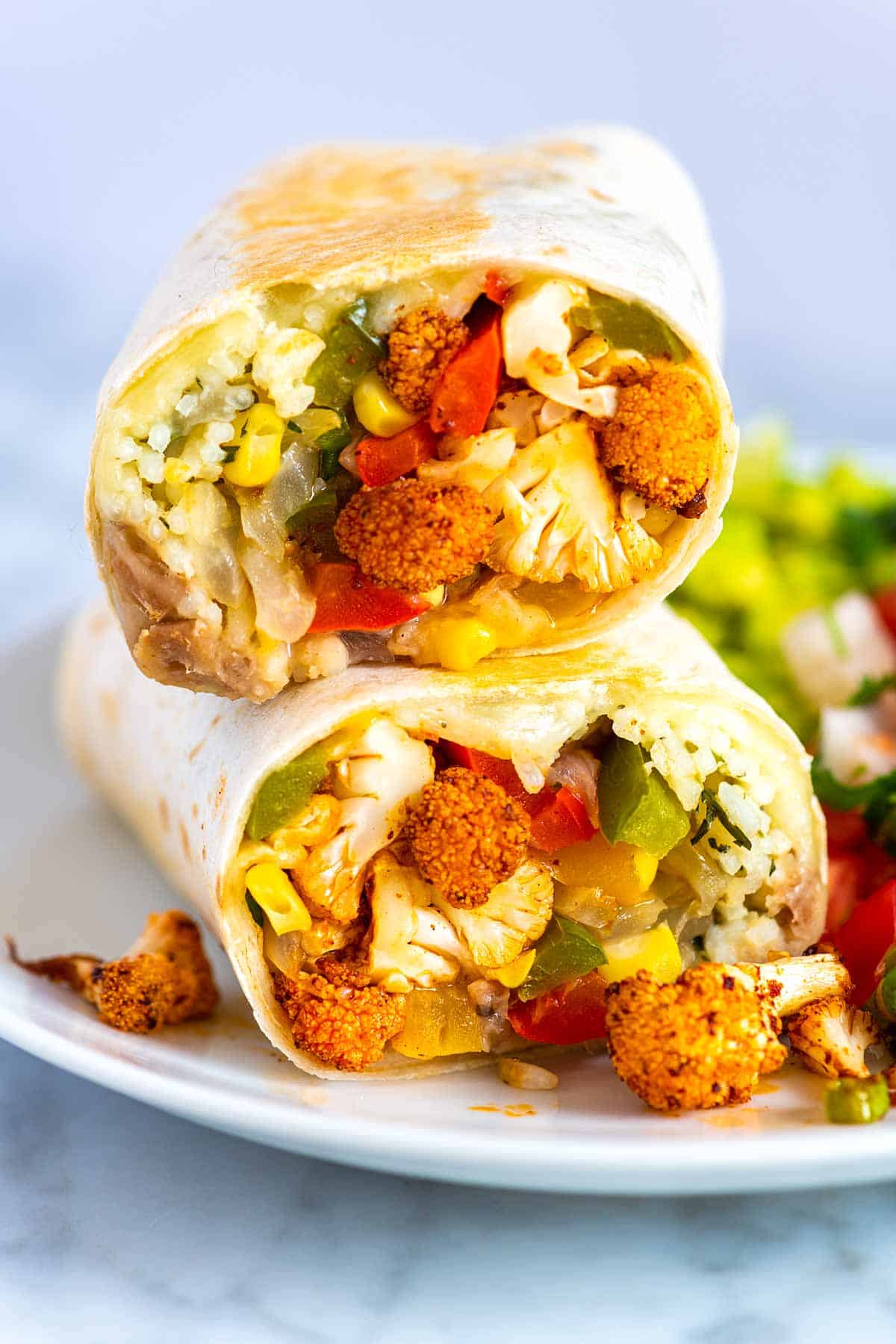 Packed inside these burritos, you will find the following:
Spicy Roasted Cauliflower — Since these burritos are meatless, we love adding an extra vegetable for heartiness (although, the burritos are still quite delicious without it).
Fajita veggies — Onions and peppers are a must in these veggie burritos. When we have it in the kitchen, we also add corn. I've shared how to cook them both ways in the recipe below.
Rice — Any cooked rice will work, but for extra flavor, I love adding this homemade cilantro lime rice.
Beans — We love beans around here and have a couple recipes on the blog. My favorite beans for this burrito are these creamy refried beans, but these coconut black beans would also be amazing. Opening a can of pinto or black beans and warming them up with a little oil and garlic is also an easy option.
Melted cheese (optional) — If you are dairy-free or vegan, you can leave this out, but I do love adding just a small handful to the tortilla before anything else, and then heating it in a skillet so that it melts a little. Any cheese works, but I usually stick with Monterey Jack or a blend of melty Cheddar cheeses. For a non-dairy option, try my favorite vegan queso that's made with cashews (I just love it!).
Since we often freeze these burritos, we don't add any lettuce, tomato, sour cream or other toppings like avocado. If you are eating them straight away, feel free to add any extras you love. Or, if you are freezing them, once they are thawed and ready to eat, simply add your favorite salsas and toppings to the top or side of the burrito. Here are a few suggestions:
How to Fold a Burrito
The first time I made burritos at home, I needed to google how to fold them so that they don't fall apart on the first bite ? Here's what seems to work best:
Lay the tortilla — we like 10-inch tortillas or larger — down into a warm skillet and heat until starting to warm, but before it toasts.
Flip the tortilla and sprinkle some cheese on top.
When the cheese is mostly melted, transfer the tortilla to a cutting board.
Layer the burrito filling down the center of the tortilla, lengthwise. Leave 3 to 4 inches of space around the edges.
Fold the sides of the tortillas over the filling, and then tightly roll the end closest to you up and around the filling, pushing any bits that fall out back into the middle of the burrito.
Place seam-side down and enjoy, wrap with foil if you plan to freeze them or if you are eating them straight away, transfer to a warm skillet to toast the outside of the tortilla (my favorite).
For homemade tortillas, we highly recommend that you take a look at our favorite soft tortillas recipe!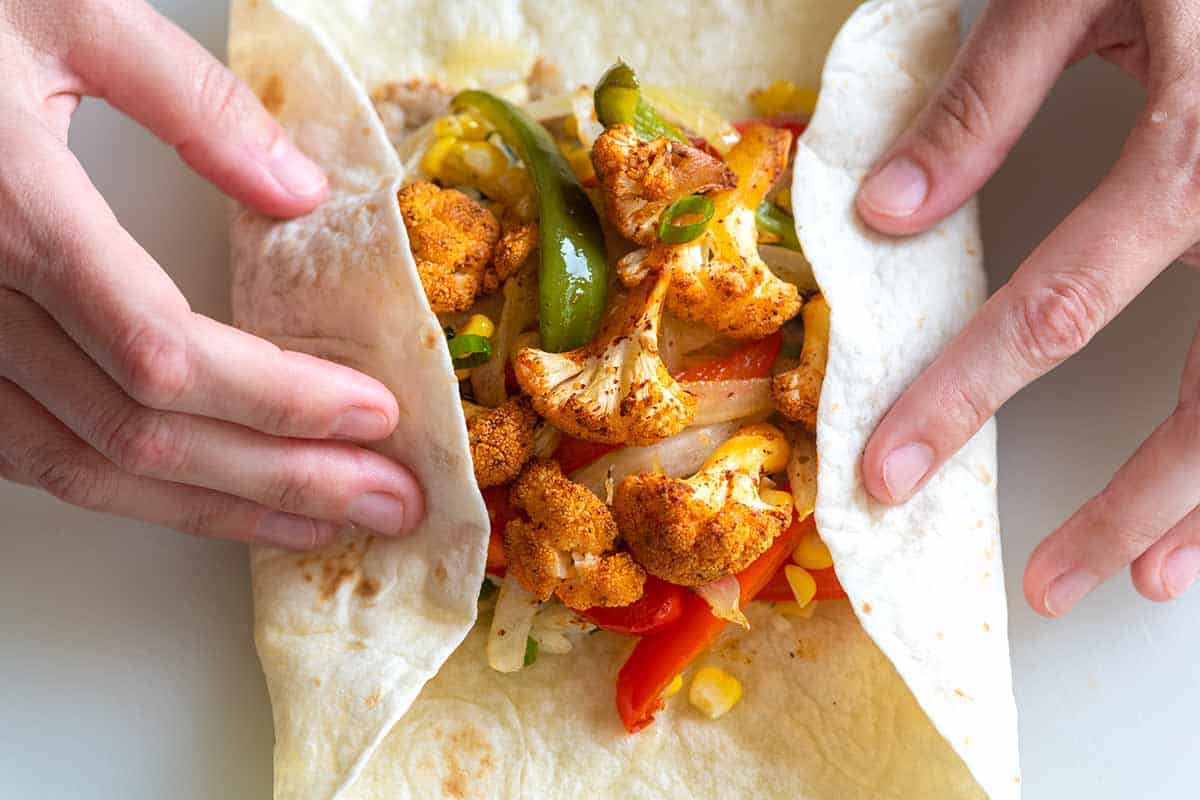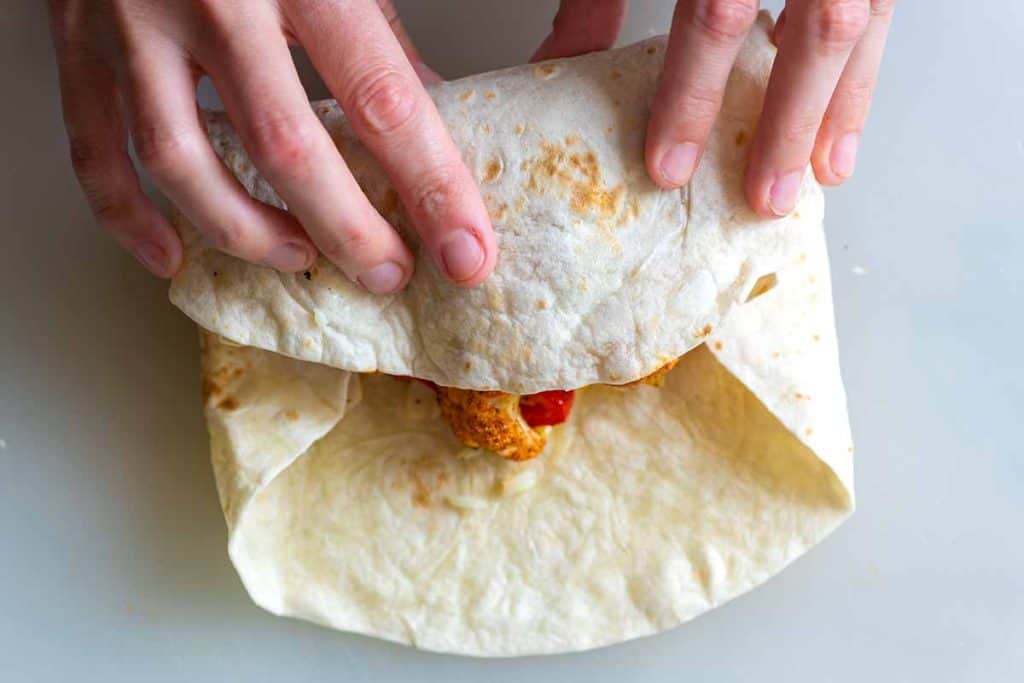 Spicy Roasted Cauliflower Veggie Burritos
These veggie burritos are easy and taste incredible. We love these with the addition of spicy cauliflower, which adds some extra heartiness, but the burritos are still very tasty with the cauliflower left out. The cauliflower takes about 30 to 40 minutes to make and can be made in advance.
We recommend using two baking sheets — one for the cauliflower and the other for the onions, peppers, and corn. The cauliflower takes a few more minutes to roast than the other vegetables. The vegetables can be made up to four days in advance.
Watch Us Make the Recipe
You Will Need
For the Burritos
4 large flour tortillas (10-inches or larger in diameter)
1 cup (4 ounces) shredded Monterey Jack cheese
1 cup cooked rice, try this cilantro lime rice recipe
1 cup cooked pinto or black beans or try this homemade refried beans recipe
Optional add-ins or toppings: Sour cream, avocado or guacamole, shredded cabbage or lettuce, corn salsa, diced tomatoes or pico de gallo, hot sauce (more suggestions are in the article above)
For the Veggies
1 medium head cauliflower (about 10 ounces), cut into small florets
2 medium bell peppers, any color, seeds removed and sliced into thin strips
1 medium onion, sliced into half moons
3 tablespoons olive oil, grape seed oil or neutral flavored oil
3/4 cup corn kernels, fresh or frozen, optional
1 1/2 teaspoons ancho chili powder or use our homemade chili powder, see notes
1 1/2 teaspoons smoked paprika
1 teaspoon onion powder
1 teaspoon garlic powder
1/8 teaspoon to 1/4 teaspoon cayenne pepper, depending on how spicy you want the veggies
1/2 teaspoon fine sea salt
2 lime or lemon wedges
1 scallion, chopped, optional
Directions
Make Vegetable Spice Blend

1In a small bowl, combine the ancho chili powder, smoked paprika, onion powder, garlic powder, cayenne pepper, and 1/2 teaspoon fine sea salt. Stir until well blended.
Prepare Vegetables

1Heat the oven to 425 degrees Fahrenheit. Line two baking sheets with parchment paper, foil or a silicone baking mat. It is unlikely that all the veggies will fit on one baking sheet.

2In a medium bowl, toss the cauliflower florets with 2 tablespoons of the oil and two thirds of the spice mixture. Spread the cauliflower out onto the first baking sheet, facing as many of the flatter edges down so that they brown nicely.

3Use the same bowl that was used for the cauliflower and toss the onions and peppers with 1 tablespoon of oil and the remaining spice mixture.

4Add the onions and peppers to the second baking sheet, spacing them out so that they brown nicely.

5Roast the cauliflower until the edges are crisp and brown and the insides are tender, 20 to 35 minutes. Check after 15 minutes and give the cauliflower a stir to promote even browning. When done, squeeze a wedge or two of lime juice over the cauliflower and sprinkle the scallions on top.

6Roast the peppers and onions until tender and the edges begin to brown, 20 to 25 minutes. About 10 minutes before the vegetables are done, stir in the corn, if using.

7Use the cooked vegetables straight away or store in an airtight container in the fridge up to 4 days.
Build Burritos

1Heat a wide skillet over medium-low heat. When warm, place one tortilla down into the skillet. When the first side is warmed, but not toasted, flip the tortilla. Place a 1/4 cup of the cheese down into the center of the tortilla and spread into a thin layer. When the second side of the tortilla is warmed and the cheese is starting to melt, transfer the tortilla to a cutting board. Repeat with remaining tortillas.

2Spoon 1/4 cup of the rice, 1/4 cup of the beans, a spoonful of the cooked peppers, onions, and corn, and a spoonful of the spicy roasted cauliflower down the center of each warmed tortilla.

3Fold the sides of the tortillas over the filling, and then tightly roll the end closest to you up and around the filling, pushing any bits that fall out back into the middle of the burrito. Place the burrito seam-side down.
Frozen (Make Ahead) Burritos

1Tightly wrap each burrito individually in foil, and then place into a resealable freezer bag or container. Freeze up to 3 months.

2To reheat frozen burritos, unwrap the burrito, place onto a microwavable plate, cover with a paper towel and microwave for two minutes, flip and microwave another 2 minutes or until the center is hot. Enjoy immediately or add a crunchy exterior by following the directions for toasted burritos below.
Toasted Burritos

1Heat a medium skillet over medium heat. Place burritos seam-side down into the hot pan and toast until the underside is lightly browned and crisp, 20 to 60 seconds. Rotate the burrito and repeat on all sides. Depending on how large your skillet is, you may need to do this in batches.
Adam and Joanne's Tips
You might have some vegetables leftover. Store them in the refrigerator up to 4 days. We add them to eggs in the morning or on top of salads for lunch.
Nutrition Facts: The nutrition facts provided below are estimates. We have used the USDA database to calculate approximate values. Nutrition provided is for 1 whole burrito, which Adam and I usually split into two servings.
If you make this recipe, snap a photo and hashtag it #inspiredtaste — We love to see your creations on Instagram and Facebook! Find us: @inspiredtaste
Nutrition Per Serving
Serving Size
1 burrito
/
Calories
531
/
Total Fat
21.9g
/
Saturated Fat
13.1g
/
Cholesterol
25.3mg
/
Sodium
1129mg
/
Carbohydrate
67.4g
/
Dietary Fiber
6.8g
/
Total Sugars
7g
/
Protein
19.4g