This Greek salad is simple to make and filled with some of our all time favorite ingredients. Cucumbers, tomato, onion, olives and feta come together for a seriously good salad.
Watch the Video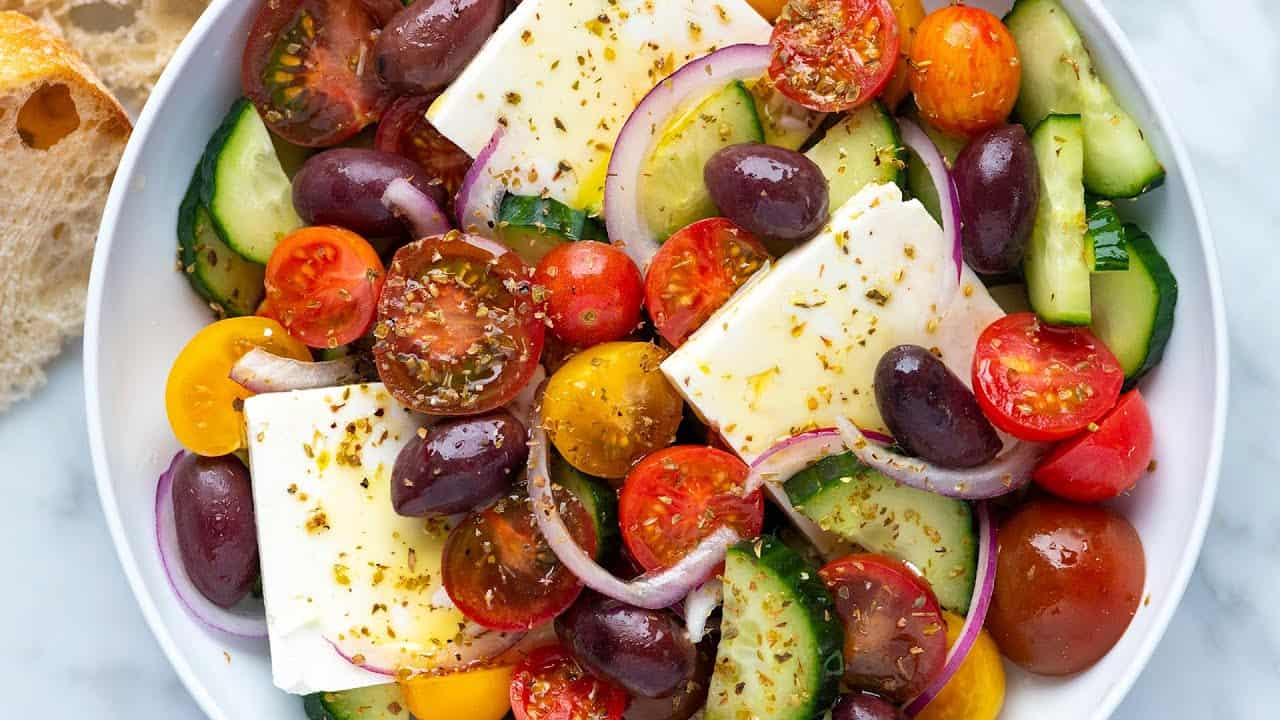 Related: We love this homemade Caesar salad!
Greek Salad Ingredients
Like most of our favorite salads, this Greek salad recipe only calls for simple, fresh ingredients. Here's the list for you, the full recipe is found in the recipe area below.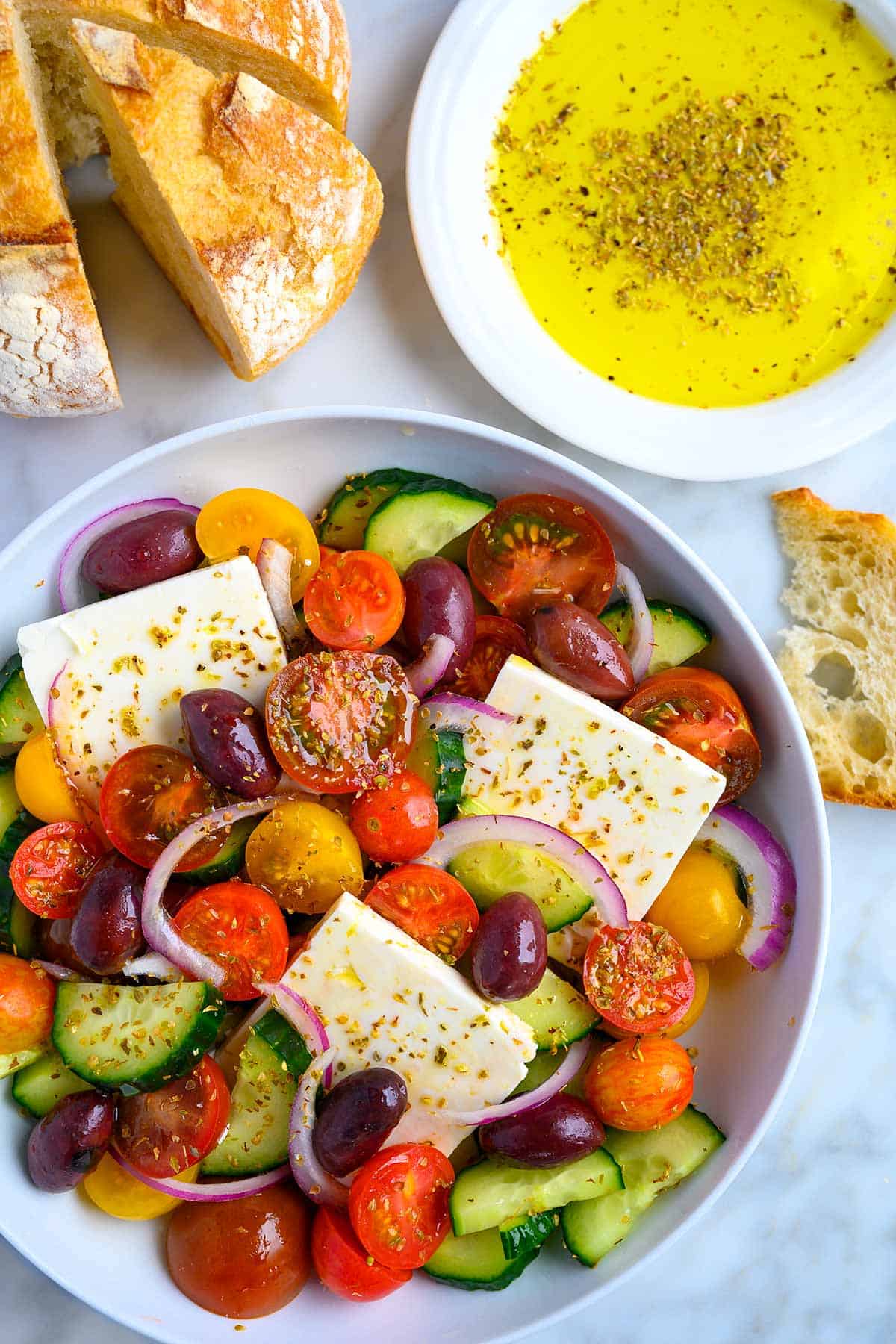 Cucumbers — Use fresh, crisp cucumbers. If the skins are on the thicker side, consider peeling some or all of it away. You can use just about any cucumber for this salad. In the photos and video, we've used a hothouse cucumber, which has a thin skin and very few seeds.
Tomatoes — Just like the cucumbers, you can use any type of fresh tomato you have access to. Simply slice or dice them into bite-size pieces.
Onion — We like to use red or sweet onion for Greek salad. If you are sensitive to the raw bite of onion, take our advice in the recipe and video for de-flaming the onions. By adding the sliced onions to a bath of cold water for a few minutes, draining and then rinsing, they are a little less fiery, but still have all the crunch and sweetness of raw onion.
Olives — In an authentic Greek salad, you'll likely see Kalamata olives added with the pits still inside. If you are worried about someone biting into an olive pit, feel free to use pitted olives instead.
Feta Cheese — It's the cheese that really brings this salad together for me. I love adding big pieces of feta to the salad and try to buy the best feta I can find (which is always sold in blocks, not crumbles).
Bell Pepper — While we didn't add them in the salad photographed, green bell peppers are pretty common in Greek salad so if you have them, slice them up and add them.
Oregano, Salt, Pepper, Olive Oil & Vinegar — We don't pre-make a dressing for this easy Greek salad and instead add everything to taste just before serving. You can even do this right at the table. The only thing I do add ahead of time is the dried seasonings (salt, pepper and oregano). By seasoning the veggies at least 5 minutes before serving, they start to release their own tasty juices, which eventually mingles with the vinegar and olive oil when they are added. For a different spin, take a look at our Greek salad with creamy yogurt dressing.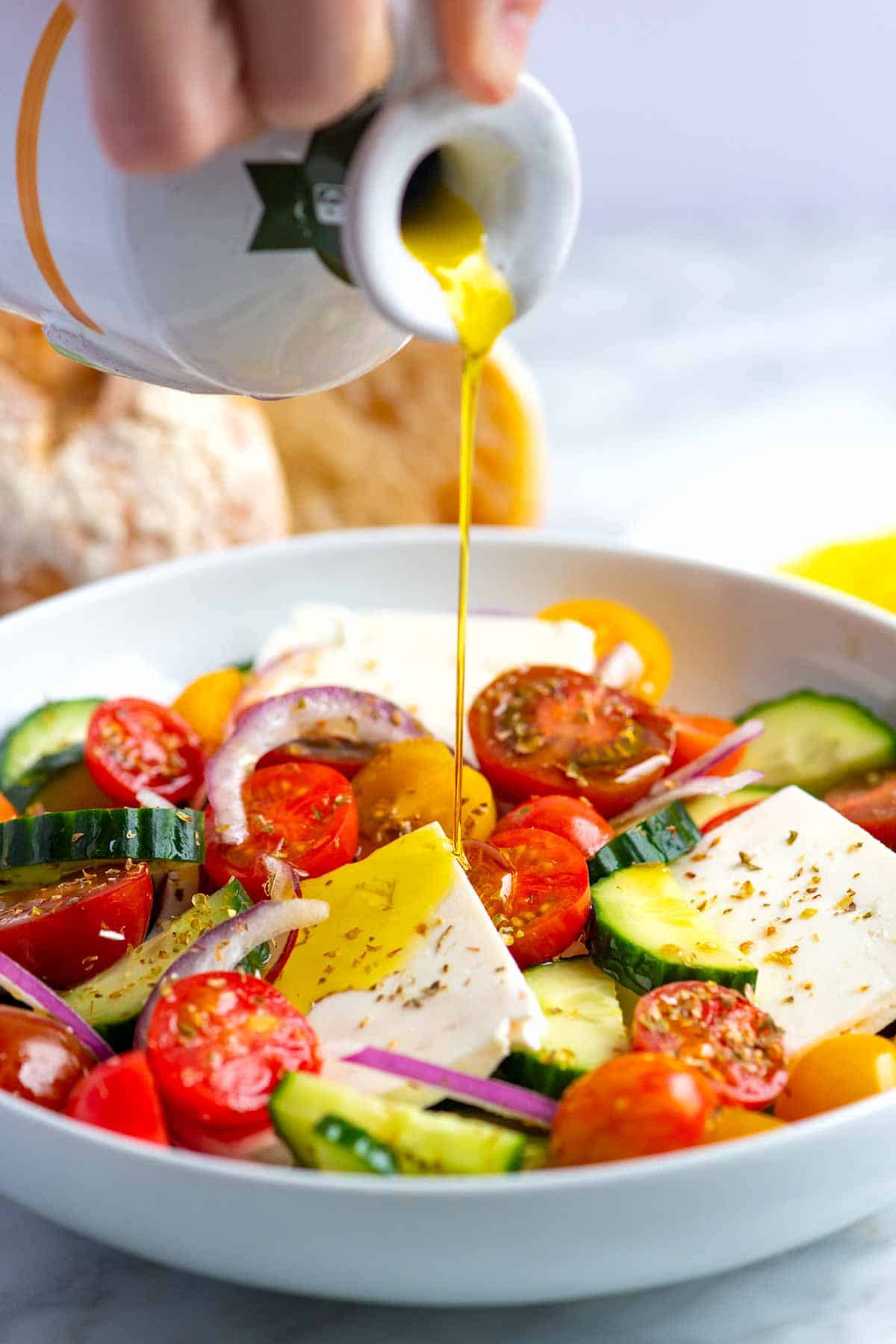 More: If you love Greek salads, like we do, take a look at our Briny Greek Pasta Salad. It has many of the ingredients you see here.
How to make the best Greek salad
Greek salad is one of the quickest, simplest salads you can make and we love it for it. Simply chop or slice the freshest cucumber, tomatoes, and onion you can find, and then add to a bowl with big hunks of feta cheese, olives, salt, oregano, pepper, a splash of red wine vinegar, and a drizzle of really good olive oil. Easy!
More easy salads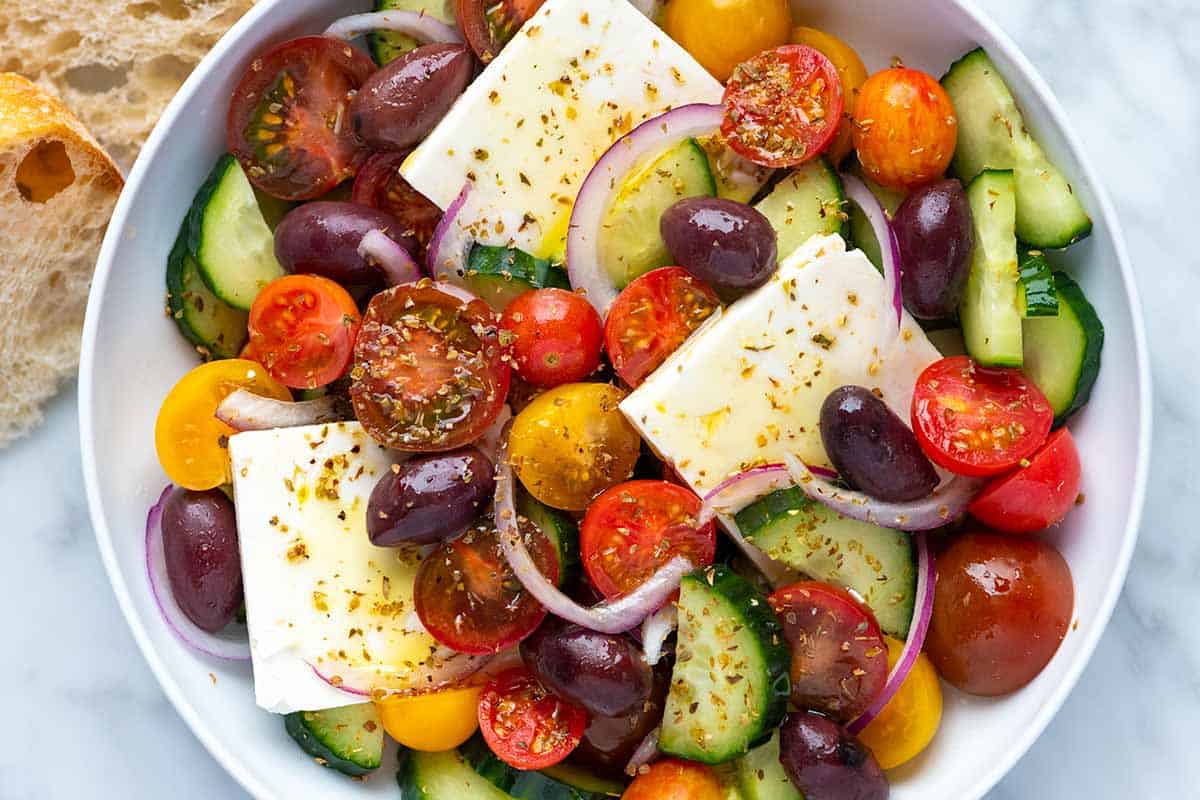 Our Best Greek Salad
Greek salad is simple to make and filled with some of our all time favorite ingredients. Cucumbers, tomato, onion, olives and feta come together for a seriously good salad. For the best Greek salad, use the freshest ingredients you can find.
Makes 3 to 4 small servings
Watch Us Make the Recipe
You Will Need
8 ounces ripe tomatoes, cut into bite-sized pieces or sliced
1/2 large (6 ounces) English or hothouse cucumber, sliced into half moons
1/2 small (2 ounces) red onion, thinly sliced
1 medium green bell pepper, sliced, optional
3/4 cup (4 ounces) Kalamata olives
2 tablespoons red wine vinegar, plus more to taste
3 tablespoons olive oil, plus more to taste
3/4 teaspoon dried oregano, plus more for serving
3 to 4 ounces feta cheese, cut into generous slices
Salt and fresh ground black pepper
Directions
1Optional: De-flame the onions by slicing, and then adding to a bowl filled with cold water. Set aside for 10 minutes, drain, and then rinse. This tones down the raw bite of the onions, while keeping them crisp.

2Combine the tomatoes, cucumber, red onion, bell pepper, olives, oregano, 1/4 teaspoon of fine sea salt, and a generous amount of fresh ground black pepper in a large salad bowl. Toss well, and then set aside for five minutes.

3Toss the salad once more and drizzle over the red wine vinegar and olive oil. Nestle the feta into the top of the salad, add an extra sprinkle of oregano on top and serve.
Adam and Joanne's Tips
Nutrition Per Serving
Serving Size
1/4 of the recipe
/
Calories
226
/
Total Fat
19.8g
/
Saturated Fat
6.2g
/
Cholesterol
25.1mg
/
Sodium
617.8mg
/
Total Carbohydrate
9.3g
/
Dietary Fiber
2.7g
/
Total Sugars
4.6g
/
Protein
5.4g