Tzatziki is a creamy, delicious, and simple sauce made with cucumber, yogurt, and fresh herbs. It might be a bit tricky to say, but it's very simple to make. Serve tzatziki sauce with almost everything.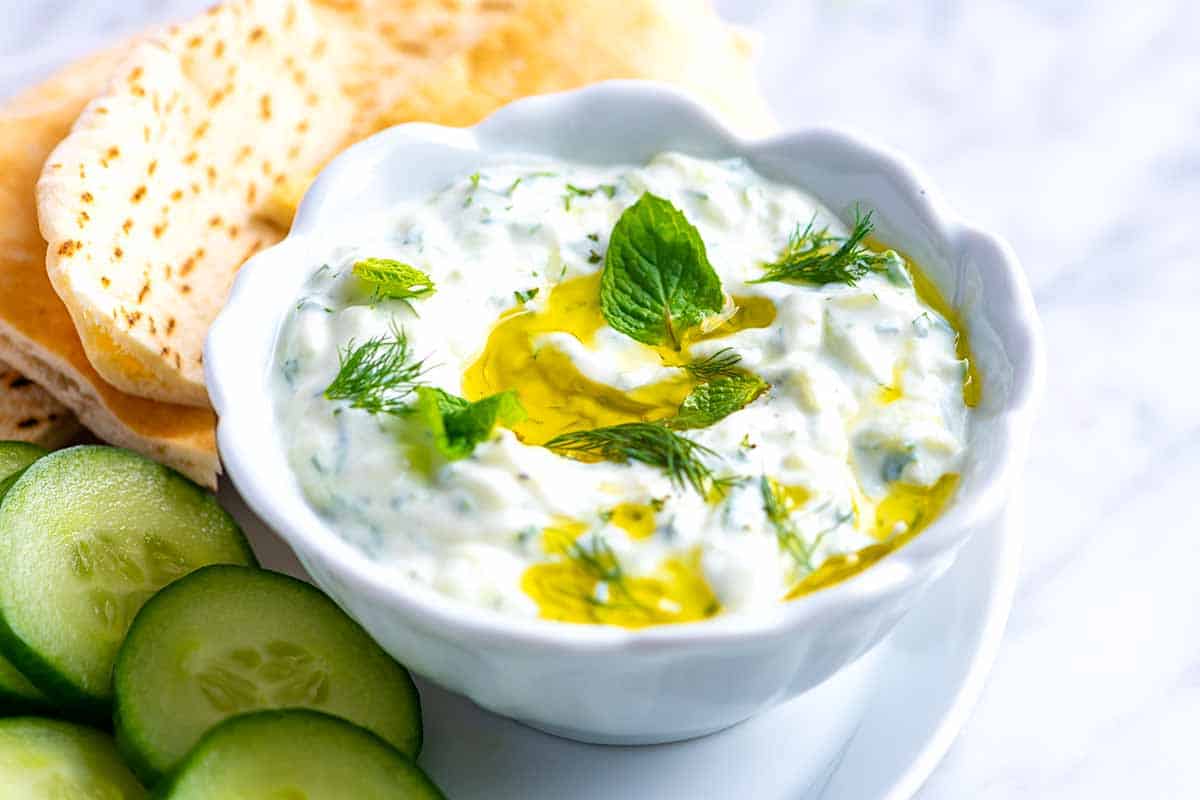 What is tzatziki sauce?
Tzatziki (pronounced tsah-see-key) is a creamy Mediterranean sauce made with yogurt, cucumber, fresh herbs (like mint or dill), garlic, fresh lemon juice, and salt. It's served chilled as a sauce, spread, and as a dip. We've shared a version of tzatziki before, but that version had a few more ingredients including feta cheese. In fact, in we love tzatziki so much, we created a cucumber salad inspired by it.
How do you make homemade tzatziki?
Tzatziki is very simple to make. You don't need a lot of time and it lasts in the refrigerator for a few days. Let me walk you through our method for making tzatziki sauce:
Grate a medium cucumber, and then lightly salt it. I prefer the seedless variety that's often sold as "English" or "hothouse." The smaller Persian cucumbers are also excellent. The salt helps to season and bump up the "cucumbery" flavor of the cucumber as well as bring out excess water, which would inevitably make our sauce too runny.
Wring excess water out of the grated cucumber. We want the flavor of cucumber in our tzatziki, but don't want all the water that comes with it since that would water down our sauce. So to get rid of the water, we place the cucumber into a clean dish towel and squeeze it dry. (The water that's squeezed out is delicious so don't throw it away. I actually like to drink it, but you can also add it to soups, grains or salad dressings.)
Stir everything together and let sit for at least 10 minutes. By everything, I mean yogurt — we love thick plain Greek yogurt — garlic, fresh herbs, lemon juice, olive oil, salt, and pepper. Most often, you'll see tzatziki with mint, dill or a combination of both.
I'm a firm believer in the idea that you can never have too many fresh herbs, so when I have them, I add a generous amount of both. Use our recipe below as a guide — a little more fresh herbs never hurts!
Letting the sauce sit for 10 minutes or so gives time for all the flavors to mingle and meld (especially the garlic).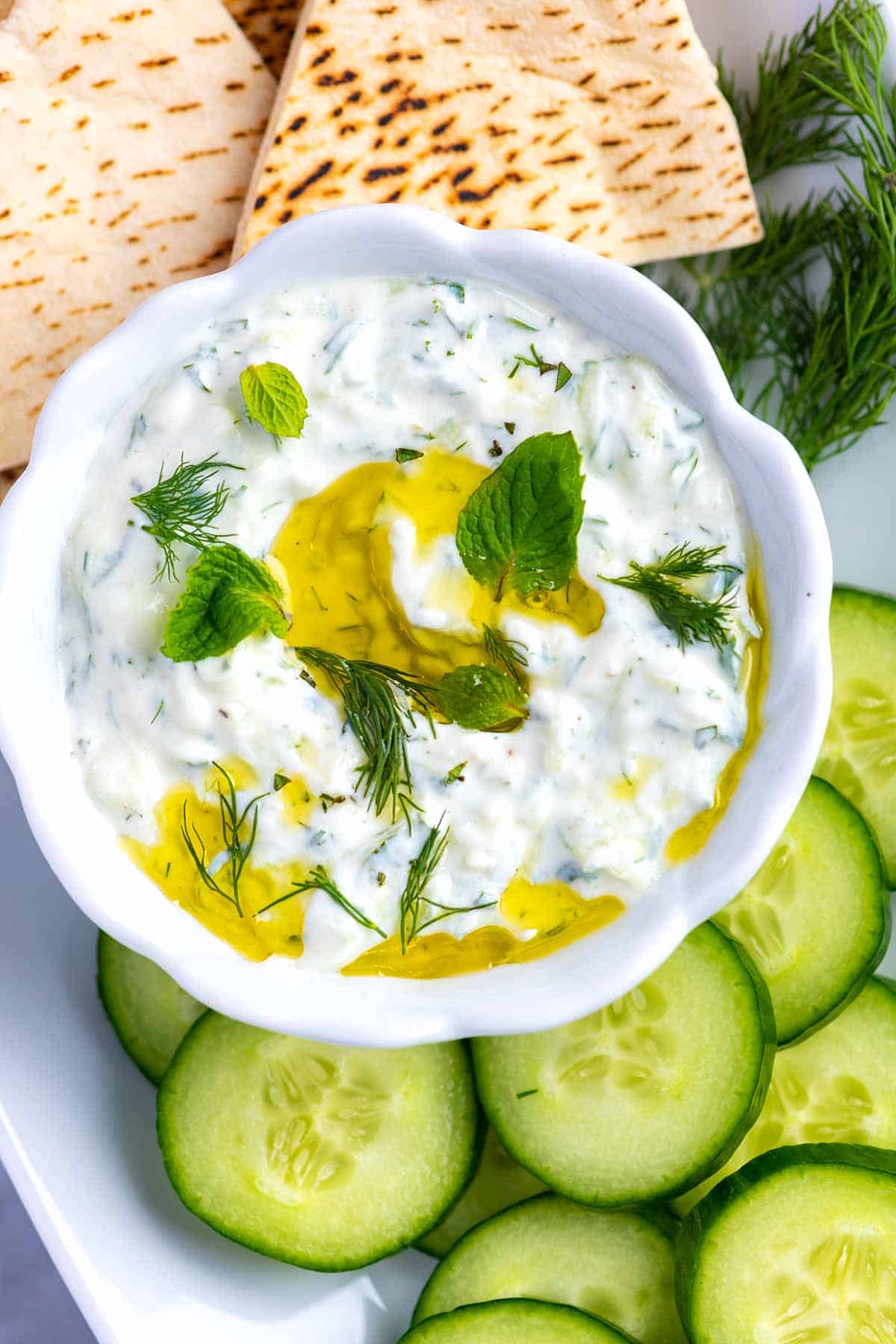 What to eat and serve with tzatziki
Serve tzatziki as a sauce or as a dip. Here are 8 of my favorite ways to enjoy it (although I bet you can come up with more once you try it):
Use tzatziki as a sauce for meats. Adding tzatziki to gyros is probably the most popular, but the sauce works with all kinds of meats. I especially love it with grilled meats.
Spoon over fish. We eat a lot of salmon in our home and a big spoonful of creamy tzatziki sauce makes it taste even better.
Dip raw, grilled or roasted vegetables into it.
Dip chips, flatbread or pita wedges into it.
Serve with falafel (a chickpea fritter) or dollop onto an authentic Greek salad.
Add to sandwiches, wraps or burgers. I love a dollop of tzatziki on these turkey burgers as well as these veggie burgers!
Serve with baked potato or sweet potato fries.
Use tzatziki as a salad dressing. It would be excellent on this Mediterranean zoodle salad or over this cauliflower salad with chickpeas.
How long does homemade tzatziki last?
Tzatziki should not be left at room temperature longer than 2 hours and it will keep for a few days in the refrigerator. As the sauce sits, you might notice that some liquid will pool at the top, don't worry about that and simply stir it back into the sauce.
What kind of yogurt should I use?
I love plain full fat or 2% Greek yogurt for tzatziki. That said, most plain (unsweetened) thick yogurts will work. Greek yogurt is nice and thick, but if you have a regular plain yogurt, you can still use it.
We simply recommend that you place the yogurt in a fine mesh strainer that has been lined with cheesecloth or paper towels and rest it over a bowl. Place into the refrigerator for 3 to 4 hours so the yogurt can drain. Then, discard the liquid.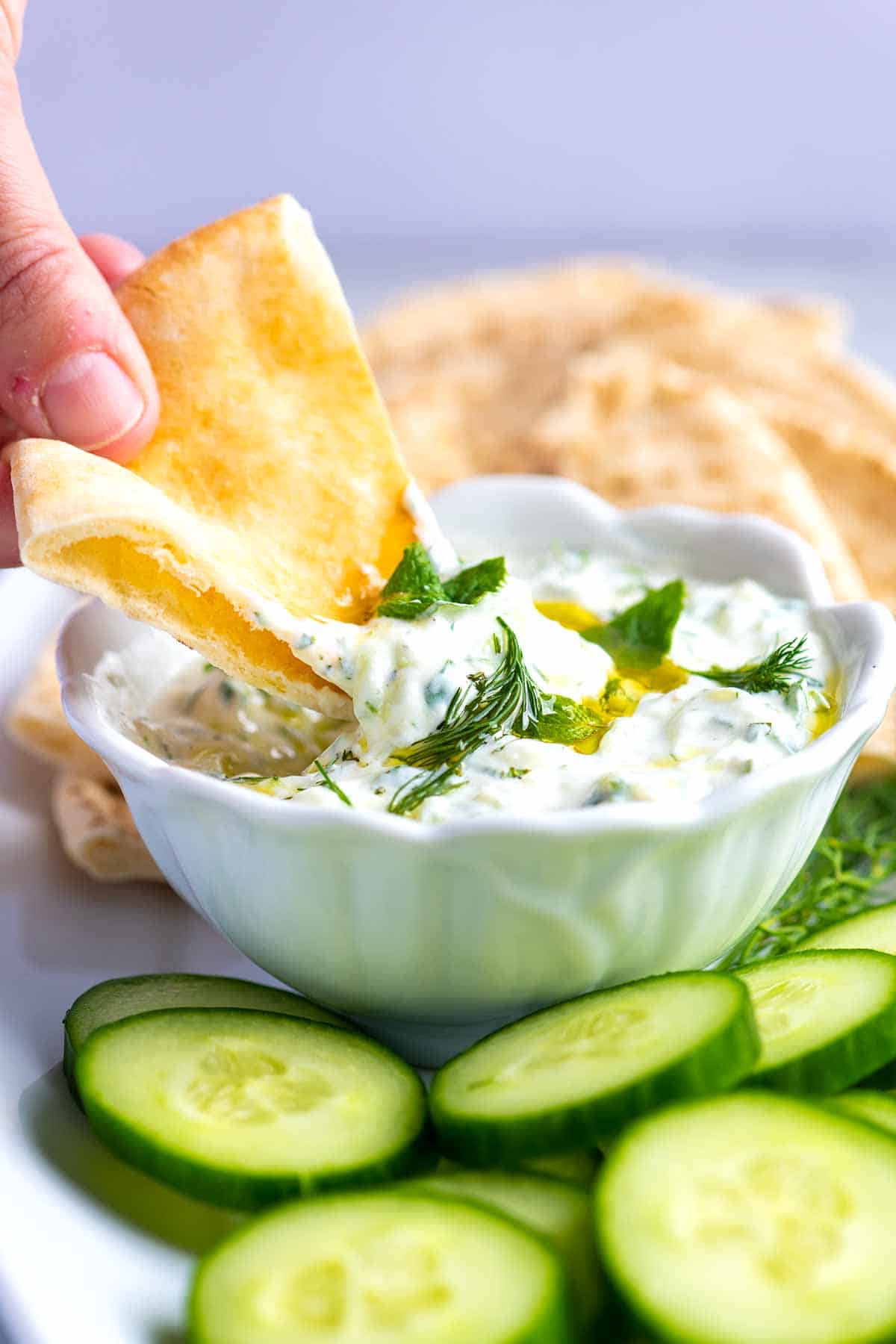 More Easy Appetizers and Dips
Easy Tzatziki Sauce
Tzatziki is a creamy, delicious, and simple sauce made with cucumber, yogurt, and fresh herbs. It might be a bit tricky to say, but it's very simple to make.
You Will Need
2 cups grated cucumber (we love hothouse or seedless cucumbers)
2 cups plain Greek yogurt
2 tablespoons extra-virgin olive oil
1 to 2 medium cloves garlic, minced, depending on how much you love garlic
2 tablespoons fresh squeezed lemon juice or more to taste
2 to 3 tablespoons chopped fresh mint and/ or dill
Salt and fresh ground black pepper
Directions
1Cut cucumber in half, lengthwise, and then use a spoon to scrape out the seeds and discard them.

2Grate the cucumber. Scatter grated cucumber over a clean dishcloth (or paper towels). Sprinkle with 1/4 teaspoon of salt. Let sit for 5 minutes. Then gather up the corners of the dishcloth and squeeze as much liquid from grated cucumber as possible. Discard the liquid or save for another use.

3In a medium bowl, combine the squeezed cucumber with yogurt, olive oil, garlic, lemon juice, herbs, a pinch of salt and a pinch of pepper.

4Set aside for at least 10 minutes then serve.
Adam and Joanne's Tips
Nutrition Per Serving
Serving Size
About 2 tablespoons
/
Calories
53
/
Total Fat
3.6g
/
Saturated Fat
1.1g
/
Cholesterol
4.6mg
/
Sodium
85.7mg
/
Carbohydrate
2.2g
/
Dietary Fiber
0.1g
/
Total Sugars
1.7g
/
Protein
3.3g