We love this Texas-inspired chili recipe made with beef, an easy homemade chili paste, and spices. We don't add tomato or beans to this chili. Instead, beef chuck happily stands on its own and simmers in an outrageously flavorful liquid until fork tender. It's delicious!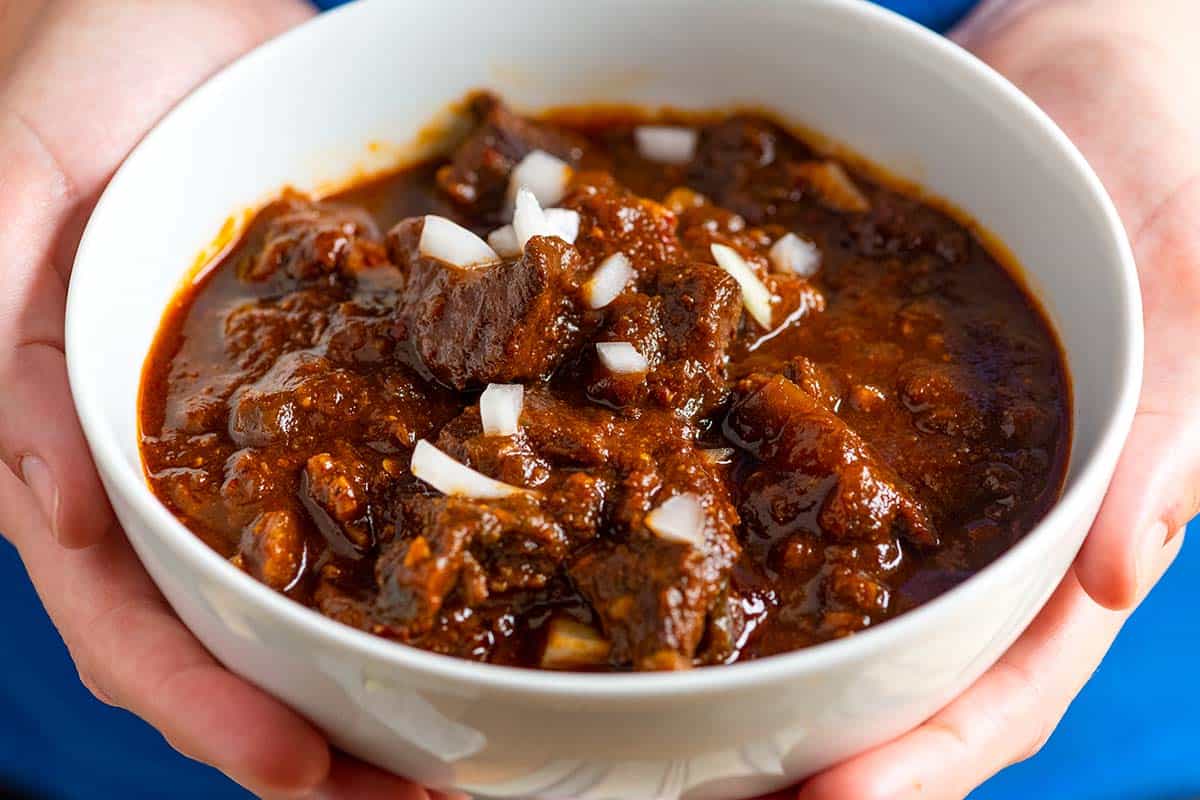 If you have never had Texas chili (also known as red chili, a Bowl 'o Red, or chile con carne) before, I urge you to try it. In this recipe, instead of ground beef, we use cubes of beef chuck and cook it low and slow, simmering away in a mixture of spices, stock, and blended chili peppers.
We love other types of chili, too. Please look at this homemade chili recipe for chili made with ground beef, tomatoes, and beans. I love this easy creamy white bean chicken chili. Or, for a vegetarian version, try our chipotle bean chili.
Let's walk through how we make this beef chili. It's pretty straightforward. Here we go!
How to Make Texas-Inspired Chili
The method for this chili is not all that different from making a stew. There's a little preparation in the beginning, and then it's practically hands-off.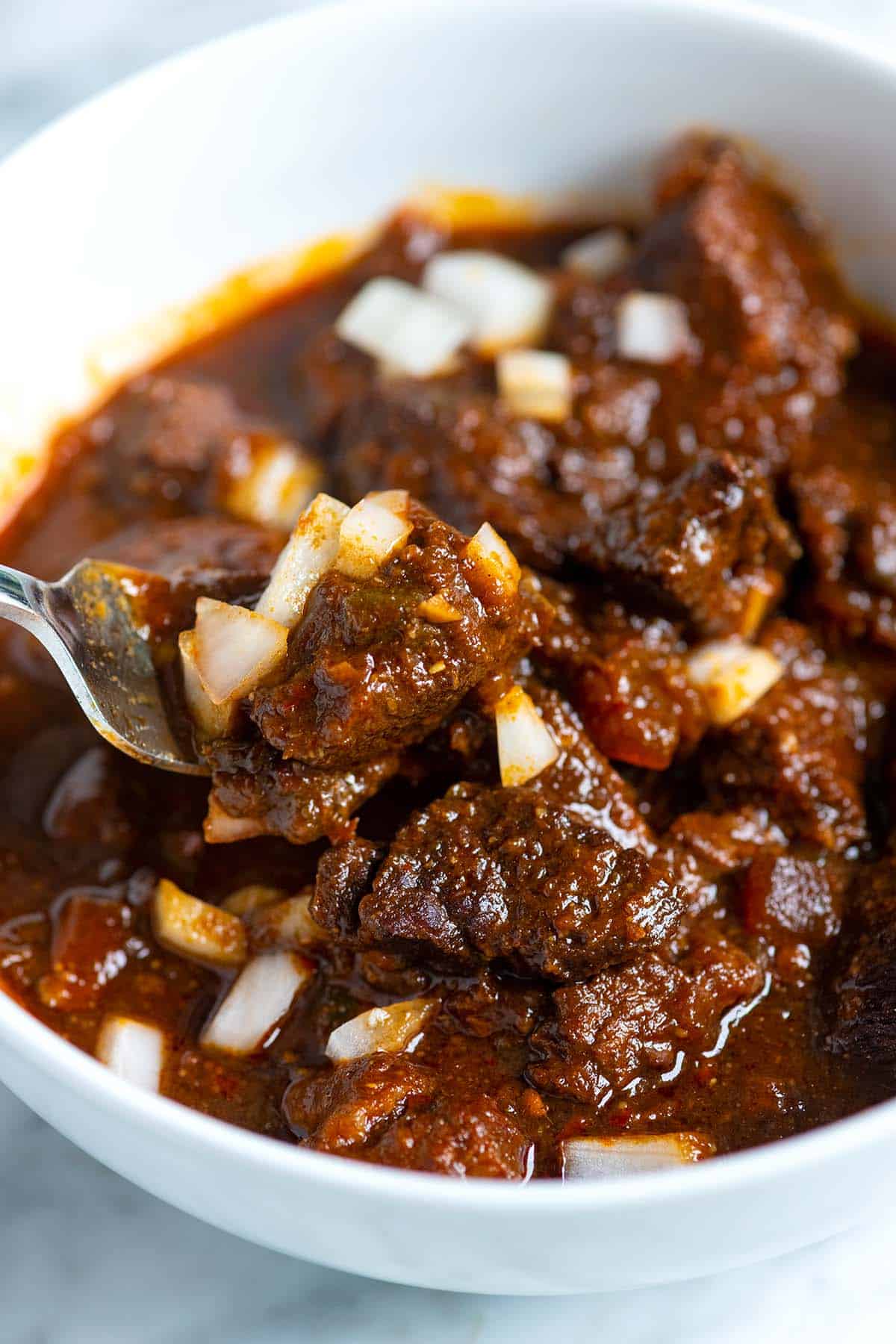 Preparing the Meat
First off, we need some ground chuck or stew meat for this recipe. Of course, you can use ground beef, but this recipe does work best with cubes of meat.
We are looking for cuts of meat that are rich in connective tissue and high in fat. This way, the beef will be rich in flavor and melt-in-your-mouth tender after a couple of hours of simmer time. Beef chuck is perfect for this, but if you cannot find that, look for a cut of beef that's got a lot of connective tissue and fat.
We cut our meat into 1-inch chunks and then sear them in the bottom of the same pan we plan to cook the chili. I use my Dutch oven and use a high temperature.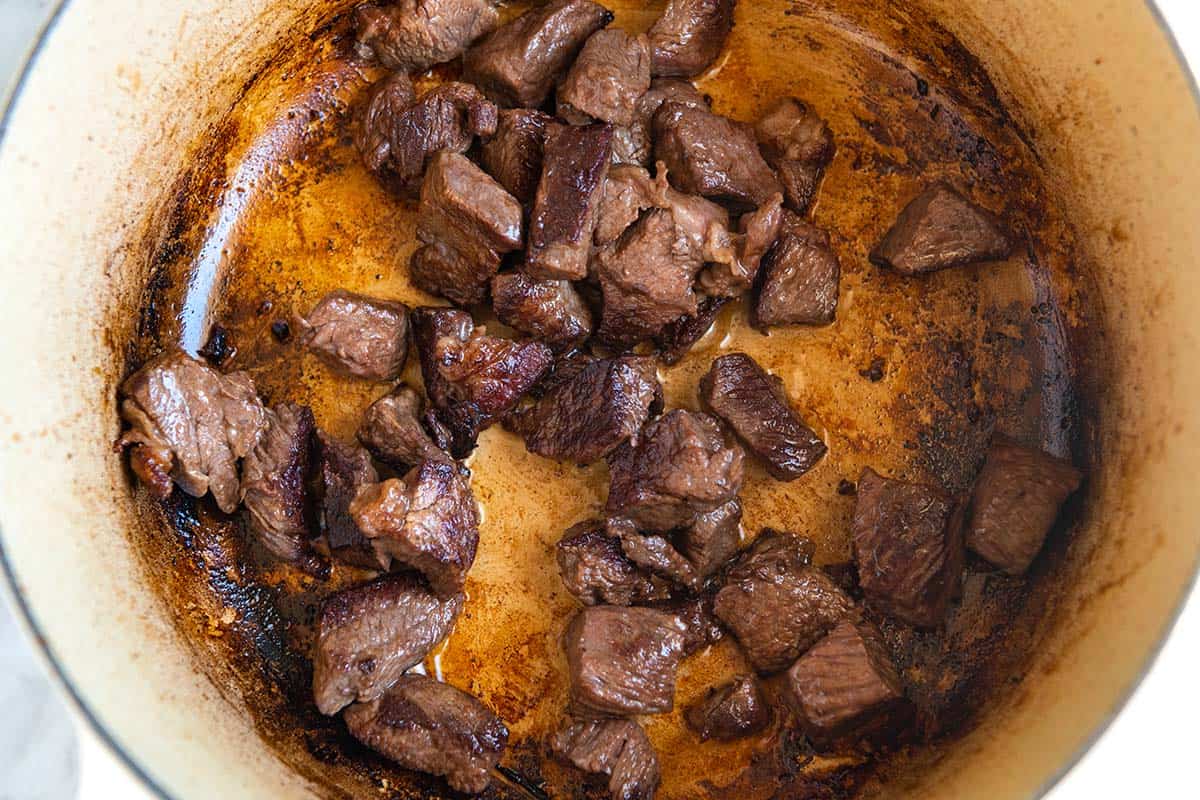 You don't need to get a sear on all sides of the beef, so don't feel that you need to be exceedingly perfect here. As long as about half the meat is seared, you should be good. This step adds a rich browned flavor to the chili.
Making the Chili Paste
Here's where the authentic flavor comes in: dried chili peppers! Other chili recipes call for chili powder, but there's no room for that in this recipe. Instead, dried chilies are an essential ingredient in this recipe. If you've never worked with dried chilies before, don't let this scare you. I'll walk you through everything you need to know.
There are lots of options when it comes to buying dried chilies — especially if you are lucky enough to have a Mexican market nearby.
As you experiment with your pot of chili, you can add or substitute different chili peppers based on your taste buds, but here's what we've settled on based on our taste and availability of chilies in our area.
Guajillo chilies: naturally smoky and are moderately hot
Ancho chilies: sweet, fruity, and mild (aromas of raisins, chocolate, and coffee)
New Mexico or California chilies: sweet, fresh, and mild to moderately hot (aromas of bell peppers)
By combining these three peppers, our chili tastes rich, meaty, and delicious. For heat, we recommend adding a little cayenne pepper or ground chipotle pepper. You can also add a couple of hot chili peppers to the mix (like Cascabels or Arbol peppers). Just be careful as they can pack a punch!
To make the chili paste, follow these simple steps:
Remove the stems and seeds from each pepper. To do this, I use a pair of scissors to snip the top and then tap out the seeds.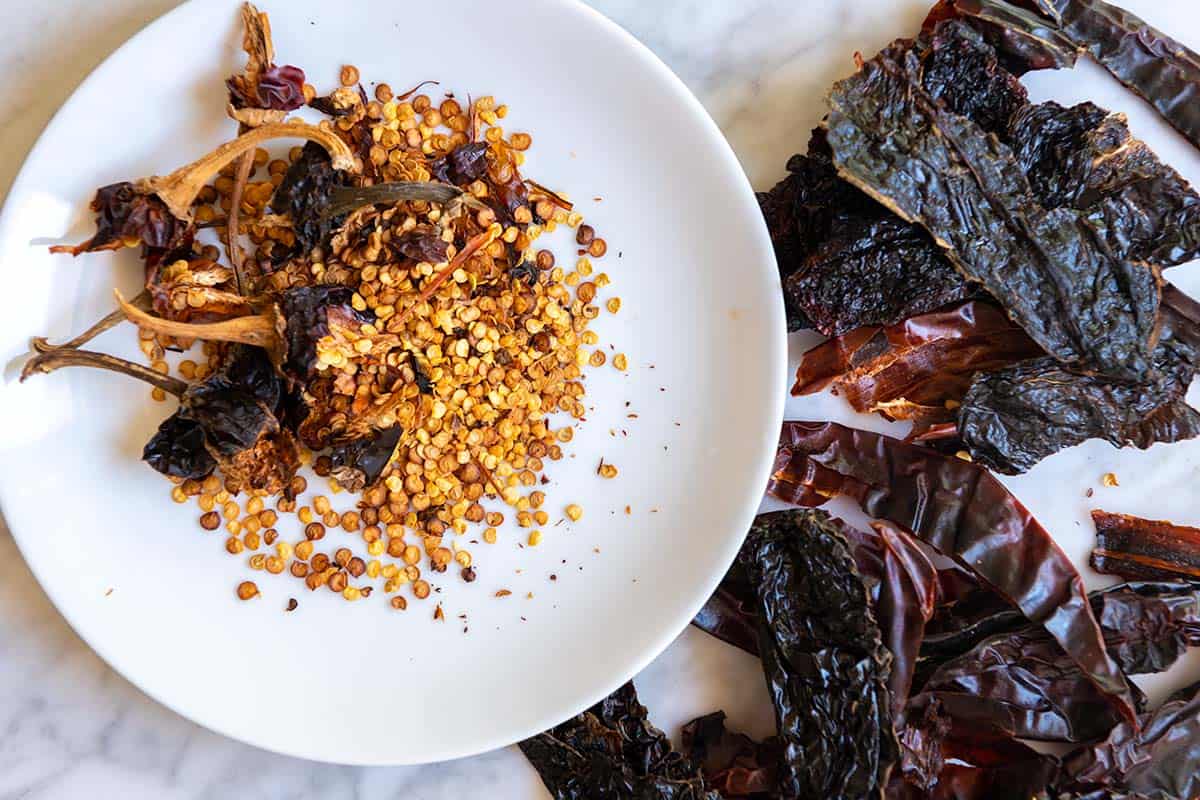 If your skin is sensitive, you might want to wear gloves while you do this. It's also important that you wash your hands well after handling peppers and keep your hands away from your eyes and any sensitive areas while working with them.
Next, add the cleaned peppers to a saucepan with hot water, and cover with a lid. Set this pot aside for about 20 minutes or until the peppers are rehydrated and soft.
Transfer the softened chilies to a blender, and then add stock — I use rich vegetable stock, but any broth or stock will do. Blend the chili peppers and save to add to the beef.
Putting It All Together
So we've already browned our beef and made our chili paste. Now it is time to put everything together.
Cook a mixture of diced onions, poblano peppers, and garlic in the pot in which you browned the beef. Add some spices, pour in the blended chili peppers, a bit more stock, and add the browned beef.
Bring this mixture to a low simmer and partially cover with a lid. Simmer this way until the beef is undeniably fork tender. We are essentially braising the chili until it the sauce reduces and the meat is tender.
Taste the chili, and then season to your heart's content. We've found that the following (probably not all authentic) ingredients make this chili pop:
Masa harina: Stirring a little masa harina (used to make corn tortillas) into the chili thickens the gravy and adds a hint of sweet corn flavor.
Apple cider vinegar: Stirring in a pop of acid is a game-changer in how stewed meat dishes taste. I love the flavor (and aroma) of apple cider vinegar for this chili. Fresh lime juice is also an option.
Brown sugar: There are a lot of savory components to this dish, so adding a teaspoon or so of brown sugar is a great idea and adds a bit of complexity and richness.
Fish sauce: Okay, now this one is definitely not authentic, but I love what fish sauce does in seasoning dishes at the end of their cook time. Fish sauce is like seasoning with salt on steroids. Be sure to give it a try.
What to Serve with Texas Chili
Texas Red Chili
We love this Texas-inspired chili recipe made with beef, an easy homemade chili paste, and spices. We don't add tomato or beans to this chili. Instead, beef chuck happily stands on its own and simmers in an outrageously flavorful liquid until fork tender. It's delicious!
For the beef, choose a cut that has a good amount of connective tissue and fat — like beef chuck. As the beef cooks, the connective tissue will break down, leaving you with incredibly tender cubes of meat.
You Will Need
Texas-Inspired Chili
3 ½ to 4 pounds beef chuck, trimmed of excess fat and gristle, cut into 1-inch cubes
3 whole dried New Mexico or California chili peppers, stems and seeds removed
3 whole dried Guajillo chili peppers, stems and seeds removed
3 whole dried Ancho chili peppers, stems and seeds removed
6 cups rich vegetable, beef, or chicken stock
2 tablespoons vegetable oil
1 large onion, chopped
1 large fresh poblano pepper, seeds and membrane removed, chopped
6 medium garlic cloves, minced, about 2 tablespoons
One 3-inch cinnamon stick
1 tablespoon ground cumin
1/2 teaspoon ground allspice
1 tablespoon masa harina or 1 to 2 small corn tortillas torn into small pieces
Salt and fresh ground black pepper
Optional Ingredients
1/4 to 1 teaspoon cayenne pepper or chipotle powder, for spicy chili, see tips section below
1 tablespoon apple cider vinegar
1 tablespoon fish sauce or more to taste
1 to 2 teaspoons brown sugar to taste
Directions
Prepare Chili Peppers

1Cut the stems and remove the seeds from peppers. The seeds can be bitter, so get rid of them. Use a pair of kitchen scissors to cut the stem away and then shake or scrape the seeds from the inside of each pepper. If you have sensitive skin, wear gloves to prevent the oils from getting on your hands. Also, be careful not to touch your eyes during or after working with peppers.

2Cut each cleaned pepper into small pieces, then add to a dry skillet over medium heat. Toast them, occasionally stirring until fragrant, about 5 minutes. Be careful not to scorch the chilies.

3Transfer the toasted chilis to a large pot or large bowl and cover with hot water. Cover with a lid to prevent steam from escaping and set aside for 20 minutes. (When using a bowl, a large plate works well as a lid.)

4When the chili peppers are softened and rehydrated, use kitchen tongs to place them into a blender with two cups of cold stock. Place the blender lid on, and hold the lid down with a kitchen towel to prevent the liquid from bursting out of the blender. Blend the chilis, starting at a low speed and gradually increasing until the mixture is smooth. Set the blended chili peppers aside for later.
Brown the Beef

1Heat a tablespoon of vegetable oil in the bottom of a deep Dutch oven set over high heat. Just as the oil begins to smoke, add about half of the beef cubes in one layer and cook, without moving them, until the underside looks well browned, about 5 minutes.

2Stir and brown a second side. You do not need to brown all sides of the beef cubes; two sides is plenty. When at least two sides of the beef cubes look well browned, transfer them to a bowl and repeat with the remaining beef cubes, adding more oil as needed.
Cook Onions and Spices

1If the pot is dry, add a teaspoon or so more vegetable oil. Throw in the onions and peppers, and then cook, occasionally stirring until soft, about 5 minutes. Next, stir in the garlic, cinnamon stick, cumin, and allspice, and cook for one more minute.
Simmer the Beef

1Add the browned beef, blended chili peppers, and the remaining 4 cups of stock to the pot with onions and spices. Stir and scrape the bottom of the pot to lift any bits of onion or beef that are stuck.

2Bring the mixture to a boil, and then reduce to a very low simmer.

3Partially cover the pot with its lid, and then cook until the beef is undeniably tender, 2 ½ to 3 hours. If while the chili is braising, you notice it is getting too dry, add another cup of stock or water and reduce the heat a little.
To Finish

1Mix the tablespoon of masa harina with 3 tablespoons of water into a smooth paste, and then stir into the chili. If you are using corn tortillas instead of the masa paste, tear the tortillas into small pieces, and then stir into the chili. After a minute or so, the tortillas will disintegrate into the chili.

2Take the chili off of the heat, taste, and then season to taste. We love adding a splash of apple cider vinegar, a tablespoon or so of the fish sauce, and a teaspoon of brown sugar. We usually add a pinch or two of salt, as well.
Adam and Joanne's Tips
How to Make Spicy Chili — As written, this chili is not that spicy. There's a little heat, but I'd put it in the mild category. To add extra spice, stir in cayenne pepper or chipotle pepper powder (I'd start with 1/4 teaspoon and add from there as the heat can build quickly). You can also add hot chili peppers to the chili paste (Arbol or Cascabel peppers are my favorite). One to two dried chili peppers should do it and you can treat them in the same way as the other peppers called for in the recipe.
Can I add beans? While beans are not typical in Texas chili, you can add beans to this chili. If you plan to add them, add cooked or drained canned beans when the chili is close to being done. This way, they will pick up some flavor but won't break down too much.
Nutrition facts: The nutrition facts provided below are estimates. We have used the USDA database to calculate approximate values.
If you make this recipe, snap a photo and hashtag it #inspiredtaste — We love to see your creations on Instagram and Facebook! Find us: @inspiredtaste
Nutrition Per Serving
Serving Size
1/6 of the recipe
/
Calories
433
/
Total Fat
18.3g
/
Saturated Fat
7.5g
/
Cholesterol
156.4mg
/
Sodium
1295.3mg
/
Carbohydrate
12g
/
Dietary Fiber
1.8g
/
Total Sugars
4.7g
/
Protein
53.2g