Easy vegetable quesadillas loaded with spiced veggies and gooey cheese. Our easy spice mixture is what makes these taste amazing. Use whatever vegetable you have on hand — we give tips for a variety of veggies below!
Watch the Video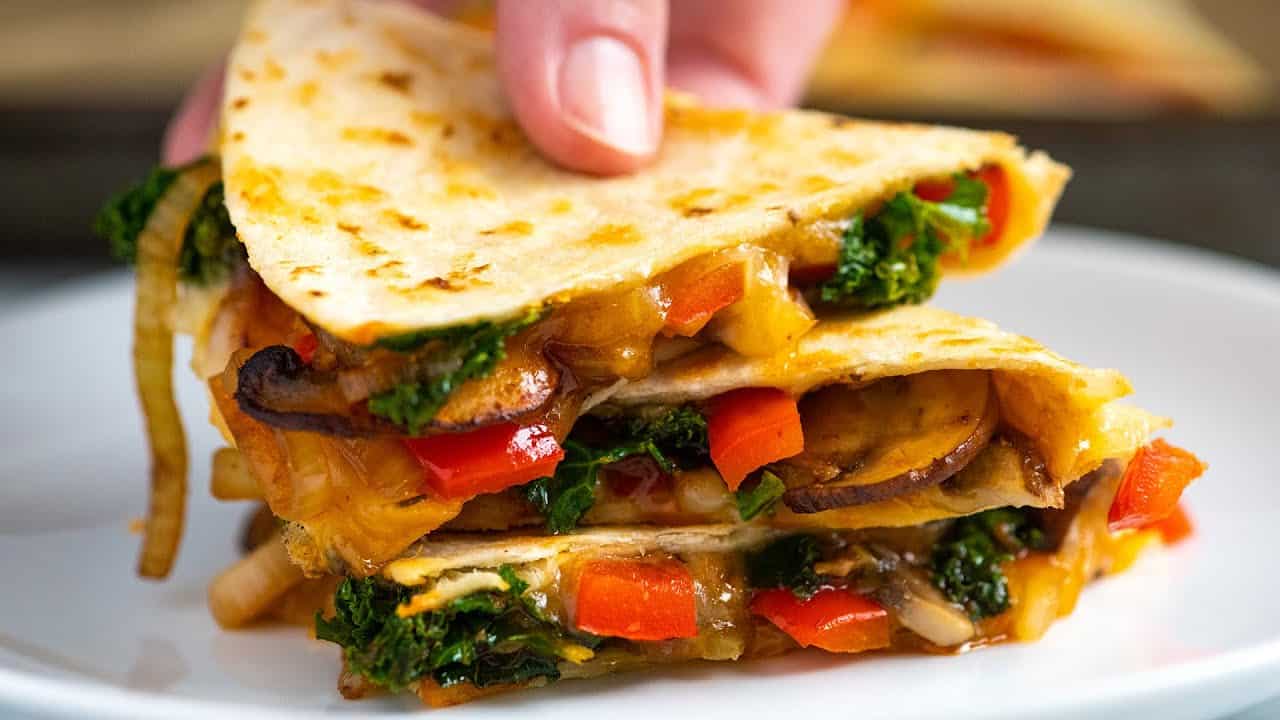 More Quesadillas: We love these green chile chicken quesadillas or elevate breakfast with out cheesy breakfast quesadillas.
The Best Veggie Quesadillas
Quesadillas are made with tortillas — flour or corn — that are filled and folded while being cooked on a hot surface. Whatever is inside the tortilla heats up and, if there is cheese, it melts and the exterior of the tortilla becomes toasted.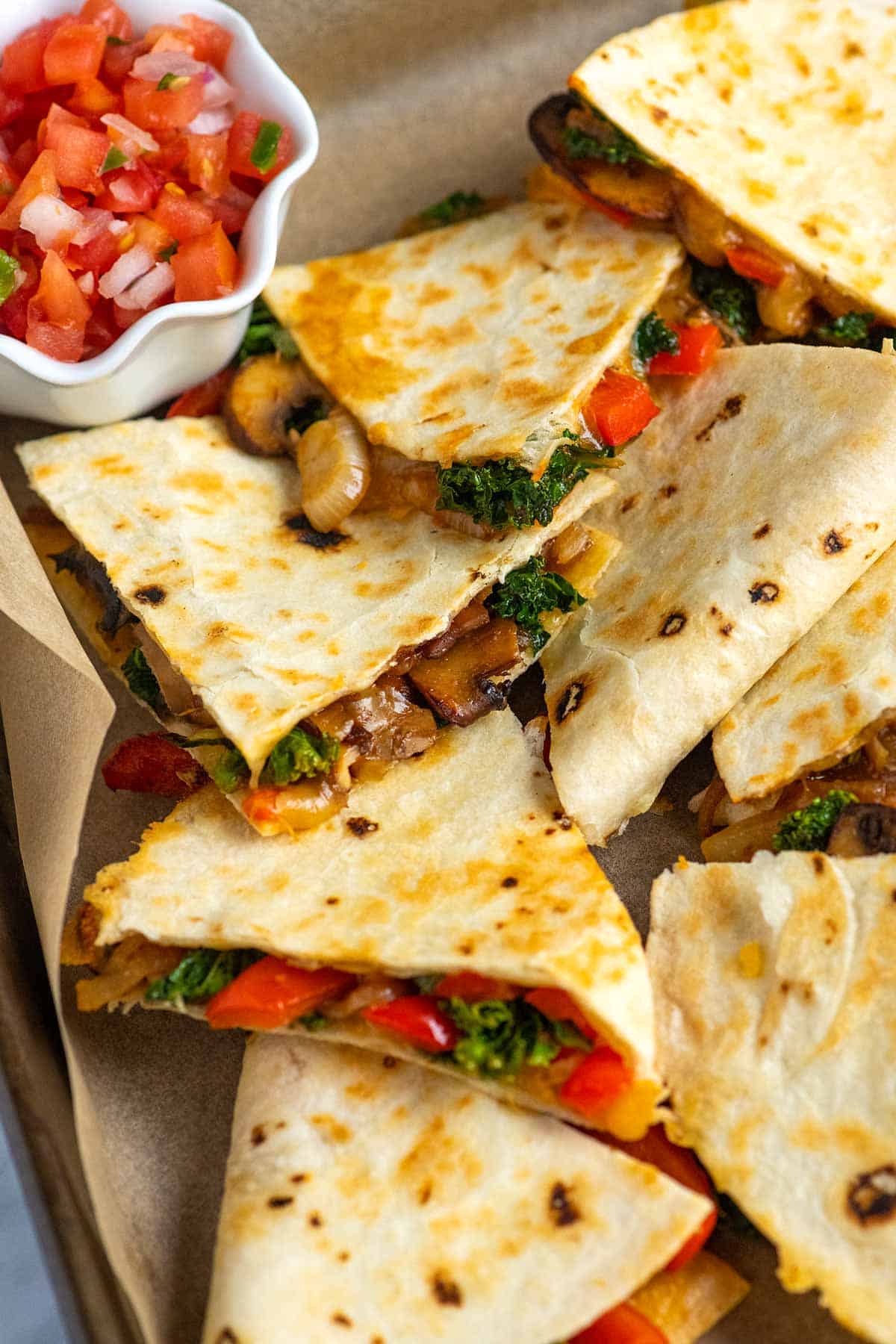 Store-bought tortillas work well for this recipe, but homemade are so much better! Here are two options:
Here in the United States, we are used to seeing quesadillas made with flour tortillas and almost always see them filled with some sort of cheese. In Mexico, where quesadillas originated, the type of tortilla used and whether or not there is cheese involved depends on where you are.
These quesadillas are excellent with flour or corn tortillas and the cheese is optional, although, we do love the gooey texture it adds. (I also love swapping the cheese for this vegan queso). The veggies are also easily swapped in or out based on what you have on hand. In fact, these were originally inspired by a farmer's market stand in Seattle. The Patty Pan Cooperative sells their tortillas, other goodies and absolutely delicious veggie quesadillas, using fresh vegetables from the other stands at the market. This means that the veggie blend changes from week to week. So use what you have in the fridge or what is seasonal. I've shared some tips for using different veggies below.
What isn't optional is the spice blend used when cooking the vegetables. We like the veggies to be super flavorful and find that this spice blend does the trick! We mix together:
Onion powder
Garlic powder
Oregano (preferably Mexican oregano)
Cumin
Paprika (we prefer smoked paprika)
Black pepper and salt
Making vegetable quesadillas
We cook our vegetables first. In fact, you can cook the veggies well in advance and keep them in the fridge for quesadillas later in the week. They should last up to 5 days in the refrigerator.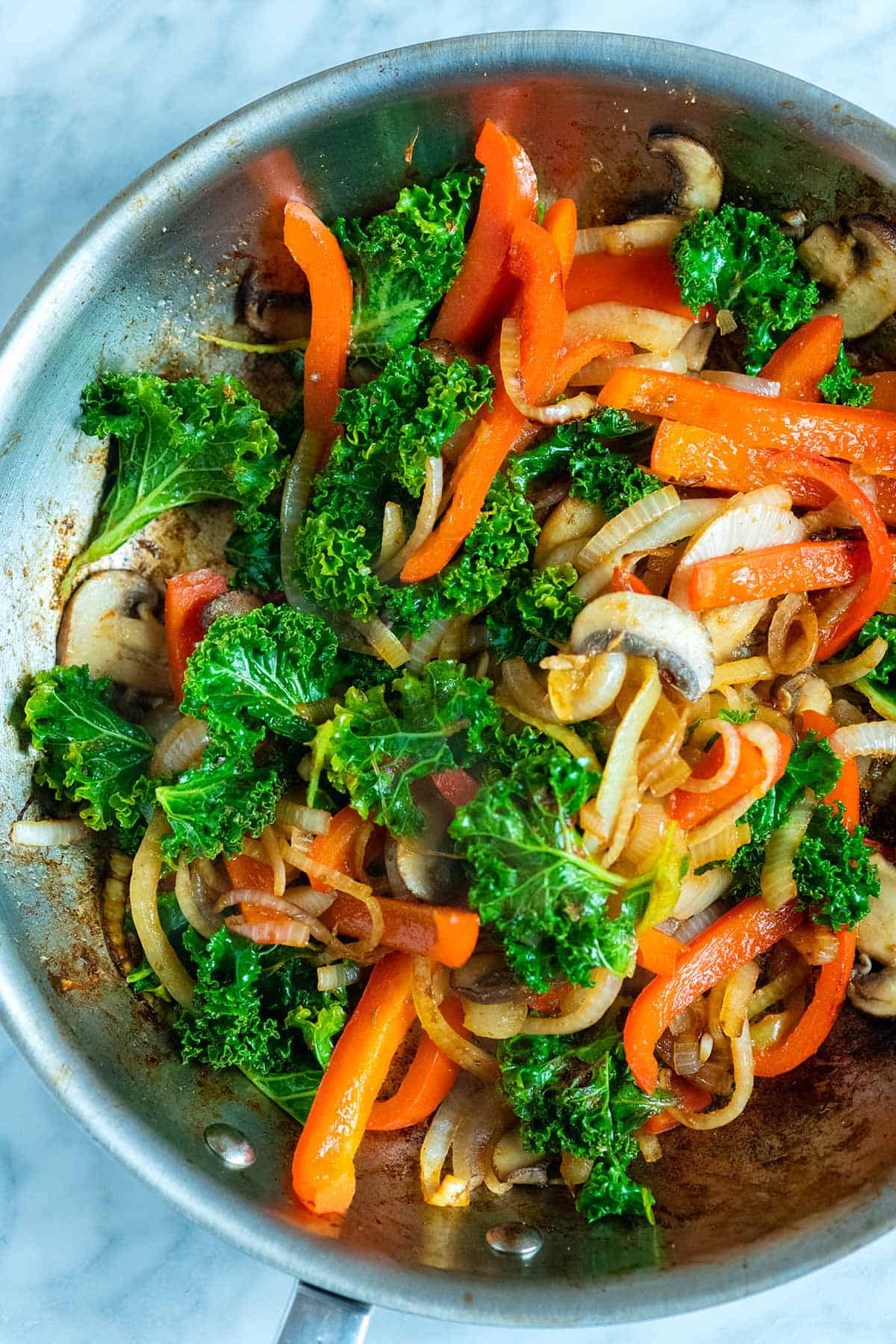 The vegetables you use are up to you. In the photos, we've used mushrooms, onion, peppers and greens (like kale or spinach). Here are some tips for using other veggies:
Less hearty veggies like onion, bell pepper, zucchini and summer squash will cook in a similar amount of time. Cut them into similar sized pieces.
Sliced cabbage and shaved or sliced Brussels sprouts are also an option — they don't take long to cook, at all. Just add them along with the onions and peppers.
We love adding mushrooms since they add so much flavor. Add whatever mushroom you have on hand — white button, cremini, portobello and wild mushrooms all work well. I like to cook them a few minutes before adding the other veggies so that they get a head start and begin to brown. You can see our tutorial for how to cook mushrooms, here.
Hearty veggies like root vegetables and winter squash take a bit longer to cook, so it is important to slice or cut them very thin. Beets, for example, can be sliced into thin rounds (a mandoline slicer is useful). You can also add them previously cooked to the pan with other veggies so that they pick up some of the spice mixture and heat up. This roasted butternut squash would be ideal to add to the mix. Since it's already roasted, when you put it into the tortilla, it should smoosh down a bit.
We add cheese to our quesadillas — although, like I mentioned above, you really can leave it out. For the cheese, use something that melts nicely. Monterey Jack is popular here in the United States, but if you can find them, queso de Oaxaca or queso asadero are amazing (both are mild, melting cheeses).
As for the assembly, you can make a full quesadilla by stacking two tortillas on top of each other with the filling and cheese between them or you can do what we did in our video and add the filling and cheese to one side of a tortilla and then fold the other side on top. I like the folded method since it makes eating the quesadilla easier.
A heavy-bottomed pan or skillet works nicely for cooking quesadillas — think cast iron pan, heavy stainless steel skillet or the more traditional comal (a flat griddle used in Mexico, Central America, and parts of South America).
Serving them
I happily eat quesadillas straight from the pan, but here are some options for serving:
More Recipes! Try our breakfast quesadillas with green chilies or these easy veggie tacos with a creamy cilantro sauce.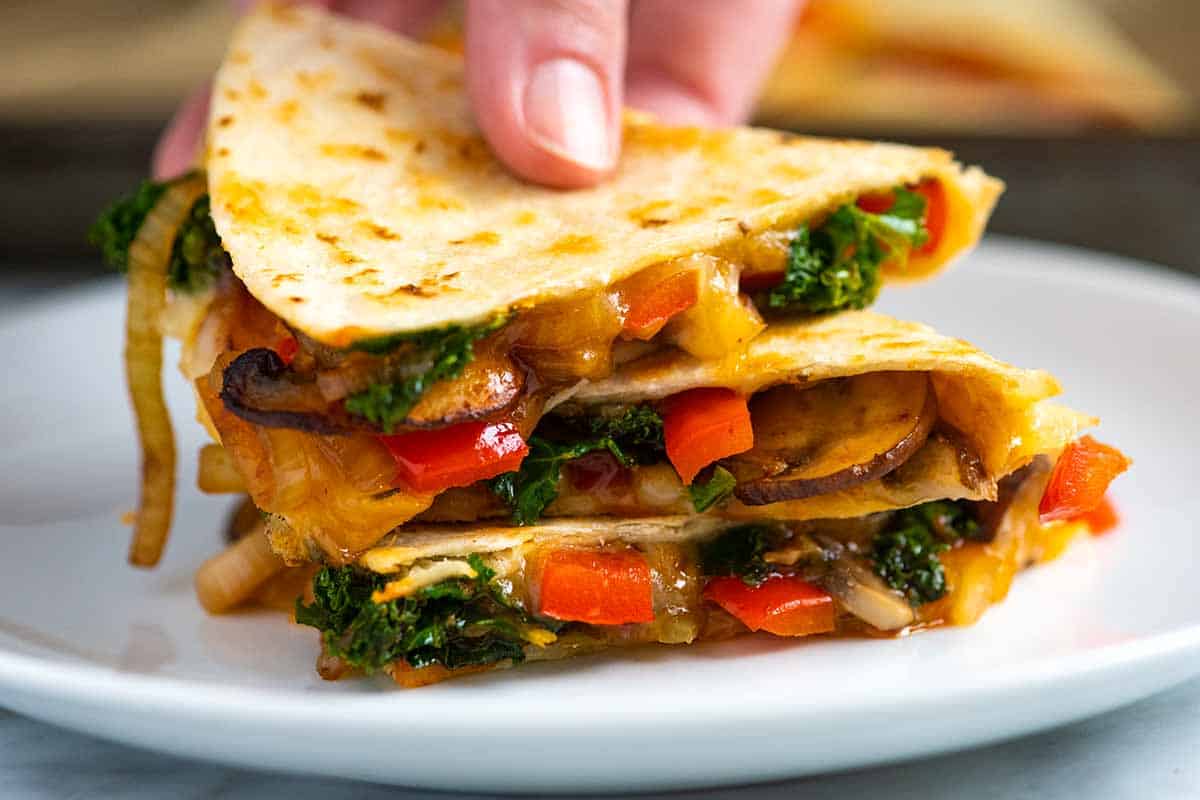 The Best Vegetable Quesadillas
The vegetables used for these spiced vegetable quesadillas use are up to you. In the recipe below, we call for mushrooms, onion, peppers and greens (like kale or spinach). For tips on using other veggies (like heartier beets and squash), take a read through the article above.
Watch Us Make the Recipe
You Will Need
4 medium to large flour or corn tortillas, see our homemade flour tortilla recipe
1 tablespoon neutral oil or butter
5 ounces mushrooms, sliced (about 2 cups sliced)
1 small onion, sliced
1 bell pepper or poblano pepper, seeds removed and sliced
3 cups torn kale leaves or spinach
1/4 teaspoon onion powder
1/4 teaspoon garlic powder
1/4 teaspoon ground cumin
1/4 teaspoon oregano, preferably Mexican oregano
1/4 teaspoon smoked paprika
1/4 teaspoon fresh ground black pepper
1/4 teaspoon fine sea salt
5 ounces melting cheese like Monterey Jack, shredded (about 1 1/4 cups)
Spray oil or oil brushed onto pan
Directions
Prepare Vegetables

1Heat the oil or butter in a wide skillet over medium-high heat. Add mushrooms and spread into one layer. Cook, without moving, until browned on one side, 3 to 5 minutes.

2Stir the mushrooms around the pan, and then add the sliced onions, peppers, onion powder, garlic powder, cumin, oregano, smoked paprika, pepper and the salt. Cook the vegetables until the onions have softened and smell sweet, about 5 minutes. Add the kale or spinach and cook until bright green and wilted, another 2 to 3 minutes.

3Make quesadillas or transfer the cooked vegetables to an airtight container and refrigerate up to 5 days.
Make Quesadillas

1Heat a heavy-bottomed skillet over medium heat. Lightly spray the pan or brush it with oil, and then place one tortilla down into the pan.

2Spread a quarter of the cheese over the tortilla and then spoon a quarter of the cooked vegetable mixture onto one half. Carefully fold the tortilla in half, and then use a spatula to press the top down so that it stays folded. Cook until the underside is toasted, about 2 minutes.

3Carefully flip the quesadilla and cook until the second side is toasted and the cheese is melted, 1 to 2 minutes. Transfer the quesadilla to a cutting board and cut in half. Repeat with remaining quesadillas.

4Keep cooked quesadillas warm in a 200 degree F oven while you finish making the remaining quesadillas.
Adam and Joanne's Tips
We like to use Mexican oregano, which is different than the more common Mediterranean oregano found in the spice aisle. Mexican oregano has grassy, citrusy undertones, while Mediterranean oregano has more sweet with anise undertones. We buy our Mexican oregano from a local Mexican grocery store, but you should also be able find it online. If you cannot find it, don't worry, the flavor profiles might not be exactly the same, but you can substitute marjoram, dried verbena and even Mediterranean oregano for Mexican oregano.
Nutrition facts: The nutrition facts provided below are estimates. We have used the USDA database to calculate approximate values. Calculations included vegetable oil.
If you make this recipe, snap a photo and hashtag it #inspiredtaste — We love to see your creations on Instagram and Facebook! Find us: @inspiredtaste
Nutrition Per Serving
Serving Size
1 quesadilla (recipe makes 4)
/
Calories
313
/
Total Fat
14.2g
/
Saturated Fat
7.2g
/
Cholesterol
31.5mg
/
Sodium
825mg
/
Carbohydrate
32.1g
/
Dietary Fiber
2g
/
Total Sugars
3.5g
/
Protein
15.4g