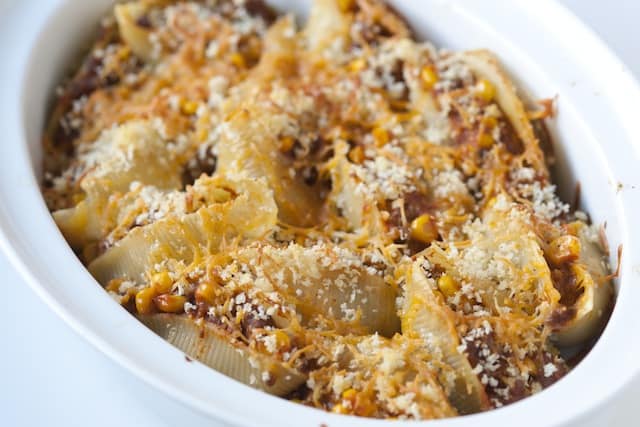 We all loved our Stuffed Shells with Sausage and Spinach so much, we thought why not give another stuffed shell a go and wow are we glad we did. It was funny actually, the other morning, the two of us were sitting, chatting over coffee and at the exact same time suggested to one another that we combine tacos and stuffed shells… After yelling "JINX" and pointing fingers, we figured it was meant to be. Here's how we did it: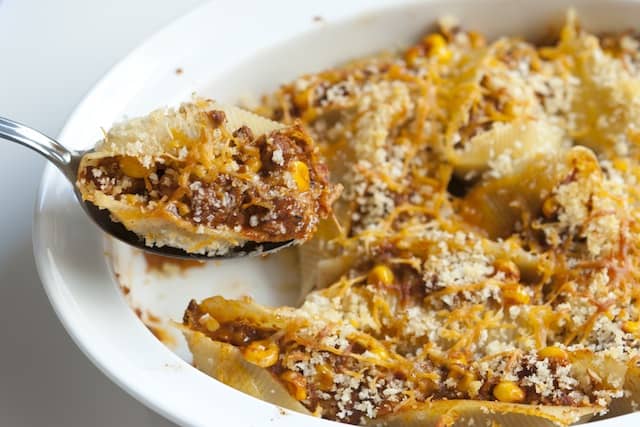 How to make Taco Stuffed Shells
We created our own taco seasoning for this, but if you want to save a bit of money, go ahead and buy a packet of taco seasoning. Add a tablespoon to start and then add based on taste.
I love spices, they are so pretty.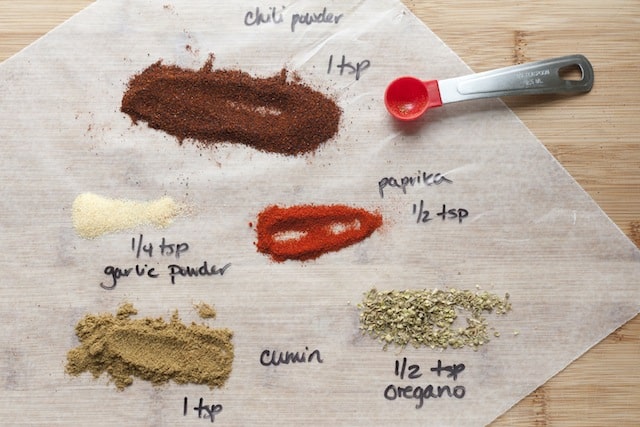 Add lean ground beef to a hot pan with a tablespoon or so of oil. By the way, ground chicken, pork or turkey works, too. Then, season the meat with some salt and allow to brown.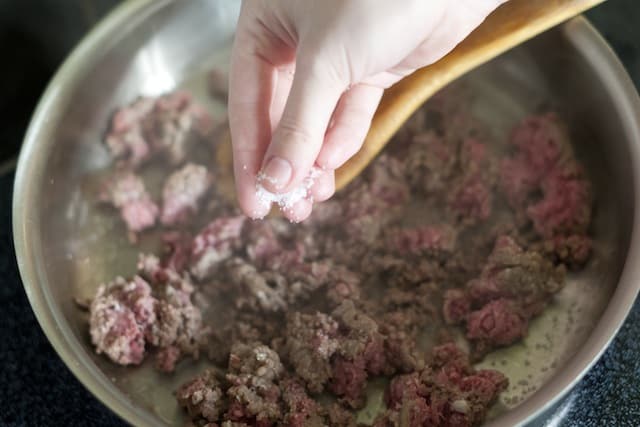 Add in the taco seasoning, again, you can totally use a packet of taco seasoning for this if it is easier for you.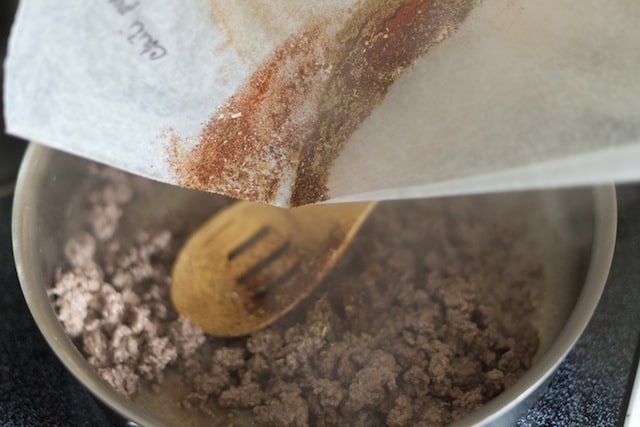 Now, add some frozen corn.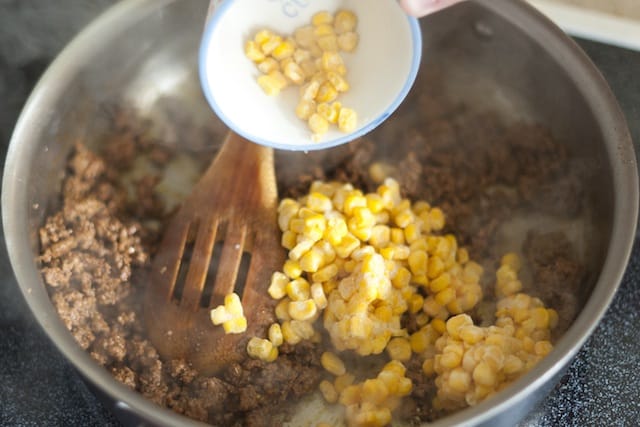 and a cup of your favorite red pasta sauce.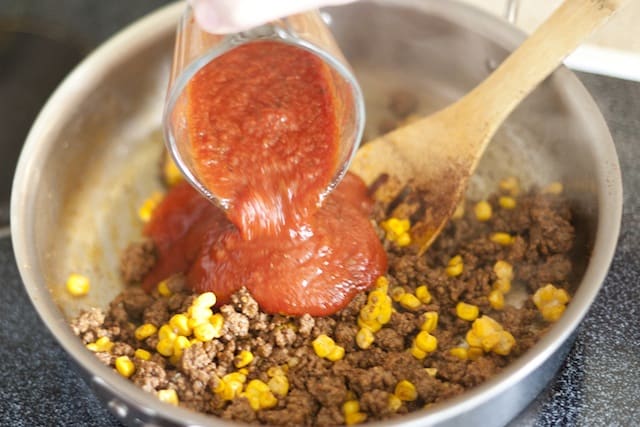 Once the beef is cooked through, take the pan off the heat. If you like things on the spicier side, add some hot sauce (we add a lot, but taste as you go until you're happy with the level of heat).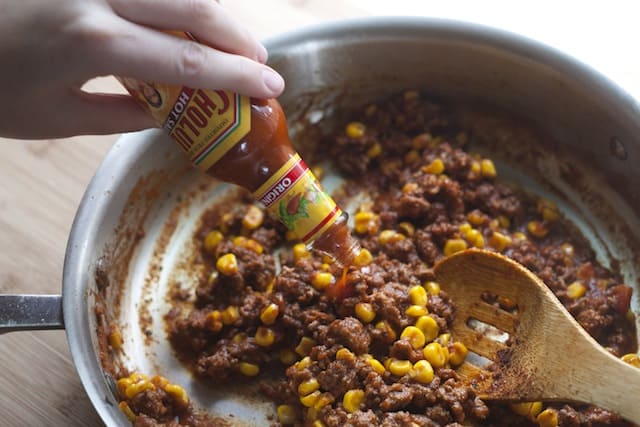 Now, crumble in some goat cheese…I know it sounds a little strange, but the goat cheese adds such a nice creaminess and just a touch of tang, something that works perfectly against the sweet corn and spices.
Now, add about a tablespoon of melted butter to some panko breadcrumbs and mix until combined. If you don't have panko breadcrumbs replace them with regular Italian breadcrumbs or even crumbled up tortilla chips!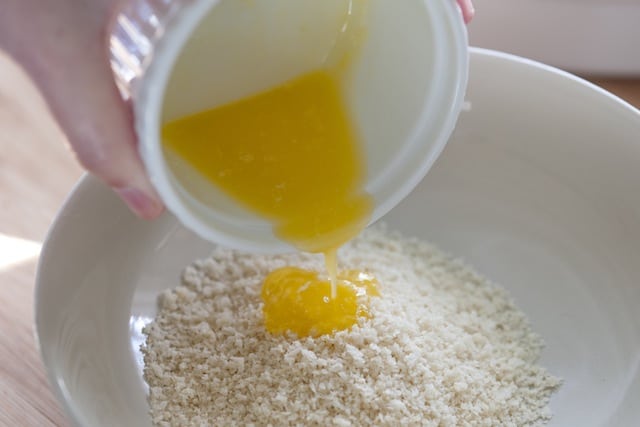 Fill all each shell with a spoonful of filling then sprinkle with the buttered breadcrumbs.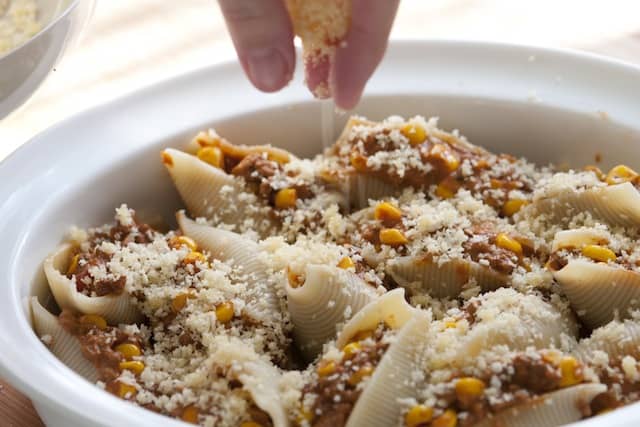 ….and because you just have to, add a sprinkle of cheese on top, too.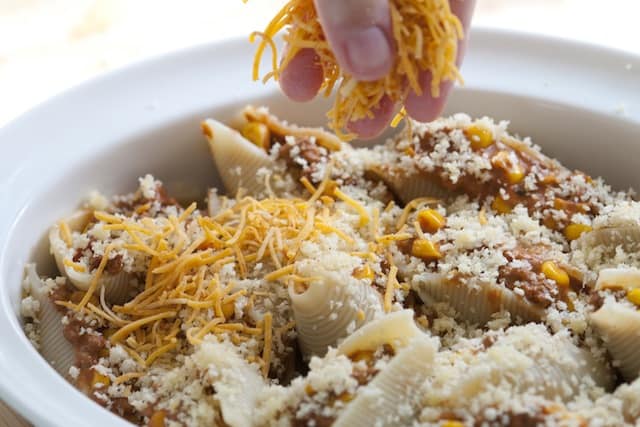 We create our own taco spice mix for this, however, you could buy a packet of taco seasoning and use instead. Sprinkle the beef with 1 - 2 tablespoons of the taco seasoning.
Created By:
Adam and Joanne Gallagher
You Will Need
16-18 jumbo pasta shells
2 tablespoons olive oil
1 pound lean ground beef
1/2 teaspoon salt
1 1/2 teaspoons chili powder
1/4 teaspoon garlic powder
1 teaspoon ground cumin
1/2 teaspoon sweet paprika
1/2 teaspoon dried oregano
1 cup frozen corn, thawed
1 cup prepared pasta sauce (we buy Muir Glen Organic Sauce or Prego)
2 ounces goat cheese
1/2 cup panko bread crumbs
1 tablespoon butter, melted
1/4 cup shredded cheddar cheese
hot sauce
Directions
Preheat oven to 350 degrees F and fill a large bowl with cold water and ice, set aside. Bring a large pot of salted water to a boil. Add pasta shells and cook according to package directions. Drain well then add to ice water until ready to stuff.
Heat a large saute pan or skillet over medium-high heat, add oil then add ground beef. Season with salt and use a wooden spoon to break the beef apart. Add spices then cook until beef has browned.
Add corn and prepared pasta sauce then cook until heated through, 1 minute. Remove pan from the heat then stir in goat cheese. Add hot sauce based on your preference, we add 4-5 dashes. Using a spoon, fill pasta shells with pork filling and arrange in a baking dish (9-inch x 9-inch baking dish works well).
In a small bowl, mix together the panko breadcrumbs and melted butter then sprinkle over the shells.
Sprinkle tops with shredded cheese then bake in the oven 25-30 minutes until cheese has melted and tips of shells begin to crisp and brown.