This easy herbed cauliflower rice is packed full of flavor, healthy, low-carb and quick to make. You can find the easy recipe as well as lots of tips for how to make cauliflower rice in your own kitchen below. Jump to the Garlic Herb Cauliflower Rice Recipe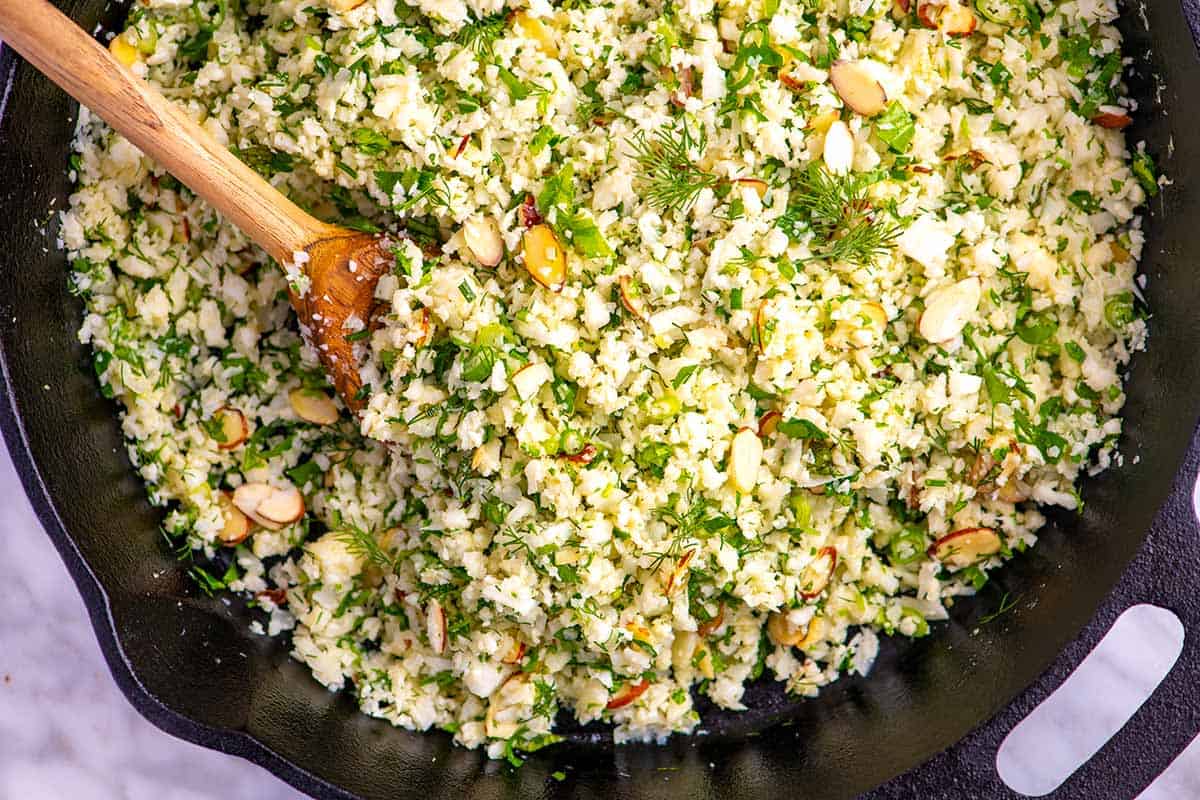 Why I Love Cauliflower Rice
I'll be honest, my first attempt at cauliflower rice was a flop. I left the rice plain without any additional flavors. Neither of us were impressed. After that attempt it became clear that cauliflower rice needs help in the flavor department. So we put our heads together and came up with this herby riced cauliflower with garlic, lemon, and almonds. The herbs, garlic, and lemon add lots of flavor, while the almonds introduce a little extra texture. I just love it!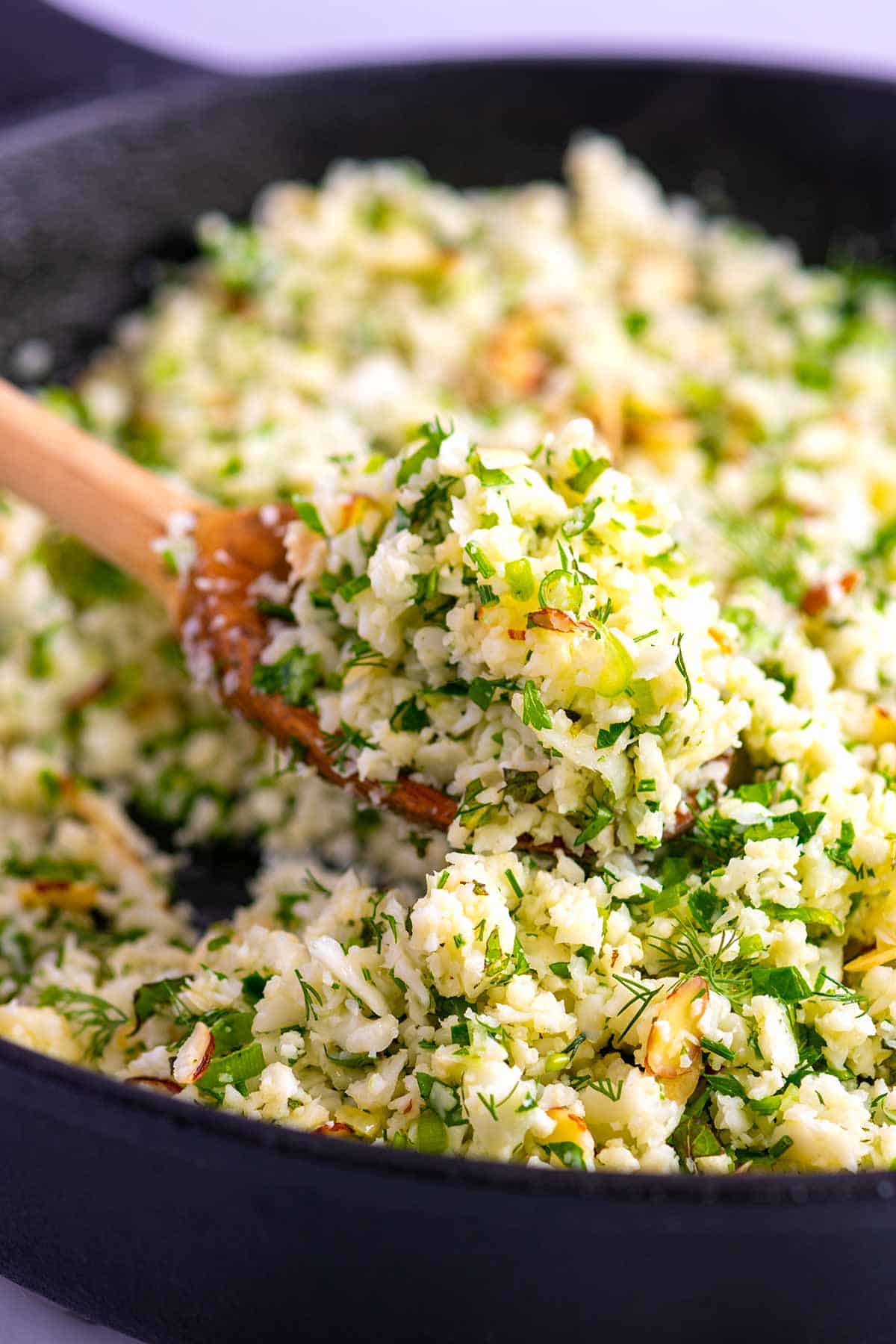 Here is a quick list sharing why I love this recipe so much:
It's guilt-free! Riced cauliflower is a delicious healthy, low-carb side that goes with just about anything.
Cauliflower rice is a bit plain on it's own, but after toasting it in a skillet with a touch of garlic butter, it tastes nutty and sweet.
The recipe is quick and easy to make. You can buy pre-made cauliflower rice at the store and you can make it yourself. (I've shared two easy ways below).
How To Make Cauliflower Rice
If you cannot find pre-riced cauliflower at the store, don't worry! Cauliflower rice is quick and simple to make yourself. We use two methods interchangeably in our own kitchen to make it:
Make cauliflower rice using a food processor (the quickest method)
Use a hand grater to make cauliflower rice (simple and still pretty quick)
The quickest method for making cauliflower rice is to use a food processor. Simply cut a head of cauliflower into large chunks and toss them into the bowl of your food processor. Then simply pulse until the cauliflower is processed into tiny bits.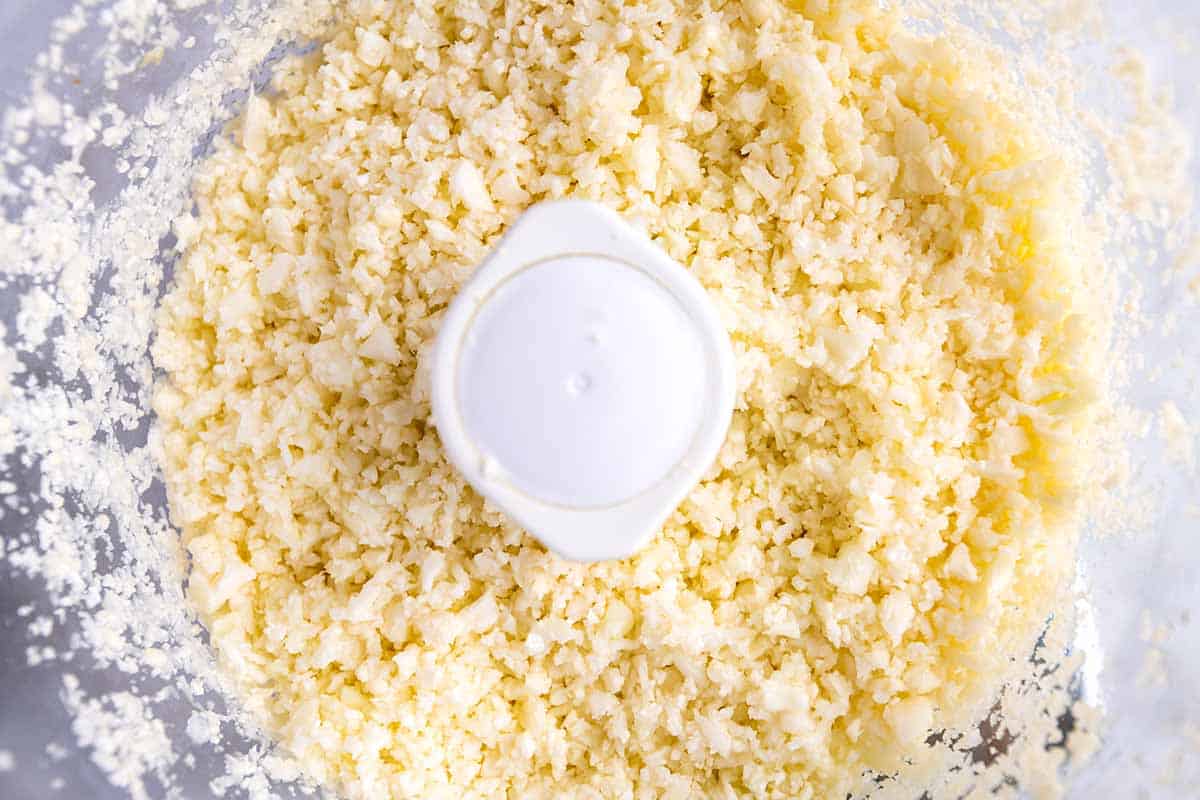 If you don't have a food processor or don't feel like pulling it out of the cabinet, you can still make cauliflower rice! I use a box grater and grate florets along the side with the larger holes. The texture won't be exactly the same as when you use a food processor, but it still does the trick.
Since it's so simple to make, I like to make a double batch and scoop the extra cauliflower rice into freezer bags and store in the freezer. It lasts a month or more.
Making The Herby Cauliflower Rice
I prefer to cook cauliflower rice on the stovetop. You can roast it, but I like the texture you get when using a skillet on the stove. To make the herby cauliflower rice I follow these easy steps:
Warm the garlic in melted butter in a wide skillet.
Stir in the cauliflower rice and cook, stirring often, until the rice starts to turn tender and picks up a little color.
Take the rice off of the heat, and then stir in lots of fresh herbs, toasted sliced almonds, fresh lemon juice, salt, and pepper.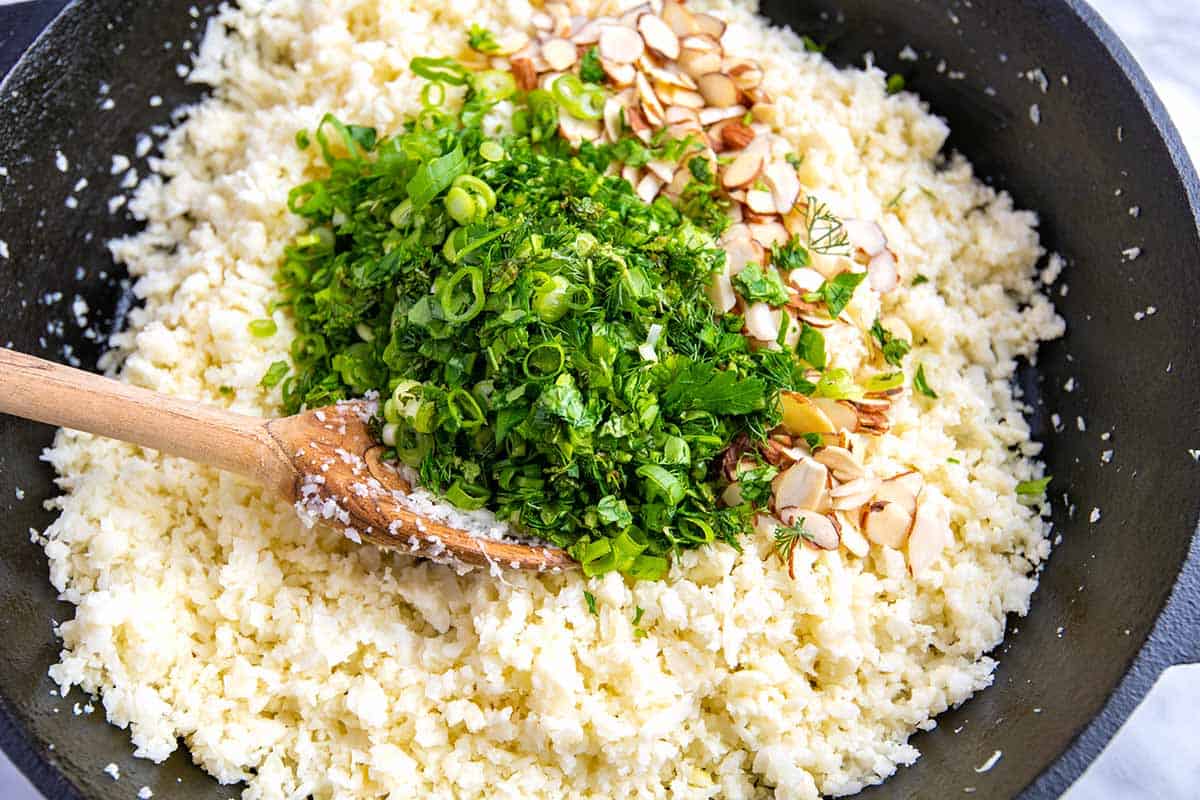 Frequently Asked Questions
Is cauliflower rice healthy?
Absolutely! Cauliflower is low in calories, high in fiber, and rich in many nutrients. It's become pretty darn popular recently and we're happy about that! Since cauliflower doesn't have an overpowering flavor, you can adapt it to lots of different cuisines. In the case of this cauliflower rice recipe, we add lots of herbs for unbelievable flavor. This recipe is gluten-free, keto friendly, low-carb, and if you substitute the butter for olive oil, is vegan and plant-based.
How long does cauliflower rice last?
As written, this cooked cauliflower rice lasts up to 2 days in the fridge.
Can I prepare cauliflower rice ahead of time?
Yes! You can prep the cauliflower well in advance and then cook it another day. After ricing the cauliflower, transfer the rice crumbles to a food-safe container and refrigerate up to four days or freeze a month or more.
More Healthy Cauliflower Recipes
Garlic Herb Cauliflower Rice
Cauliflower rice is a versatile and healthy side dish. For the best tasting riced cauliflower, it needs help from other flavors. In this herby version, we kick up the flavor with butter, lots of fresh herbs, fresh lemon juice, and garlic. For some extra crunch and texture, I love stirring in some roasted sliced almonds. You can leave these out or substitute other nuts.
Makes 8 (1/2 cup) servings
Watch Us Make the Recipe
You Will Need
1 medium head cauliflower or 16 ounces store-bought cauliflower rice
1/2 cup sliced almonds
2 tablespoons butter or substitute extra virgin olive oil
2 cloves garlic, minced
1/4 teaspoon fine sea salt
Freshly ground black pepper, to taste
3/4 cup chopped fresh herbs like parsley, dill, cilantro, and basil
1 tablespoon lemon juice or more to taste
Directions
Make Cauliflower Rice

1To turn a head of cauliflower into rice, there are two options. Use a food processor or use a box grater.

2If using a food processor, cut the head of cauliflower into medium chunks and remove the core. Working in batches, add the cauliflower to the bowl of a food processor and pulse until the cauliflower is broken down into very small bits that resemble rice (see photo above).

3If using a box grater, cut the head of cauliflower into quarters and remove the core. Use the medium-sized holes to grate each quarter into small bits resembling rice.

4Optional step, for the best cauliflower rice, before cooking, transfer the riced cauliflower to a clean dish towel and press to remove excess moisture.
Make Herbed Cauliflower Rice

1Add the almonds to a large skillet over medium heat. Stir the almonds around the pan until they are fragrant and lightly toasted, about 3 minutes. Keep a close eye on the nuts since they do toast quickly. Transfer the toasted almonds to a bowl and save for later.

2Return the skillet to the heat and add the butter. When the butter is melted and bubbling, stir in the garlic. Cook the garlic, stirring it around the pan, until fragrant, about 30 seconds.

3Add the cauliflower rice, salt, and a few grinds of black pepper. Cook, stirring every once and a while, until the cauliflower rice is crisp-tender and starts to turn light brown in places, 7 to 10 minutes.

4Take the skillet off of the heat, and then stir in the fresh herbs, lemon juice, and toasted almonds. Taste then adjust with additional salt, pepper or lemon juice.
Adam and Joanne's Tips
Leftovers should last, covered in the refrigerator, 3 to 5 days. Uncooked cauliflower rice can be stored in freezer bags and frozen 1 to 2 months.
Nutrition facts: The nutrition facts provided below are estimates. We have used the USDA database to calculate approximate values.
Nutrition Per Serving
Serving Size
1/2 cup
/
Calories
94
/
Total Fat
6.5g
/
Saturated Fat
2.3g
/
Cholesterol
8.3g
/
Sodium
222.7mg
/
Carbohydrate
8g
/
Dietary Fiber
2.9g
/
Total Sugars
1.8g
/
Protein
3.4g