A fun and easy apple pie cupcake recipe using cinnamon roll dough, fresh apples and cinnamon. How can it go wrong??
The base of the cupcakes are actually made from store-bought cinnamon rolls that have been flattened out into thin discs. Then, we fill the middle with apples that are cooked in butter, lemon and cinnamon. Everything gets topped with buttery and sweet streusel and baked.
We would eat them for breakfast, we would eat them for lunch and we would definitely eat them for dessert! (These are right at the top of our favorite Indulgent Dessert Recipes!)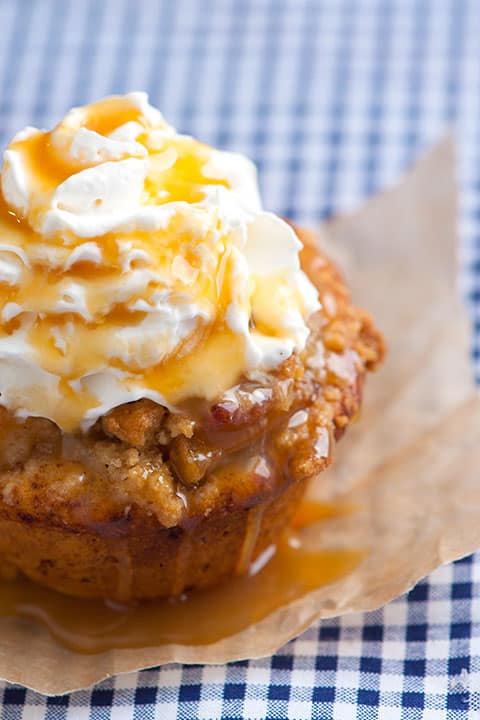 These taste so crazy good, not to mention the aroma of cinnamon rolls + apple pie baking in the oven will make anyone buckle at the knees. We first shared this with Betty Crocker and got a huge response, so we jumped at the chance to share it with you!
This baked cinnamon apples recipe is easy enough for tonight, but doubles as the perfect dessert for friends and family (or the holidays). These just might beat apple pie!
How to make Apple Pie Cupcakes
Start by making a simple streusel topping for the cupcakes. Mix together butter, flour, brown sugar and nuts.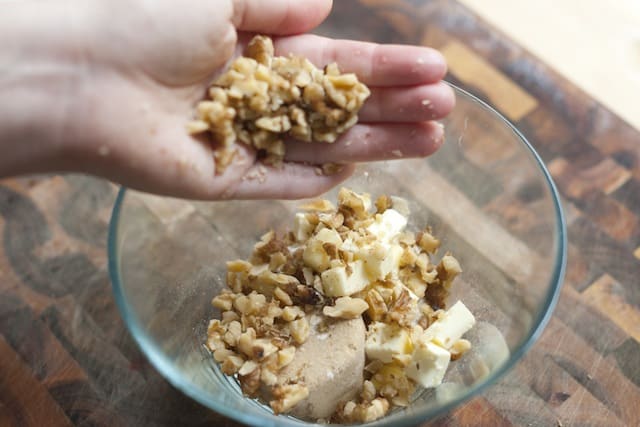 Now, peel and dice some apples. We used Granny Smith apples, but you could also use another good baking apple. When you choose apples for baking, go for those that are crisp. Try Jonathan, Jonagold or Braeburn apples.
Next, saute the apples. You will need a large saute pan over medium-high heat. Just melt a tablespoon or two of butter.
Add the apples, some brown sugar and cinnamon.
Once the apples have softened a bit, squeeze in some lemon juice.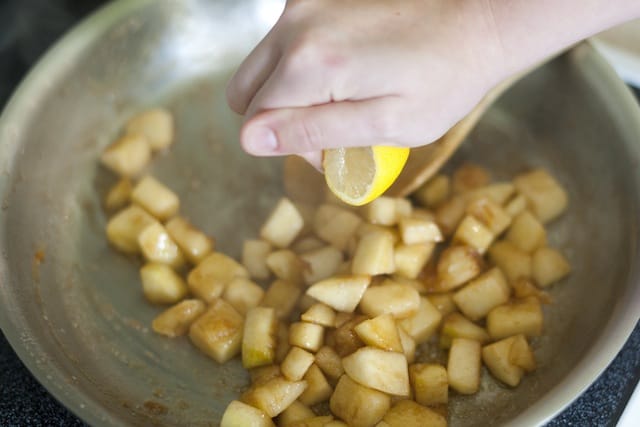 Open the cinnamon roll package then press each roll into a disk.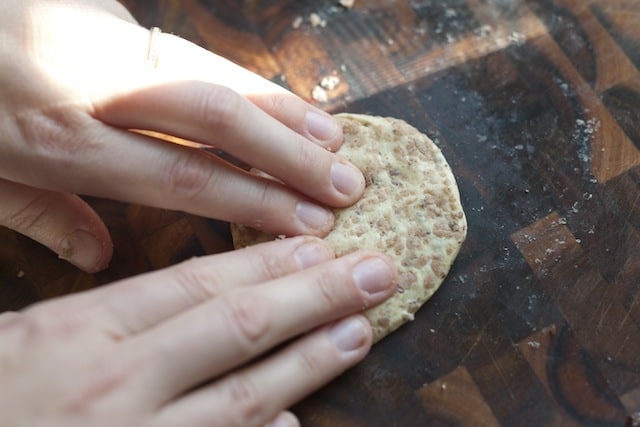 Now, place and press each round into lightly greased cupcake cups.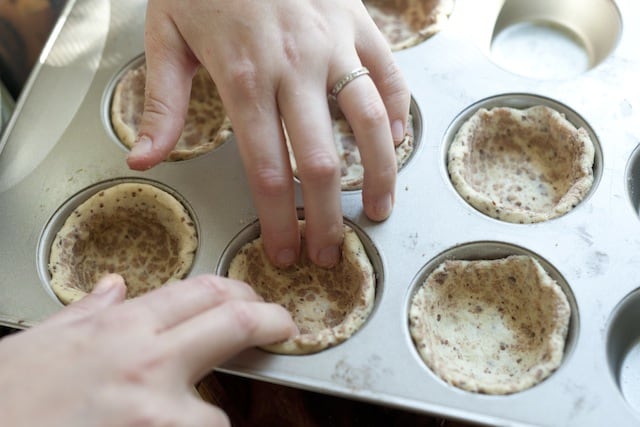 Add a spoonful of apples to each cupcake then sprinkle with the streusal on top.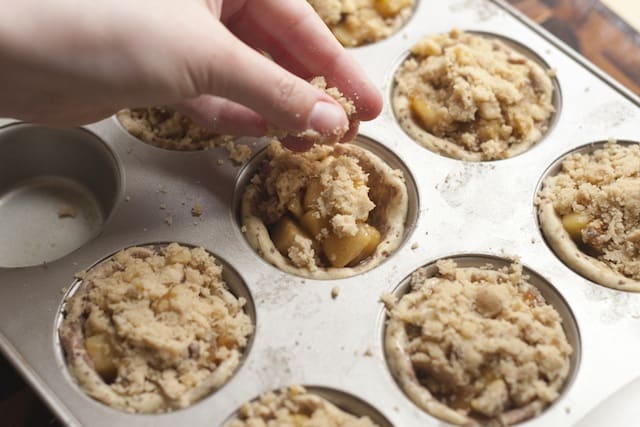 Bake in the oven for 12 minutes or so then allow to cool for 10 minutes or so, release from the pan and top with whipped cream and if you really want to be bad, some caramel sauce!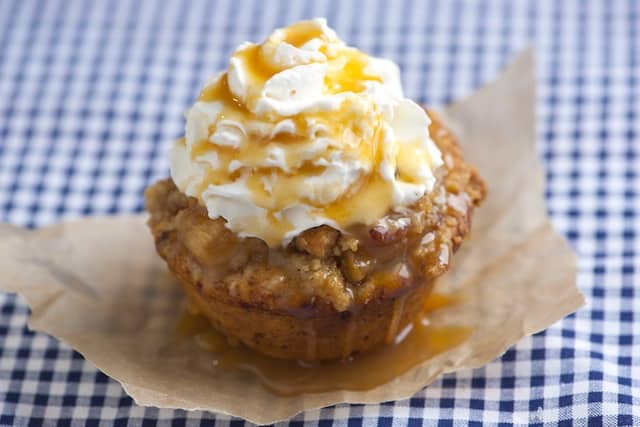 Apple Pie Cupcakes
These cupcakes are made with store-bought cinnamon rolls that have been flattened into discs and placed into cupcake cups. Then, we fill them with sautéed apples and top with a streusel topping. When chopping your apples, it can be helpful to spritz them with a little lemon juice (teaspoon or so). This way, they will not brown or discolor.
Created By:
Joanne and Adam Gallagher
You Will Need
4 tablespoons unsalted butter
2 large Granny Smith apples, peeled, cored and diced in to 1/4-inch cubes
1/2 teaspoon ground cinnamon
1/8 teaspoon salt
Juice of half lemon (about 1 1/2 tablespoons)
1/4 cup all purpose flour
1/4 cup + 2 tablespoons packed brown sugar
1/4 cup chopped walnuts
1 can (12.4 oz) Pillsbury refrigerated cinnamon rolls
whipped cream
caramel-flavored syrup
Directions
Heat oven to 400°F. Lightly spray 8 regular-size muffin cups with cooking spray.
In 10-inch skillet, melt 2 tablespoons butter over medium-high heat. Add apples; cook about 5 minutes, stirring occasionally, until softened. Sprinkle with 2 tablespoons brown sugar, the cinnamon and salt. Cook 5 minutes longer or until tender. Stir in lemon juice.
Meanwhile, in small bowl, mix butter, flour, 1/4 cup of brown sugar and walnuts with fork or hands until crumbly. Set aside.
Separate dough into 8 rolls. Flatten each into 4-inch round; place in muffin cup. Divide apple filling evenly onto rolls in muffin cups. Divide flour mixture evenly over apples.
Bake 10 to 12 minutes or until bubbly and tops are lightly browned. Cool slightly before removing from muffin cups. Cool completely, about 30 minutes.Serve cupcakes topped with whipped cream and a drizzle of syrup.