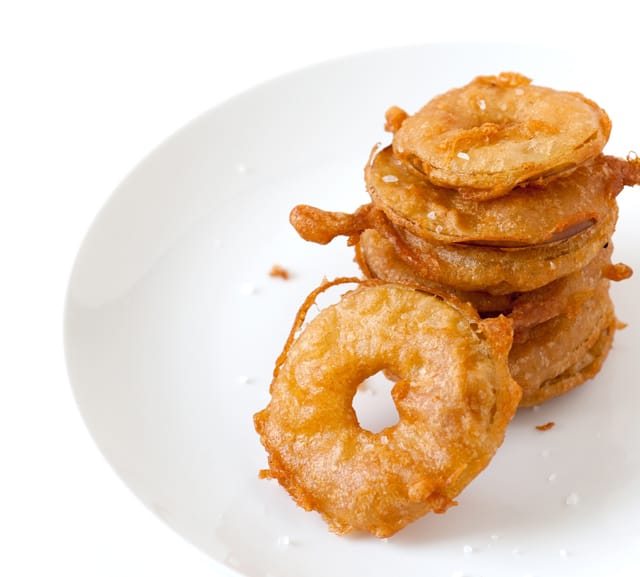 Did you check out this weeks Chili Lime Kale Chips recipe? How about the Kale Pesto Pasta recipe? If you did, then we won't feel too badly for sharing these beer battered apple rings with you. A healthy recipe will even out a not-so-healthy recipe, right?
We shared this recipe a while ago in the Fall issue of maché magazine. if you're up to frying something, these are really quite easy. We're not usually too big on frying at home, it often seems like a too much fuss, but these really surprised us. Want to know the best part? They are quick to make and work perfectly as an appetizer or side when sprinkled with salt and act as a dessert when sprinkled with powdered sugar. Adam's favorite way to enjoy them was savory with the salt and a quick dip into ketchup, but me – I went the sweet route. Think of a warm apple doughnut, it was lovely.
One note, when you fry at home, make sure you are paying attention, use a thermometer and always, always, always keep the lid of the pot you are using near by. That lid could smother an oil fire if it was needed. (A fire extinguisher in the kitchen isn't a bad idea, either).

Fried Apples Recipe
Fried apple slices can be served savory with a sprinkle of salt or sweet with a dusting of powdered sugar. When you deep fry at home, make sure you are actively engaged and use a thermometer to regulate the oil temperature.
Created By:
Adam and Joanne Gallagher
You Will Need
4-5 cups vegetable oil, or other high smoke-point oil such as canola oil or peanut oil
1 egg white
1 cup dark white beer, slightly flat
1 cup all-purpose flour
1 teaspoon salt
1 teaspoon cinnamon
1/8 teaspoon cayenne pepper
3 Granny Smith or other baking apple, peeled and cored
course sea salt or powdered sugar (depending on how you plan to serve the apples, sweet or savory)
Directions
Pour oil into a large saucepan (5-6 quart size) to reach a depth of 2-inches. Heat the oil over medium heat until it reaches 375 degrees F (190 degrees C).
In a large mixing bowl, whisk the egg white until frothy then gently stir in the beer, flour, salt, cinnamon and cayenne pepper until smooth.
Slice the apples into ¼-inch rings then pat dry. Working in batches, add the apple slices into the batter, then remove them one by one, allowing any excess batter to drip off and carefully place into the oil. Fry for about 1 minute on each side until golden. Remove the fried apples from the oil with a slotted spoon and transfer to paper towels. Immediately sprinkle each slice with a pinch of course salt or if serving as a dessert, with powdered sugar.