Roasting is my favorite way to cook leeks. It's so easy and quick. Jump to the Roasted Leeks Recipe with Herbs de Provence or read on to see our tips for making them.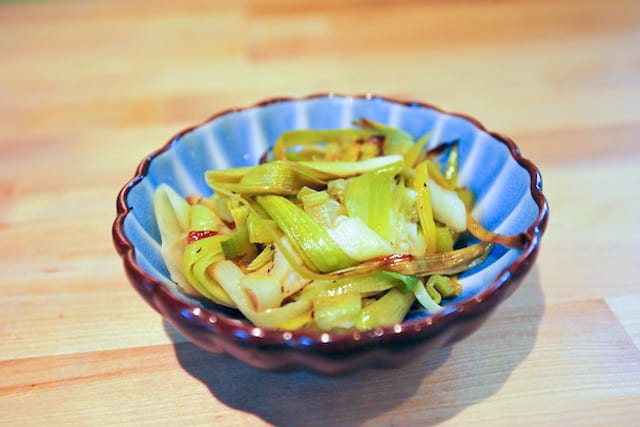 YOU MAY ALSO LIKE: How to clean and cut leeks
My love of roasting vegetables came from my mother. It's how she deals with most veggies — especially leeks. These easy roasted leeks are tossed with a little olive oil and a blend of herbs called Herbs de Provence. It's made up of herbs that grow abundantly in southern France including rosemary, marjoram, thyme, and sometimes lavender buds. You can buy the blend or combine some of your favorite herbs instead.
YOU MAY ALSO LIKE: How to cook leeks with olive oil, stock and lemon in under 25 minutes. Jump to the Easy Lemon Braised Leeks Recipe.
Recipe updated, originally posted August 2009. Since posting this in 2009, we have tweaked the recipe to be more clear. – Adam and Joanne
Roasted Leeks Recipe with Herbs de Provence
Before cooking with leeks, you will need to clean them. Since they are grown in sandy soil, the bottom of the leeks will usually have some dirt attached. It's easy to clean them — take a look at our tutorial for cleaning leeks.
You Will Need
6 medium leeks, white and light green parts, cleaned of all sand
2 tablespoons of olive oil
1/2 teaspoon Herbs de Provence
1/2 teaspoon salt
1/2 teaspoon fresh ground black pepper
1/2 cup chicken or vegetable stock, see our homemade stock recipe
Directions
1Heat the oven to 400 degrees F. Cut the leeks in half, lengthwise.

2In a rimmed baking sheet, toss the leeks with olive oil, Herbs de Provence, salt and pepper. Roast the leeks until they are tender, 35 to 45 minutes. After 10 minutes, add a few spoonfuls of broth to the leeks so they keep moist repeat as needed.