In college, Adam had Guinness twinkle lights. Seriously. He also had the "Guinness cup," you know the one that has the logo and is apparently the perfect shape? Guinness was usually in the fridge and I was schooled on how to properly pour the perfect glass. If I remember correctly (please, do not take my word for it), you should angle the glass while pouring just about half of the can then place the glass back to normal and slowly pour in the rest in one even stream. Then, you let it sit until it has settled. Did I mention Adam liked to drink Guinness?
It makes an appearance once and a while now and the last time it did, we used half a can on these. These are awesome to serve at a party and a full of flavor.
In need of a few more mini-ideas? Give these a whirl:
Enjoy!
How to make Mini Stout Pies
You will want a large skillet or frying pan for this. Place it over medium-high heat then cook some lean ground beef. We usually use 90-10, meaning that there is 10% fat. Just brown the beef then throw in some carrots and onions.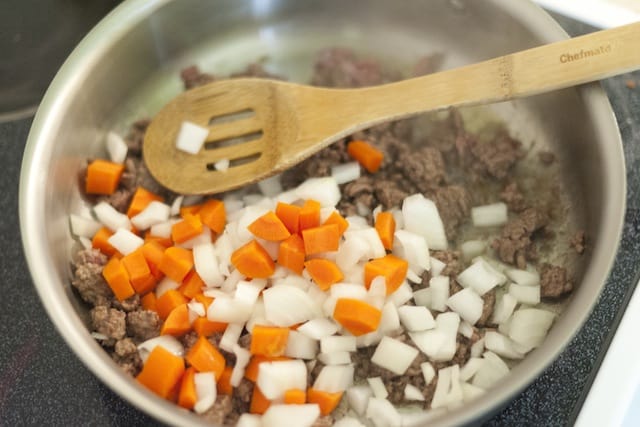 Once the carrots and onions are softened, add some dried thyme and garlic.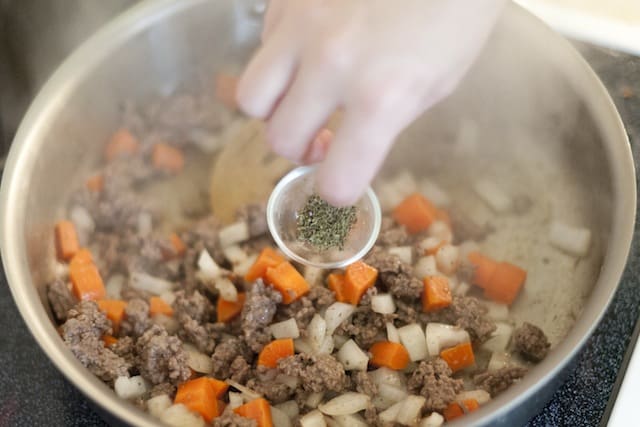 Next, add a tablespoon of tomato paste. I know it seems a little strange, but this adds depth and a touch of sweetness. After the tomato paste has been stirred into the beef, we add a tablespoon of flour and cook for about a minute. The flour will help thicken the beer once we add it…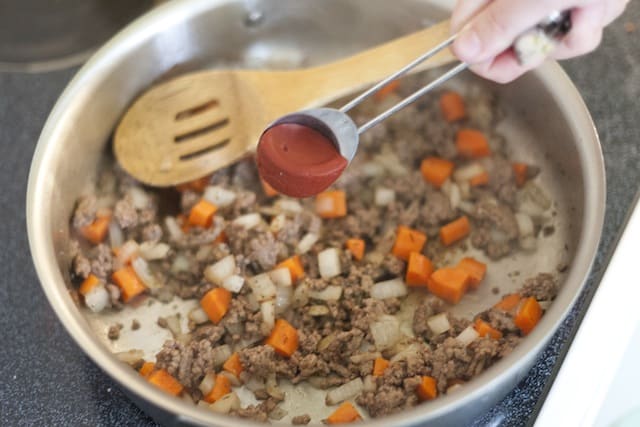 …which is now, so pour in the beer — we used Guinness, but use your favorite stout beer if you would like. Stir and cook the beer for about 1 minute, it should thicken slightly.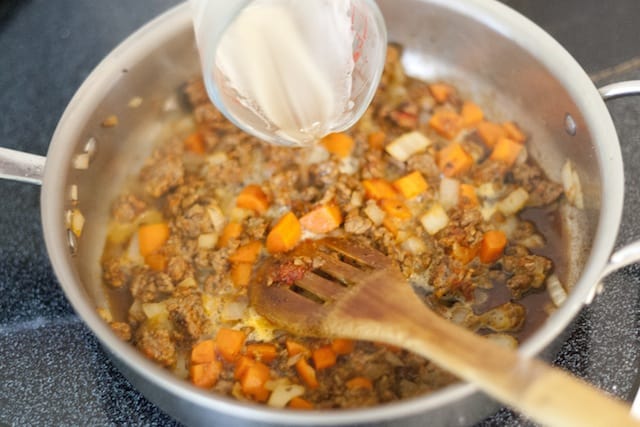 This is a good time to add some frozen and thawed peas.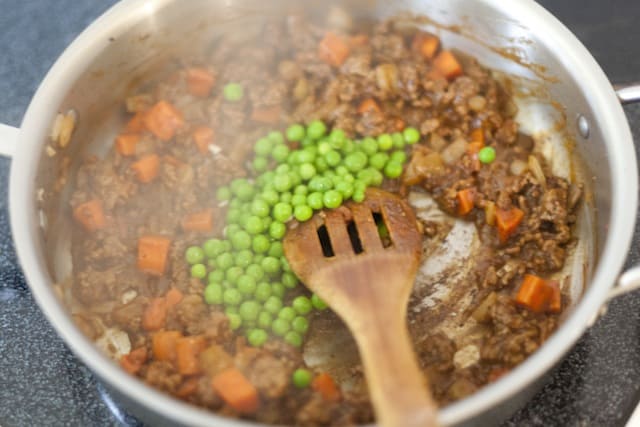 Next, add a little sugar. This works kind of like the tomato paste. The beer is quite bitter, so adding just a touch of sugar rounds everything out. Give everything a taste and season with additional sugar or salt if necessary. Then, allow the filling to cool for about 10 minutes.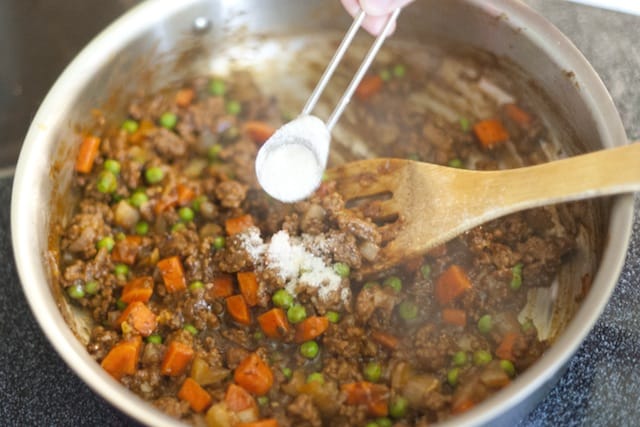 Preheat your oven then cut eight 4-inch circles out of some store-bought pie dough. If you have it on hand or wish to make your own, you certainly can. Here is our recipe for pie dough, perfect for savory applications.
Whisk together an egg and a little water then brush it around the outer edges of each dough round.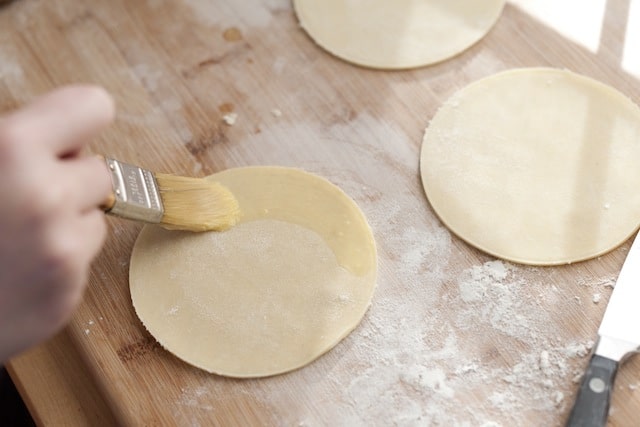 Add some filling to one half…
… and fold the other half over then use a fork to crimp the edges together and use a knife to cut a few slits on top.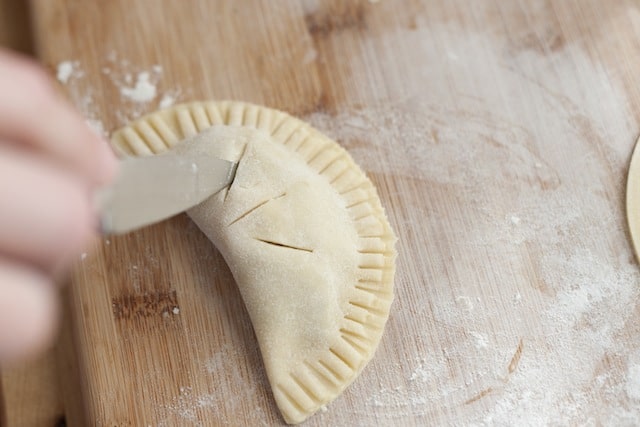 Brush the tops with more of the egg wash and bake in the oven until the dough has lightly browned and is flaky.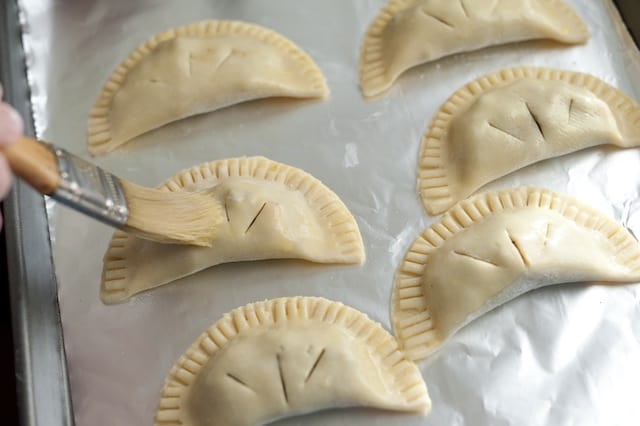 This recipe was created for Pillsbury and we are so happy to share it with you!

If you are a fan of stout beer, you will love these. We use store-bought pie crust to reduce prep time, but you could always make your own savory pie dough.

While we say this recipe serves 4, it is important to note that it yields 8 mini pies.
Created By:
Adam and Joanne Gallagher
You Will Need
1 tablespoon olive oil
6 oz lean ground beef
1/2 teaspoon salt
1 cup diced onions
1/2 cup diced carrot
1/2 cup frozen peas, thawed
1 teaspoon dried thyme leaves
1 garlic clove, minced
1 tablespoon tomato paste
1 tablespoon all-purpose flour
3/4 cup stout beer (we used Guinness)
1 teaspoon Worcestershire sauce
1 teaspoon sugar
2 refrigerated pie crusts, softened as directed on package (we used Pillsbury)
1 egg
1 tablespoon water
Directions
In a large frying pan or skillet, heat olive oil over medium-high heat. Add beef; season with 1/2 teaspoon salt then cook 3 to 5 minutes until browned, stirring frequently to break up beef. Add onions and carrot and cook 3 to 5 minutes or until softened. Stir in thyme and garlic; cook 1 minute.
Reduce heat to medium-low. Stir in tomato paste. Add flour then cook and stir 1 minute. Add beer and peas; cook and stir 1 minute or until beer thickens. Stir in Worcestershire sauce and sugar. Season to taste with additional salt. Remove from heat; cool 10 minutes.
Meanwhile, heat oven to 375°F. Line cookie sheet with foil.
Unroll pie dough on work surface. Using 4-inch round cookie cutter, cut 8 dough rounds.
In small bowl, beat egg and water with fork until well blended. Brush small amount of egg mixture around edge of each dough round.Spoon 1 to 2 tablespoons cooled beef mixture onto half of each dough round. Fold untopped dough over beef mixture (pies will be full). Press edges with fork to seal. With knife, cut 3 small slits in tops. Place on cookie sheet then lightly brush tops with egg mixture. Bake 18 to 24 minutes or until golden brown. Cool 10 minutes before serving.
Notes and Tips
If you are not a fan of beer, replace the stout beer with a high quality beef stock.