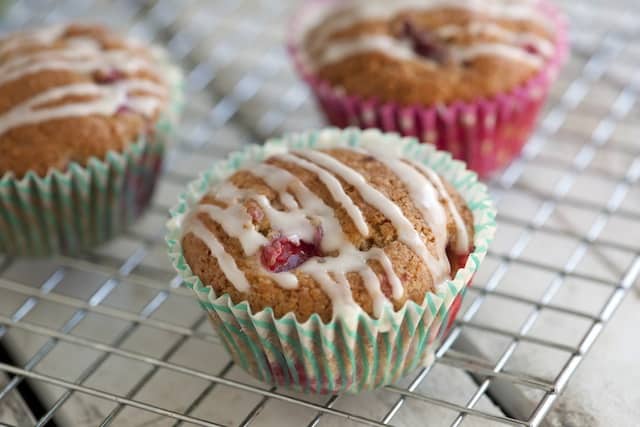 -Sponsored Post-

These Strawberry Muffins are good. Really good. Perfect for breakfast, mid-morning or an afternoon snack. They're packed with strawberries and for extra flavor we used strawberry yogurt instead of boring vanilla or plain. These come together really quickly and don't require any fancy equipment. Just a couple bowls, a whisk and a spoon.
When you make muffins, remember this: mix dry ingredients as much as you want, mix wet ingredients as much as you want but, when you put the two together only mix until they combine. If you over mix, the muffins will be heavy and flat.
We worked with Foodie and Activia to give their new Harvest Picks yogurt a try. Being the strawberry lovers that we are, we went for the strawberry yogurt and immediately thought it would be perfect added to this easy muffin recipe. If you cannot find Activia yogurt, use your favorite yogurt brand – it will be delicious!
How to Make Our Strawberry Muffins Recipe
These muffins come together quickly. You start by combining flour, sugar, baking powder, baking soda, salt and cinnamon. In another bowl, combine strawberry yogurt with egg and melted butter. Next, combine the wet ingredients with the dry — Remember, you only want to stir them until just combined. Over-mixed muffins will be tough and dry.
Finally, add lots of fresh strawberries.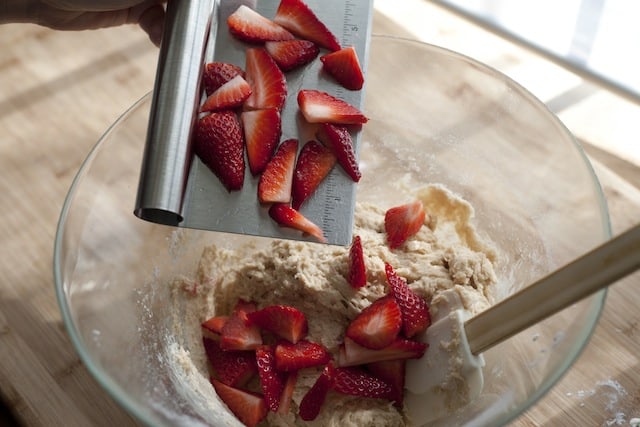 Fill muffin cups then bake in a 400 degree F oven for about 20 minutes.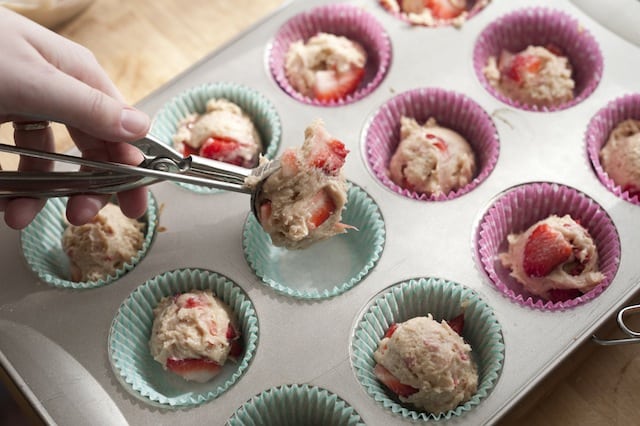 Vanilla Glazed Muffins, Anyone?
Once the strawberry muffins have cooled, you can make a quick vanilla glaze to drizzle over the tops. Combine powdered sugar, vanilla extract and milk. The glaze is really forgiving, if it is too thin, add more sugar, if it is too thick, add more milk. Once you get the consistency right, drizzle over each muffin and enjoy!
Did you like our Strawberry Muffins Recipe? If so, we know you'll love these:
Disclosure: Compensation was provided by Activia via Glam Media.  The opinions expressed herein are of Adam and Joanne and are not indicative of the opinions or positions of Activia

Simple Strawberry Muffins Recipe
This Strawberry Yogurt Muffin Recipe comes together quickly and is packed with strawberries, from fresh to strawberry-flavored yogurt! Keep the muffins in an airtight container at room temperature for 1-2 days or in the refrigerator 3-4 days.

p.s. the kids will love these!
Created By:
Adam and Joanne Gallagher
You Will Need
1 3/4 cups all purpose flour
3/4 cup sugar
1/2 teaspoon ground cinnamon
1 teaspoon baking powder
3/4 teaspoon baking soda
1/2 teaspoon salt
1 cup strawberry yogurt
1 egg
6 tablespoons unsalted butter, melted
1 cup roughly chopped strawberries
Vanilla Glaze
1/2 cup powdered sugar
1/2 teaspoon vanilla extract
2 teaspoons milk
Directions
Heat oven to 400 degrees F. Line a muffin pan with paper liners or spray with non-stick cooking spray.
In a large mixing bowl, combine flour, sugar, cinnamon, baking powder, baking soda and salt.
In a small bowl, whisk together yogurt, egg and melted butter then add to dry ingredients. Use a spatula or spoon to stir until just combined.
Fold in strawberries. Fill muffin cups 3/4 full then bake for about 20 minutes until golden brown on top and a toothpick inserted into the center of muffins comes out clean. Cool.
Make vanilla glaze by stirring together powdered sugar, vanilla extract and milk. The glaze is forgiving, add more milk if too thick, add more powdered sugar if too thin. The glaze should be thin enough to drizzle over the cooled muffins. Drizzle glaze over cooled muffins and enjoy.