There's something about the word "pudding." Maybe it's the lack of fuss, crusts and pastry or maybe it's the need for a spoon, and not a fork, knife or napkins. Whatever it is, we like it. It means comfort, and transforms us to a place of cheer and delight. Looking around our home, you'll see stacks upon stacks of cookbooks and magazines that seem to seem to teeter-totter at even the slightest breeze. We found the inspiration for this pudding in a cookbook right at the top of one of those stack.
We love how simple this pudding is to make – all you really need is 15 minutes hands-on time.
The rest of the time is spent anxiously waiting for the pudding to cool, something we admit can be quite difficult! What really makes this special is the use of vanilla bean – we don't usually spend the extra bucks on such things, but in this case, it is so worth it! Right now, we have  a few vanilla beans from Beanilla in our kitchen, we noticed you can buy 5 beans for just under 7 bucks if your interested. Or, if you would prefer, don't sweat it and just use vanilla extract, we won't tell!
Egg Yolks are the Foundation For Great Pudding
Add some milk to a little cornstarch and whisk them together until smooth.
In go some egg yolks!
How to Get the Most Flavor Out of Vanilla Beans
When you cook with vanilla beans, cut them in half lengthwise then use the tip of a knife to scrape all those teeny tiny seeds from the pod. See all those teeny tiny beans on the tip of our knife? THAT is some fabulous flavor!
To get the most out of the vanilla bean, you'll want to add the scraped seeds AND the actual pod to a hot or warm mixture — this way, the vanilla infuses into whatever that liquid is. In the case of our banana pudding, that is milk and sugar.
If you don't have vanilla bean, no worries, use vanilla extract – a teaspoon will do the trick. The flavor won't be exactly the same, but you gotta do what ya have to do, right? The pudding will still be perfectly delish!
Making the Pudding, Nice and Slow
One of the last steps when making you very own pudding is combining hot liquid (our vanilla infused milk) and cold egg yolks.
Don't worry, it isn't crazy difficult. Just work slow and remember to always whisk.
While constantly whisking, slowly stream in some of the hot milk into the egg mixture… remember, you want to go nice and slow, here – that way, you don't risk the chance of cooking the eggs.
Once about half of the hot milk has been added, go ahead and slowly pour the now-hot egg mixture into the saucepan. Just as before, make sure you constantly whisk. Then, place the saucepan over low heat and bring to a gentle simmer until decadently thick and creamy.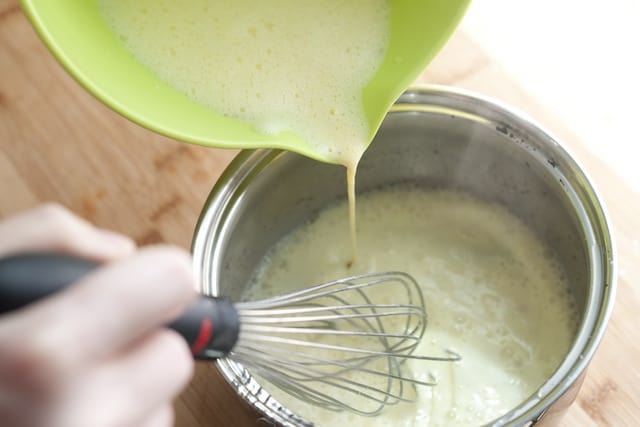 Pudding, Bananas and Cookies
Once our pudding was cold, we layered pudding, sliced bananas, mini chocolate chip cookies and whipped cream together and indulged immediately.
If you have the patience, you could assemble then refrigerate for another two hours or so that the cookies moisten a bit, which will be more similar to the classic banana pudding. If you are that patient, we salute you!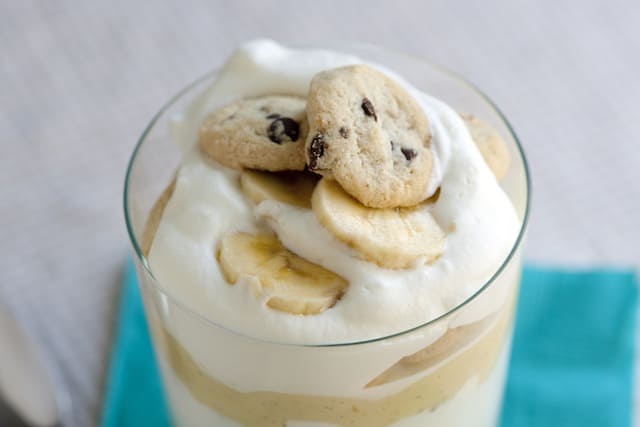 A Great Book
Desserts from The Famous Loveless Cafe is a book filled with simple southern pies, cakes, cobblers and puddings. Just flipping through the pages makes you yearn for a big slice of red velvet cake or a bite of warm blackberry cobbler! Towards the back of the book is a chapter dedicated to puddings .. that is OUR kinda book! You can purchase this book on Amazon
.
Banana Pudding
This classic banana pudding comes together in less than 15 minutes, however, keep in mind that there is inactive cooling time. This is perfect to make a day ahead of time. We like to make our banana pudding with mini chocolate chip cookies, however, for a more classic take on the dessert use vanilla wafers.
Created By:
Joanne and Adam Gallagher
You Will Need
3 tablespoons corn starch
1 1/2 cups 2 % milk
4 egg yolks
1/3 cup sugar
1 inch of a vanilla bean, split in half, lengthwise (substitute 1 teaspoon vanilla extract)
2-3 ripe, but firm bananas
15-20 vanilla wafers or mini chocolate chip cookies
1/2 cup cream
Directions
Add cornstarch to a medium heat-safe bowl then stir in 1/2 cup of the milk until smooth. Add egg yolks and whisk until well blended.
Add the remaining 1 cup of milk and the sugar to a medium saucepan. Then, using the tip of a small pairing knife, scrape the seeds from the split vanilla bean. Add the vanilla seeds into the pan as well as the pod. Bring milk to a simmer over medium heat then immediately reduce heat to low. (Note: if using vanilla extract, add it now).
Take the saucepan off the heat (leave the burner on) and slowly pour, while whisking at the same time, about 1/2 of the hot cream into the egg mixture. Note: You want the hot cream to be added in a very thin and slow stream so that the hot cream does not cook the eggs, this brings the temperature of the egg mixture up in slowly, reducing the risk of scrambling the eggs.
Next, add the hot egg mixture in a slow steady stream back into the saucepan and cook, while whisking, over low heat until the pudding comes to a gentle simmer. Simmer for one minute, remove from heat and add to a bowl.
Remove vanilla pod then press a sheet of plastic wrap directly onto the pudding to prevent a skin from forming and refrigerate until cold, about 2 hours.
To assemble dessert, alternate pudding, sliced bananas, cookies and whipped cream in a bowl or glass then enjoy immediately or cover with plastic wrap and leave in refrigerator up to a day so the cookies soften.