Easy Instant Pot Salsa Verde Chicken
How to make the best salsa verde chicken using the Instant Pot (or any pressure cooker). The chicken stays juicy, tender and tastes incredible. Serve this with rice, cooked grains or in tortillas. Jump to the Instant Pot Salsa Verde Chicken Recipe or read on to see our tips for making it.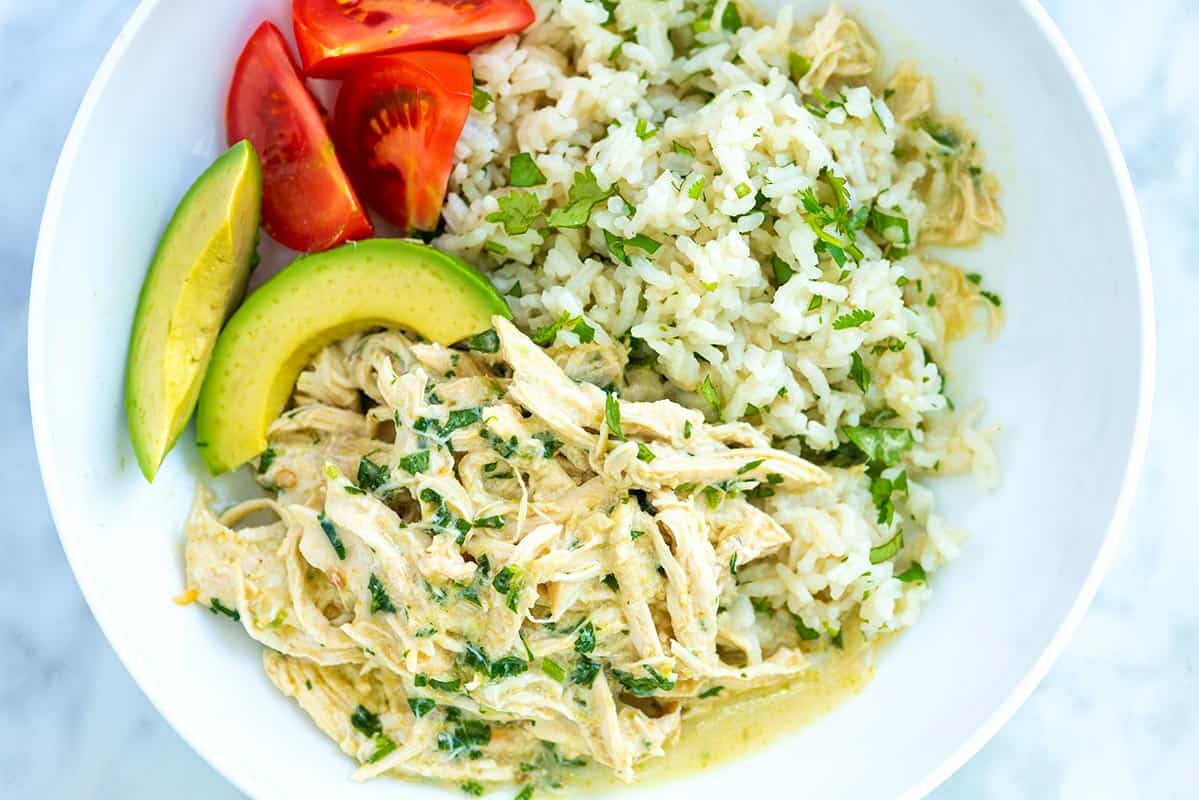 We've shared a spin of salsa verde chicken before — remember these salsa verde chicken enchiladas? They have so many great reviews that we knew we needed to share another recipe using our beloved salsa verde.
Salsa verde is packed with lots of flavor thanks to tomatillos, peppers, cilantro, lime and garlic. This pressure cooker chicken recipe is the perfect vehicle for it.
What is an Instant Pot®
The Instant Pot is a programmable pressure cooker with a slow cooker option that has recently seen quite a bit of popularity. We've had some time to play with it and have fallen for it. They are sold just about everywhere, but if you don't have one, this recipe can be adapted to be used by any pressure cooker.
Before we get to the recipe, let's briefly address one of the biggest misconceptions (and sometimes disappointments) with pressure cookers. One of the coolest things about a pressure cooker is that you can cook food quickly. An example being that you can cook chicken breasts in under 8 minutes. Most people (including us) assume that when we program the cooker to cook for 8 minutes, the 8 minute countdown starts right away. That's not exactly true.
Cooking won't begin until there is enough steam pressure built up inside the pot. This takes a few minutes so don't worry if it doesn't seem like anything is happening at first.
The second caveat to pressure cookers is that when the cook time is done, the pressure inside the pot needs to release before you open the lid. You have two options for that: allow the cooker to naturally release the steam (which can take 10 minutes or more) or you can press the quick release. We usually do a combination of both — let the cooker naturally release some of the steam for 5 minutes or so then press the quick release for the rest. We do this most of the time unless we are cooking something with a high liquid content (like stock or soup). If there's lots of liquid in the pot, we go with the natural release.
Now that's out of the way, let's make salsa verde chicken! I didn't want to bore you, but when we introduce a new device into our kitchen, we like to know how best to use it. Now you know, too!
How do you cook chicken in an Instant Pot?
To cook chicken in an Instant Pot, follow these easy steps:
Add at least 1 cup of liquid to the bottom of the Instant Pot (in our case that's salsa verde)
Add the chicken to the pot and seal the lid.
Cook on high pressure for the desired amount of time (I share suggestions below), and then release the pressure using the quick release button or toggle.
In our recipe, we are using 1 pound of thawed boneless chicken breasts, so the cook time is 8 minutes with a 5 minute natural release. You can also use boneless, skinless chicken thighs for this recipe.
Can you use frozen chicken in the Instant Pot?
You can cook frozen chicken in an Instant Pot (or electric pressure cooker). There will be a longer preheat and cook time for frozen chicken compared to thawed. Frozen chicken breasts should take around 10 to 12 minutes.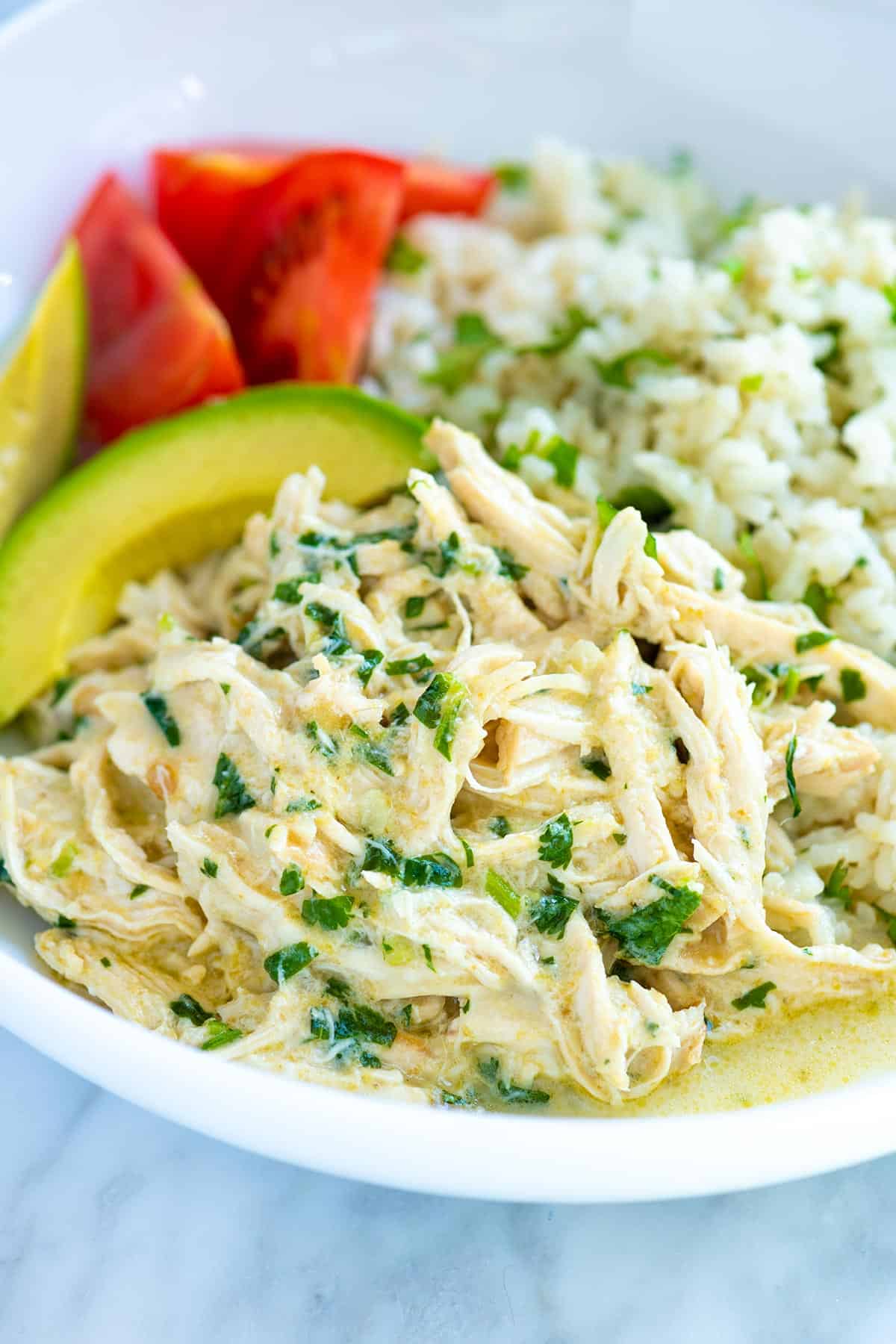 How to Make Amazing, Flavorful Instant Pot Chicken
If you can add ingredients to a pot and close a lid, you can make this chicken! As you can see from the steps above, cooking chicken in an Instant Pot is EASY.
You could just use water or broth for the liquid in the bottom of the pot, but for the best, most flavorful Instant Pot chicken, use salsa verde (also called tomatillo salsa).
Step 1, Start by cooking some garlic in a little olive oil — since the Instant Pot has a "Sauté" button, this happens right in the cooker. No other pans are needed.
Step 2, Add salsa verde. When the garlic is lightly toasted, pour in salsa verde. Place chicken into the salsa — use chicken breasts or thighs — then secure the lid and switch to the "Pressure Cooker" mode. Depending on the type of chicken you are using (breast, thigh, fresh or frozen), the cook time will vary.
Step 3, Release the pressure and shred the chicken. When the cook time is done, let the Instant Pot naturally release for 5 minutes then release the remaining pressure with the quick release button/toggle. Shred the chicken, and then then stir it back into the salsa along with some sour cream and cilantro. Easy!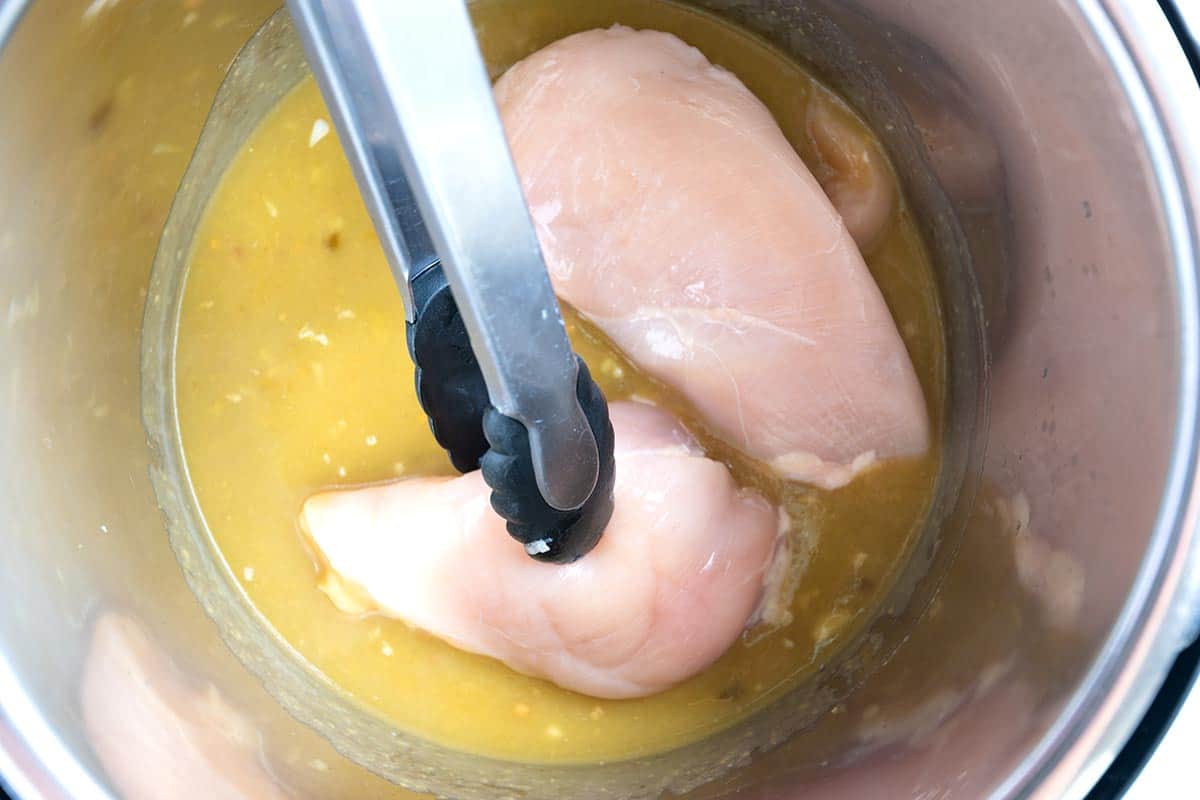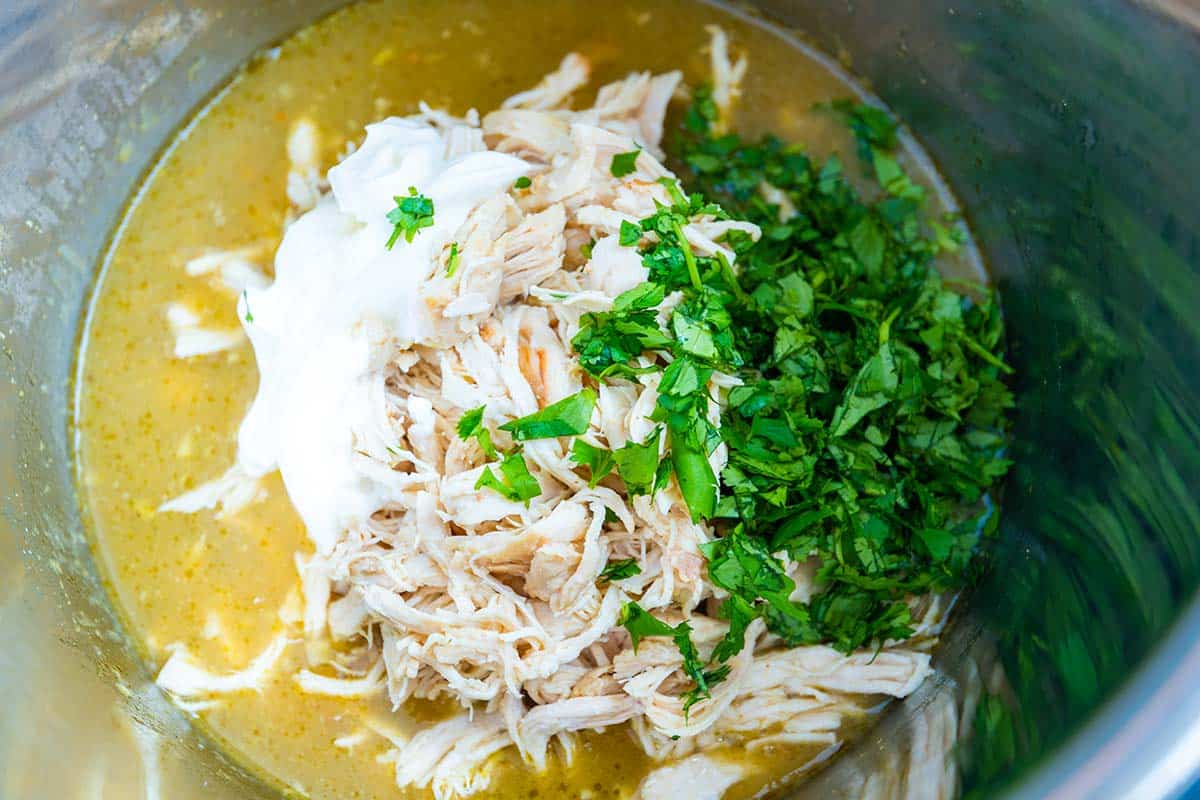 More Instant Pot (Pressure Cooker) Recipes
Easy Instant Pot Salsa Verde Chicken
Instant pot chicken with a creamy salsa verde sauce. The Instant Pot is a programmable pressure cooker, if you don't have one, this recipe can be adapted to be used by any pressure cooker. You can use any cut of chicken for this, chicken thighs will make the most tender shredded chicken, but chicken breast works nicely.
Makes about 4 cups of shredded chicken
You Will Need
1 teaspoon olive oil
2 garlic cloves, minced
2 cups salsa verde or green enchilada sauce, try our homemade salsa verde, see notes
Salt, to taste
1 pound boneless, skinless chicken breast or thighs
1/2 cup sour cream
Handful fresh chopped cilantro
Directions
Add oil to the bottom of the Instant Pot (or electric pressure cooker). Select the "Sauté" setting and choose high heat. When the oil is hot and shimmering, add the garlic and stir it around the pot for 10 seconds. Pour in salsa verde and cook until warmed through. Taste the salsa and season with salt if needed. Cancel the "Sauté" function.

Nestle the chicken into the warmed salsa then secure the lid. Select the "Pressure Cook" or "Manual" function and cook on high pressure for 8 minutes. Note that the timer will not start until there is enough pressure inside the pot so the timer may not start for a few minutes.

When the cook time is up, do not immediately open the lid and instead let the pressure naturally release for about 5 minutes. After 5 minutes, release the remaining pressure by using the quick release button (be careful to keep your hands and face away from the venting steam).

Transfer the chicken to a cutting board and use two forks to shred it (you can also do this in the in the pot itself). Stir the shredded chicken, sour cream and the cilantro into the salsa verde sauce. Serve over rice, cooked grains or in tortillas.
Adam and Joanne's Tips
Salsa verde: We love our homemade version, but when we don't have time to make it, use store-bought. So far, our favorite brands are Frontera by Rick Bayless and Hatch. If you buy canned salsa, you'll find you have about 1 2/3 cups of sauce. Don't bother opening an extra can, just fill the measuring jug to the 2 cup line with a little water.
If, when you remove the chicken, the chicken is not all the way cooked through, turn the Sauté function back on and simmer until the chicken is cooked through.
Nutrition facts: The nutrition facts provided below are estimates. We have used the USDA Supertracker recipe calculator to calculate approximate values. Nutrition provided is for the lemon garlic version of the recipe. We assumed chicken breast.
If you make this recipe, snap a photo and hashtag it #inspiredtaste — We love to see your creations on Instagram and Facebook! Find us: @inspiredtaste
Nutrition Per Serving:
Serving Size
1/2 cup
/
Calories
251
/
Protein
28 g
/
Carbohydrate
9 g
/
Dietary Fiber
2 g
/
Total Sugars
5 g
/
Total Fat
11 g
/
Saturated Fat
4 g
/
Cholesterol
85 mg
/
Sodium
813 mg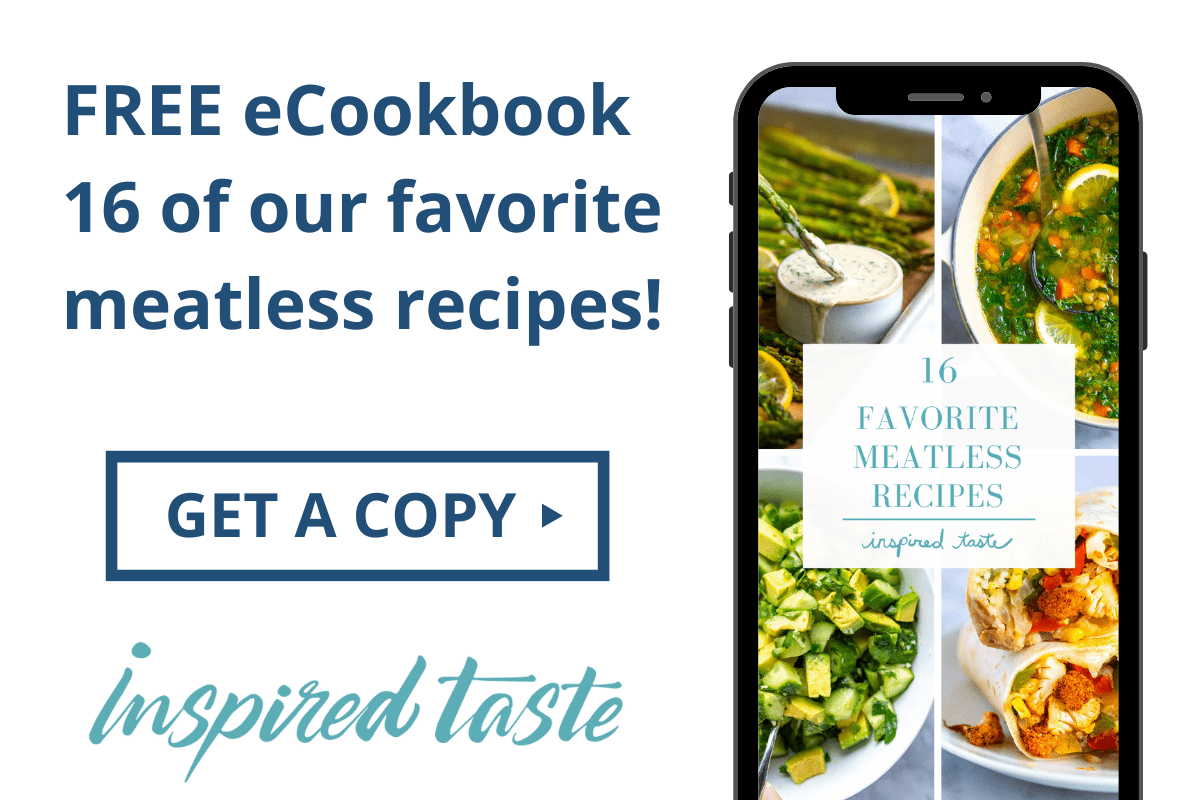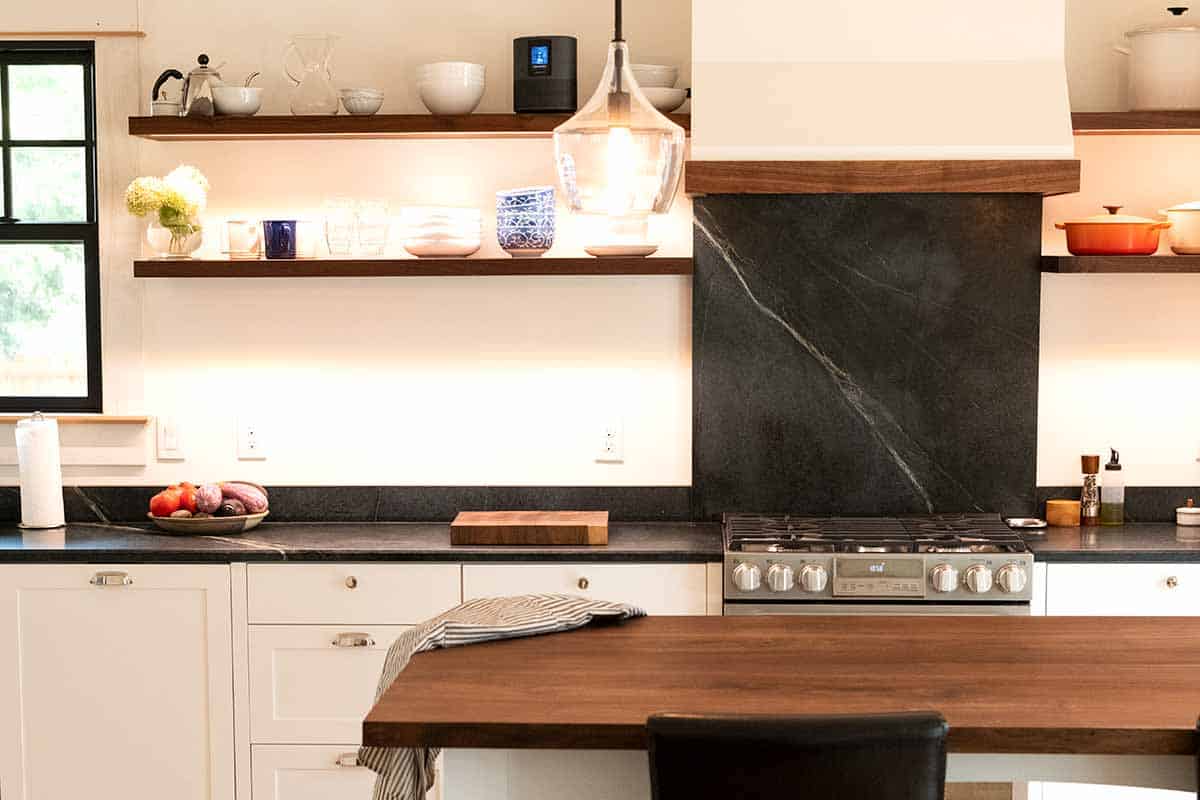 Take a look around where we create recipes and videos!
Previous Post: No-Fail Instant Pot Hard and Soft Boiled Eggs
Next Post: Classic Fresh Rum Mojitos