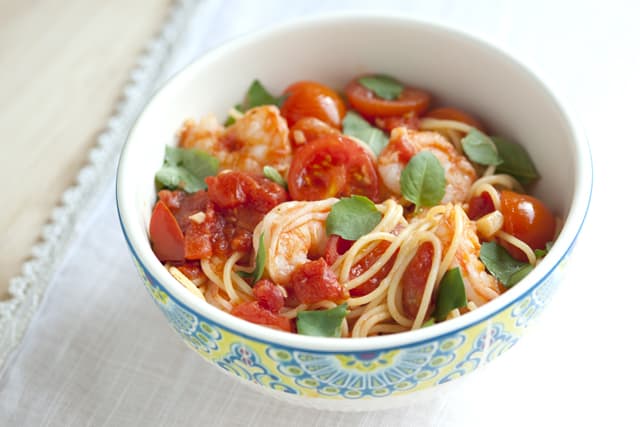 In the background, while writing this, we are watching an International House Hunters. Do you watch that show? I'm a little jealous. The couple on the TV are choosing between 3 amazing homes with ocean/beach views! I wonder if we packed up some of this pasta, the realtor would forget that we don't have the moolah to buy one of the homes?
Probably not, huh? Cookies are probably more his style.
This one is easy, guys, really easy! Here's how we make it:
How to Make Shrimp Pasta with Tomato and Basil
Get your pasta cooking. Go for something a little lighter, angel hair or thin spaghetti works best. Bonus, the thinner the pasta, the quicker it cooks!
While the pasta is going, heat a pan and add some minced garlic. We used 3 cloves … i know, it sounds a lot, but it is a big part of the sauce's  flavor. You should also add the shrimp. Make it one layer, so they cook evenly.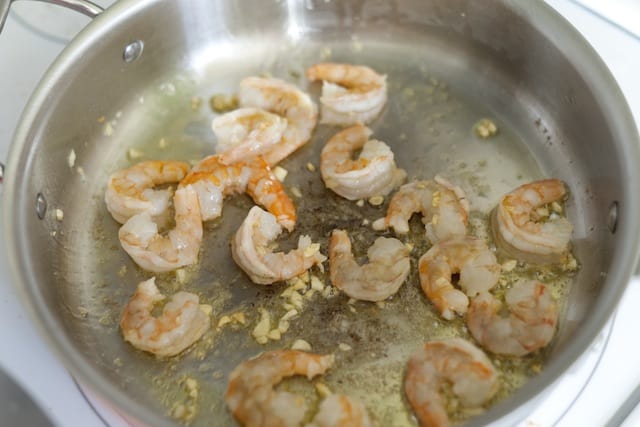 Just as the shrimp are starting to turn translucent in the middle, add a whole can of diced tomatoes. We like to buy organic canned tomatoes and think they have a bit more flavor.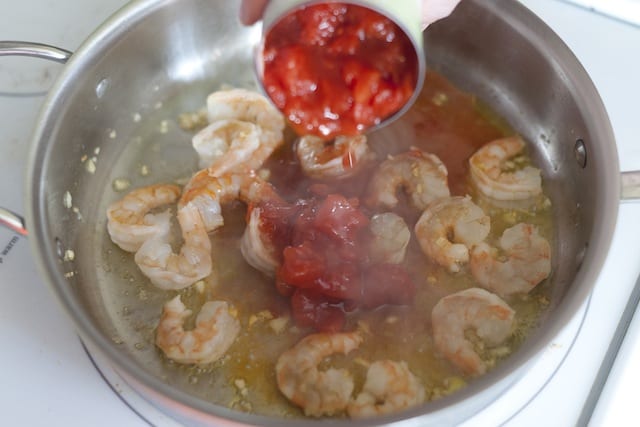 Now, toss in your cooked pasta.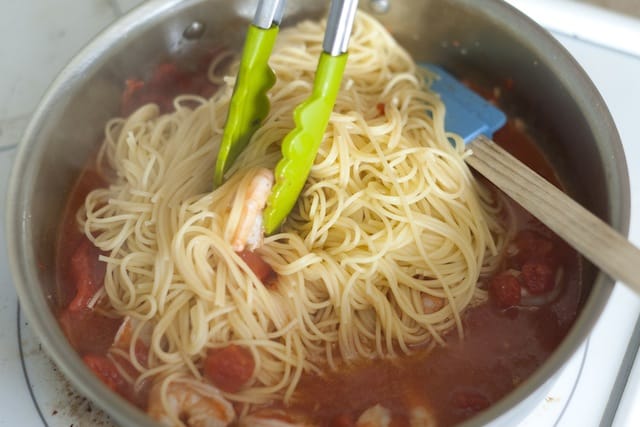 Then, top with fresh halved cherry tomatoes and a handful of basil leaves. If the leaves are huge, tear them into smaller pieces. Toss everything together and cook about 2 minutes. The pasta will absorb all the tomato-y goodness, the basil will wilt and the fresh cherry tomatoes will warm through.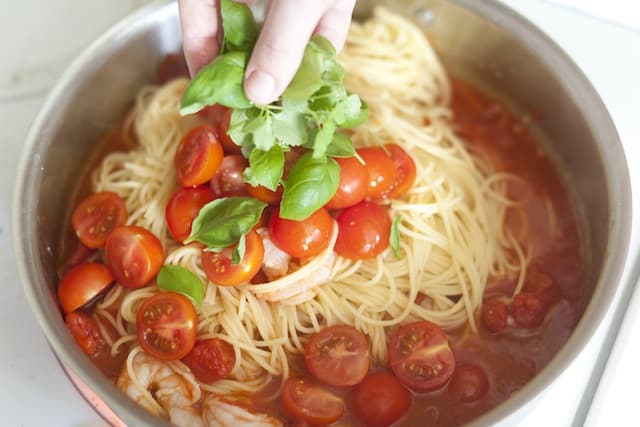 For more delish pasta recipes, take a look around here.

Shrimp Pasta with Tomato and Basil
This light pasta comes together in minutes and is lightly flavored with sweet tomatoes and fresh basil. When you choose your pasta, go for something thin, such as angel hair or thin spaghetti.
Created By:
Joanne and Adam Gallagher
You Will Need
8 ounces thin spaghetti
1 tablespoon olive oil
3 garlic cloves, minced
1/2 pound large shrimp, peeled and deveined
1 16-ounce can diced tomatoes
1 cup halved cherry tomatoes
1/2 cup packed basil leaves
salt and pepper
Directions
Bring a large pot of salted water to a boil then cook pasta according to the package directions.
Season shrimp with salt and pepper. Then, heat a large frying pan over medium-high heat. Add olive oil, garlic and shrimp to the hot pan. Make sure the shrimp are in one layer so they cook evenly. Cook shrimp 1-2 minutes on each side until they begin to turn translucent in the middle. Reduce heat to low and add canned tomatoes (juice and tomatoes), cook for 1 minute. Taste for seasoning and add salt and/or pepper as necessary.
Add cooked pasta, halved cherry tomatoes and half of the basil to the pasta then toss and cook another 2 minutes.
Serve hot with the remaining basil leaves sprinkled on top.
Notes and Tips
When you cook pasta, use at least 4 quarts of water for every pound and add at least 1 tablespoon of salt. This way, the pasta won't stick together when cooking and will be seasoned.