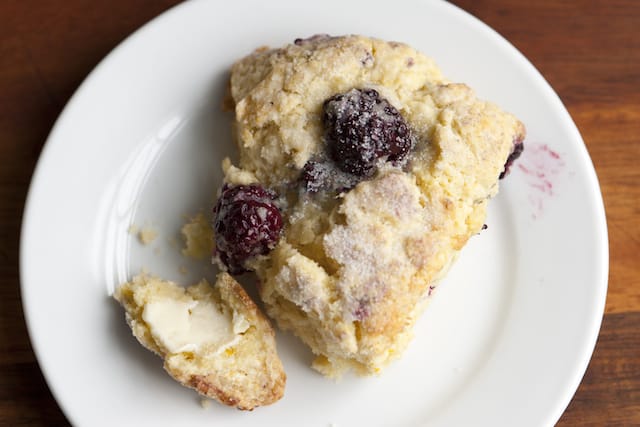 There are a ton of scone recipes out there and I (Joanne) would most likely love them all! I love scones. These are more of the "American" or "coffeehouse" kind of scone. They're absolutely packed with fresh blackberries that smoosh when you cut into them and lots of lemon zest. They're heavenly, especially with butter generously spread all over them next to a huge cup of coffee (I'm talking gigantic, here, gigantic). While Adam is not as head-over-heels in love with them as I am, he will still down a couple of these and be perfectly happy.
These seriously take minutes to make and the best part? NO fancy equipment required! Enjoy!
You May Also Like: Our Cranberry Scones Recipe or Spiced Pumpkin Scones Recipe.
Cold Butter is the Secret to a Great Scone
Cold butter + A Hot Oven = Flaky, tender scones.
Once you've stirred together all the dry ingredients like flour and sugar, you'll want to add the butter. You can do this a few ways.
Use a box grater to grate frozen butter into the bowl.
Cut cold butter into small cubes then use a pastry cutter or two knifes to "cut" the butter in.
Add cubes of cold butter to the dry ingredients that are in the bowl of a food processor then pulse.
The Wet Stuff
Sour cream and eggs get stirred into the crumbly butter and flour mixture. Don't over work the dough, use a fork to swirl them in until everything is moistened.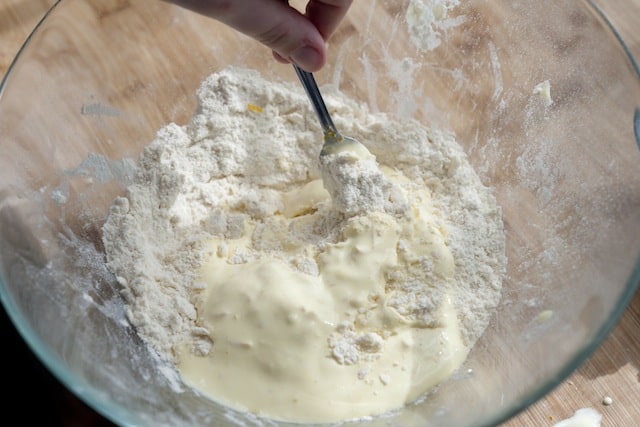 Forming the Scones
Next, add the blackberries and empty everything out onto a clean floured board.
Form that into a circle — don't worry if some of the blackberries get smooshed a bit then cut the dough into 8 triangles.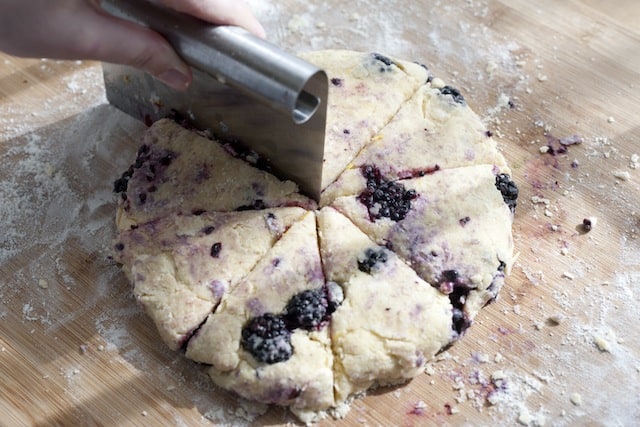 Serve warm with butter!  Are you drooling yet?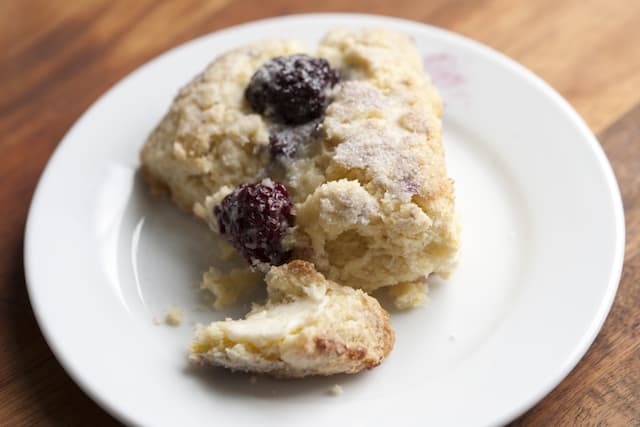 We created this recipe for Betty Crocker, but couldn't wait to share with you!

Blackberry Scones
Scones are pretty easy and come together quickly. We love the addition of fresh blackberries for this, however, you could certainly use thawed, frozen blackberries.
Created By:
Joanne and Adam Gallagher
You Will Need
2 cups all-purpose flour
1/3 cup + 1 tablespoon sugar
1 teaspoon baking powder
1/4 teaspoon baking soda
1/2 teaspoon salt
1/2 cup unsalted butter, frozen
1/2 cup sour cream, cold
1 egg
1 tablespoon grated lemon zest
1 container (6 oz) fresh blackberries
Directions
Heat oven to 400°F. Line cookie sheet with parchment paper or aluminum foil.
In a large bowl, mix flour, 1/3 cup sugar, the baking powder, salt and baking soda.
Now, use a box grater to grate butter into flour mixture OR cut the butter into small cubes then work in with fingers until mixture looks like coarse meal.
In a small bowl, whisk sour cream, egg and lemon zest with a fork then add to flour and butter. Use the fork to stir everything together until just moistened. Add blackberries and gently stir into dough. Don't worry if some of the berries are smooshed or crushed a bit.
Empty the loose dough out onto a clean, floured work surface then shape the dough into a 7-inch circle then cut the dough into 8 wedges and carefully transfer to the baking sheet. Sprinkle the top of each scone with the remaining sugar and bake 14 to 16 minutes or until light golden brown. Cool 5 to 10 minutes. Serve warm.
Notes and Tips
Use a box grater with large holes for grating the stick of butter, and make sure it's very cold for best results.

Store cooled scones in an airtight container at room temperature 1 to 2 days or in the refrigerator 3 to 4 days. They can also be frozen up to 3 weeks.