How to make perfectly light and flaky scones packed with dried cranberries and orange zest. Jump to the Cranberry Scones Recipe or read on to see our tips for making them.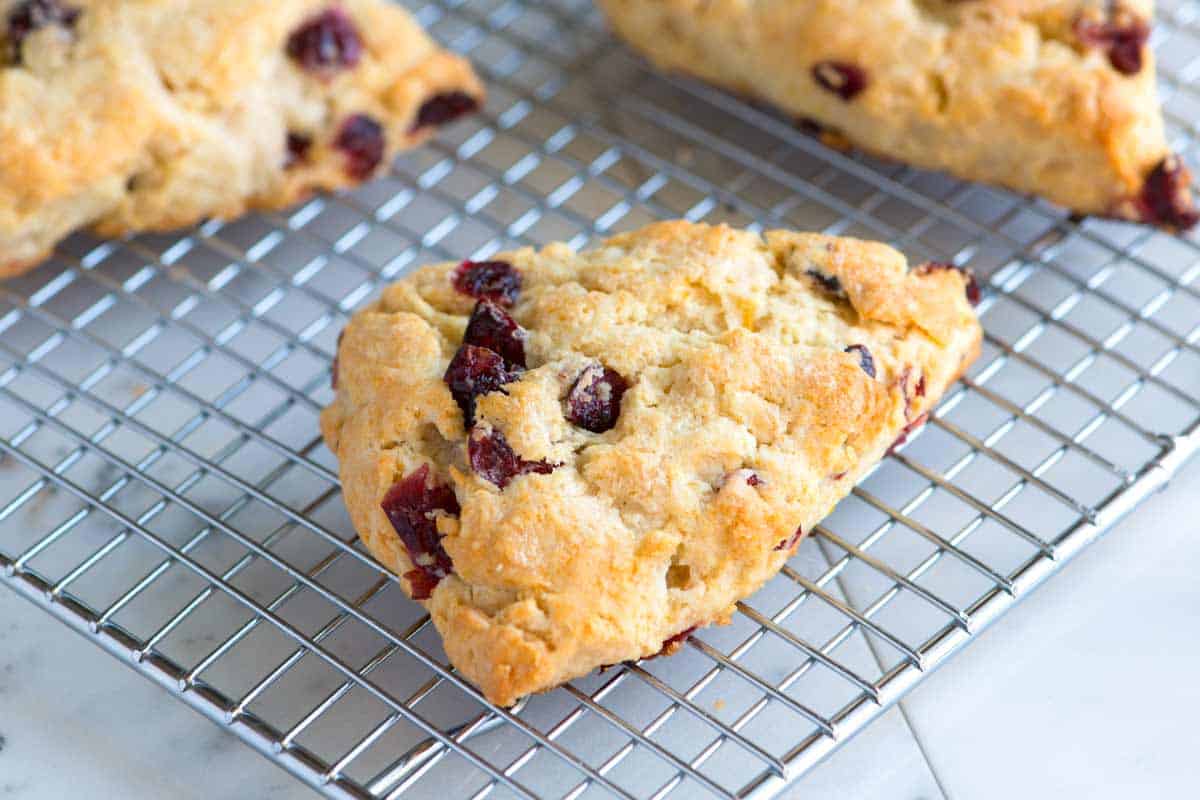 – This Recipe is Sponsored by Gold Medal Flour –
To make them, you'll need flour, baking soda, butter, cream, honey (or sugar), orange zest and dried fruit. We throw in lots of dried cranberries for these cranberry sones, but you could replace them with raisins, dried cherries, apricots, chocolate chips or a combination of two or three. Fresh fruit like berries also work.
YOU MAY ALSO LIKE: These Fresh Blackberry Scones are just as easy and call for fresh whole blackberries and sour cream, making them extra delicious.
Four Tips for the Best Scones
I grew up with my mother making scones often. She received the "scones bug" from her mother and I can only imagine it goes further back from there. Memories of Mom making scones doesn't include measuring cups or spoons. It was a pile of flour here and a splash of cream there. No measurements, just touch and feel. They came out perfectly. Every time.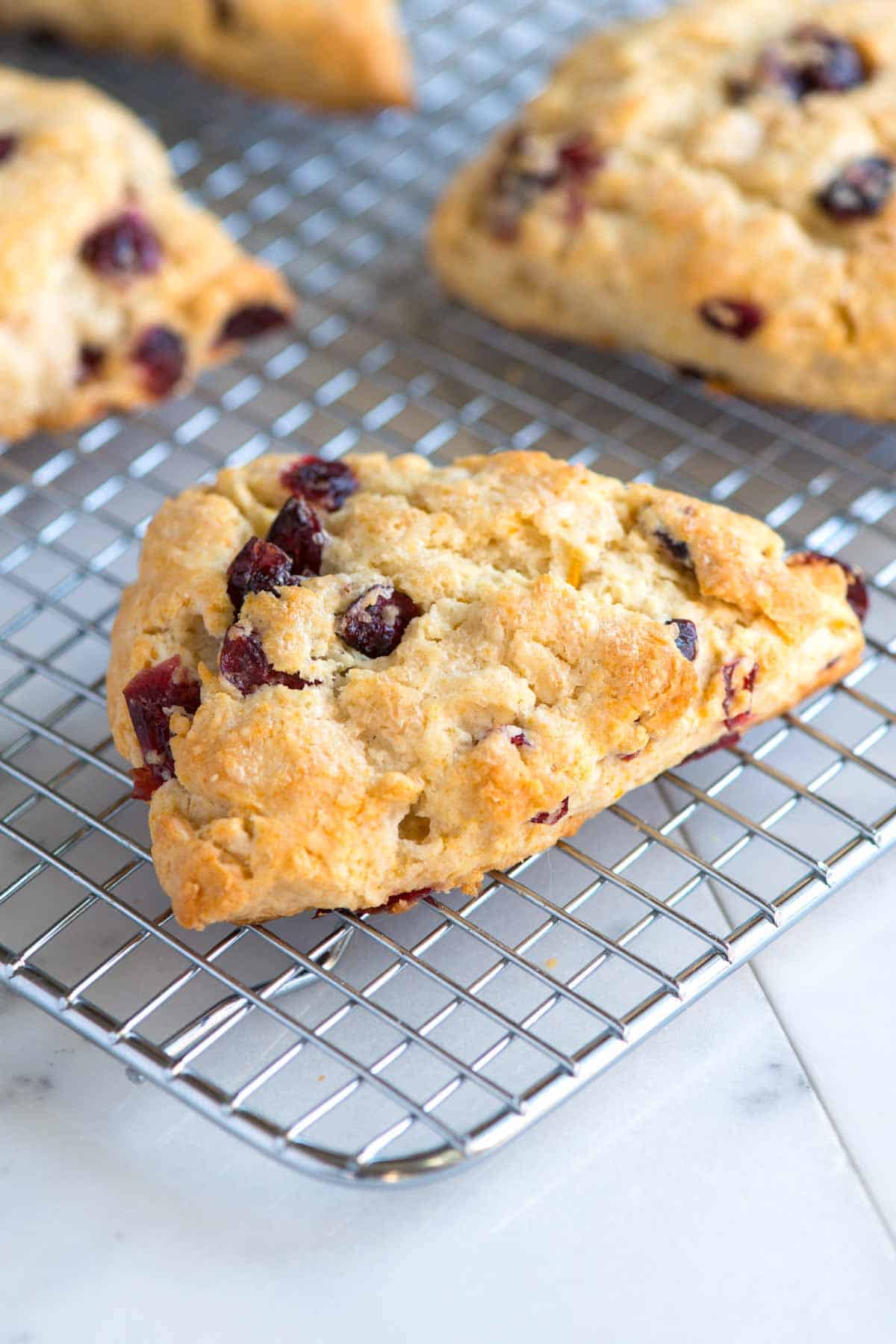 As much as I love my mother's scones, we like to be a little more precise in our kitchen. We measure everything and follow a few simple steps to make sure we're consistently making the best scones we can. Here are our best tips for making scones.
Use the Right Flour
Scones should be light and flaky, not heavy and flat. We stick to all-purpose flour in our kitchen – it's pretty much our go-to flour. For this recipe, we prefer to use soft, low protein all-purpose flour.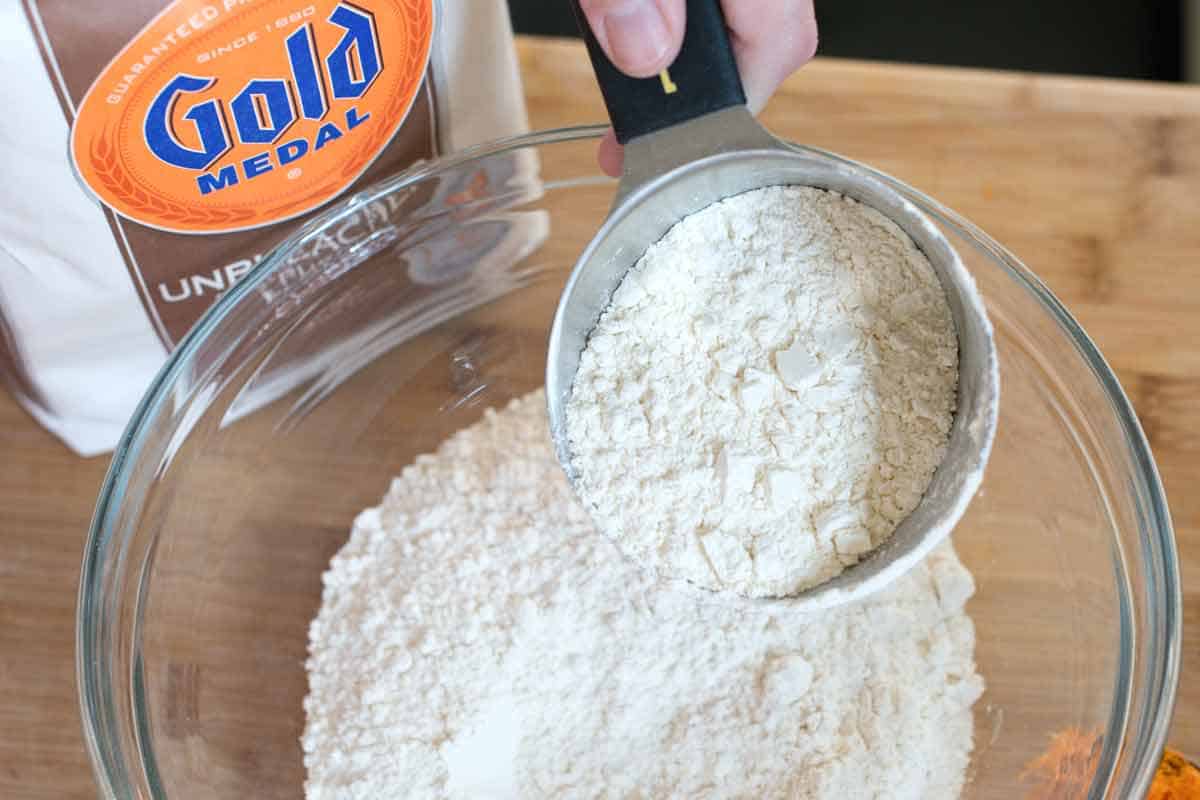 Protein levels vary by flour brand. Protein content can affect the tenderness of baked goods. Because of this, we use Gold Medal all-purpose flour, which has less protein than other flour brands (Pillsbury is also a good choice, here).
Other flour brands will still taste great and work, but some do have slightly higher protein levels. Sticking with the lower-protein flour gives you an edge and helps to make perfectly tender scones.
Keep Everything Cold
It's essential to use cold ingredients when making scones. The butter should be chilled and hard and the cream should be used straight from the refrigerator.
Once you've mixed your dry ingredients together you will need to "cut" in cold butter. We use a pastry blender to do this (shown in the photo). If you work quickly and have cool hands you can use them instead. Another option is to use a food processor.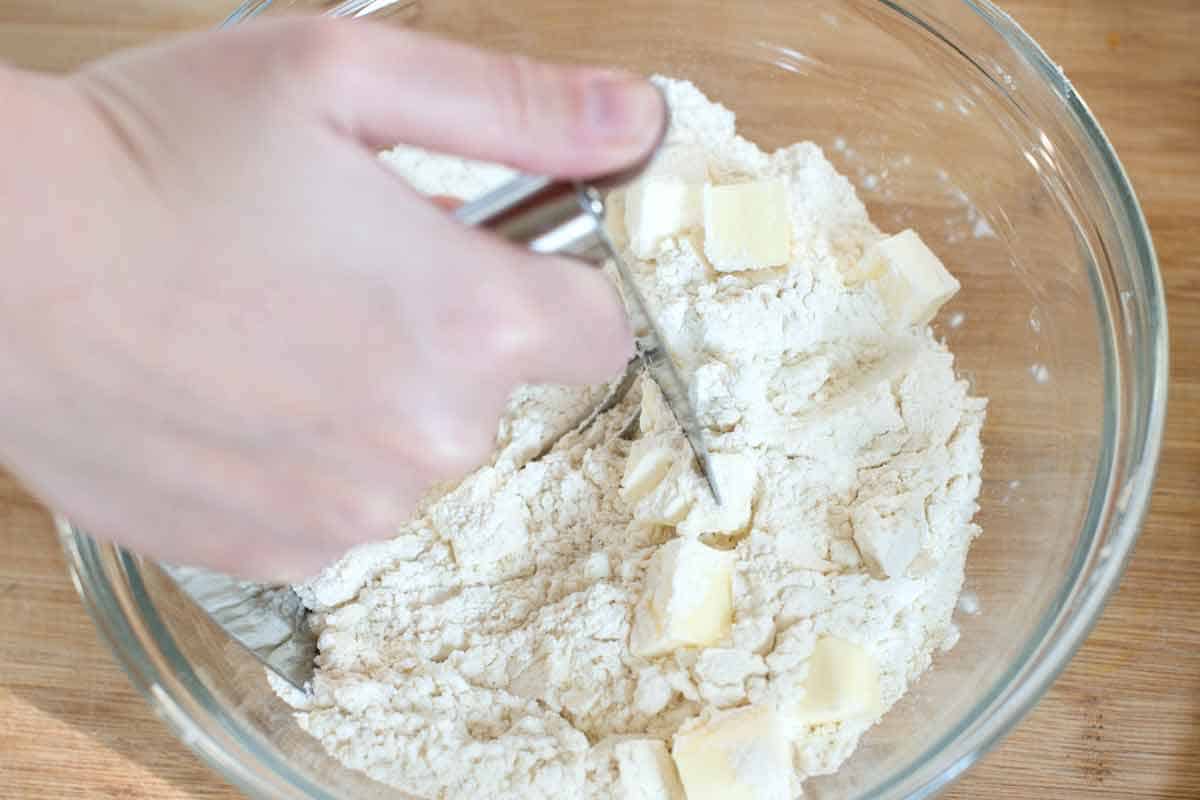 There should be little bits of cold butter scattered around the flour. The moment the cold butter pieces bake, they create little pockets of steam and cause the dough to rise – this is similar to what happens when you bake pie crust. It's the butter that makes these cranberry scones so tender, light and delicious.
Don't Over Mix
The less time you can spend working the dough, the better. After cutting in the butter to the flour and adding cream, a crumbly dough will form. All you need to do is transfer it to a lightly floured work surface and gently bring it together into a ball. You should only need to knead 3 to 5 times.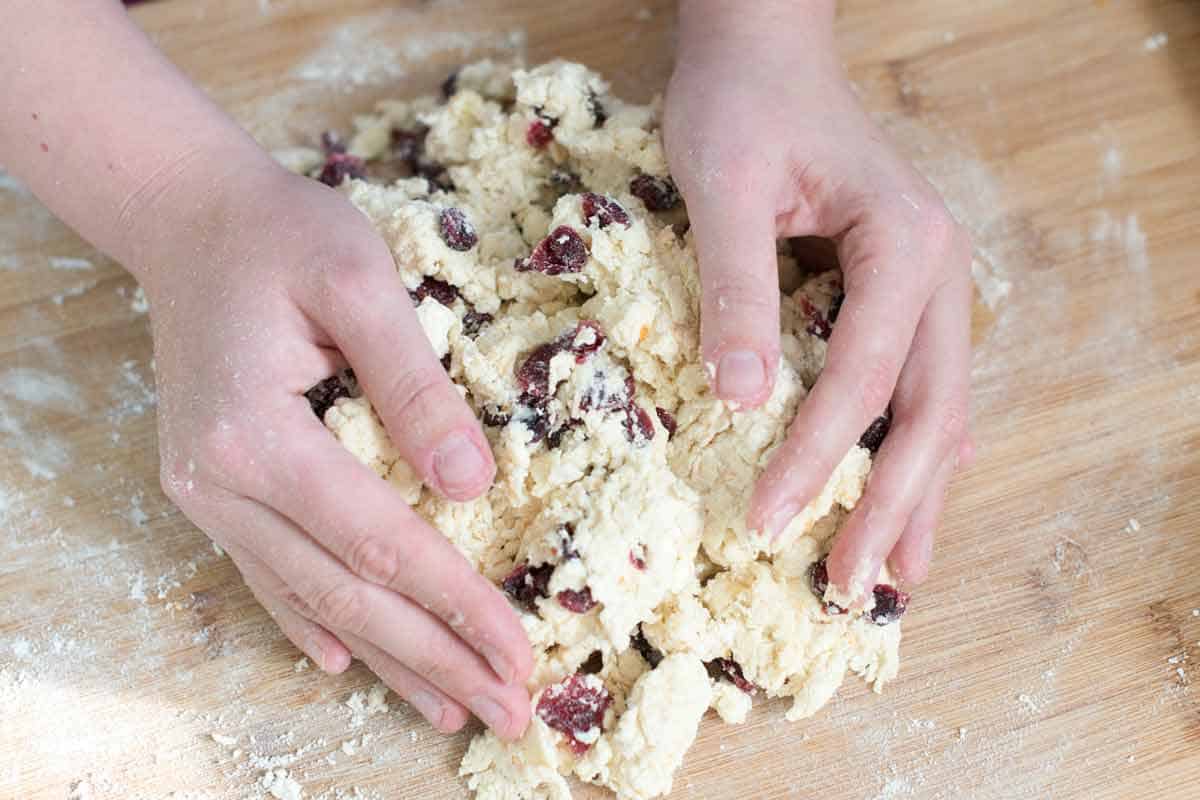 We just use our fingers to lightly pat and push the dough together then flatten it into a disc. From there, we cut the disc into eight triangles. (You could also use a biscuit cutter).
Stay Away from the Edges
As you cut your scones, you might notice a few edges are ragged. There is no need to pat them down or fix them — the flaky edges will puff up in the oven, helping the scones rise and become light.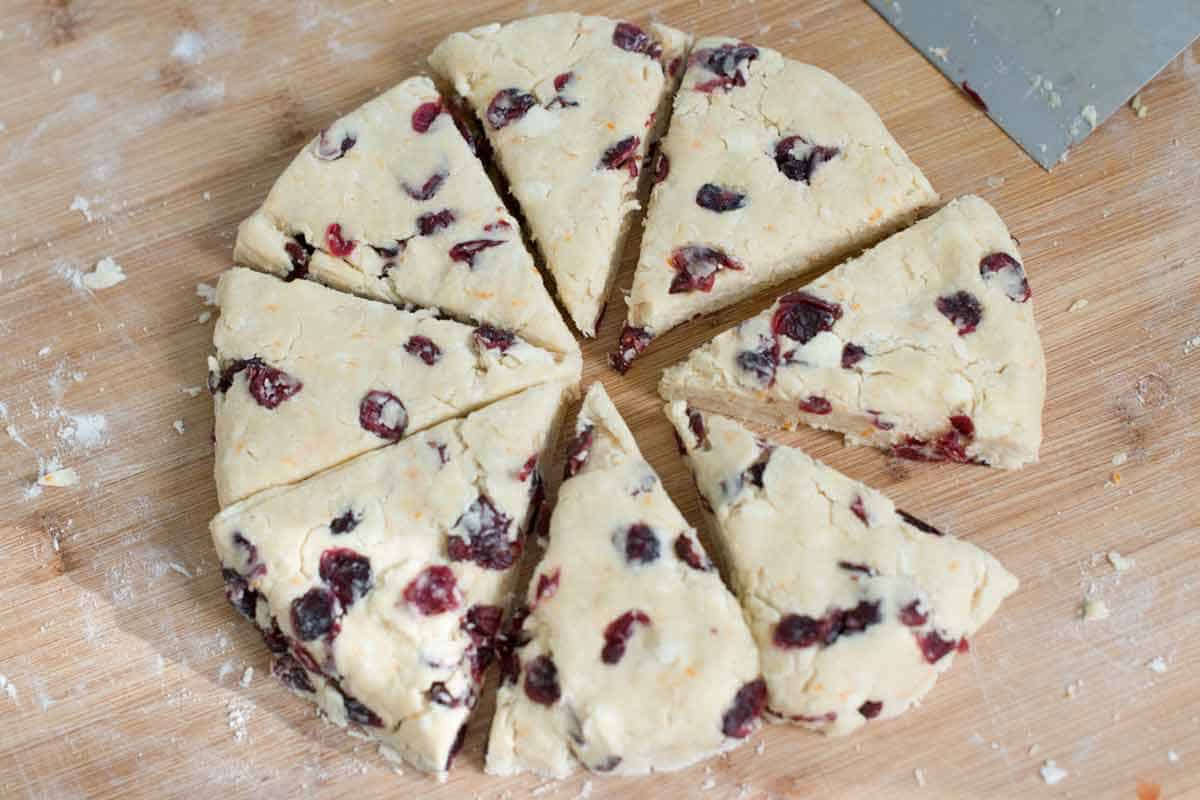 If you're using a cutter to cut out your scones, try not to twist and turn the cutter — that will flatten the edges too much and can prevent the scones from rising as much as they could have.
Scones don't need to look perfect. Mom's always looked homemade when she made them. Although, she would never make triangle-shaped scones like us. Hers would be round. Always round.
YOU MAY ALSO LIKE: How to make our spiced pumpkin scones inspired by Starbucks. Jump to the Pumpkin Scones Recipe.
The Best Way to Store Scones
Scones are best eaten fresh. With that said, there are ways to keep them fresh longer than a day.
Your best bet to keeping leftover scones fresh is to freeze them. Once the baked scones have cooled completely, arrange them on a baking sheet and freeze until hard. Once frozen, throw them into a resealable bag or storage container. When you're ready to eat them, reheat the scones in a 350 degree oven until warm. It shouldn't take long.
You can also freeze unbaked scone dough. Chill the unbaked scones in the freezer until firm, and then transfer them to resealable plastic bags. You can keep these up to three weeks in the freezer. When you're ready, fire up the oven and bake straight from frozen.
Disclosure: We're sharing this in partnership with Gold Medal Flour. This recipe was part of an ongoing relationship with Gold Medal. We have also shared these Easy Whole Wheat Pancakes Recipe.
Recipe updated, originally posted December 2013. Since posting this in 2013, we have tweaked the recipe to be more clear. – Adam and Joanne
How to Make Cranberry Scones
Packed with dried cranberries and orange zest, this scones recipe is perfect for entertaining and weekends. When making these remember this: use a soft, low protein all-purpose flour, use the coldest butter and cream possible, and don't over mix.
Makes approximately 8 scones
You Will Need
2 cups (260 grams) all-purpose flour
1 tablespoon baking powder
1/2 teaspoon kosher salt
5 tablespoons (70 grams) cold, unsalted butter, cut into 1/4-inch cubes
1 cup (235 ml) heavy cream, plus more for tops of scones
3 tablespoons honey or sugar
1 tablespoon grated orange zest
3/4 cup (100 grams) dried cranberries
1 tablespoon coarse sugar, for tops of scones
Directions
Make Dough

1Adjust oven rack to middle position and heat the oven to 425 degrees F. Line a large baking sheet with parchment paper or use a silicon baking mat.

2Whisk together flour, baking powder, and the salt in a medium bowl. Combine cream, honey, and orange zest in a measuring jug. Stir until the honey is completely incorporated into the cream.

3Use a pastry blender to work the butter into the flour mixture until it resembles a coarse meal with a few small crumbles of butter the size of peas. (Or use a food processor). Stir in cranberries. Pour in the cream mixture and use a rubber spatula to mix until a crumbly dough forms.

4Transfer the dough and all dry, floury bits to a lightly floured work surface. Knead the dough 3 to 5 times until it just comes together. Form into an 8-inch circle. Cut into 8 triangles, or use a biscuit cutter.
Bake Scones

1Place scones onto the baking sheet, brush with extra cream and lightly sprinkle tops with coarse sugar. Bake until light golden brown, 12 to 15 minutes. Cool at least 10 minutes before serving.
Adam and Joanne's Tips
To Store: Scones are best eaten fresh. If you do have leftovers, your best bet to keeping them fresh is to freeze them. Freeze baked and cooled scones until hard then transfer to resealable plastic bags. Keep up to three weeks. To reheat, bake in a 350 degree F oven until warmed. It shouldn't take long.
You can also freeze unbaked scone dough. Chill cut scones in the freezer until firm, and then transfer to resealable plastic bags. Keep up to three weeks. Bake in a 425 degree F oven straight from the freezer. (They may take a few extra minutes).
Recipe inspired and adapted from America's Test Kitchen
If you make this recipe, snap a photo and hashtag it #inspiredtaste — We love to see your creations on Instagram and Facebook! Find us: @inspiredtaste
Nutrition Per Serving
Serving Size
1 scone
/
Calories
343
/
Protein
4 g
/
Carbohydrate
42 g
/
Dietary Fiber
1 g
/
Total Sugars
16 g
/
Total Fat
19 g
/
Saturated Fat
11 g
/
Cholesterol
60 mg
/
Sodium
342 mg