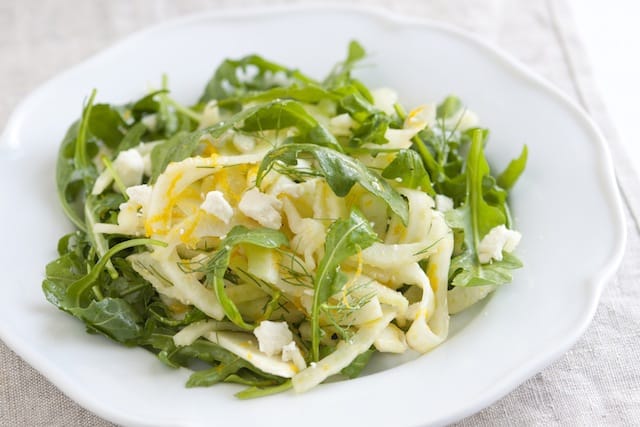 New favorite salad. Period. It's crunchy, has the most perfect balance of sweet, tang and cream. It's the kind of salad you crave… like, seriously crave.
We got our first helping from my mom, she made it for a family dinner not too long ago … we loved it and really came home with the mission to make it our own.
The Key is Thinly Sliced Fennel
If you're lucky, you'll find fennel with stems and the fronds still attached .. if you do, cut the stems from the bulb and save some of those wispy green fronds … the rest? You can save it for your next stock or broth, but as far as this recipe is concerned we really only want the bulb and a handful of the fronds.
To slice the bulb, it's best to use a mandoline. You could slice by hand, though … just take your time.
Being the impatient beings that we are, we LOVE using our OXO Mandoline Slicer, which you can buy on Amazon
.
The Dressing Needs Lots of Orange
It starts with a whole orange … you want the zest AND juice of one. Fennel and orange are meant to be together, we're sure of it! We allow the sliced fennel to sit in the orange dressing for about 20 minutes. The fennel mellows a bit this way, while still keeping that super fresh crunch.
Like what you see? Take a browse through our Visual Recipe Index for more inspiration.

Shaved Fennel and Arugula Salad
A lovely light and crispy salad with hints of orange and anise topped with feta cheese. When slicing the fennel, try to slice as thin as possible. You can do this by hand or may find it easier to use a mandoline slicer.
Created By:
Joanne and Adam Gallagher
You Will Need
1 medium orange, zested and juiced
1 tablespoon apple cider vinegar
4 tablespoons olive oil
1/4 teaspoon salt
1 fennel bulb
2 cups baby arugula
1/4 cup crumbled feta cheese
Directions
Whisk together the orange juice, zest, apple cider vinegar, oil and salt in a large salad bowl. Taste for seasoning and adjust as necessary.
If stalks are attached to the fennel bulb, cut them from the bulb and reserve about 2 tablespoons of the wispy green fronds for later and either discard or save the stems for your next stock or broth.
Set the bulb on its flat end, top side up, then cut it in half. Then, slice the fennel as thin as possible (a mandoline is helpful here).
Add fennel slices to the bowl with dressing and toss. Leave fennel to sit at least 20 minutes. Just before serving, add arugula, feta cheese and reserved fennel fronds to the fennel slices and lightly toss.
Notes and Tips
We love adding the sliced fennel to the dressing then leaving for at least 20 minutes. By doing this, the fennel mellows just a bit, but still maintains that super fresh crunch. Just before serving, add the arugula to the fennel, adding it too early will wilt the delicate arugula.