Learn how to make egg-free and mayonnaise-free caesar salad dressing for an incredible salad at home. Jump to the Homemade Caesar Salad Recipe or read on to see our tips for making it.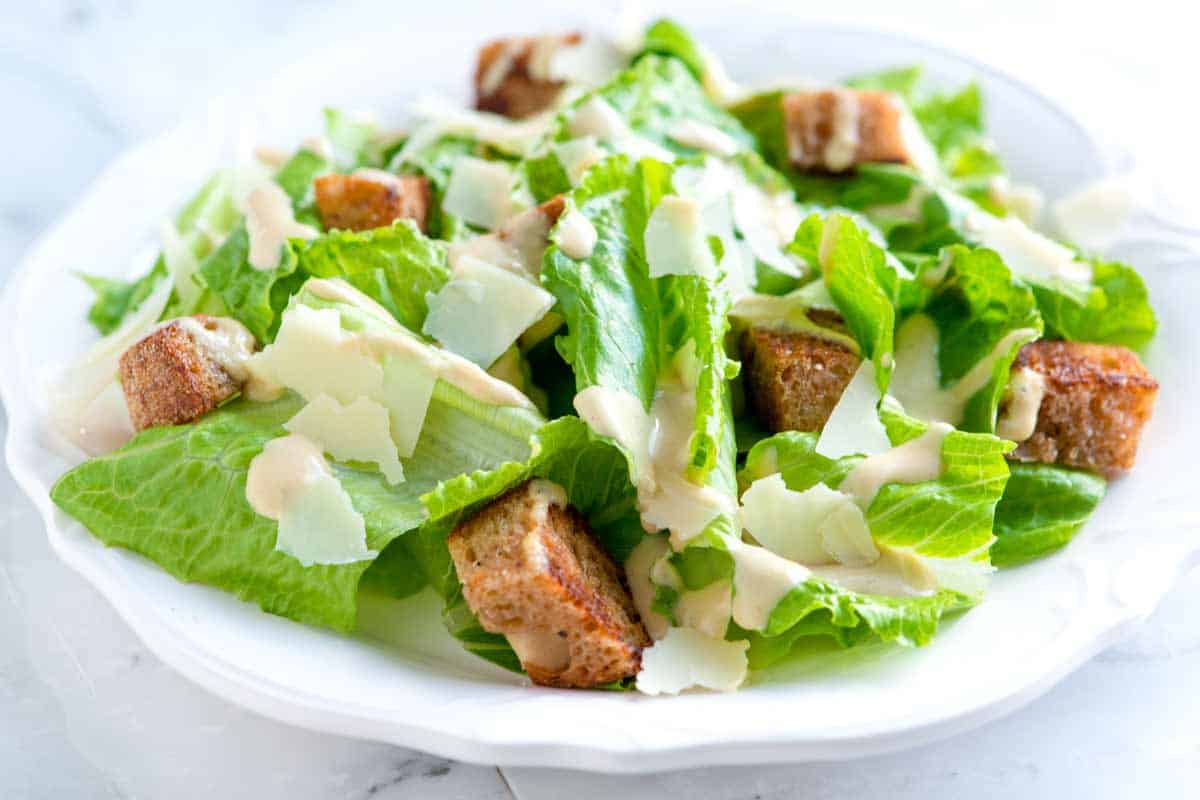 Whenever we go out to a restaurant and are asked if we want a garden salad or Caesar, we always say Caesar. So we decided to make our own (easy) version at home. We came up with this easy Caesar salad recipe with a simple homemade dressing, crispy romaine lettuce, extra parmesan cheese and buttery croutons.
How to Make Homemade Caesar Salad Dressing (without raw egg)
Making your own caesar salad dressing at home is pretty easy and we think it tastes so much better than store bought. For a more classic Caesar, take a look at this salad made with classic Caesar dressing (uses raw egg yolk).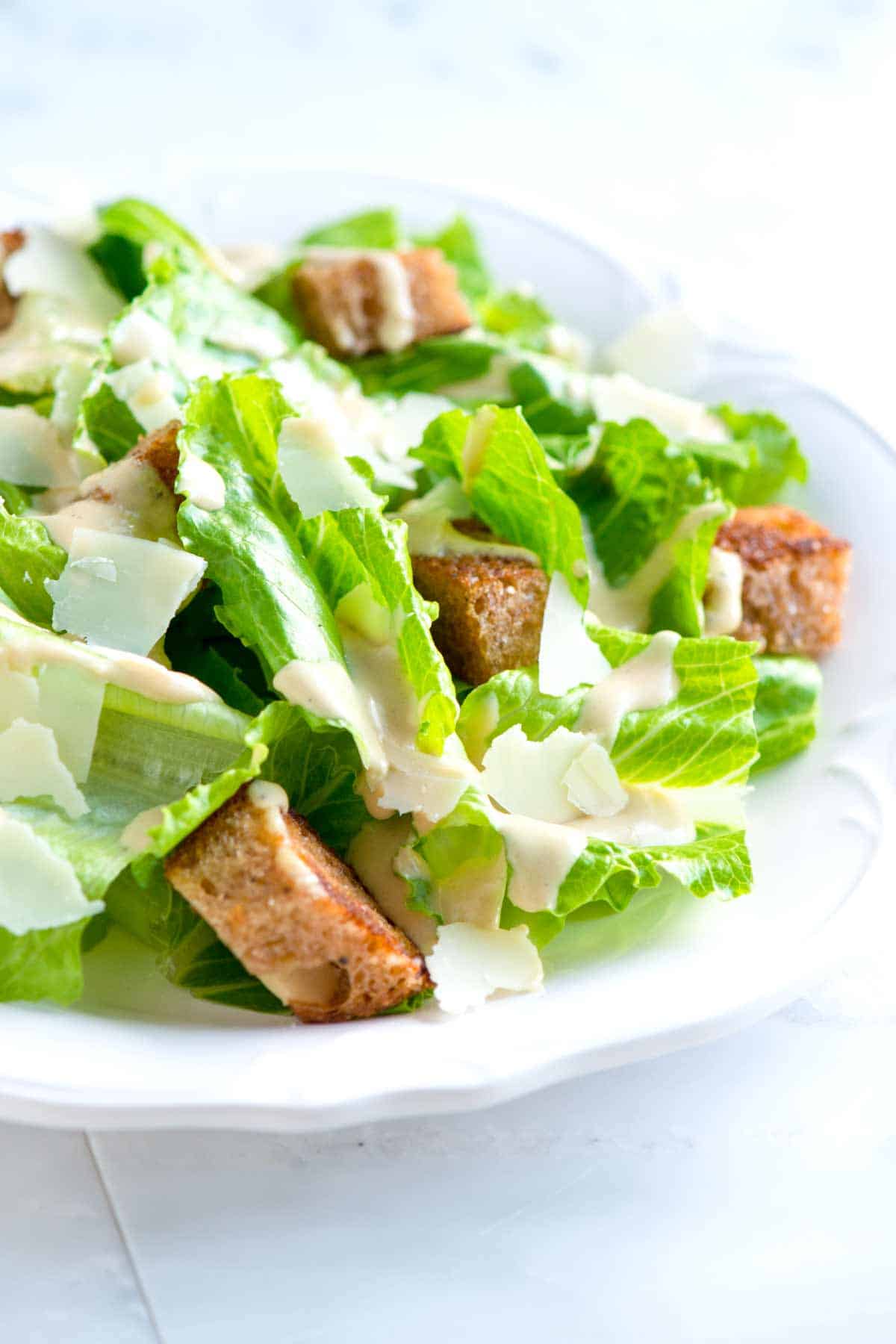 A Food Processor or Blender Helps
You can make the dressing by hand, but it's best if you have a food processor or blender. Making this by hand is tedious and the dressing doesn't get nearly as creamy or thick. Plus, the processor or blender really speeds things up.
An Egg-Free Dressing with Classic Ingredients
We're cool with raw eggs, especially when we buy organic and local, but in this case, we decided to make an egg-free Caesar dressing. The rest of the ingredients are pretty classic – garlic, lemon, anchovy, parmesan, and olive oil. Take a look at our favorite Caesar dressing recipe to see how we make the dressing with raw egg.
We know some don't enjoy anchovies, but in this case, you don't taste fishiness of any sort, instead it adds a savory flavor that we're all used to when taking a bite of most Steakhouse Caesar salads. You can use whole anchovies or do what we did and use anchovy paste. We like to use the paste because we can easily place the top back on the tube and refrigerate for use another day. With whole anchovies, you'll only require one or two from the package, so you'll need to make a double batch of the dressing or find another use for them.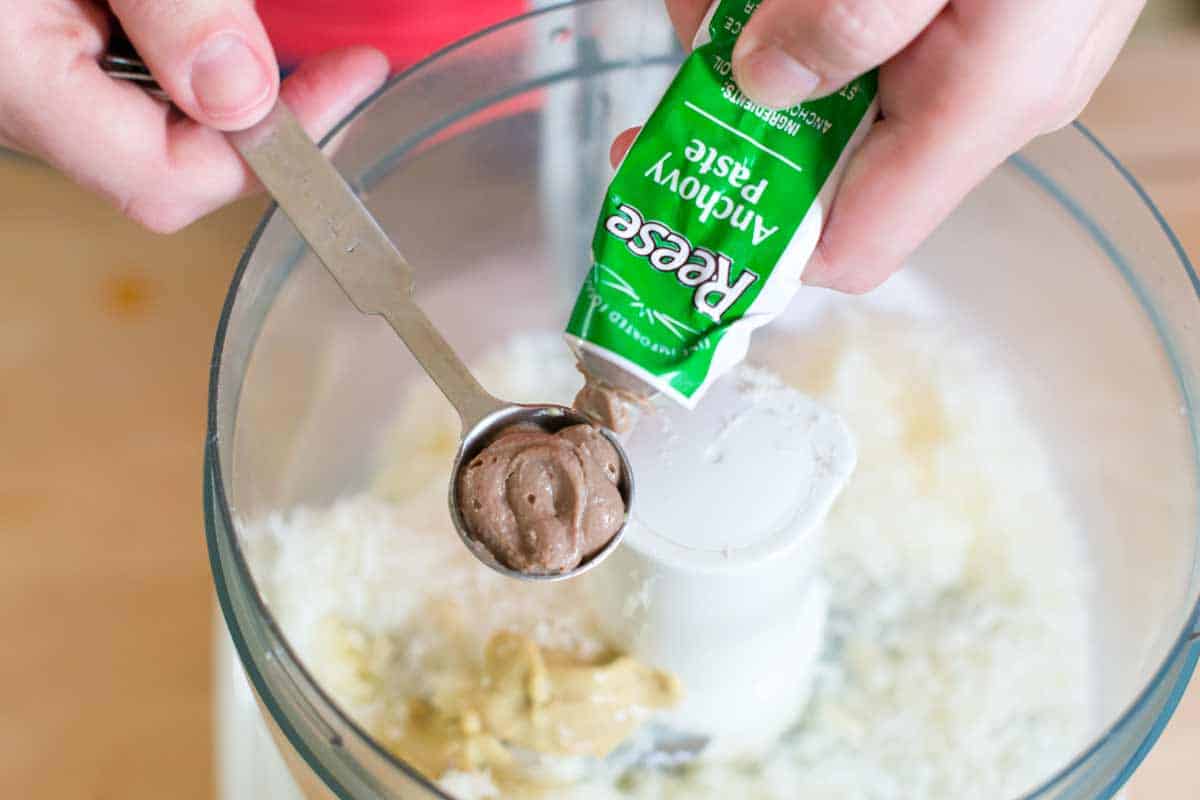 Homemade Croutons Are So Much Tastier
Once you've made the Caesar dressing, you can make our butter croutons. You'll need day-old bread – that makes sure they are chewy and become crisp. It's so easy. Just throw cubes of the bread into some hot butter and cook until golden brown. For oven-baked croutons, take a look at this simple recipe.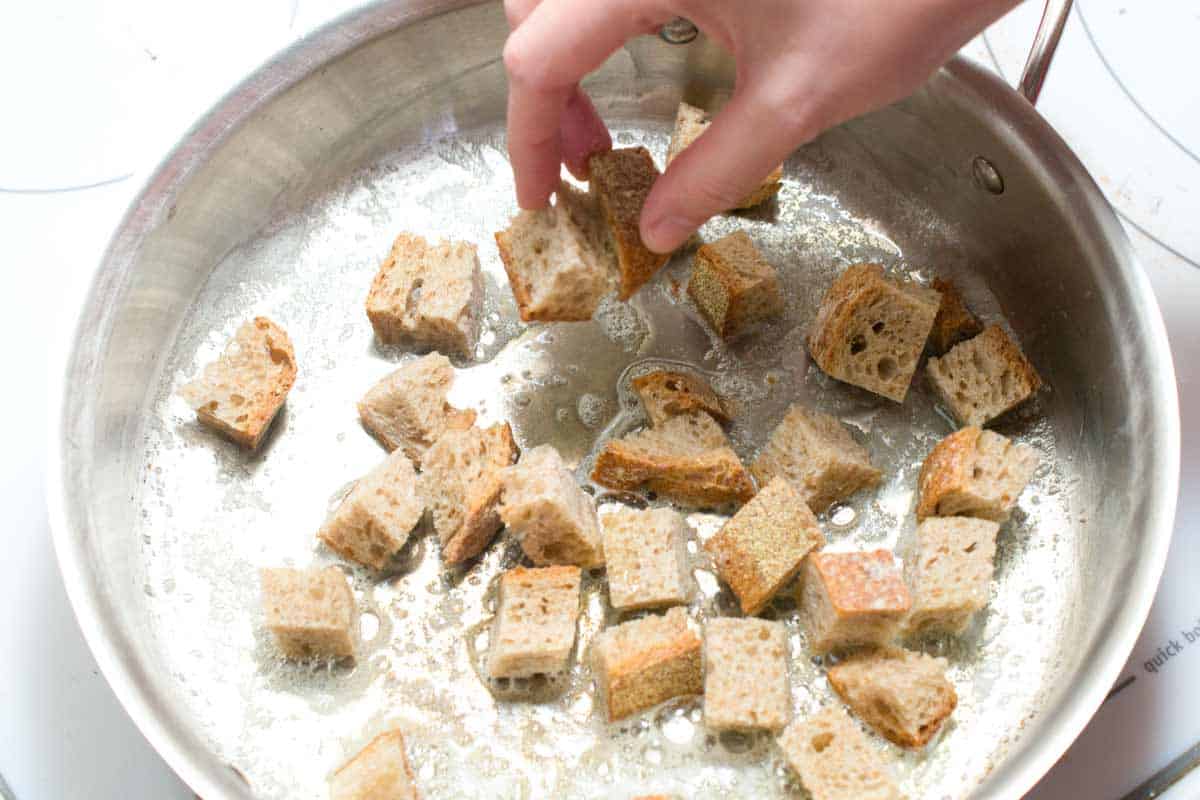 There's Always Room for More Parmesan Cheese
After everything is ready, toss some crisp romaine lettuce onto a plate, top with dressing, croutons, and extra cheese.
YOU MAY ALSO LIKE: This recipe for How to Make Focaccia Bread with garlic and herbs that's perfectly crisp on the outside and soft and chewy on the inside.
Recipe updated, originally posted December 2012. Since posting this in 2012, we have tweaked the recipe to be more clear. – Adam and Joanne
Easy Caesar Salad (Egg-Free Dressing)
This easy Caesar salad has homemade egg-free dressing, crispy romaine lettuce, extra parmesan cheese, and buttery croutons. You can make the dressing by hand, but it's best if you have a food processor or blender. The dressing can be made with or without the sour cream called for in the recipe. By adding the sour cream, the dressing will be ultra creamy.
You Will Need
Caesar Dressing
1 cup (30 grams) finely grated parmesan cheese
1 garlic clove, peeled and finely chopped
2 tablespoons fresh lemon juice
1 teaspoon anchovy paste or 1 to 2 anchovies, smashed and minced
1 teaspoon Dijon mustard
2 teaspoons Worcestershire sauce
1/4 cup (60 ml) extra-virgin olive oil
2 tablespoons sour cream (optional)
Salt and fresh ground black pepper
Butter Croutons
2 tablespoons butter
3 cups cubed day-old rustic or hearty bread
Salad
2 hearts romaine lettuce, rinsed, patted dry, and roughly chopped
1/4 cup parmesan cheese shavings
Directions
Make Dressing

1Add parmesan cheese, garlic, lemon juice, mustard, anchovy, and Worcestershire sauce to the bowl of a food processor or blender. Turn the machine on and let it run for 15 to 20 seconds. Then use a spatula to scrape down the sides. Turn the machine on and let it run for another 15 to 20 seconds.

2As the machine is running, slowly drizzle in the olive oil. Scrape down the sides then if you are making a creamy dressing, add sour cream. Let the machine run for another 15 seconds to 20 seconds until thick and creamy.
Make Croutons

1Melt the butter in a large frying pan over medium heat. When the butter begins to bubble, add bread cubes and cook, stirring occasionally until golden brown and crisp on all sides, about 5 to 8 minutes. Then lightly season with salt and pepper.
To Finish

1Serve the lettuce either tossed with dressing or with dressing drizzled on top. Then, top with butter croutons, and lots of parmesan cheese shavings.
Adam and Joanne's Tips
Nutrition Per Serving
Serving Size
1/6 of the recipe
/
Calories
388
/
Total Fat
20.1g
/
Saturated Fat
7.4g
/
Cholesterol
24.1mg
/
Sodium
770.4mg
/
Carbohydrate
38.3g
/
Dietary Fiber
1.9g
/
Total Sugars
3.9g
/
Protein
14.5g