What are Rice Paper Wrappers?
If you've ever had a summer roll from a Vietnamese restaurant, you've eaten a rice paper wrapper. Basically, they are super thin wrappers that can be filled with whatever you can think of. Summer rolls, which are often filled with shrimp, pork, fresh vegetables and noodles are very popular, but we have even filled the wrappers with bacon, lettuce and tomato for BLT Summer Rolls! The wrappers are not only perfect for wrapping up something tasty, but also have this really welcomed chewiness when you take a bite.
Where and How to Buy Them?
Our local grocery store sells a couple brands in the International aisle, but you can also find it at Asian food markets or online from Amazon
. Look for Red Rose or the Three Ladies brand and you should be set. Also, go for the larger sized wrappers, we always buy the 8 1/2-inch (22 cm) wrappers since they are so much easier to roll and manipulate.
How do you Use Rice Paper Wrappers?
Rice paper wrappers are bought dried then, just before you use them, you need to rehydrate them. It only takes 10 seconds or so.
Grab a plate with a lip then fill with warm water.
Take a sheet of rice paper and slide it into the water.
Leave it for 5-10 seconds then remove it.
It should soften and be pliable. Then, just fill with whatever you want, wrap and enjoy!
What if the Rice Paper Tears?
When working with or rolling the wrappers, you might find one tears. If the rice paper tears a bit, don't worry, just overlap the two torn edges and continue on like nothing happened.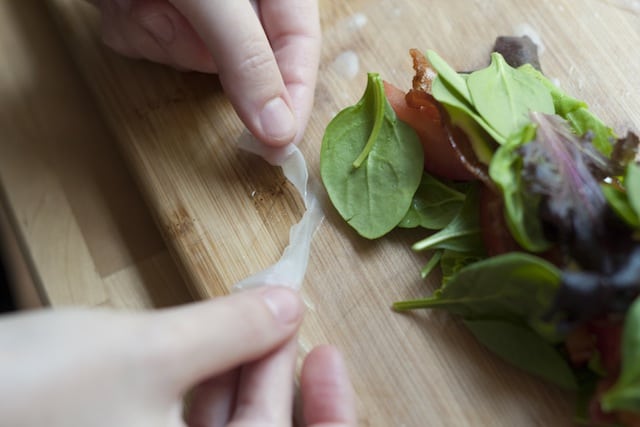 Was this helpful? Let us know by leaving a comment below.