Jalapeno poppers make us smile. Life gets a whole lot tastier when you can *pop* half a spicy pepper stuffed with lots of creamy cheese that's wrapped with bacon into your mouth, don't you agree? It's bacon, cheese and spice!
They're easy, too!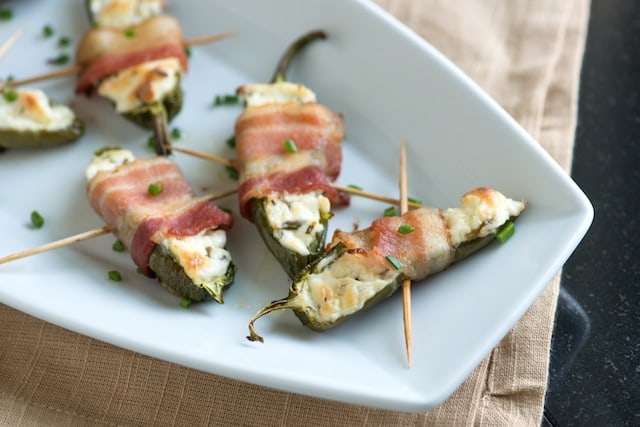 First up – Decide your weapon. OVEN or GRILL?
Baking is simple, just line a whole bunch of stuffed and wrapped jalapeno halves up on a baking sheet and slide them into a hot oven for 20 minutes until the bacon glistens and beckons you to indulge. Grilling is just as easy! Slap them down onto the grill and cook until tender.
No matter which you choose, you'll need some skewers or toothpicks. Just make sure you give them a soak in water for 30 minutes or so just to make sure they don't go up in flames and ruin those poppers of yours.
Making Jalapeno Poppers is as Easy as 1 2 3
Seriously, it is.
First, cut each pepper in half then use a spoon to scrape out the seeds and any white membrane, since that's where most of the spice lives. We love spicy foods, but leaving in all the seeds and membrane is just too much for us (and most we serve them too).
Second, Stuff them. We went with cream cheese (yum) with some chopped chives mixed in. Make sure you're generous, here!
Third, Wrap with bacon. We just love how when the peppers cook, all the juices (and fat) from the bacon drips down into the cream cheese and all over the peppers. Oh, heavens they're good!
That's it. Told you it was ridiculously easy to make jalapeno poppers.
For more ideas, try these Jalapeno Poppers from Emeril Lagasse.

Easy Jalapeno Poppers
Why we love this recipe. These bacon-wrapped poppers are at the top of our list when we entertain. Everyone seems to love them. There're simple to make, don't require many ingredients and can even be made in advance (see our note below to find out how).

What you need to know. When we work with hot peppers, we like to use powder-free gloves so the oils from the peppers stay away from our skin. We buy our gloves at a pharmacy for about $10 (pack of 50). If you do not have gloves, be sure to wash your hands thoroughly after handling the peppers.

Equipment you'll need. You will need wooden toothpicks, a chef's knife, a spoon, a baking sheet (if baking), and a grill basket or grill pan (if grilling).
Created By:
Joanne and Adam Gallagher
You Will Need
6 jalapenos
4 ounces (113 grams) cream cheese, softened
2 tablespoons chopped chives or green onion
4 slices thin-cut bacon
12 wooden toothpicks
Directions
Add toothpicks to warm water for 20-30 minutes before baking or grilling. (This will prevent them from burning in the oven or on the grill).
Slice each pepper in half, lengthwise. Then, using a small spoon, scrape out and discard all seeds and any white membrane. (Seeds and the white membrane is where most of the heat comes from).
Combine the cream cheese and chives (or spring onion) in a small bowl. Then, use a spoon to fill each pepper-half – be generous, here.
Slice each bacon slice into three 1 1/2-inch pieces then wrap one piece of bacon around each stuffed pepper-half. Slide a toothpick through the bacon and pepper so the bacon is secure.
To bake in the oven: Heat oven to 375 degrees F (190 degrees C) and line a baking sheet with aluminum foil or parchment paper.
Arrange stuffed and wrapped peppers, filling side facing up, onto the baking sheet. Bake until bacon is crispy and glistening and the peppers are tender, about 20 to 25 minutes.
To make on the grill: Heat grill to medium-high heat. Place a grill basket, slotted grilling pan or aluminum foil directly on the grill (this helps to prevent the poppers from falling through the grates).
Arrange stuffed and wrapped peppers onto the basket, pan or foil, filling side up and grill until bacon is crispy and glistening and the peppers are tender, 15 to 20 minutes. If, while grilling any poppers become overly charred, move them to a cooler section of the grill.