Yeah, we did it. We totally cooked pasta in red wine, creating the most interesting, delicious red wine pasta. This is something we've been itching to try for quite some time, now — We saw someone make it years ago and we both read this article by Mark Bittman, which, after reading just makes you want to jump into the kitchen and get to cooking with some red wine and pasta. So, we did. Who are we to turn down an opportunity to make pasta!? We love it.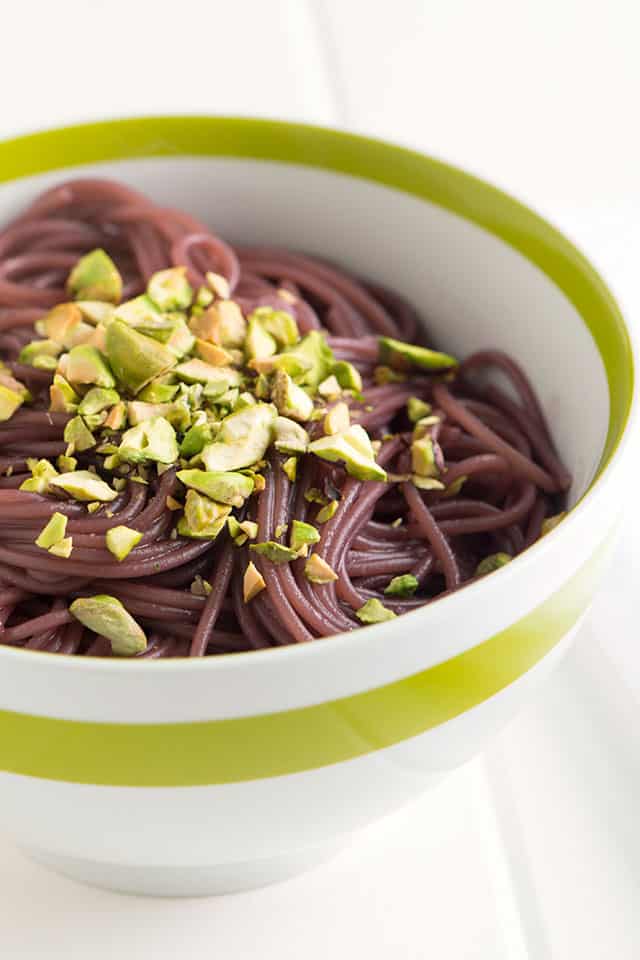 What Does It Taste Like?
The result? – Wow. First, the color. It's a beautiful deep burgundy. Then, when we added a punch of green with lightly salted pistachios, it almost looked like we should't even eat it. Then, the taste — yes … it does taste like red wine. It really does, but it tastes like the deep, fruity side of wine, there's not a hit of "alcohol flavor" — it's just fruity, slightly acidic (but in a good way) and since we added butter, it takes on a silky velvet sauce, too.
This pasta is simple, beautiful and different. We like that.
This takes cooking with red wine up a couple notches, don't you agree?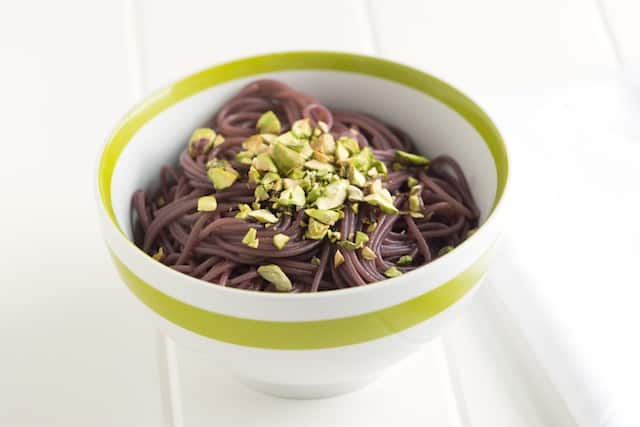 What Kind of Red Wine Should I Use for the Pasta?
It has to be pretty good. The pasta really picks up a lot of it's flavor. That doesn't mean you need to splurge — when we've made this in the past, we've spent $15, tops. Choose something you like — that's the most important thing. After that, look for something on the drier side, and something that has fruitness to it.
Try a Chianti or go with Mark Bittman and choose something like a Zinfandel.
An Easy Recipe – Red Wine Pasta
Some recipes call for cooking the pasta in the wine from the start, but that takes a lot of wine — so, we actually partially cooked our pasta in regular old salted water first — three to five minutes that's it. Then, we add the partially-cooked pasta to simmer red wine and cook until the pasta is done.
You'll need about 3/4 of the bottle, which is added to a little garlic and red pepper flakes we cooked in some butter.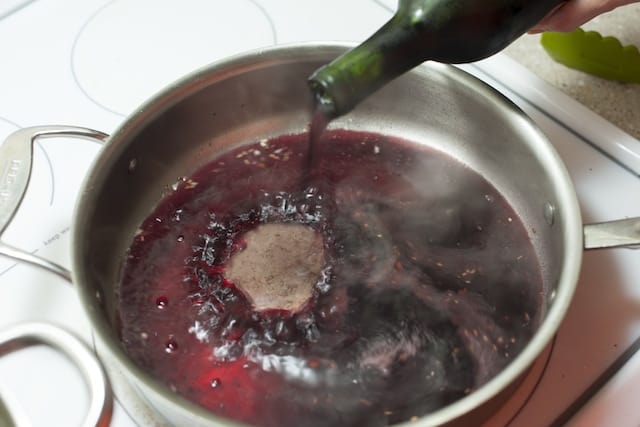 Once the wine is simmering, add the pasta then simmer away in the wine until cooked.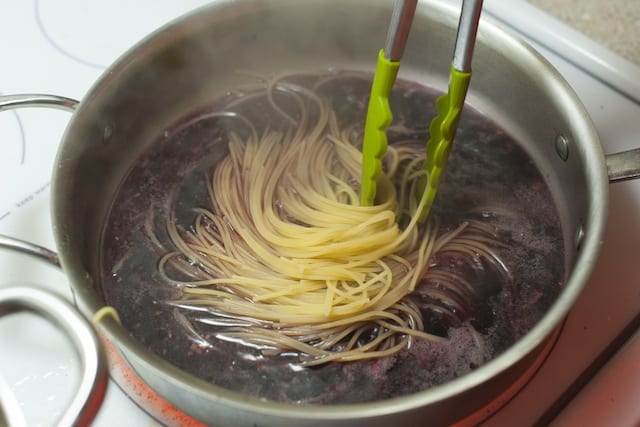 Add a little butter, top with pistachios and you're done.

Red Wine Pasta Recipe Video
This brilliantly colored pasta is simmered in red wine, giving it the most delicious fruity and deep flavor. Butter is added, too, which adds a little creaminess. The wine used here is important since the pasta's flavor will unmistakeably take on the flavor of the wine. We usually use a reasonably priced Chianti or even zinfandel (which is slightly peppery, but still has some fruitiness to it). You're looking for something on the lighter side and of course, something you actually enjoy drinking.

We top the pasta with some bright green pistachios -- we just love how shocking the color combination is, however, you could top with some Parmigiano-Reggiano or even briny feta cheese for something a little different.
Created By:
Joanne and Adam Gallagher
You Will Need
3 tablespoons butter
1 garlic clove, minced
1/4 teaspoon red pepper flakes
1 pound thin spaghetti
2 cups dry red wine such as Chianti or zinfandel (about 3/4 bottle)
salt and pepper
1/4 cup pistachios, roughly chopped
Directions
Heat a large pot of water to the boil.
Add a teaspoon of salt then add pasta. Cook just until the pasta begins to bend easily (4-5 minutes).
Heat a large skillet (with sides) over medium heat, add 1 tablespoon of the butter, garlic and red pepper flakes. Cook about 1 minute until garlic begins to toast and brown. Add wine and bring to a simmer.
Transfer pasta to the skillet with wine. Cook, stirring occasionally, adding a little pasta water if the pasta becomes dry.
Once the pasta is done (tender with a little bit of a bite or "al dente"), stir in the remaining butter.
Serve with pistachios sprinkled on top.