How to make pulled chicken sandwiches with shredded chicken and an easy 10-minute tangy barbecue sauce made from scratch. Jump to the Tangy Barbecue Pulled Chicken Sandwiches Recipe or read on to see our tips for making them.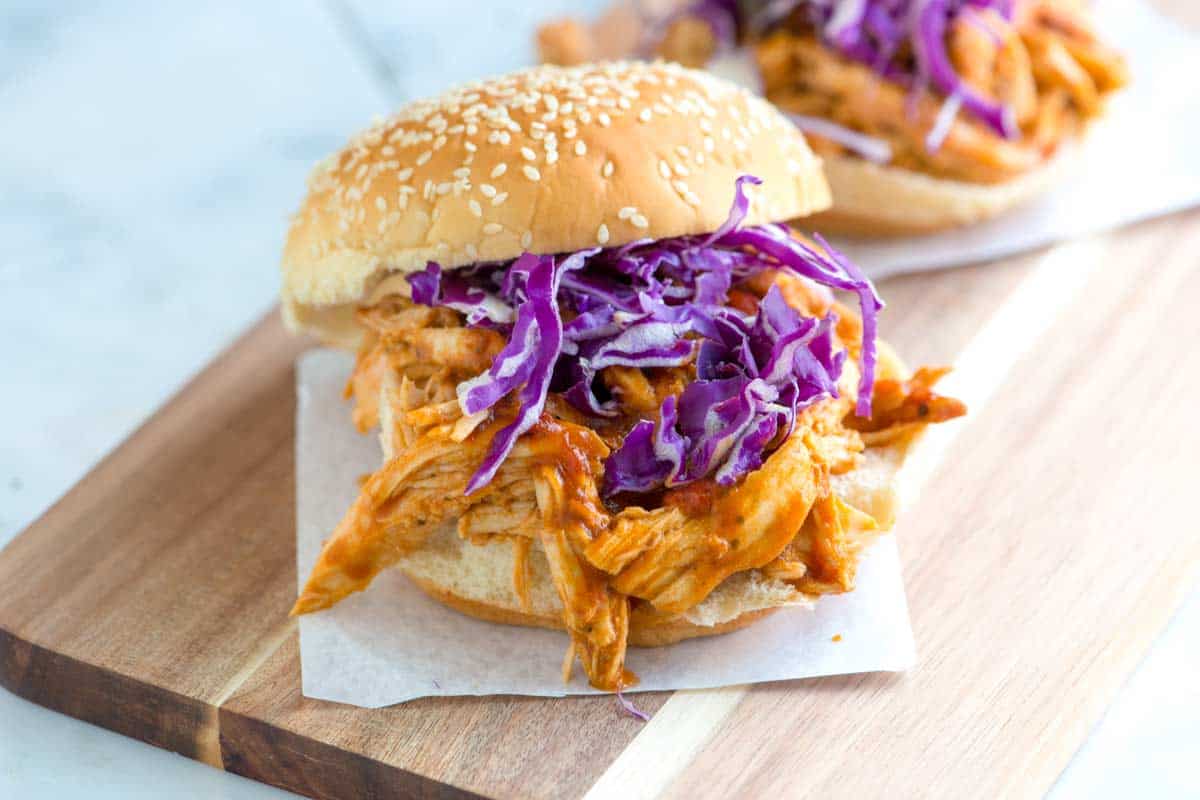 – This Recipe was Sponsored by Progresso –
Post update: The product used for this recipe is no longer available. We have adapted the recipe to accommodate for this. Instead of calling for the tomato recipe starter from Progresso, we now use fire roasted canned tomatoes. – Adam and Joanne
Fork-tender pulled chicken tossed with sauce, piled high and topped with crunchy cabbage. That's our kind of sandwich.
YOU MAY ALSO LIKE: This shredded chicken recipe is very simple to make and can be used 100 different ways. Jump to the Shredded Chicken Recipe.
How to Make Shredded Chicken Sandwiches
You will need shredded cooked chicken. You can shred rotisserie chicken from the store or make your own. This shredded chicken recipe is our favorite. We highly recommend it.
Once you have the chicken, you need a sauce. Our sauce is a little sweet, a little spicy and is tangy — reminiscent of Carolina-style barbecue sauce. We love all types of barbecue sauce, but when we're tossing it with pulled chicken or pulled pork we like our sauce to be thin and a little tangy, not heavy or thick.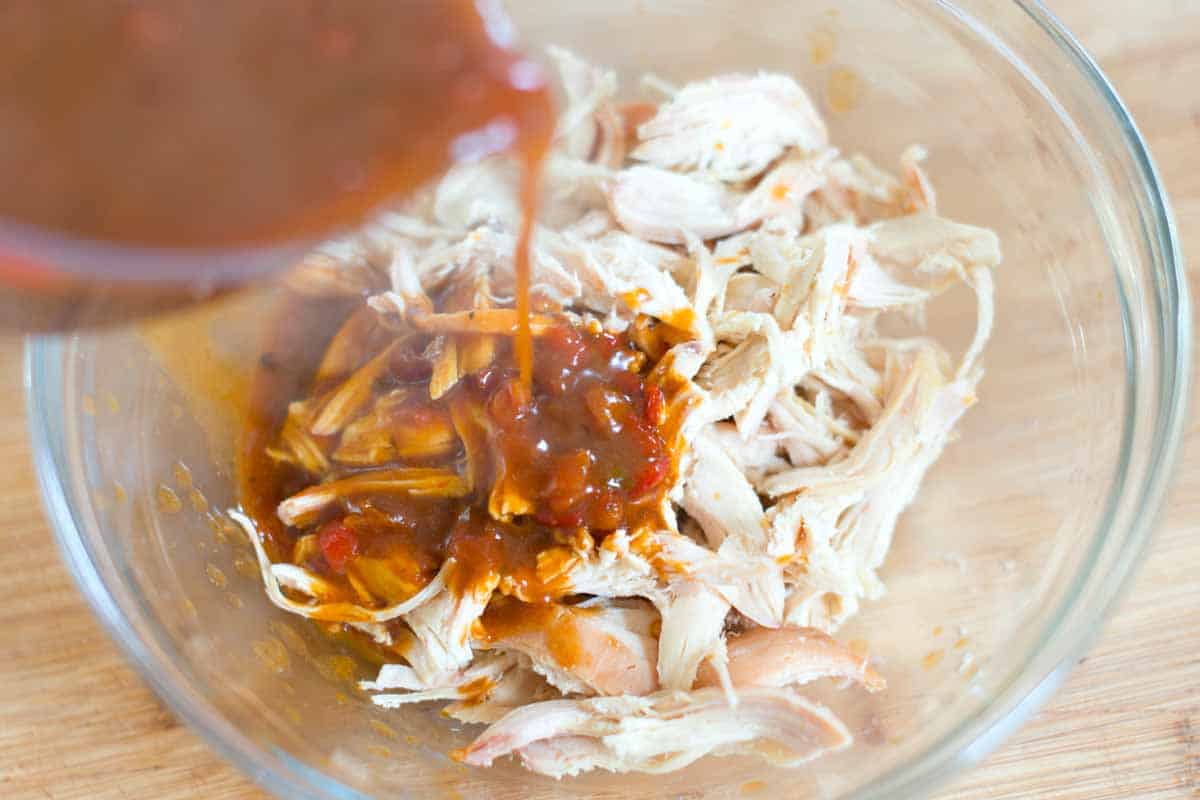 The sauce takes minutes to make and lasts a while in the fridge.
YOU MAY ALSO LIKE: How to easily make slow cooker pulled pork perfect for sandwiches, salads, and tacos. Jump to the Slow Cooker Pulled Pork Recipe.
Recipe updated, originally posted January 2013. Since posting this in 2013, we have tweaked the recipe to be more clear. – Adam and Joanne
Tangy Barbecue Pulled Chicken Sandwiches
Shredded chicken is tossed with a tangy barbecue sauce. Tomato, apple cider vinegar, brown sugar, and a little mustard powder turn this sauce into a zesty thin sauce, perfect for tossing with pulled chicken or pulled pork. This recipe will yield about 2 1/2 cups of barbecue sauce. Leftover sauce can be refrigerated up 1 month.
You Will Need
Sandwiches
2 cups warm shredded cooked chicken
1 cup tangy barbecue sauce, recipe below
4 soft burger buns, split, buttered and toasted
3/4 cup shredded red cabbage or coleslaw, see our coleslaw recipe
Tangy Barbecue Sauce
1 (14 ounce) can diced tomatoes
1/2 cup apple cider vinegar
1/4 cup brown sugar, or more to taste
2 tablespoons butter
1 tablespoon molasses, we use Blackstrap unsulphured molasses
2 teaspoons dry mustard powder
2 teaspoons Worcestershire sauce
1/4 teaspoon ground cayenne pepper, optional
Salt and fresh ground black pepper
Directions
Make Sandwiches

1Toss the chicken with about 1 cup of the barbecue sauce. Divide the chicken between buns then top with cabbage or coleslaw. Serve with more barbecue sauce on the side.
Make Barbecue Sauce

1Add the can of tomatoes, cider vinegar, sugar, butter, molasses, mustard powder, Worcestershire sauce, cayenne pepper, a pinch of salt and a few grinds of black pepper to a saucepan over medium-high heat. Stir then bring to a simmer, reduce the heat slightly and cook at a low simmer, stirring occasionally, until slightly thickened and shiny, about 10 minutes. Taste then adjust with more salt, sugar or pepper.

2Blend until smooth and use for sandwiches or let cool to room temperature and refrigerate up to one month.