It's no secret that we love our chicken wings — especially baked chicken wings. Fried are good, too, but we're not usually up to frying at home. We've shared an original baked chicken hot wings recipe, brown sugar barbeque chicken wings and now, Joanne's personal favorite – this sweet chili baked chicken wings recipe. They're sticky, sweet, spicy and even have some crunch from chopped peanuts and sliced green onion sprinkled on top.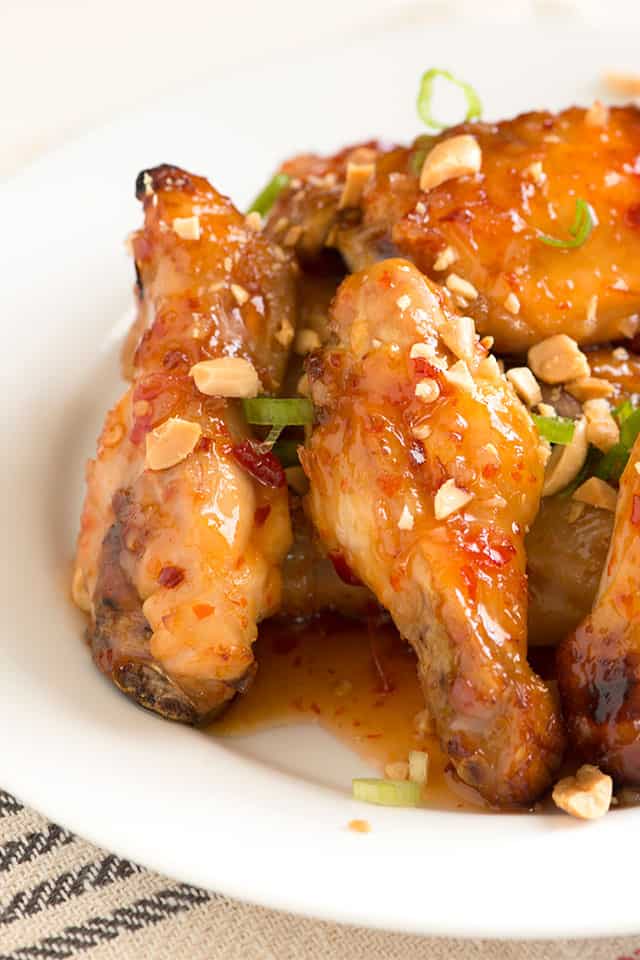 You Need Three Ingredients for This Sticky, Sweet and Spicy Chicken Wings
You'll need Asian sweet chili sauce, light soy sauce and chili garlic sauce or fresh chili paste (sambal). All of the ingredients can usually be found in the International aisle of the grocery store, but if you don't see them there, try an Asian food market or online. (Buy Asian sweet chili sauce here and Fresh Chili Paste (Sambal) here).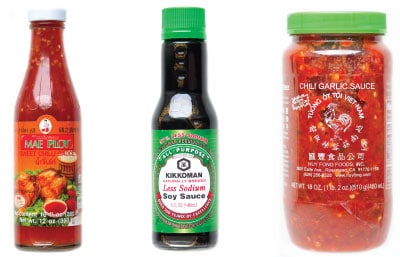 It's really simple. Add 3/4 of a cup of sweet chili sauce, 2 teaspoons of soy sauce and 1 or more teaspoons of the chili sauce, depending on how spicy you like things. We go for 2 teaspoons, but we like it spicy enough to make our lips smack a little.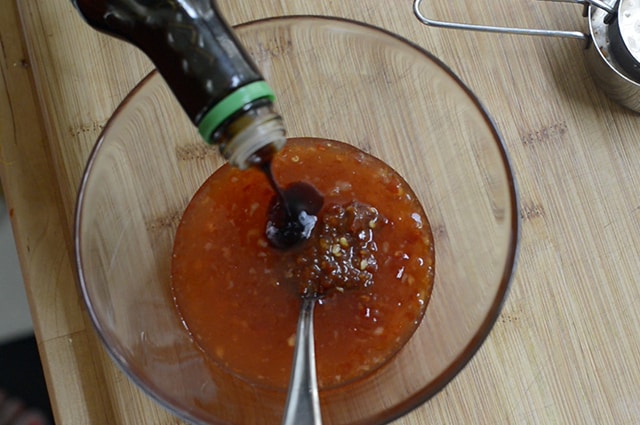 Toss the sauce with your chicken wings and bake until golden brown and crispy.
By the way, if you need to know how to separate chicken wings, we've got you covered, just take a peek at our recipe video for how to cut chicken wings and you'll be set. Or, watch the video up there and you'll see how we do it.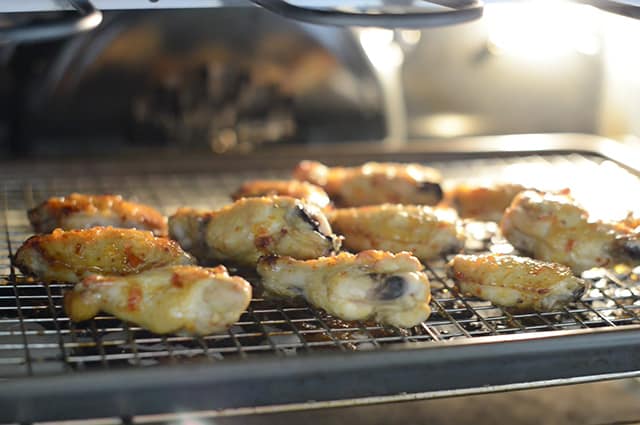 Once the chicken wings are baked, golden brown and sticky, stack them onto a plate and top with lots of sliced green onion and peanuts. Yum.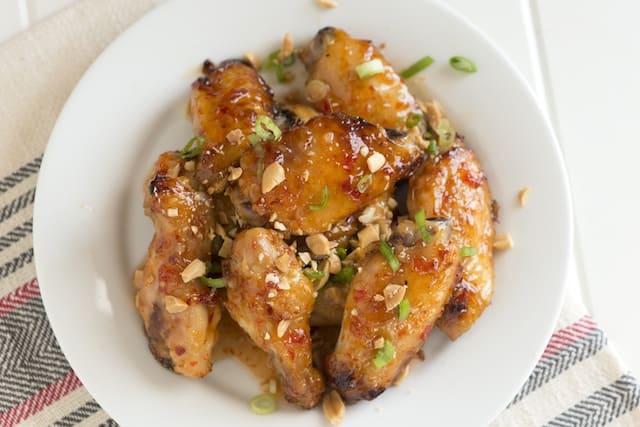 Sweet Chili Baked Chicken Wings
These easy baked chicken wings are perfect to serve a crowd, just double, triple or quadruple the recipe below. We use sweet chili sauce for this, which you can find in most grocery stores now, just look in the International aisle or if you cannot find it there, try an Asian food market.
We also use ground fresh chili paste or "Sambal" for this. You can find this in the same place as sweet chili sauce. It can be quite spicy, so taste as you add to make sure the sauce is not too spicy for you and whoever you may be serving the wings to.
You will often find chicken wings that have not been separated into a wing and drumstick, so you may have to separate them yourself. For help with this, take a look at our
step-by-step tutorial with video for how to cut a chicken wing.
Created By:
Adam and Joanne Gallagher
You Will Need
3/4 cup sweet chili sauce (Mae Ploy Brand)
2 teaspoons light soy sauce
1 to 3 teaspoons ground fresh chili paste (Sambal), depending on desired spice level
1.5 pounds (1 package) chicken wings, wing and drumstick separated
2 green onions, trimmed and thinly sliced
1/4 cup chopped peanuts
Directions
Heat oven to 425 degrees F. Line a baking sheet with aluminum foil. (If you have one that fits, lay a cooling rack inside the baking sheet, this helps get the chicken extra crispy – see note below).
In a medium bowl, whisk together the sweet chili sauce, light soy sauce and one teaspoon of fresh chili paste. Taste and adjust the spiciness to your liking. Now, set aside about 1/2 a cup of the sauce for tossing the raw chicken in and save the rest for once the chicken has cooked (do not allow raw chicken to touch reserved sauce).
Toss chicken with the 1/2 cup of sauce then add to the prepared baking sheet. Then, bake chicken, turning chicken once during cooking, until opaque throughout and crispy, about 30 minutes. If you would like, spread or brush a little more sauce onto chicken wings half way through cooking.
Toss cooked wings with the reserved sauce, pile onto a plate then sprinkle with sliced green onions and chopped peanuts.