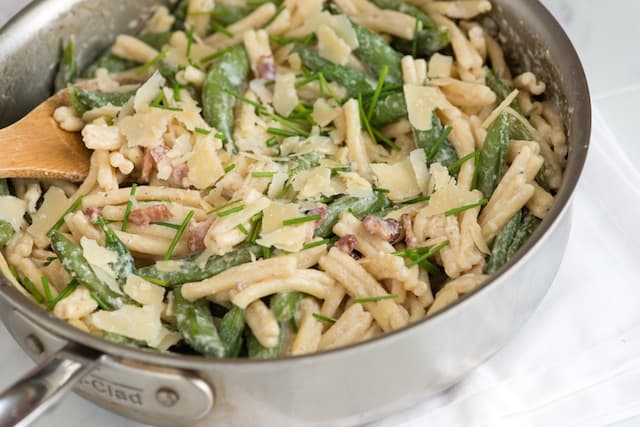 Okay, we know what you're thinking. Yogurt and pasta?
Yes, we made a big pot of yogurt pasta and we loved it! Now, we don't just throw any yogurt into the pan — we used plain Greek yogurt, which is tart and unsweetened.
Why do we love it?  This pasta is not as heavy, but just as flavorful as most creamy pasta recipes — we like that.
Flavor Pop – Add Bacon to Your Yogurt Pasta
We've made similar versions of this yogurt pasta before — basically, we've used melted butter and combined it with the plain Greek yogurt. Then, in goes some Parmesan cheese, salt and pepper and you're done. This time, though, we wanted more flavor — a lot more flavor.
That's how we got to THAT photo. That will make any bacon lover swoon, right?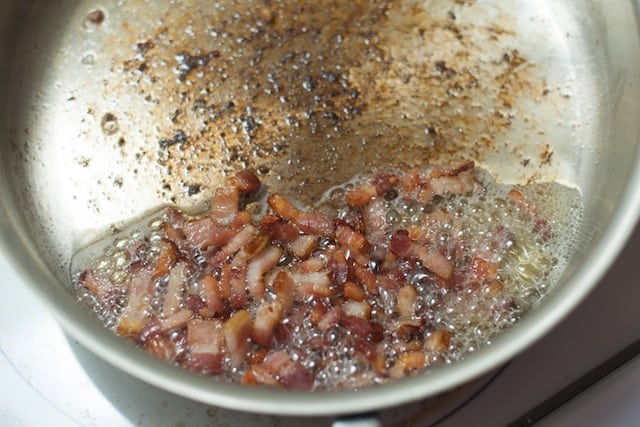 So, why bacon? Beyond the obvious, why not?
We found the bacon adds this undeniable kick of smoky, sweet flavor — something tart Greek yogurt is missing. It just rounded everything out.
The other addition was sugar snap peas — we found them in the frozen section of Whole Foods and thought the pop of green would be welcomed. Don't fret if you can't find frozen snap peas, though — use what you have or love. Broccoli, peas, corn or a big bag of mixed veggies would be great, too.
The trick to the veggies is to cook them in the pasta water. Just add them a few minutes before your pasta is done and you're set.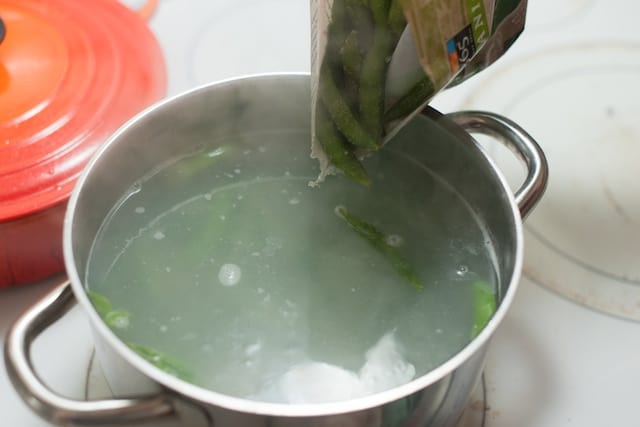 Once the pasta, veggies and bacon are done, you can toss everything together.
How to Make Yogurt Pasta Sauce
Just pile it all into the same pan as you cooked the bacon in — then to loosen things up a bit, add a little hot pasta water.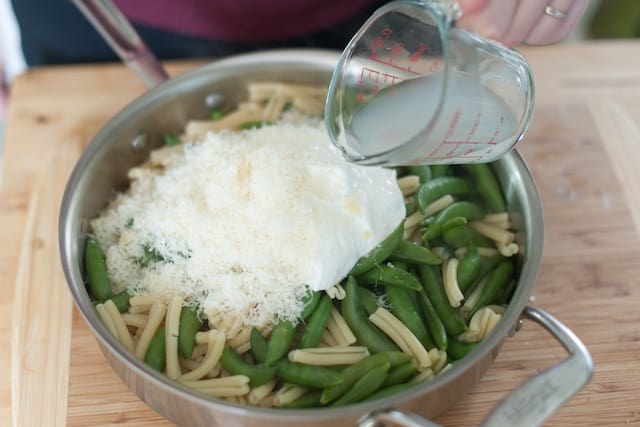 Use a set of tongs or two big spoons and toss, toss, toss until thoroughly coated. If you think the sauce is too thick, no worries, just add some more pasta water.
Lemon Makes The World (Or Yogurt Pasta) Go Round
We know, it seems trivial, but don't forget to add some freshly squeezed lemon juice before serving. Trust us on this one, it makes everything so much better.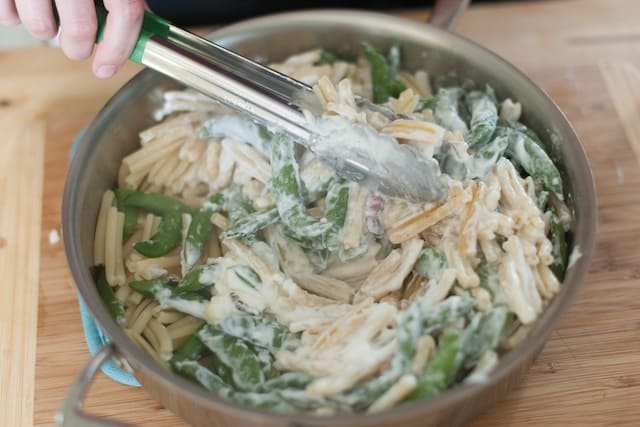 See, now wasn't that easy — and different? Creamy, a little tart, smoky and veggie packed. For more easy recipes like this one, check out our Main Dish Recipe collection.

Yogurt Pasta with Bacon and Snap Peas
A creamy and flavorful recipe for yogurt pasta using plain Greek yogurt, bacon, parmesan cheese and lemon.
Created By:
Adam and Joanne Gallagher
You Will Need
1 pound pasta (bow tie, penne or spiral pasta works great)
One 16-ounce package (454 grams) frozen sugar snap peas
2 teaspoons (10 ml) olive oil
4 slices (175 grams) thick-cut bacon
1 cup (247 grams) plain 2% (reduced fat) Greek yogurt (Fage)
3/4 cup (84 grams) freshly grated Parmigiano-Reggiano cheese, plus more for serving
Kosher salt and freshly ground pepper
1/4 to 1/2 cup reserved pasta water (reserve before draining cooked pasta)
Juice of one lemon
Freshly chopped chives
Directions
Bring a large pot of salted water to the boil. Set a timer for three minutes LESS than the cooking time suggested on the pasta box then add pasta. Once the timer goes off, add frozen sugar snap peas and cook until pasta is cooked (pasta should be firm, not hard). Reserve about 1/2 a cup of the boiling pasta water then drain pasta and snap peas. (The pasta water will be used later to help make the sauce).
Meanwhile, slice bacon into 1/4-inch pieces. Then, heat olive oil over medium heat then add bacon pieces and cook, stirring occasionally until the fat renders from the bacon, is bubbling and the bacon becomes crisp.
Depending on how much bacon fat has rendered, you might want to remove a tablespoon or two - just make sure about two tablespoons are left in the pan.
Remove pan from heat, and then add the drained pasta and snap peas. Spoon Greek yogurt, and the 3/4 cup of cheese on top. Pour about a 1/4 cup of the reserved pasta water over the yogurt then use tongs or two spoons to toss everything together. If the sauce seems too thick, add more pasta water. Finish the sauce by adding the juice of one lemon and season with a little salt and pepper then toss well.
To serve, transfer to bowls and serve topped with extra cheese and fresh chives (if desired).
If the pasta has cooled down too much, cook over low heat, tossing, until the sauce re-coats the pasta and then serve.