If you've been following us for some time, you might have noticed our love of toast and bruschetta. This easy recipe spreads a mixture of edamame, peas and basil onto toasted bread slices. Jump to the Edamame and Pea Bruschetta Recipe or read on to see our tips for making it.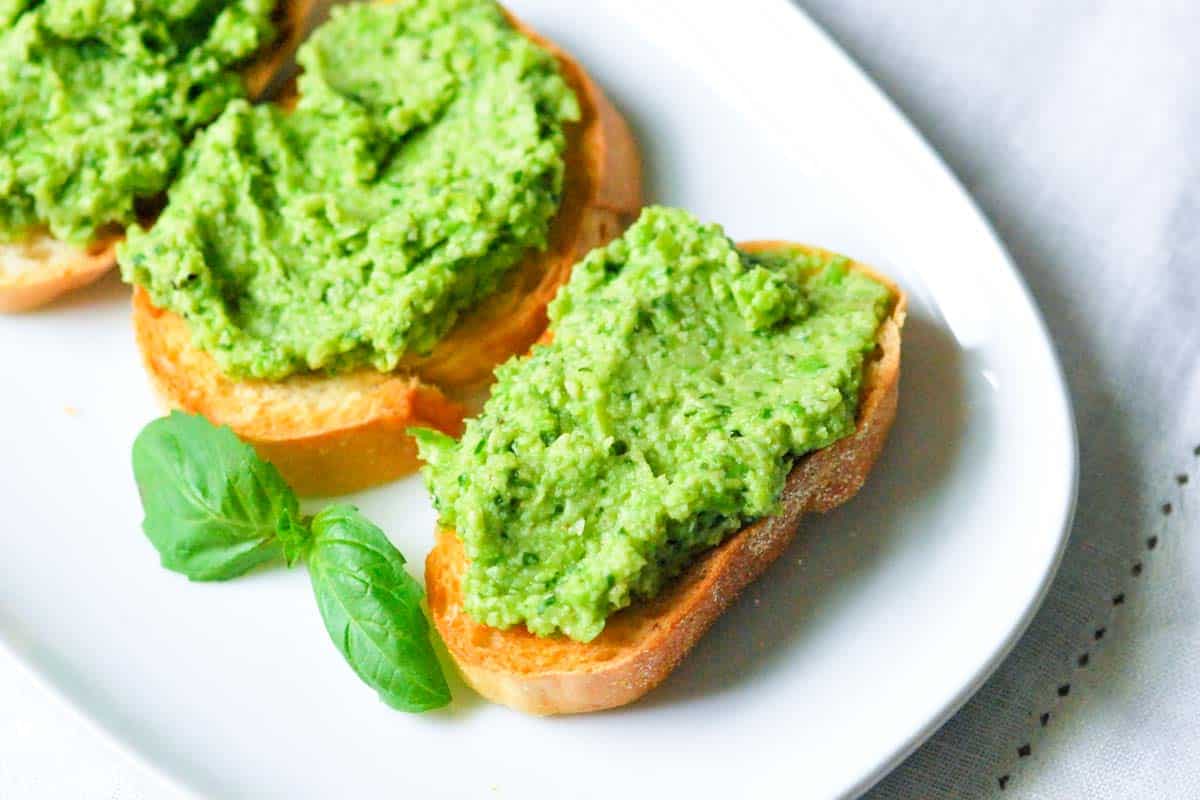 This recipe came out of an obnoxious amount of basil in our kitchen. We didn't have any tomatoes and didn't need anymore basil pesto in the fridge. Along with the basil, we had edamame and peas in the freezer. So this ultra green edamame and pea spread was born.
It's packed with flavor thanks to the basil, garlic, scallions, olive oil and parmesan cheese. We generously spread it over toast, but this would make a nice pasta sauce if you were to thin it out a little with hot pasta water when tossing with the pasta. We do this for our kale pesto recipe, too.
You might also enjoy our Spicy Garlic Ginger Edamame recipe.
Recipe updated, originally posted June 2010. Since posting this in 2010, we have tweaked the recipe to be more clear. – Adam and Joanne
Edamame and Pea Bruschetta Recipe
Spread this onto toasted bread or thin out with hot pasta water and use as a pasta sauce just as you would pesto.
Makes approximately 4 servings
You Will Need
1 cup frozen shelled edamame (soybean)
1/2 cup frozen peas
1 garlic clove, minced
2 scallions, chopped
1/4 cup packed basil leaves
1/4 cup extra-virgin olive oil
1/4 cup grated parmesan cheese
Salt and fresh ground black pepper
Baguette, cut into slices and toasted
Directions
1Bring a medium saucepan of water to a boil, add about 1/2 tablespoon of salt and the edamame, cook for 4 minutes then add the peas and cook for another minute.

2In the meantime, prepare a large bowl of fresh ice water to be used to cool down the edamame and peas when they finish cooking.

3Use a slotted spoon to transfer the edamame and peas to the ice bath. Once cooled, drain and set aside.

4Pulse the garlic and scallions a few times in a food processor. Add the basil leaves, edamame and peas then pulse until the mixture is chopped up into very small pieces, 3 to 4 times. With the processor running, stream the olive oil slowly into the mixture until everything comes together — it should look like a thick pesto.

5Transfer to a bowl then stir in the cheese, a pinch of salt and freshly ground pepper.

6Use a griddle or oven to toast slices of the baguette, smear about a tablespoon onto each slice and serve.