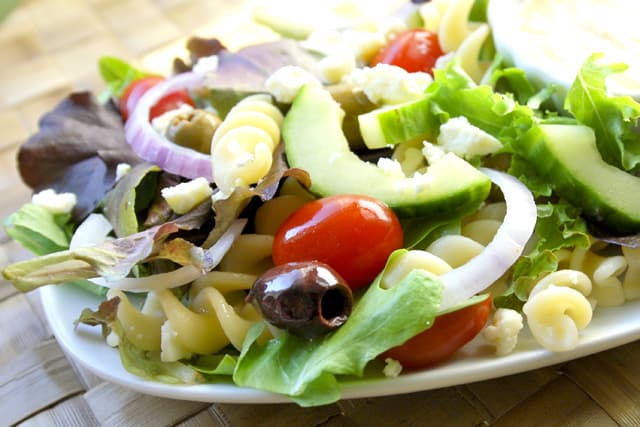 A fresh mixture of lettuce, pasta, cool cucumber, red onion, olives and feta cheese is topped with a creamy yogurt dressing that has a slight zing to it.  This was inspired by the Med Salad over at Noodles and Company (a favorite lunch spot for us during the workweek).  The dressing comes together quickly with creamy Greek yogurt, lemon, garlic, olive oil and a "secret" ingredient – sriracha hot sauce.  This is a perfect lunch or dinner especially with the addition of some grilled shrimp or chicken.
Greek Salad with a Creamy Dressing
Created By: Adam and Joanne Gallagher
Yield: 2
Ingredients
Greek Salad
1 cup dried pasta, cooked (fusilii & cavatappi are good options)
4 cups lettuce mix
1/4 cup halved and sliced cucumber

handful of cherry tomatoes, halved
handful olives (kalamata works well)
sprinkle of feta cheese, crumbled
Toss all the salad ingredients with your desired amount of creamy salad dressing.  (Make sure the pasta is added after it has cooled slightly).
Creamy Salad Dressing
1/4 cup Greek yogurt
1/4 cup olive oil
1 teaspoon lemon zest
2 tablespoons lemon juice
1 garlic clove, minced

1 tablespoon crumbled feta cheese

1-2 teaspoons sriracha hot sauce (depends on how spicy you want the dressing)
salt and pepper to taste
Method
In a small food processor, blend all the dressing ingredients until smooth, then season with salt and pepper.