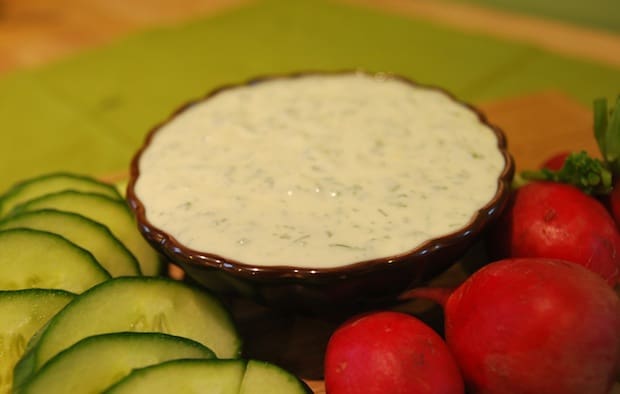 Adam and I have a long day at work, we both commute, so our 8 hour day turns into 10 hours each day.  We both are pretty health conscious and so we eat light at lunch, but the moment we get home we want a snack. Usually, we quickly slice some cucumber and then dip it in some hummus.  That was great, except for the fact that I tested this recipe.  Now, we come home with the expectation of slicing up some cucumbers or my new love, radishes and dipping it in this Lemon Herb Dip.  This is such a great dip and something you could eat as a personal snack or something you could serve at a fancy cocktail party.  You really should give this a try, it is so simple and not expensive, but it is really elegant.  This recipe was inspired by Bon Appétit Magazine.

Created By:
Adam and Joanne Gallagher
You Will Need
1 eight ounce container of creme fraîche
1 teaspoon lemon zest
2 tablespoons chopped fresh dill
2 tablespoons chopped fresh chives
1 tablespoon freshly squeezed lemon juice

1/8 teaspoon of salt

pepper to taste
Directions
Combine all ingredients in a bowl and then season to taste starting with the suggested amount of salt. Allow the dip to stand at room temperature for about 30 minutes, then serve.  This does get better with time, so making it a day ahead would work out really well.